(251) 653-9333, (251) 928-1028 & (866) 653-9333 are the numbers to reach ServiceMaster Advanced Cleaning & Restoration, The Master of Disaster on the Gulf Coast of Alabama and Mississippi. "We would be honored to serve you."
Can one ServiceMaster Restore claim to be the real ServiceMaster? Maybe. Maybe not legally. So we will refrain. Can we claim to be the real mold, fire and water damage restoration, mitigation and remediation company operating in Mobile and Baldwin Counties? Probably not. But, we can say that a lot of our business methods and offerings are not matched by ANY other company. You be the judge. We can say is that there are a number of superlatives that apply to our company, that don't apply to others with similar sounding names. Here are a few:
1. We are the original ServiceMaster operating in the Mobile and Baldwin County areas. We claim thirty years plus of experience; but our franchise goes back to at LEAST 1961 here. We personally know of a job handled on or about that date by this franchise's lineage.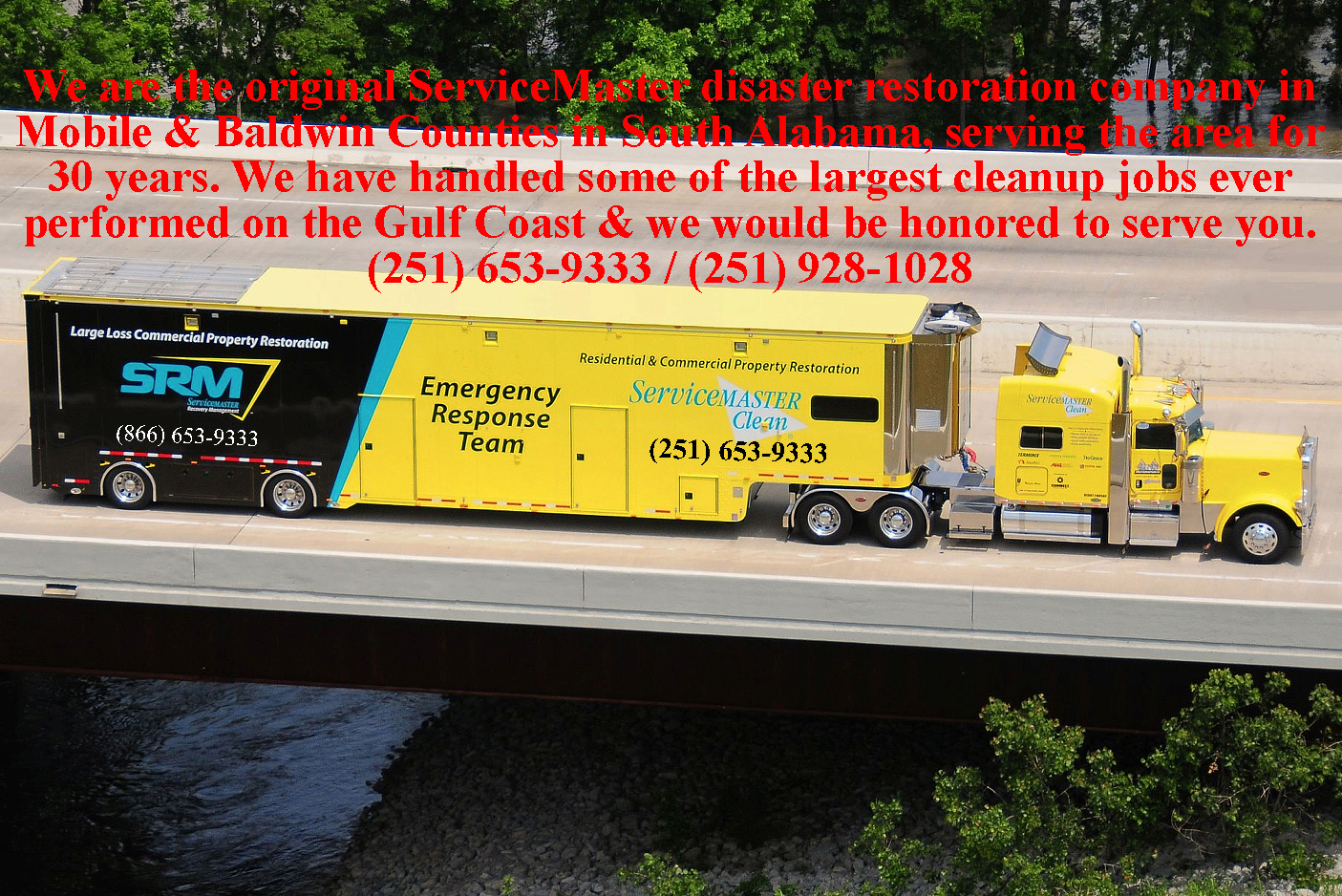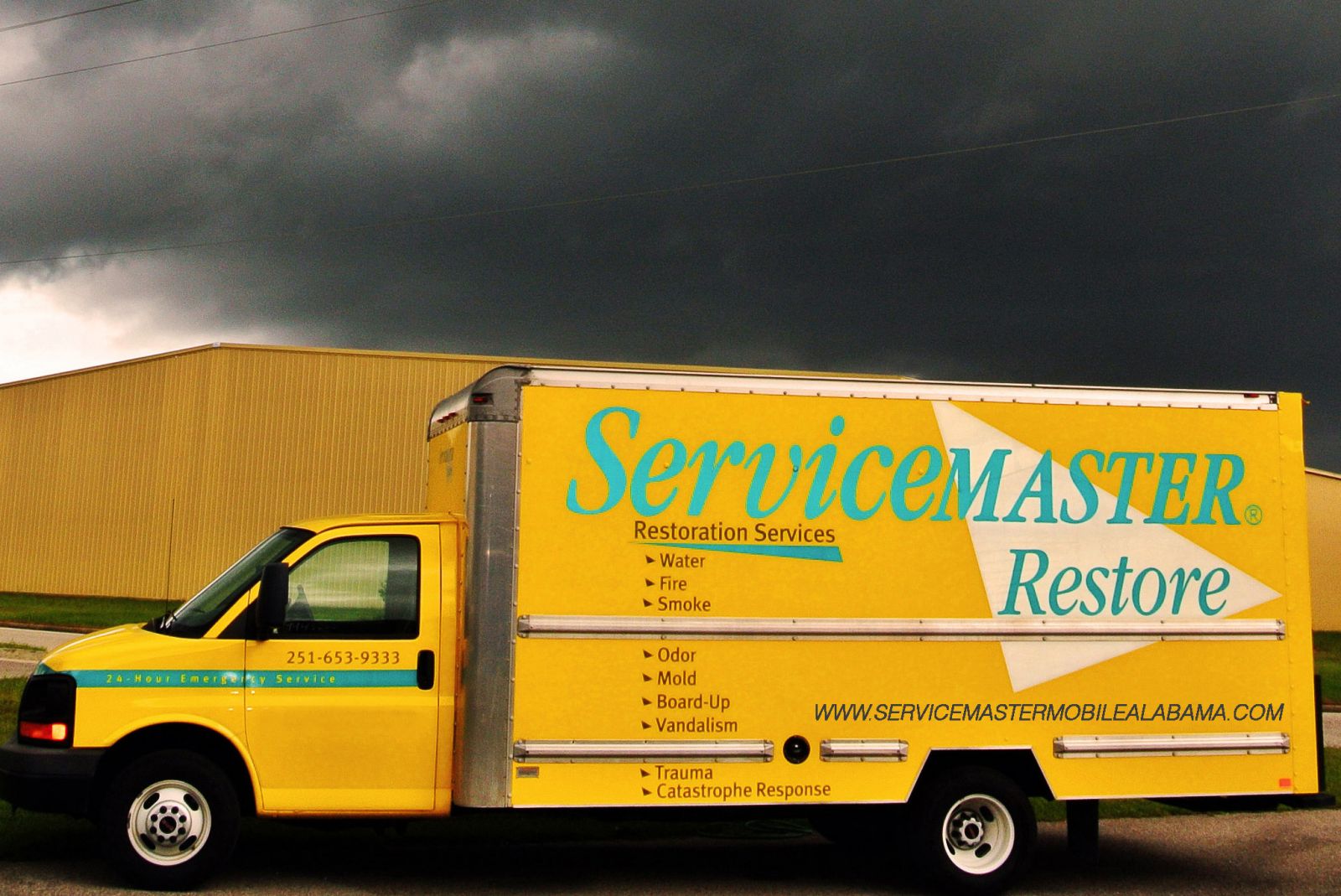 2. Over those thirty years plus, we have handled some of the largest cleanup jobs, for some of Mobile's most well known residents and commercial entities. From tornado cleanup jobs during the tornadoes of Christmas 2012 in Mobile, and in Hattiesburg, MS in 2013; to hurricane cleanup jobs in Hurricanes Ivan, Katrina, and every Spring rain and flood event to happen in the area in the last quarter century, ServiceMaster Advanced has been there. ServiceMaster Advanced Cleaning has performed mitigation jobs for the Alabama State Docks, The Mobile Convention Center, the RSA Tower, The Mobile Infirmary, the AmSouth Tower, the Regions Bank Building, the University of South Alabama, The City of Mobile, The County of Mobile, Springhill College, Springhill Memorial, ST Mobile Aerospace, Airbus, The Mobile County School System, The Corps of Engineers, The State of Alabama and many many more commercial buildings and thousands of homeowners.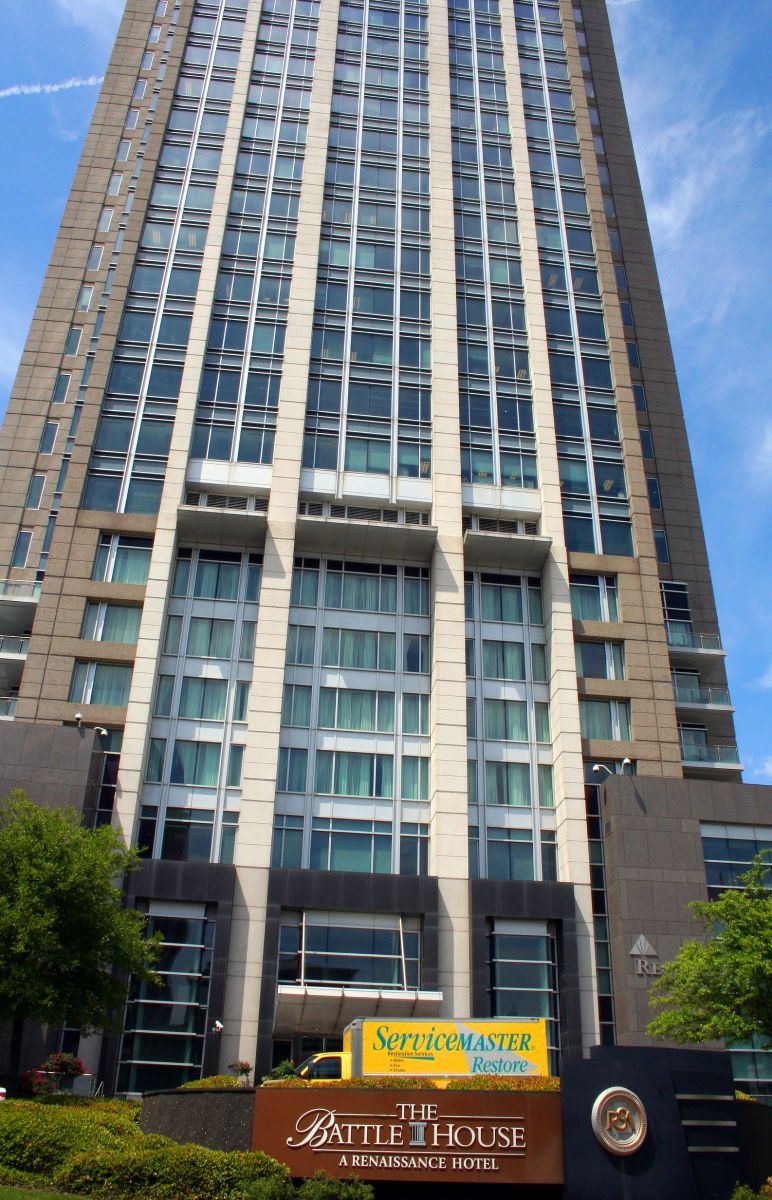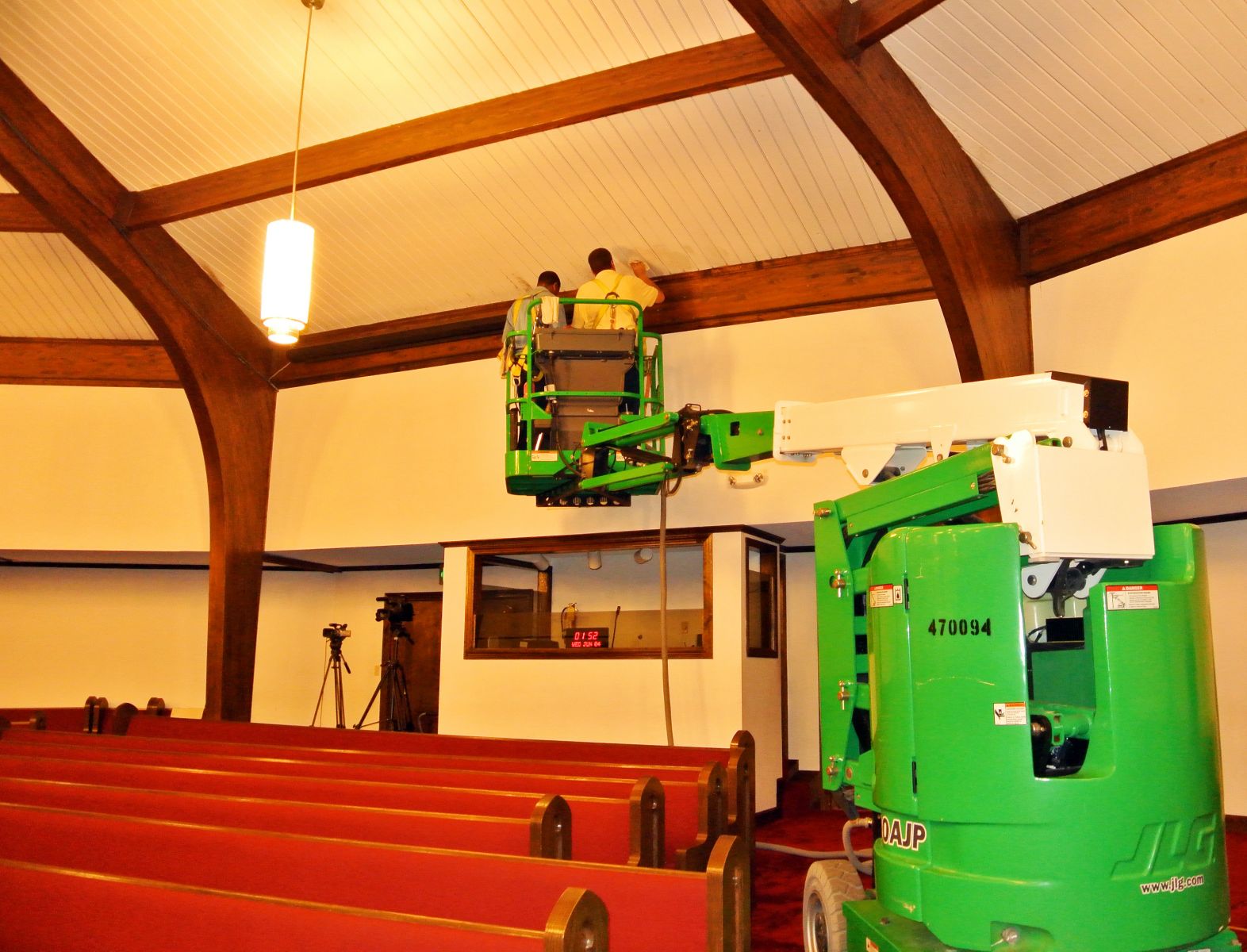 3. We are an IICRC Certified FIRM, meaning that our people and our company have met the highest standards in the mitigation and remediation business. Here is an article about that certification: http://www.servicemastermobilealabama.com/IICRC-Certified-for-Water-Damage-Restoration-and-Fire-Damage-Restoration-Mobile-AL.html.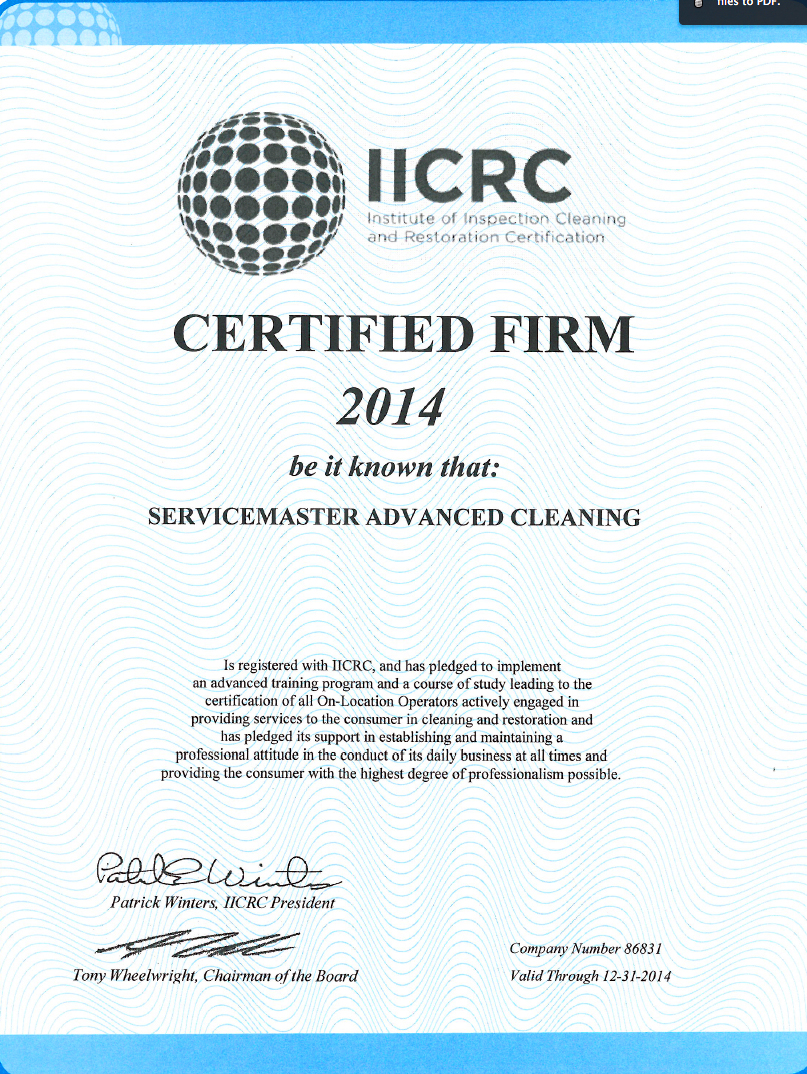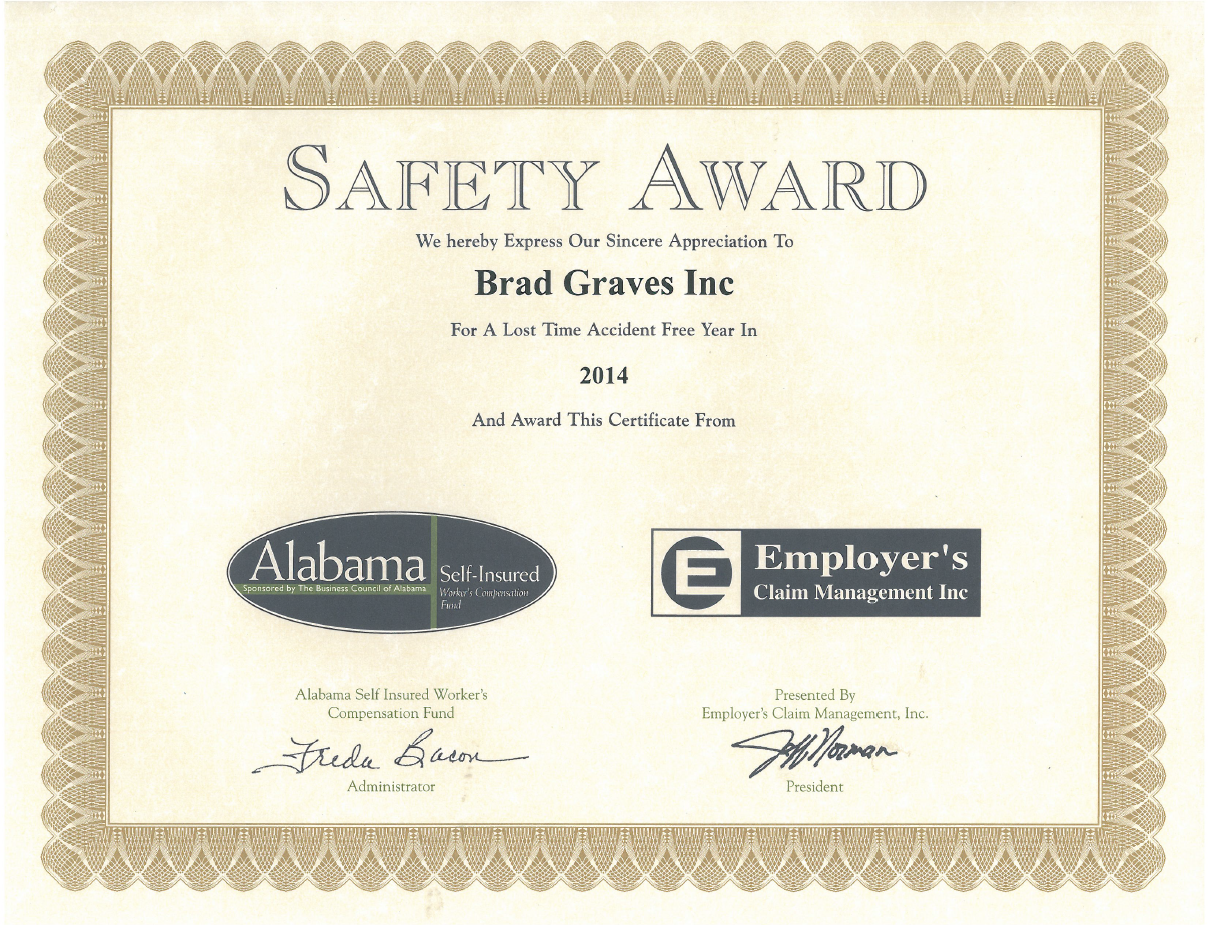 4. We regularly work with ServiceMaster Recovery Management (SRM) side by side, meaning that there is no loss that is beyond the scope of our capabilities. We have done many jobs with our SRM partners and are a commercial first responder for them. Our abilities in handling large losses has been proven time and again. Additionally, we can offer commercial reconstruction through SRM, or can handle small home repairs and or work with a construction company of your choice. We do not compete with construction companies; rather we work with them. Many many construction companies call us directly to help them. We do not believe that the best model is to handle both mitigation and construction directly in HOMEOWNER claims. The major insurance companies - State Farm, Allstate and Farmers specifically prefer that their program mitigation and repair companies are separate due to the possibility of a conflict of interest. As a result, we have developed working relations with a number of contractors. Naturally, if requested and if within the program guidelines, we can find a contractor for you. However, we do not try to insert ourselves or our contractor friends in this situation, believing that you should have the flexibility to hire anyone you want. We have written extensively about this our articles. Here is one: http://www.servicemastermobilealabama.com/Construction-Companies-in-Mobile-Alabama-Rely-on-Us-for-Honest-Advice-on-Water-Damage-Mold-Dama-1.html.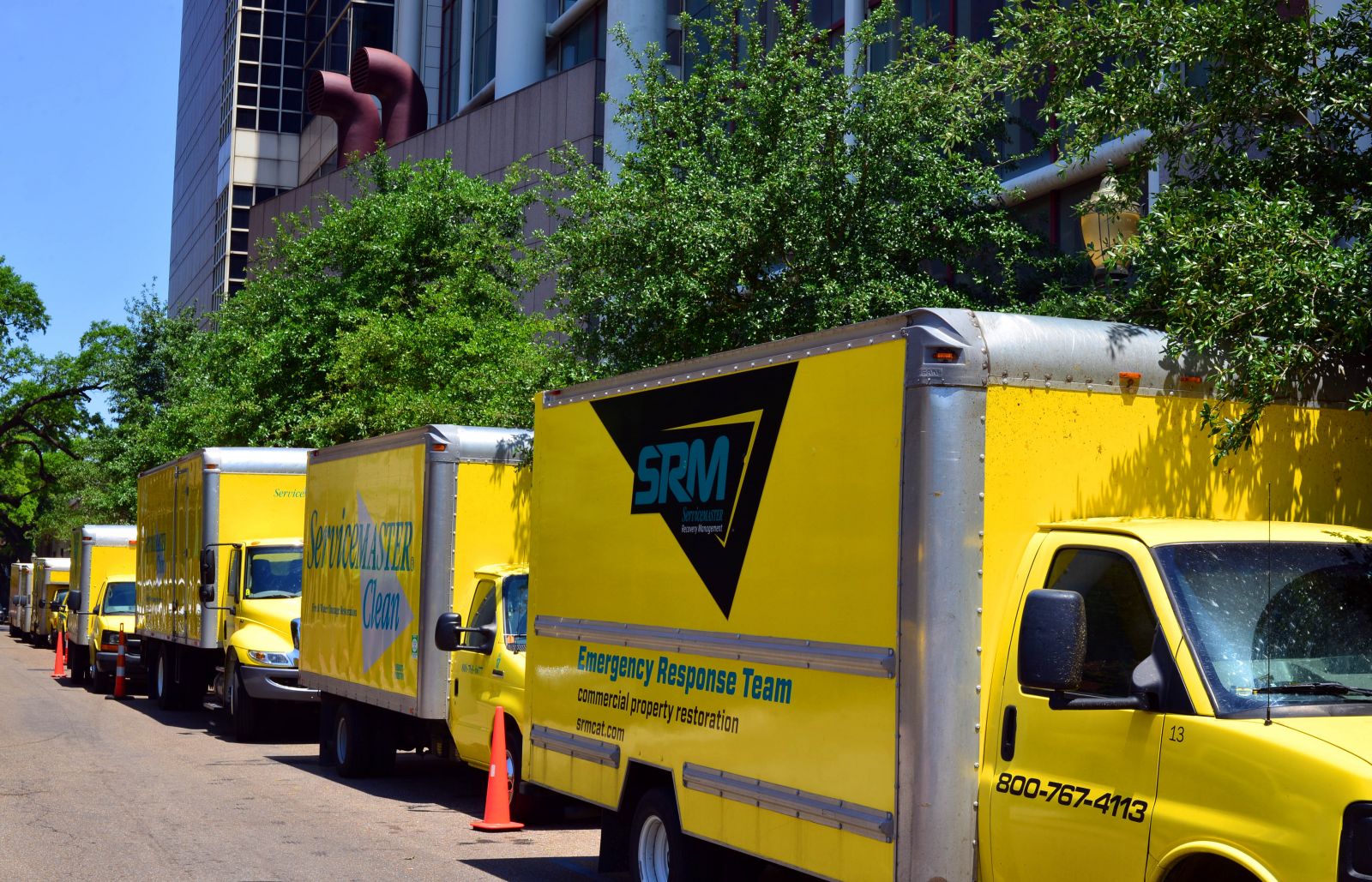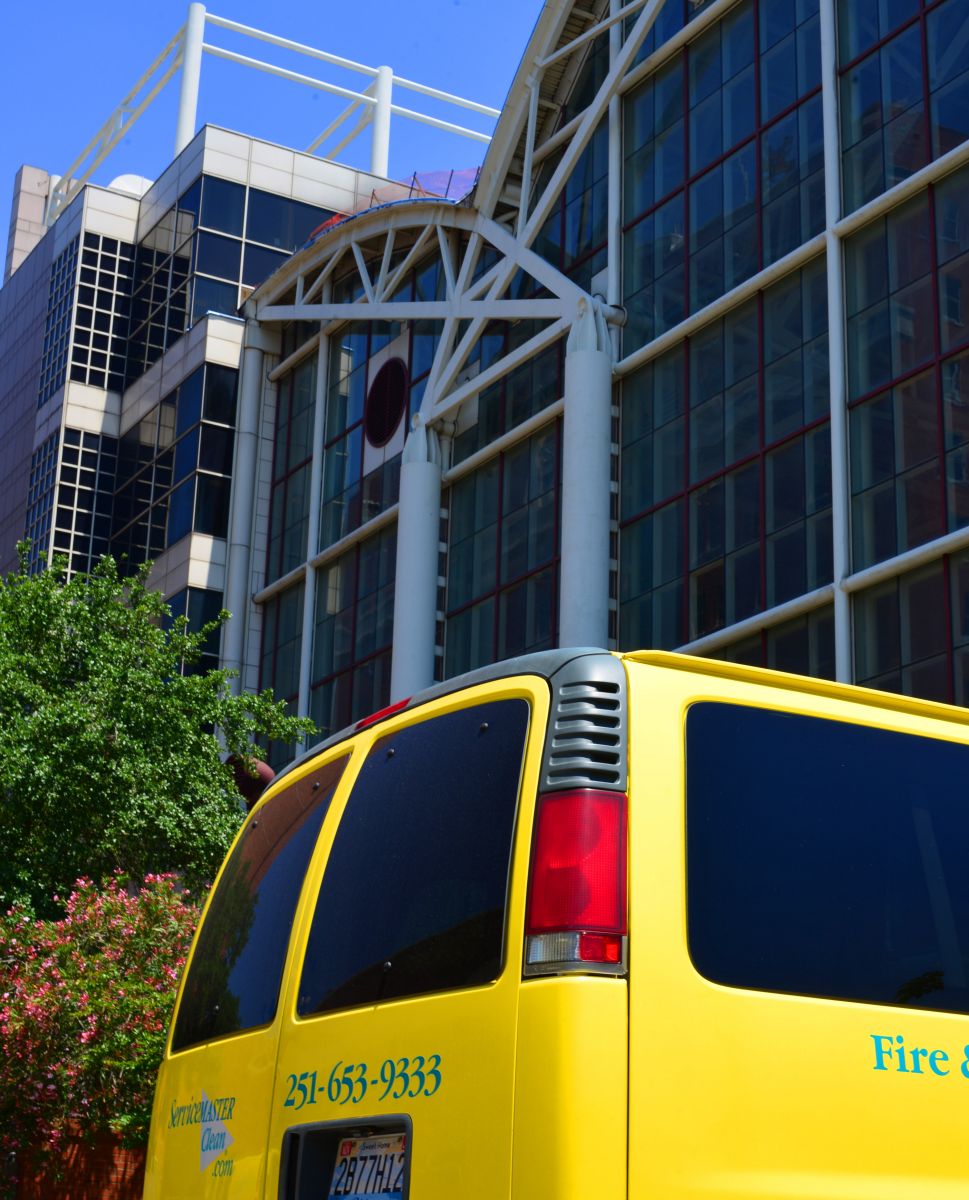 5. We share common ownership with the ServiceMaster janitorial franchise, ServiceMaster Services. This means that we have a huge immediate labor pool to pull from in times of catastrophic loss. We don't have to use temporary workers! Additionally, we offer the commercial and industrial client a huge array of services that very few other mitigation companies can offer. More information on these services can be found here: http://www.servicemastermobilealabama.com/Janitorial.html.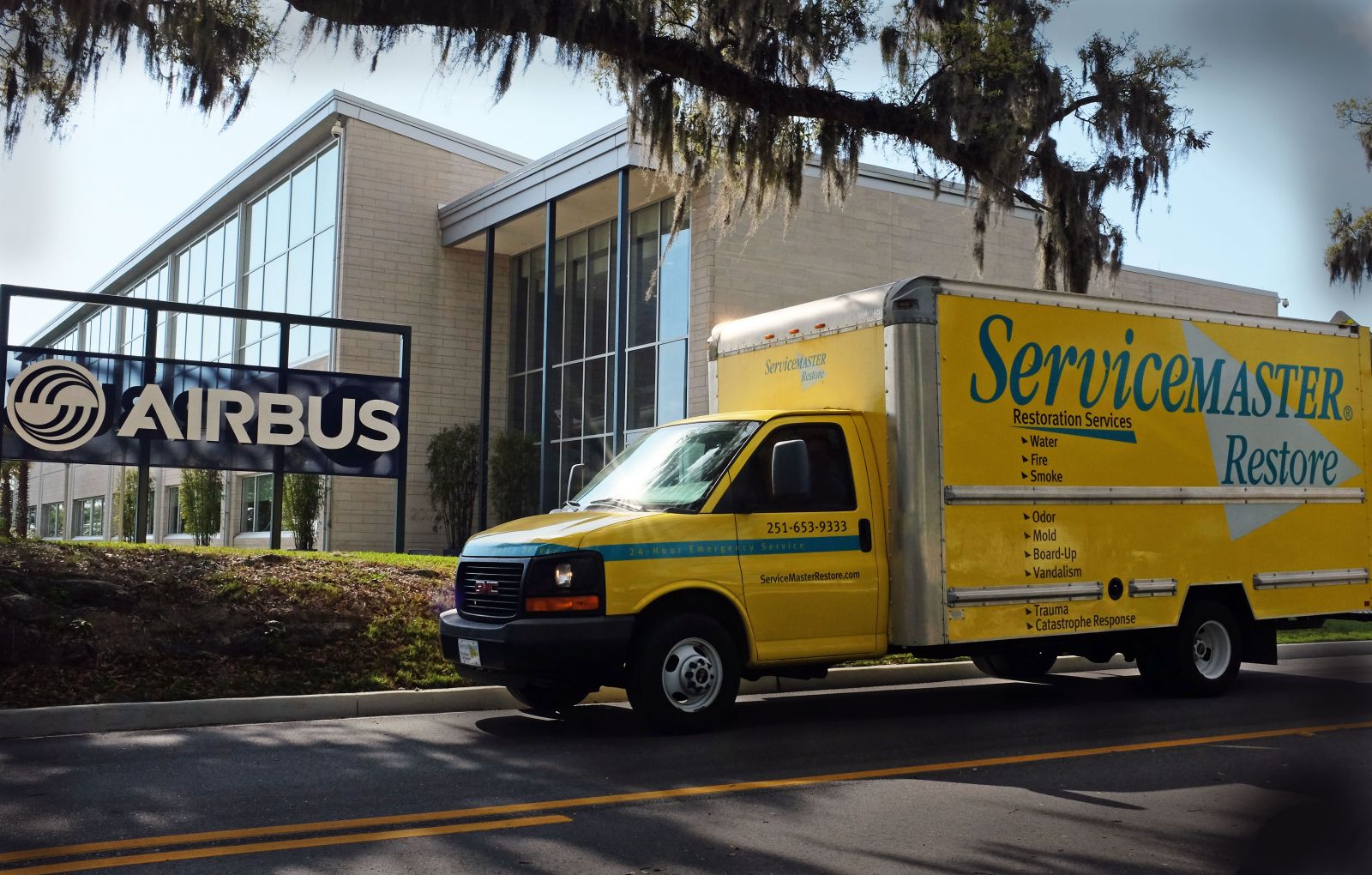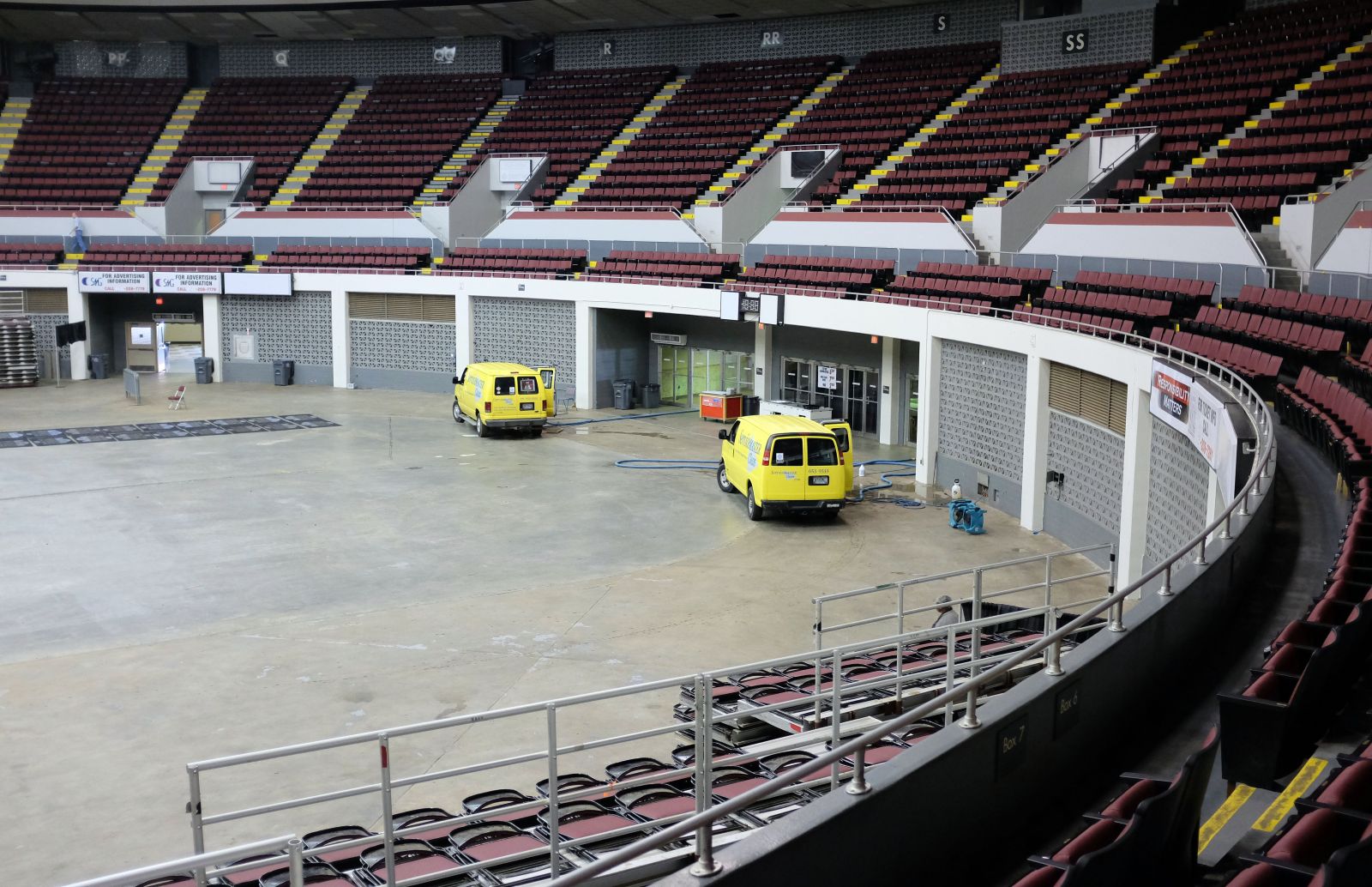 6. We are on virtually every insurance program offered in the Mobile and Baldwin County area. Insurance programs are pre-designated, pre-approved contractor affiliations which means that often times the insurance company will send us out directly to help their clients in the event of a loss. Some of these affiliations include Farmers, State Farm, USAA, Allstate, Nationwide, Geovera and a number of commercial insurance programs. The insurance companies trust us and we hope you will too. At one time or another, over nearly 30 years, we have worked with virtually every insurance company that has ever written a policy here. In fact, many of them recommend us because we have been pre-qualified to work for them, meaning we are on their mitigation "program". This means that we have met their standards with regard to insurance, training, procedures etc. and that they are comfortable dispatching a claim to us, if the homeowner agrees. This is the important stipulation. The homeowner must agree and contract directly with us. ServiceMaster Advanced is one of a small handful of companies locally that are approved as such. We appreciate the business that the insurance programs send to us; however out of the few that are approved as such, we want to stand alone as the best. We want to earn your business and be deserving of your trust, not only because the insurance company recommended us, but because our reputation and policies are such that you would have hired us anyway.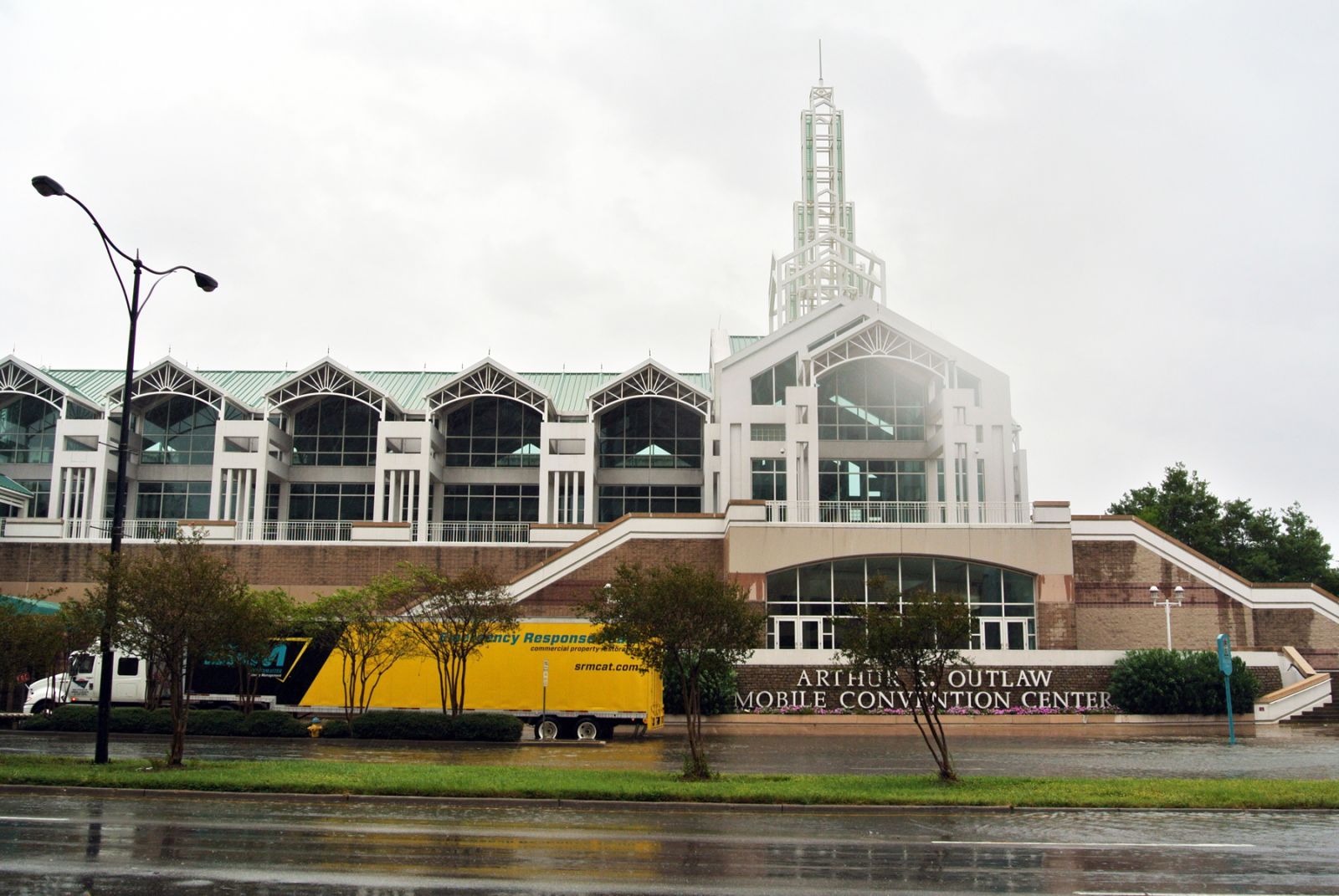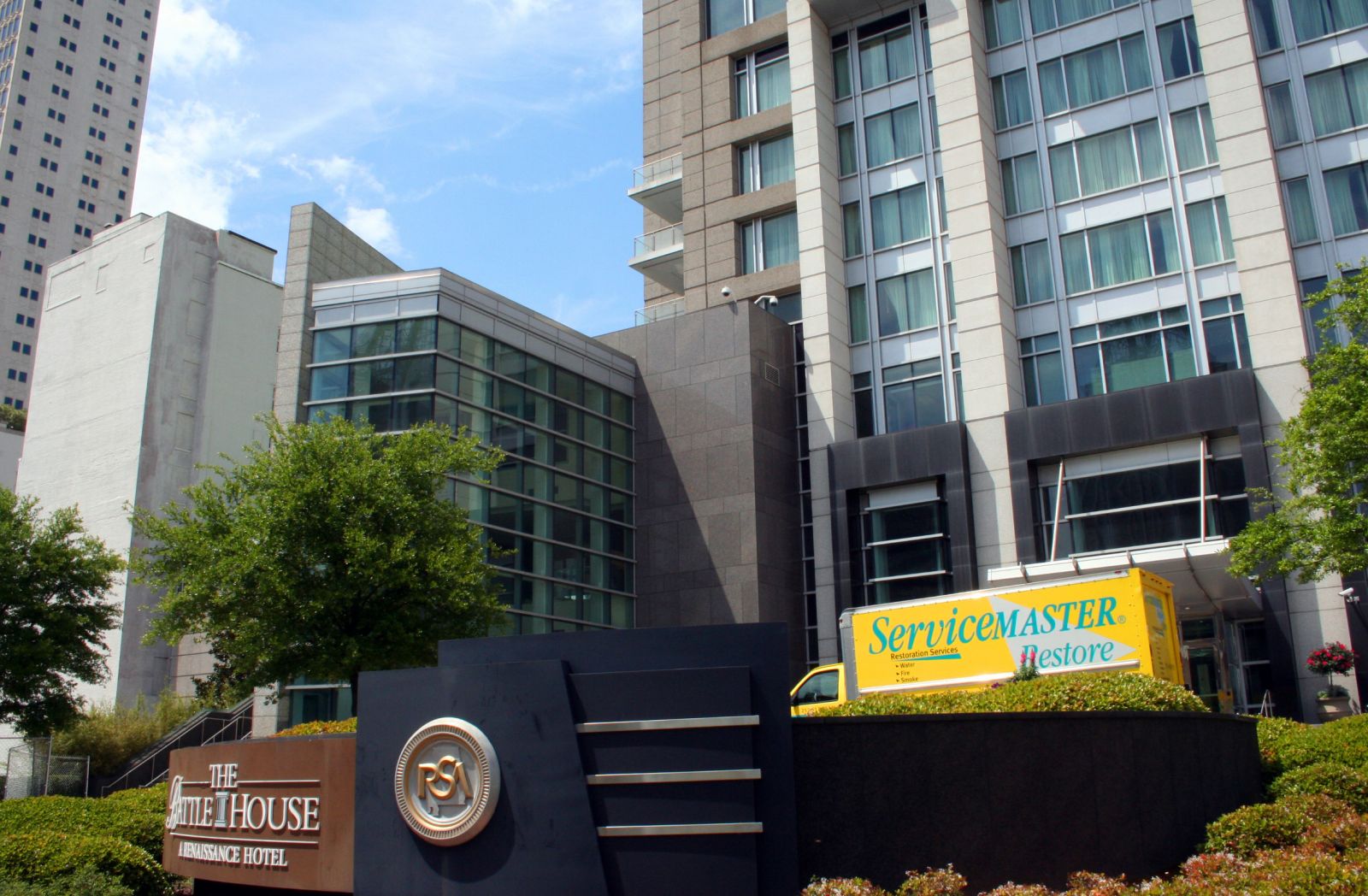 7. We are part of the ServiceMaster network. Our franchisor tells us that we handle slightly more, or are at least equal depending upon the year, in nationwide mitigation/restoration total business. Regardless, when combined with the many other homeowner offerings such as Terminix, ServiceMaster janitorial, American Home Shield, Merry Maids and Amerispec, our combined home offerings dwarf those other companies.
From the ServiceMaster corporate web site, http://www.servicemaster.com:
ServiceMaster has a unique and rich heritage, founded in 1929 as a moth- proofing company by a former minor league baseball player, Marion Wade. While our company has changed a great deal since that time, our customers' expectations have not. First and foremost, they expect service – exceptional service – which we deliver in three ways, namely through:
• Company-owned locations, supported by 13,000 ServiceMaster employees. A network of 10,000 independent home-service contractors and more than 45,000 service technicians. A network of highly trained, valued partners who operate as independent franchisees in more than 30 countries around the world.
What all of these service delivery models have in common is a strong commitment to service, professionals with deep expertise and a performance guarantee regarded as among the best in their class.
Today, the ServiceMaster Company, LLC is a leading provider of essential residential and commercial services, operating through an extensive service network of more than 7,000 company-owned, franchised and licensed locations. The company's portfolio of well-recognized brands includes Terminix (termite and pest control), American Home Shield (home warranties), ServiceMaster Restore (disaster restoration), ServiceMaster Clean (janitorial), Merry Maids (residential cleaning), Furniture Medic (furniture repair) and AmeriSpec (home inspections).
Not only are our brands the leaders in their respective categories, in most cases they actually created the categories themselves. Terminix, for example, was founded in the 1920s to help protect homes from termites. American Home Shield founded the home warranty industry more than 40 years ago, and today boasts a national footprint that's unmatched by any competitor. And ServiceMaster is largely recognized as a pioneer in franchising, issuing its first franchise license in 1952.
Finally, as you think about our company, it's important to know we serve 5 million residential and commercial customers a year, visiting more than 80,000 homes each day. That's a pretty remarkable trust our customers place in us, giving us access to their homes and businesses.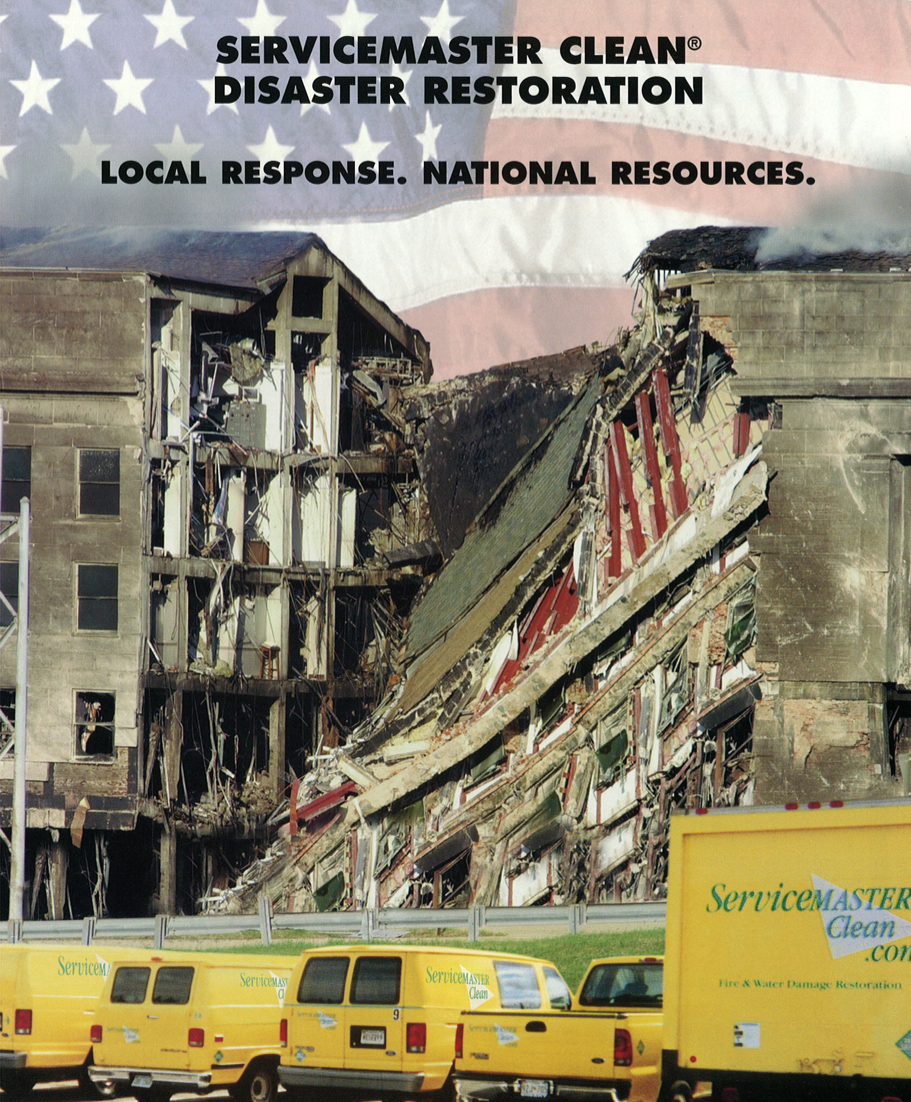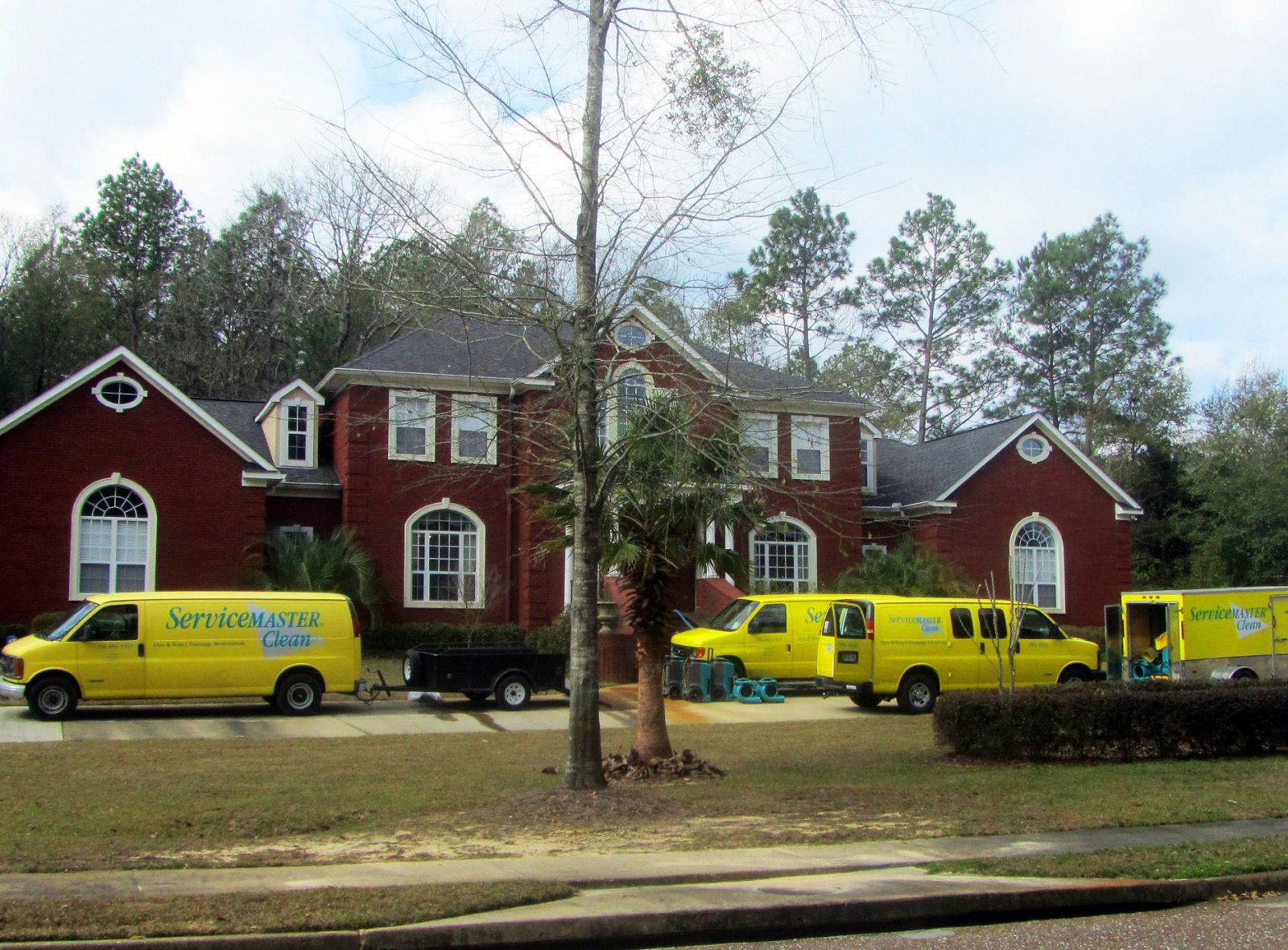 8. There are standards that THIS ServiceMaster entity adheres to that are far above the normal requirements of the industry. WE DO NOT ADHERE TO THE MINIMUM STANDARDS, WE EXCEED THEM. We believe in doing things the right way and we will not compromise our standards. Ever. We have written extensively about that in this article: http://www.servicemastermobilealabama.com/Differences.html. Below are some actual pictures of OUR work here in Alabama, cleaning contents.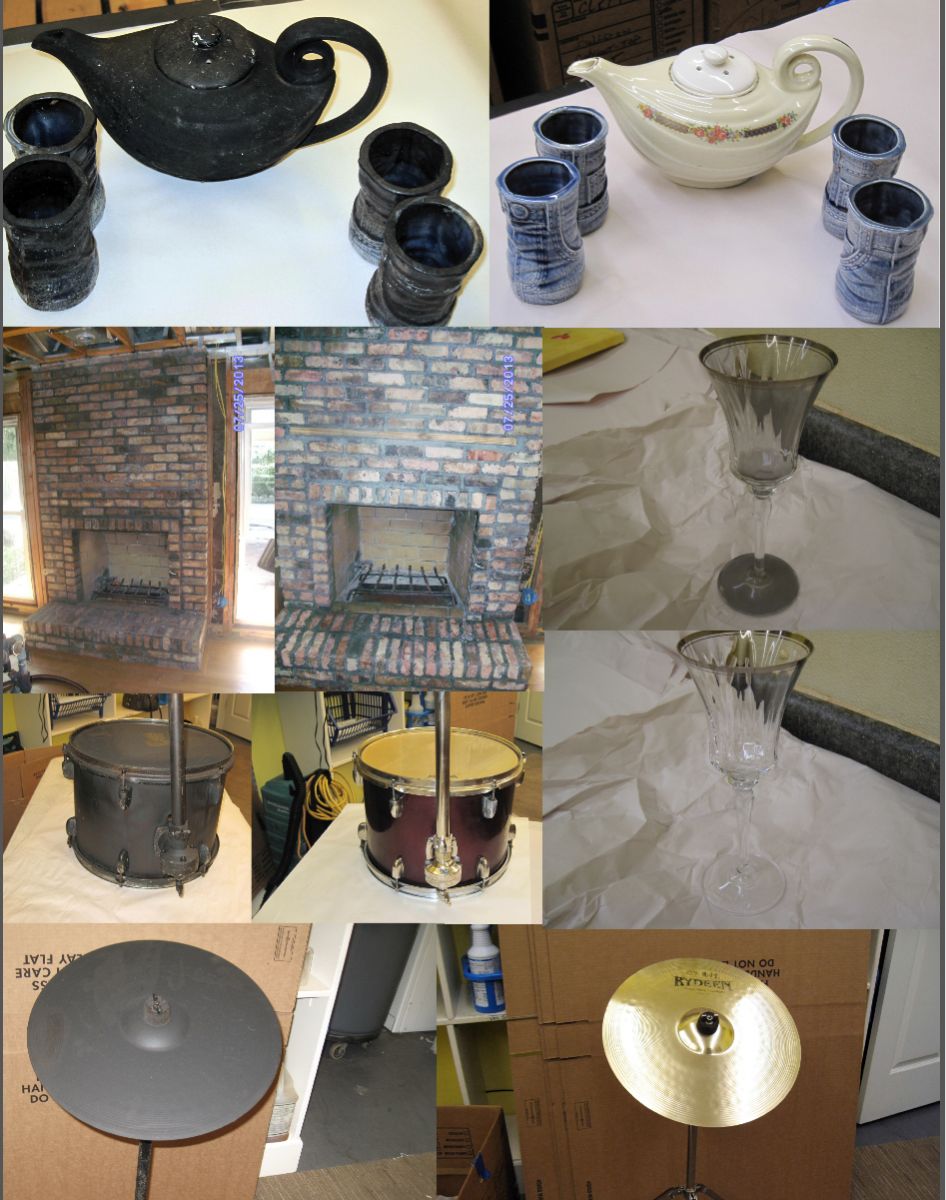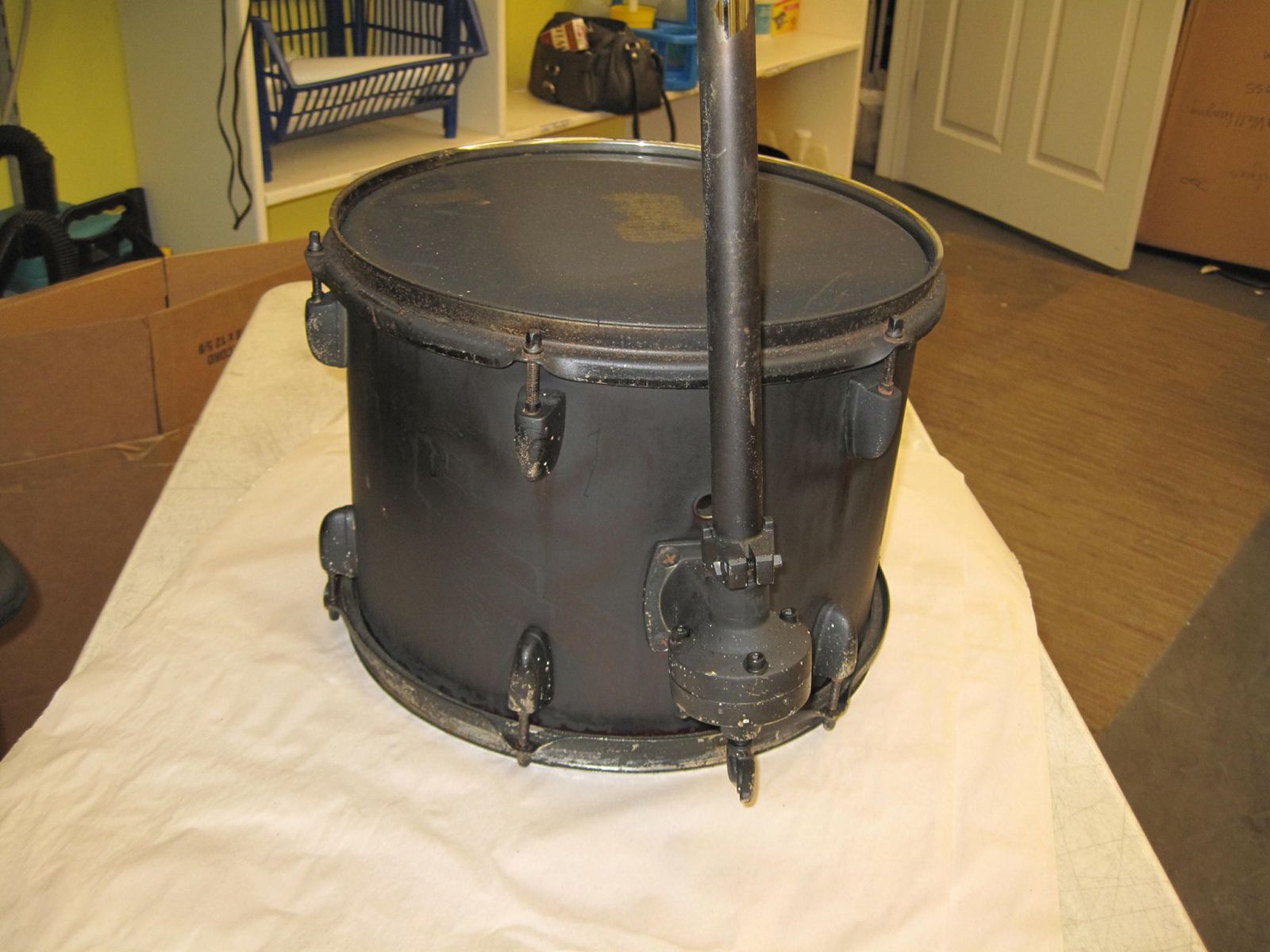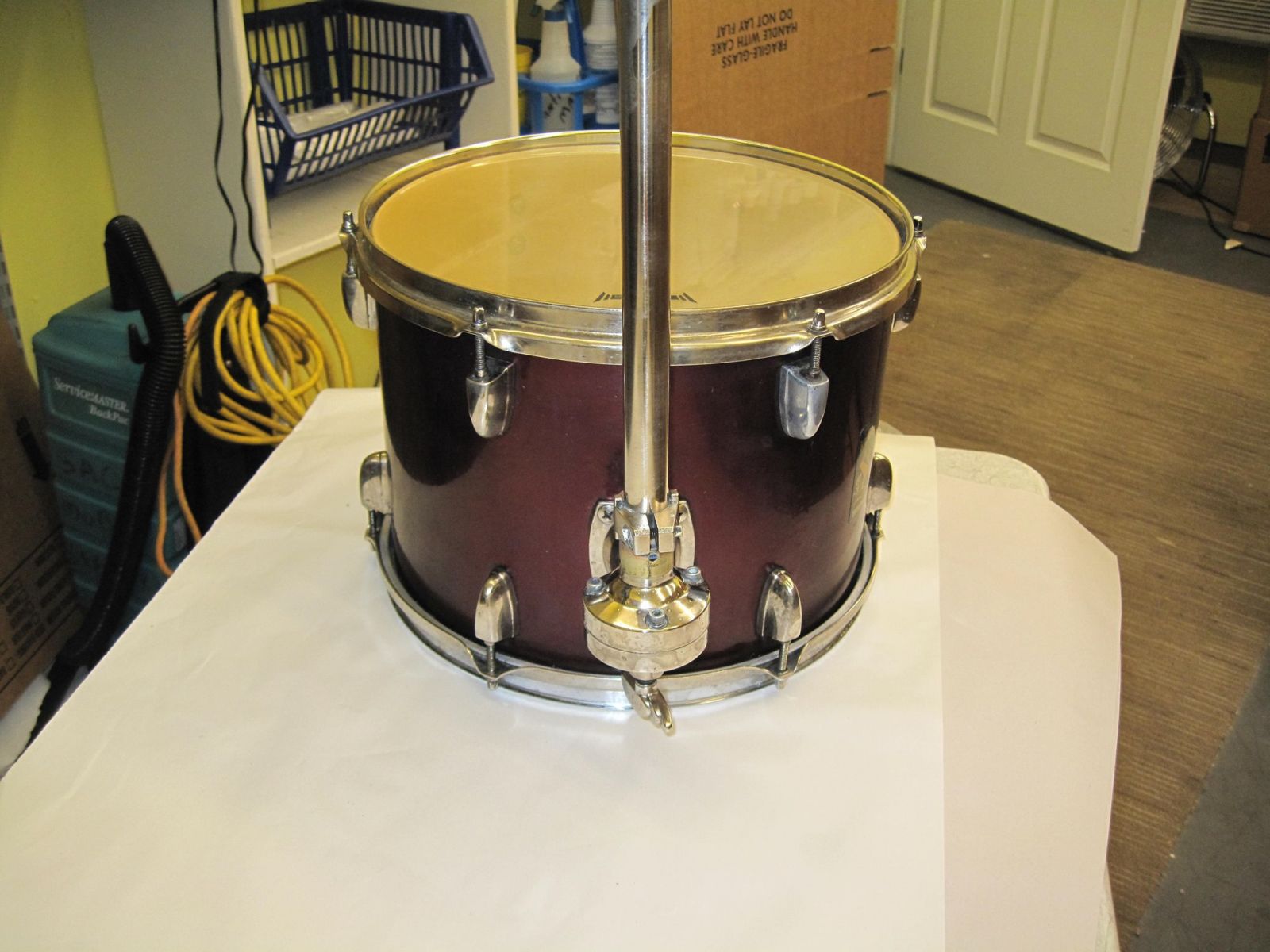 9. We have been trusted with some of the most delicate, discretion-requiring forensic cleanup jobs. Situations have required that our personnel remain ABSOLUTELY silent about the situation that we have entered into. Period. We abide by that and our people are respectful of the dignity of the families involved. These offerings are listed here: http://www.servicemastermobilealabama.com/Trauma-Cleanup-Mobile-Daphne-Foley-Fairhope-Orange.html.
10. There are major differences in restoration and mitigation companies. How can the consumer know what to ask? Here is a list of questions that might shed some light on who they are and how they might handle your home or business. http://www.servicemastermobilealabama.com/Major-Differences-Among-Water-Restoration-Franchis.html. Read this article if you have time. Ask questions such as how many employees do you have? How long have you been in business? Do you have a physical office in Mobile or Baldwin County? Where? Are you going to allow temporary workers into my home or business? Do you have insurance? May I see the certificate? Do you have a business license to operate in this city? These questions just scratch the surface! Another clue. Look at their website. Do they have LOCAL references? Do they have pictures of jobs they have performed LOCALLY, or are they stock franchise photos.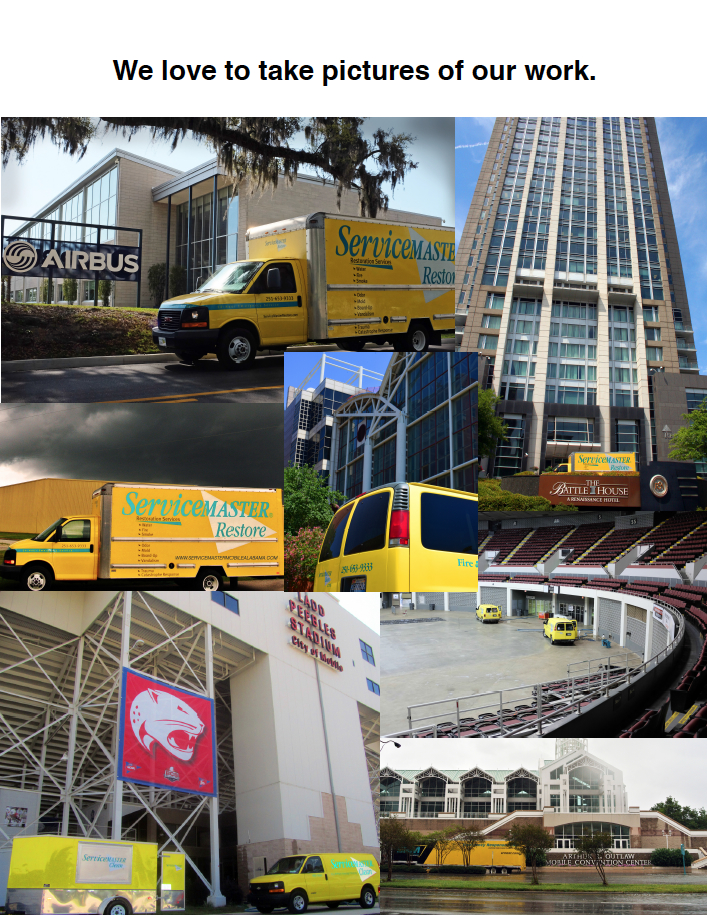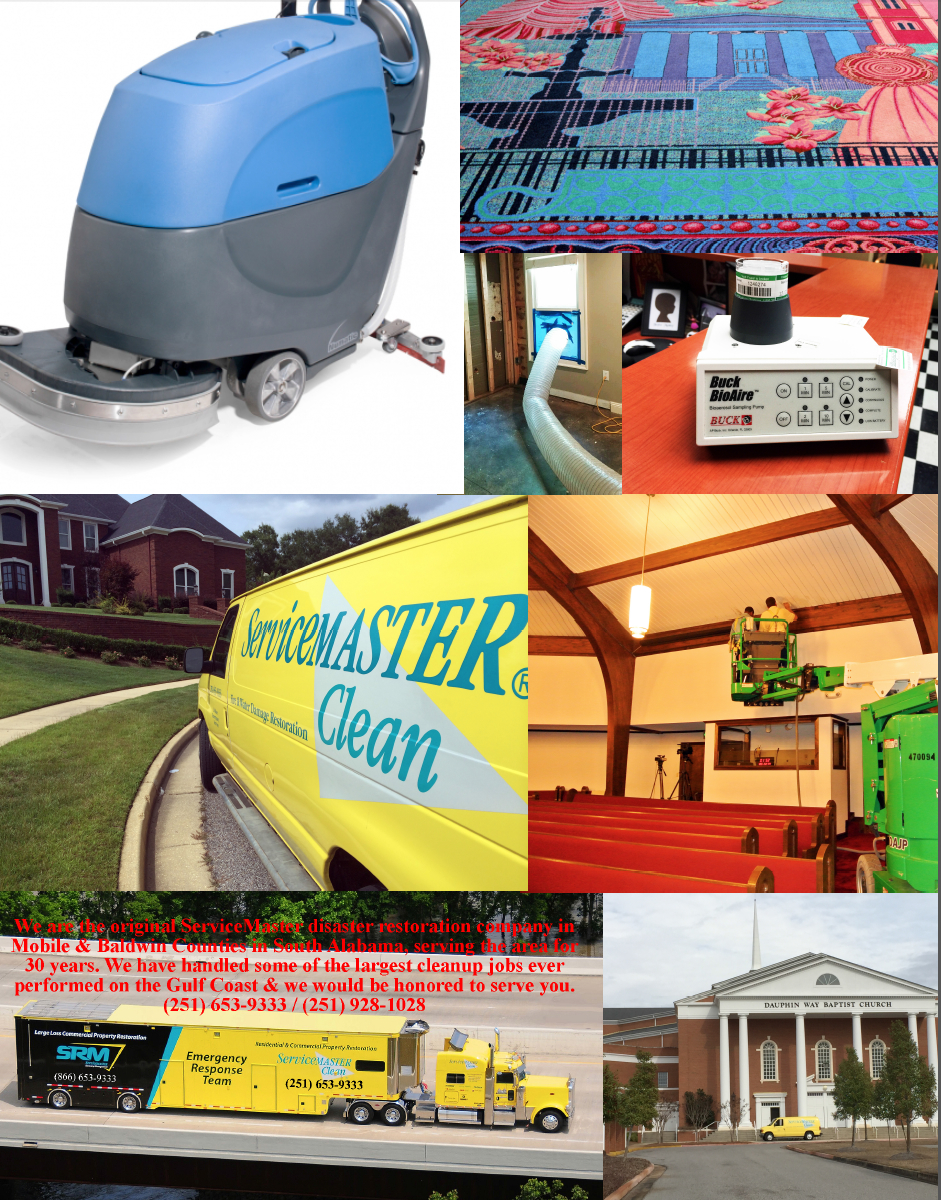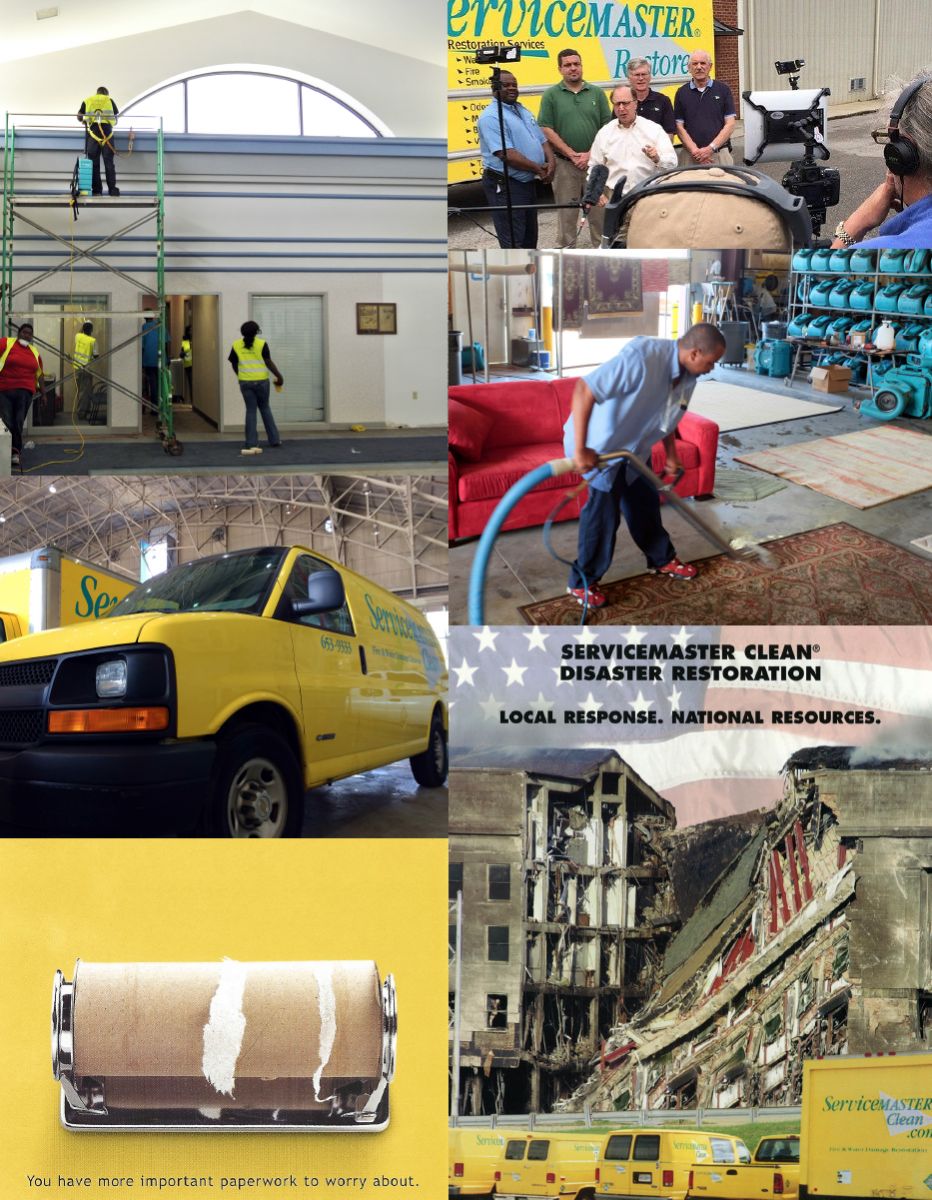 Finally, (and this one fact stands out alone, and is so paramount that it needs no numerical listing), we adhere to the ServiceMaster credo espoused by ServiceMaster's founder, Marion Wade many years ago. We don't just talk about it, we live it. Wade had a strong personal faith and a desire to honor God in all he did. Translating this into the marketplace, he viewed each individual employee and customer as being made in God's image—worthy of dignity and respect. His successors, Ken Hansen and Ken Wessner, also shared his viewpoint. These three leaders shaped what became our company objectives:
Honor God in All We Do
Excel with Customers
Help People Develop
Grow Profitably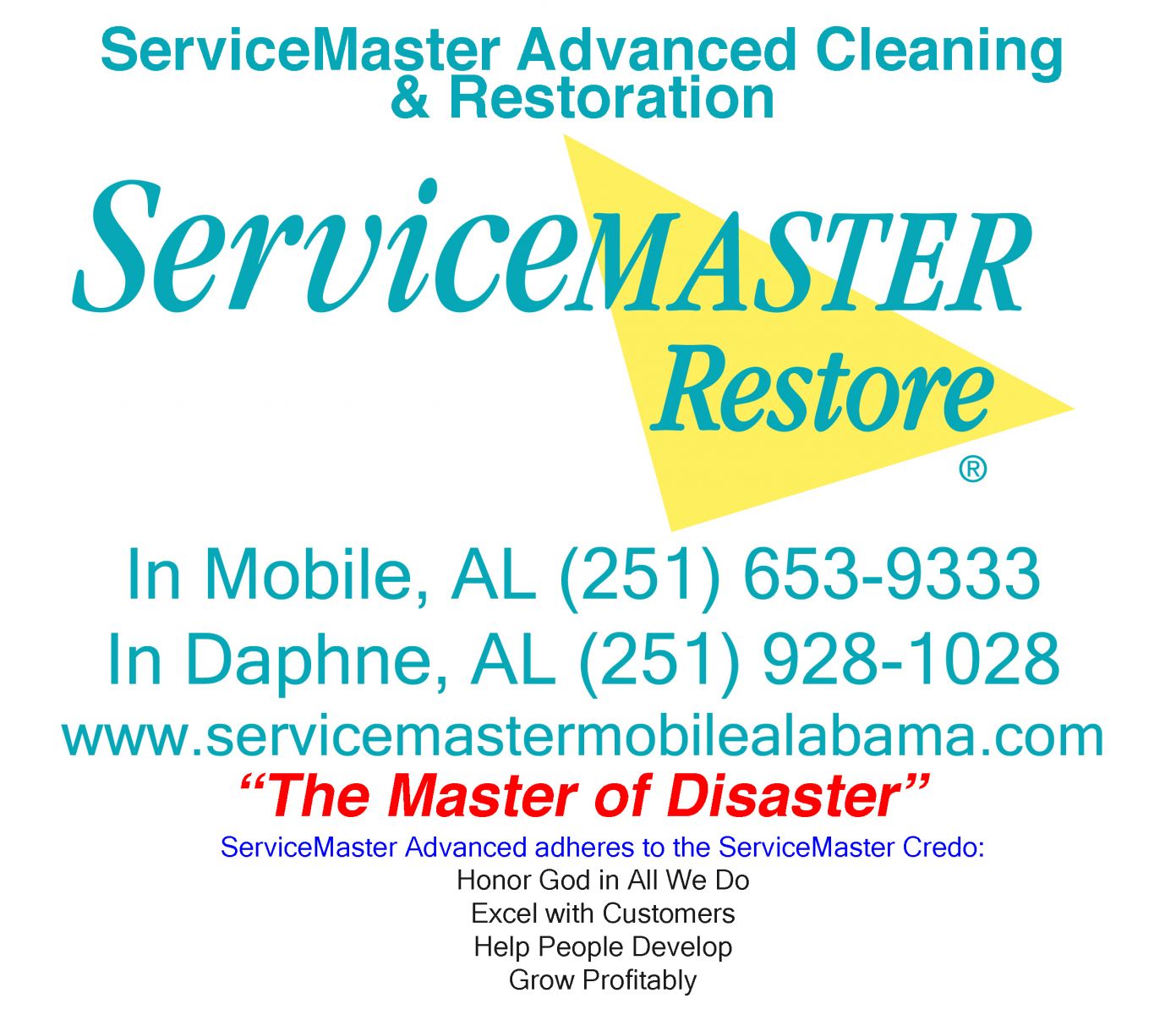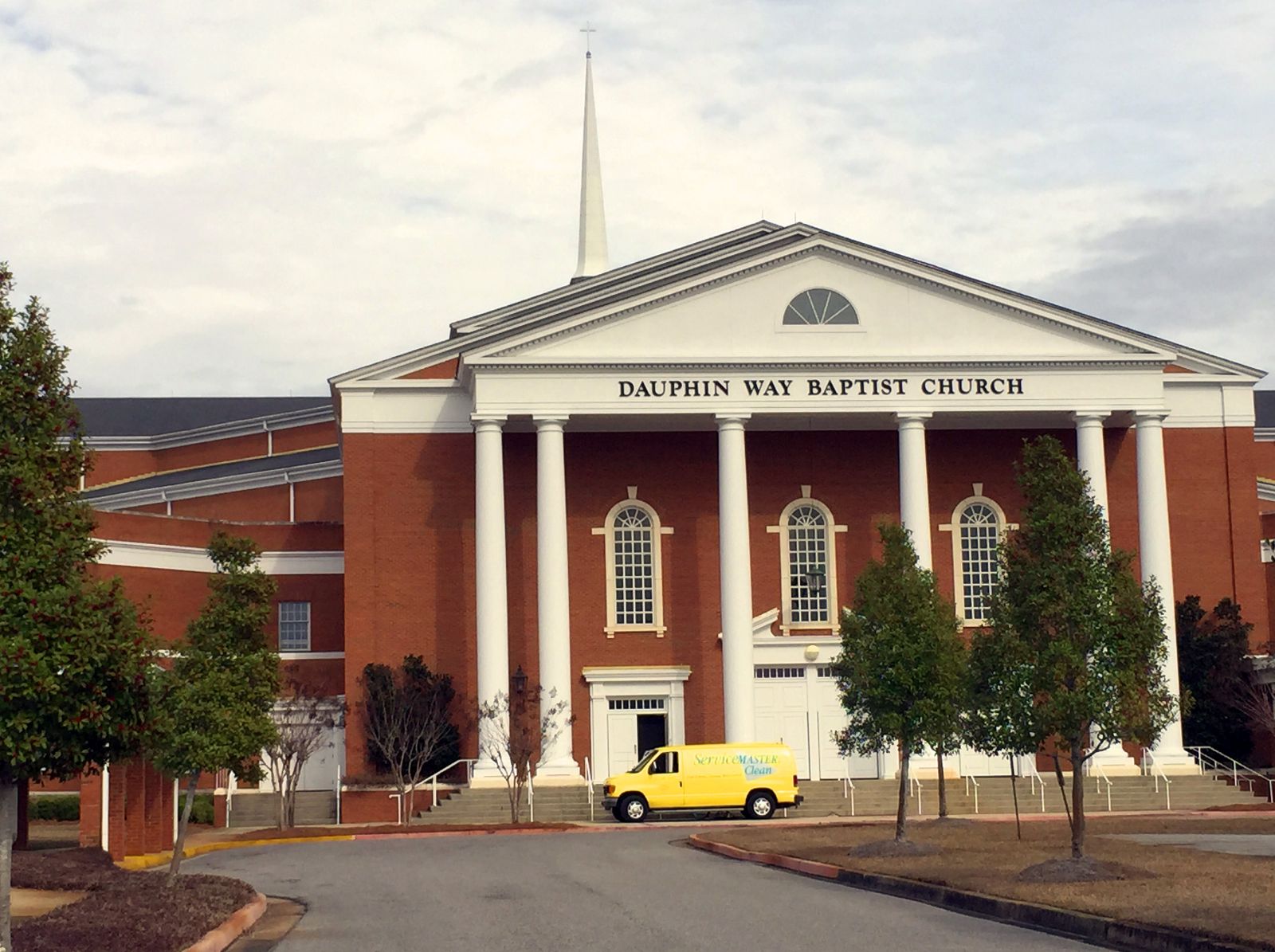 Remember that YOU AND YOU ALONE, decide who works in your home or business. YOU decide who handles your most precious of possessions! Tell your insurance provider that you want SERVICEMASTER ADVANCED or call us directly. Make sure that there is no confusion. There are other mitigation companies, and even others with similar sounding names. We are ServiceMaster Advanced, The Master of Disaster. "WE WOULD BE HONORED TO SERVE YOU." (251) 653-9333 or (251) 928-1028.