ServiceMaster Advanced Cleaning & Restoration, "The Master of Disaster" - Mold Remediation Overview
CERTIFIED Mold Damage Remediation, Cleanup & Mold Testing
We are the original ServiceMaster Restore disaster restoration company operating in Mobile and Baldwin County in South Alabama, serving the area for over 30 years. We have handled some of the largest fire damage, water damage and mold remediation cleanup jobs ever performed on the Gulf Coast and we would be honored to serve you. (251) 653-9333, (251) 928-1028 and (866) 653-9333.
ServiceMaster Mobile, Alabama locally known as ServiceMaster Advanced Cleaning & Restoration, The Master of Disaster, has posted several guidelines about mold identification and mold remediation on their site.

CERTIFIED Mold Remediation Requires Training & Knowledge - Mobile, AL, Baldwin County, AL & The Alabama & Mississippi Gulf Coast
If you have a mold issue, make certain that you hire a CERTIFIED mold remediation professional. Ask to see their certifications. Ask to see their insurance. Mold can be a serious health hazard, and you shouldn't take a chance with anyone that says it can simply be torn out! The airborne spores left from the removal of affected drywall and contents, are typically the very thing that will cause health problems. If every square inch isn't properly cleaned and the air filtered, the resulting spores can be enough to cause serious health issues. We will not take a chance with your health. We only know one way to do the job - the right way. This involves total elimination and removal of all visible and airborne mold spores. - ServiceMaster Advanced - The Master of Disaster (251) 653-9333, (251) 928-1028 & (866) 653-9333.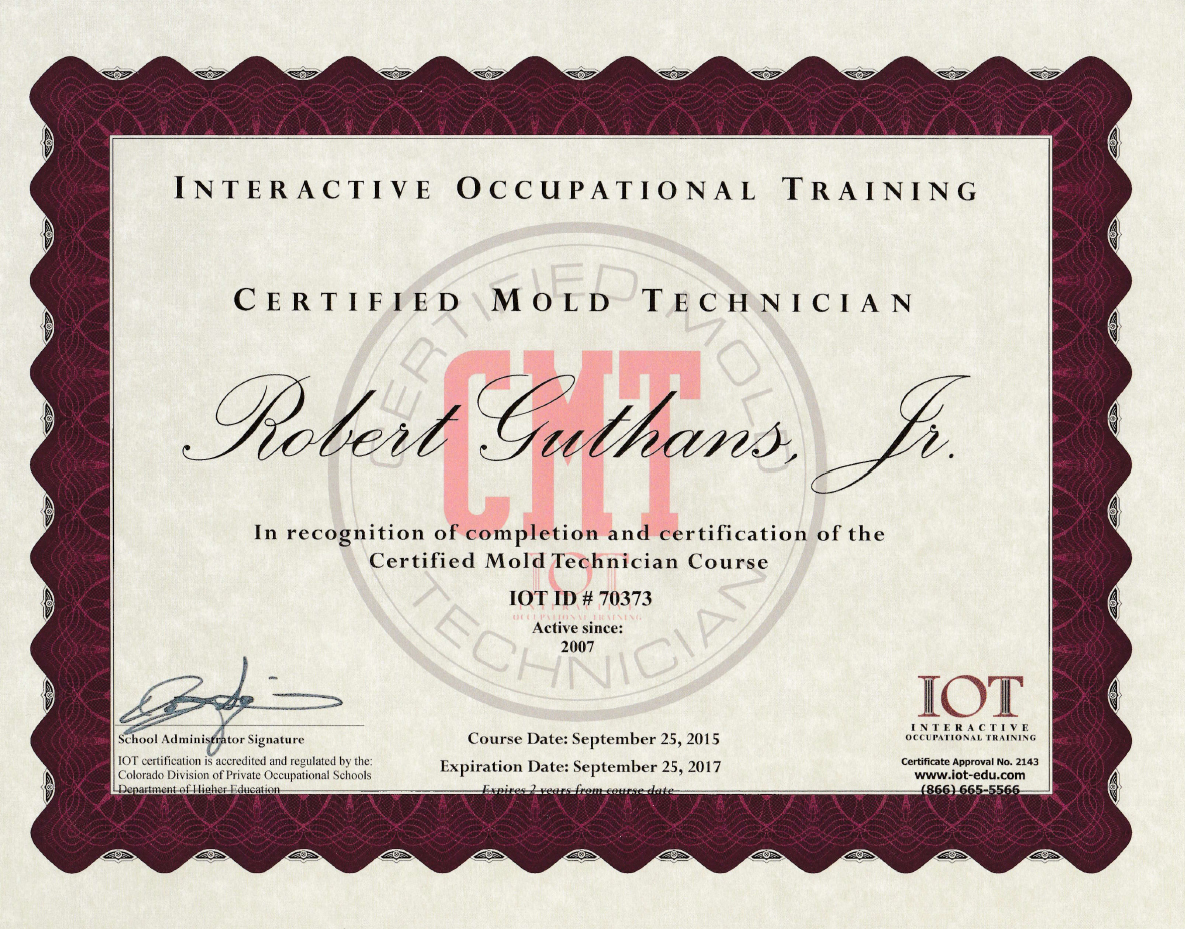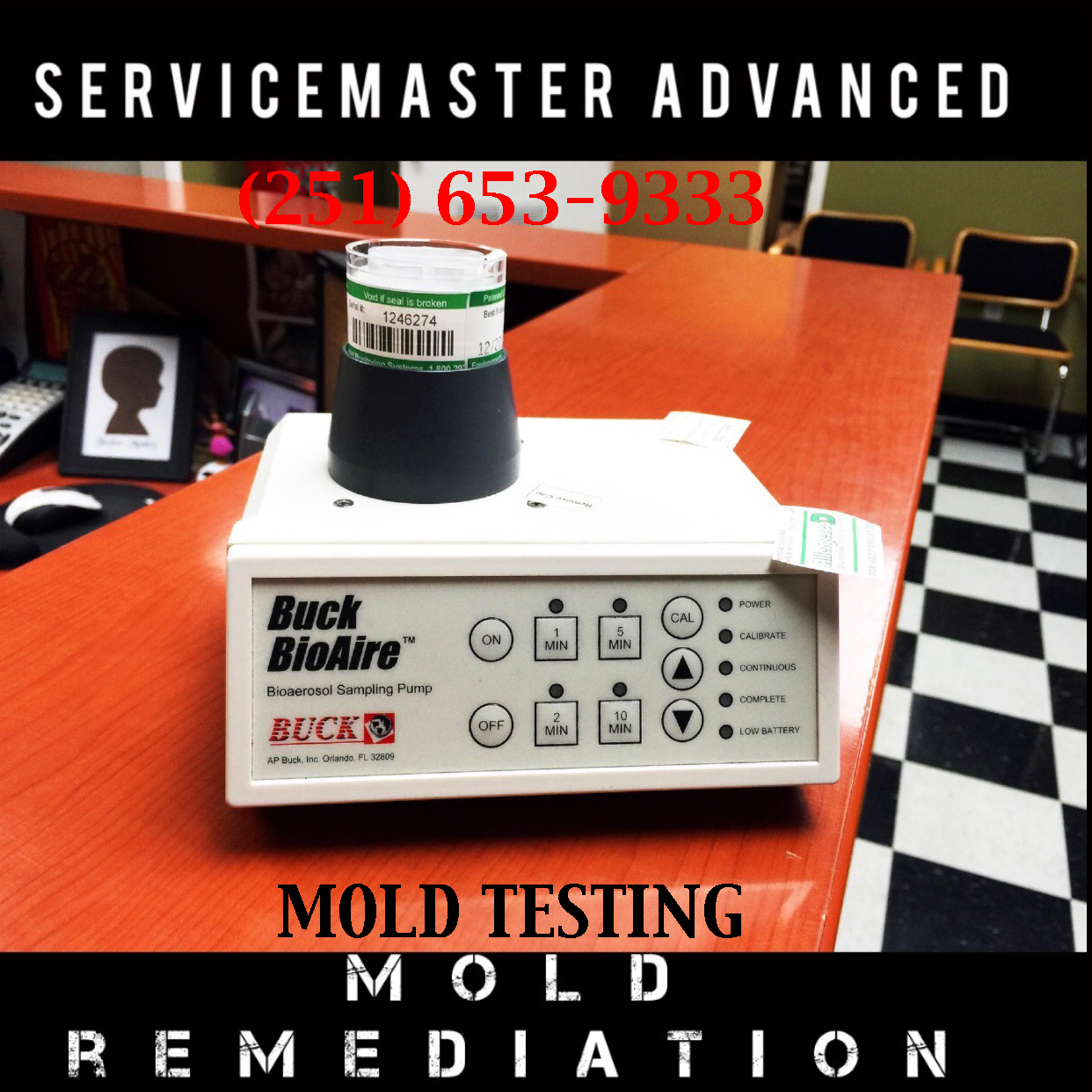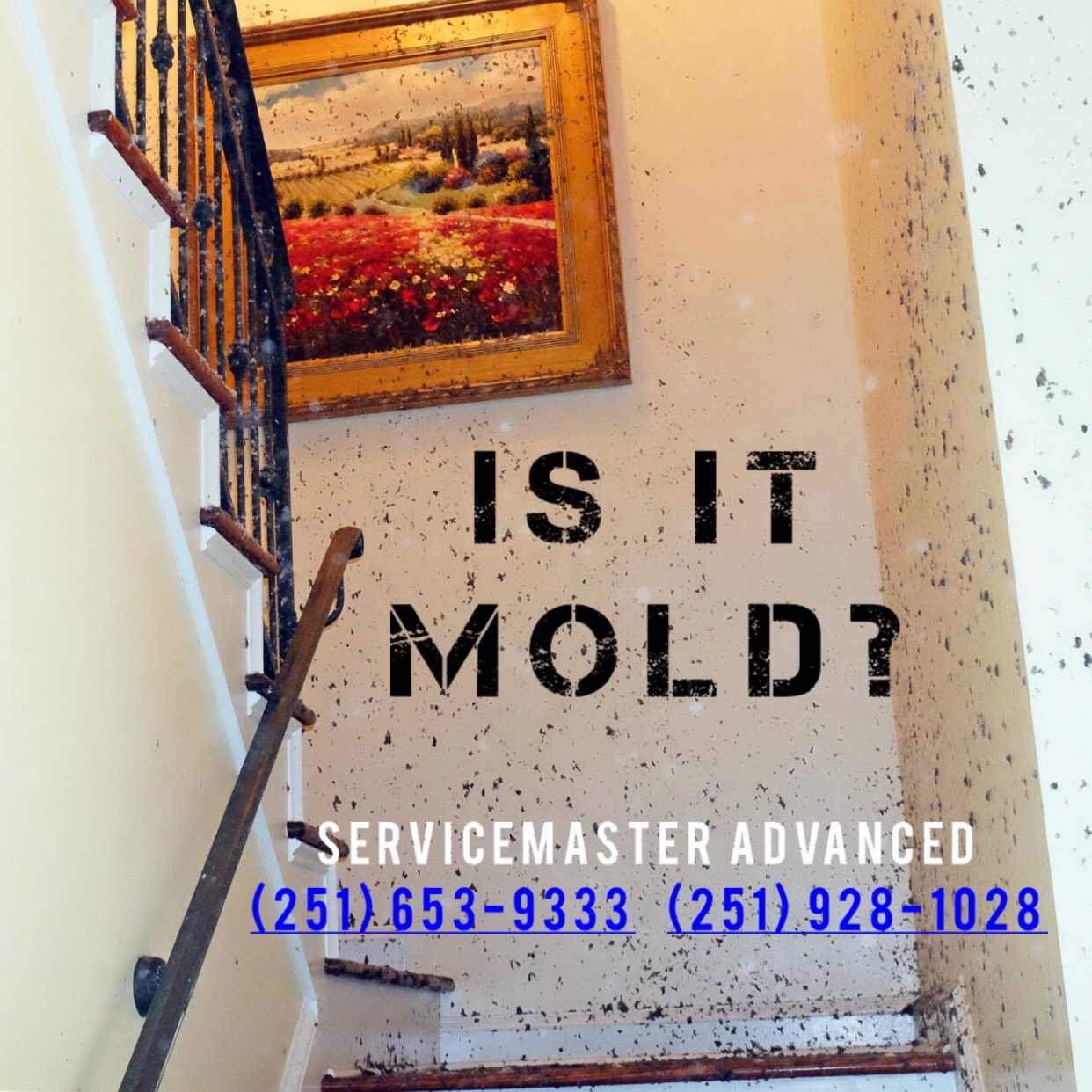 Water Damage, Mold and Home Insurance
You've had water damage in your house due to a burst pipe, a roof leak or a heavy summer storm. You hope that your insurance will cover the damage. What to do? First, read about mold below. You may not know the implications of water and mold damage.

What Is Mold, and Why Should You Care?
Molds are part of a group of micro-organisms called fungi that also includes mushrooms and yeasts. Molds are familiar to most people as food spoilers on items such as bread or fruit. Molds are nature's decomposers in the food chain.
Mold requires the following conditions to grow:
Mold spores (which are always present indoors and outdoors)
The right temperature range, from 2°C to 40°C
A food supply, which means anything organic such as books, carpets, clothing, wood, drywall, etc.
A source of moisture
The last condition, moisture, is the only practical factor to control in most houses.
If allowed to grow inside your house, mold can be a problem because:
It can damage your possessions
It can cause health problems, for example:

" … mold … can cause … allergic reactions such as asthma or allergic rhinitis, non-allergic reactions such as headaches, and other symptoms [including] lung and breathing infections" (Health Canada, 2003).
Dry Quickly to Avoid Mold!
1 — Contact your insurance broker
First, call your insurance broker or agent and report the water damage. You can expect to discuss these questions and issues:
How did the water damage occur?
Is this damage covered by your policy?
Did the damage occur during the period your policy was in effect?
Are you reporting the water damage promptly (within 24 hours) to allow quick drying and repairs?
2 — Hire

ServiceMaster Advanced Cleaning & Restoration
Hire a ServiceMaster Advanced Cleaning & Restoration to clean up the water and make repairs as needed to your house.

A thorough and fast cleanup will help avoid mold growth. If you wait too long and mold growth starts, cleanup costs will increase significantly. This is what you should be looking for:

Speed
Mold grows quickly; that is why you need us in your house promptly.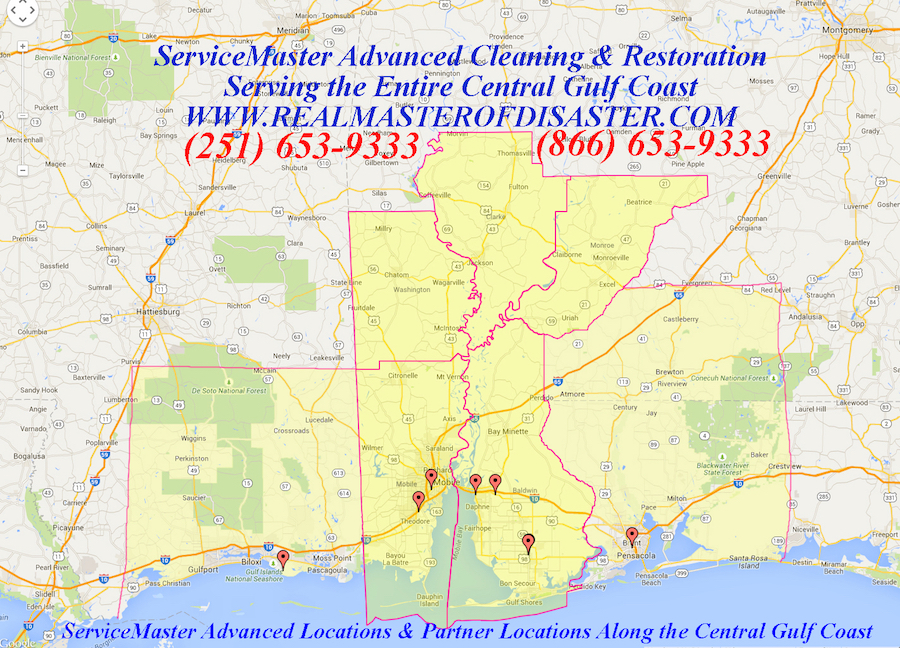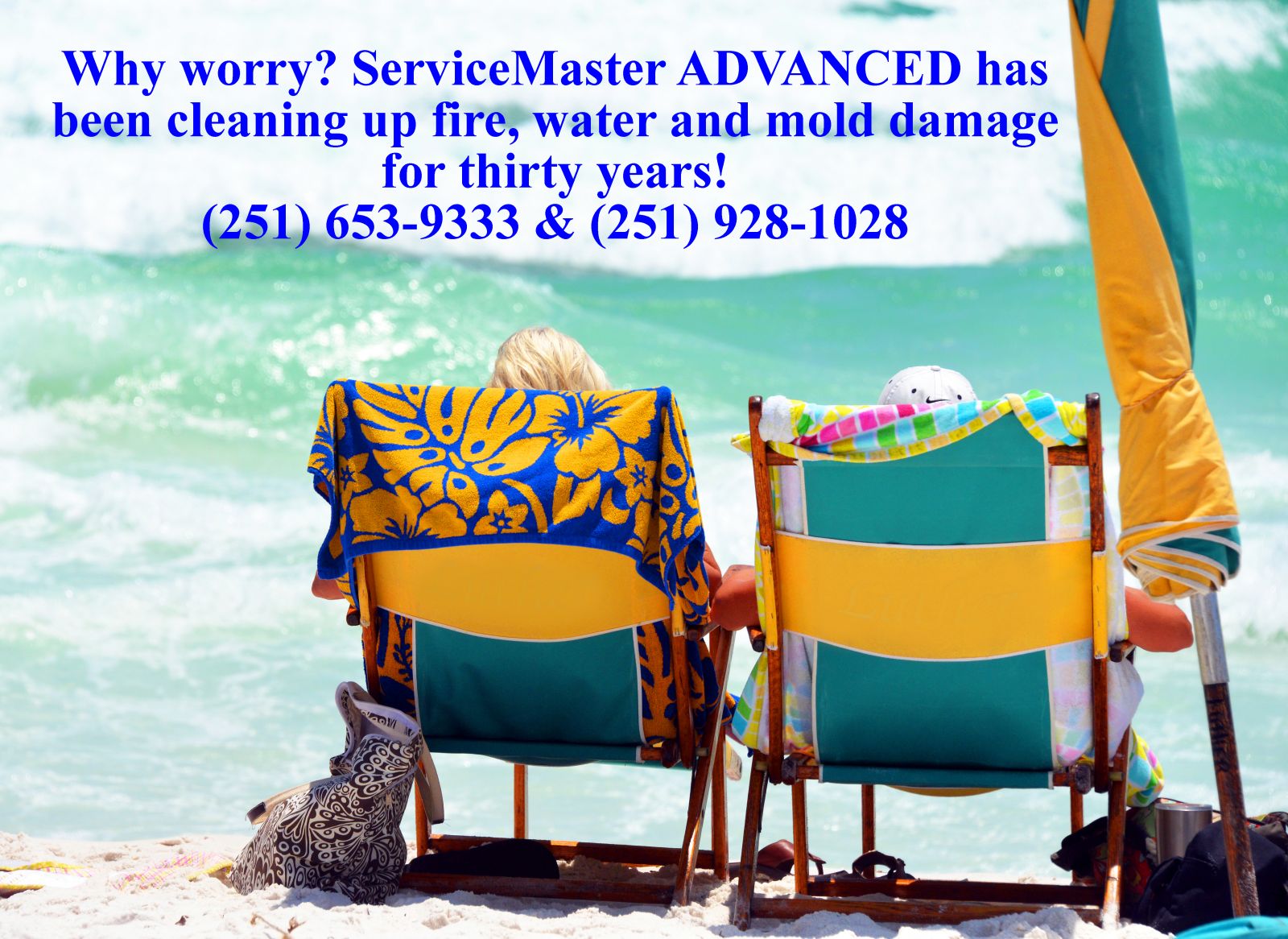 Knowledge
ServiceMaster Advanced Cleaning & Restoration is certified and training in water damage restoration and mold remediation. Not only are we certified and trained, unlike many of the other "national" companies who advertise that they perform these services in Mobile and Baldwin Counties and the Gulf Coast, we actually perform this work here. All of our pictures and videos are of actual jobs that this entity actually performed here!​ We are experienced HERE on the Gulf Coast. Our pictures are not stock corporate photos provided to us by the franchisor, they are OUR pictures of jobs that we have done!

Competence
We follow basic, good clean up practices after your water damage. Here are some things to look for:
The moisture source is stopped
Wet items that can't be salvaged are removed
What can't be removed is dried quickly
Ideally, drying is done within 48 hours (to minimize mold growth)
No refinishing is done until the area is thoroughly dried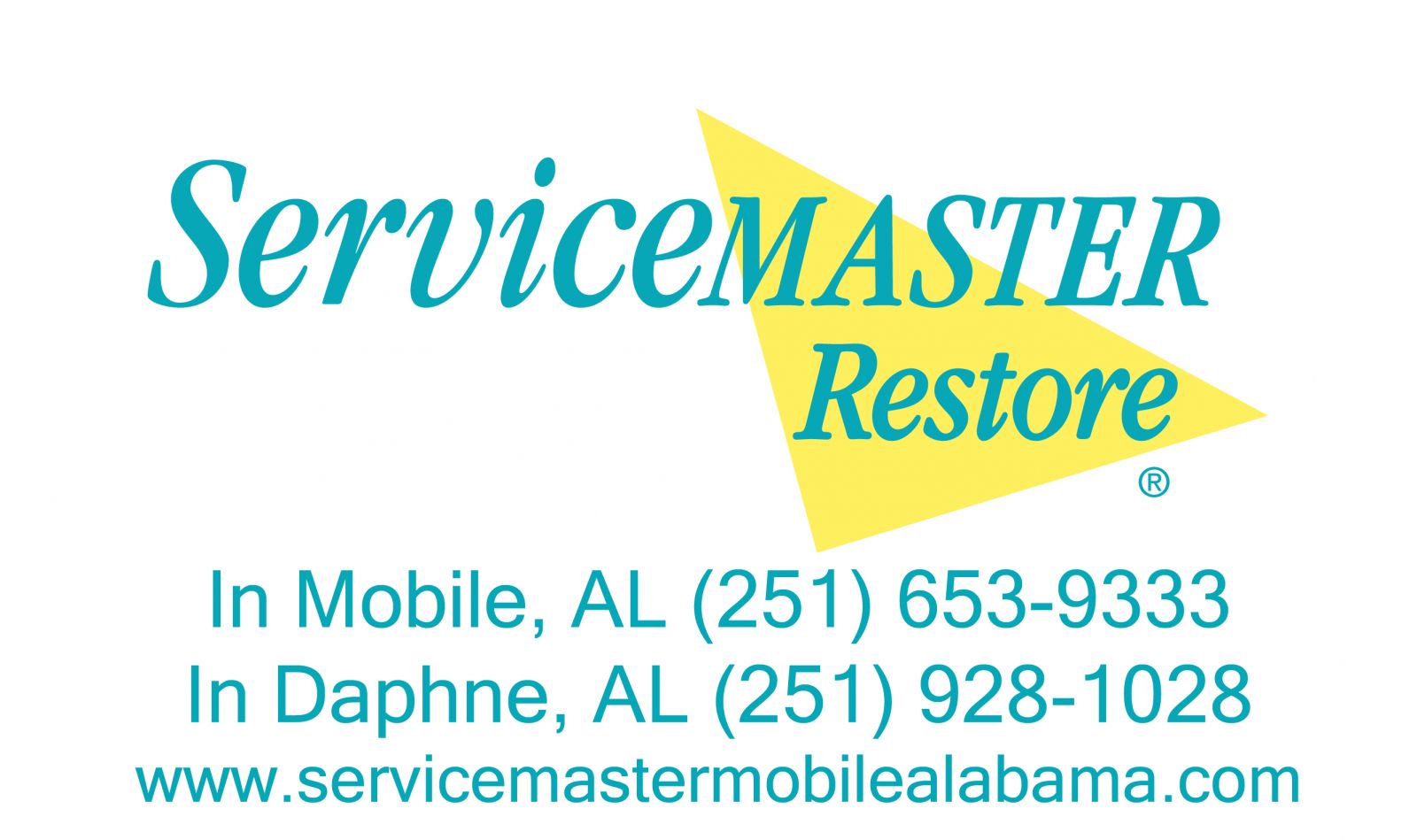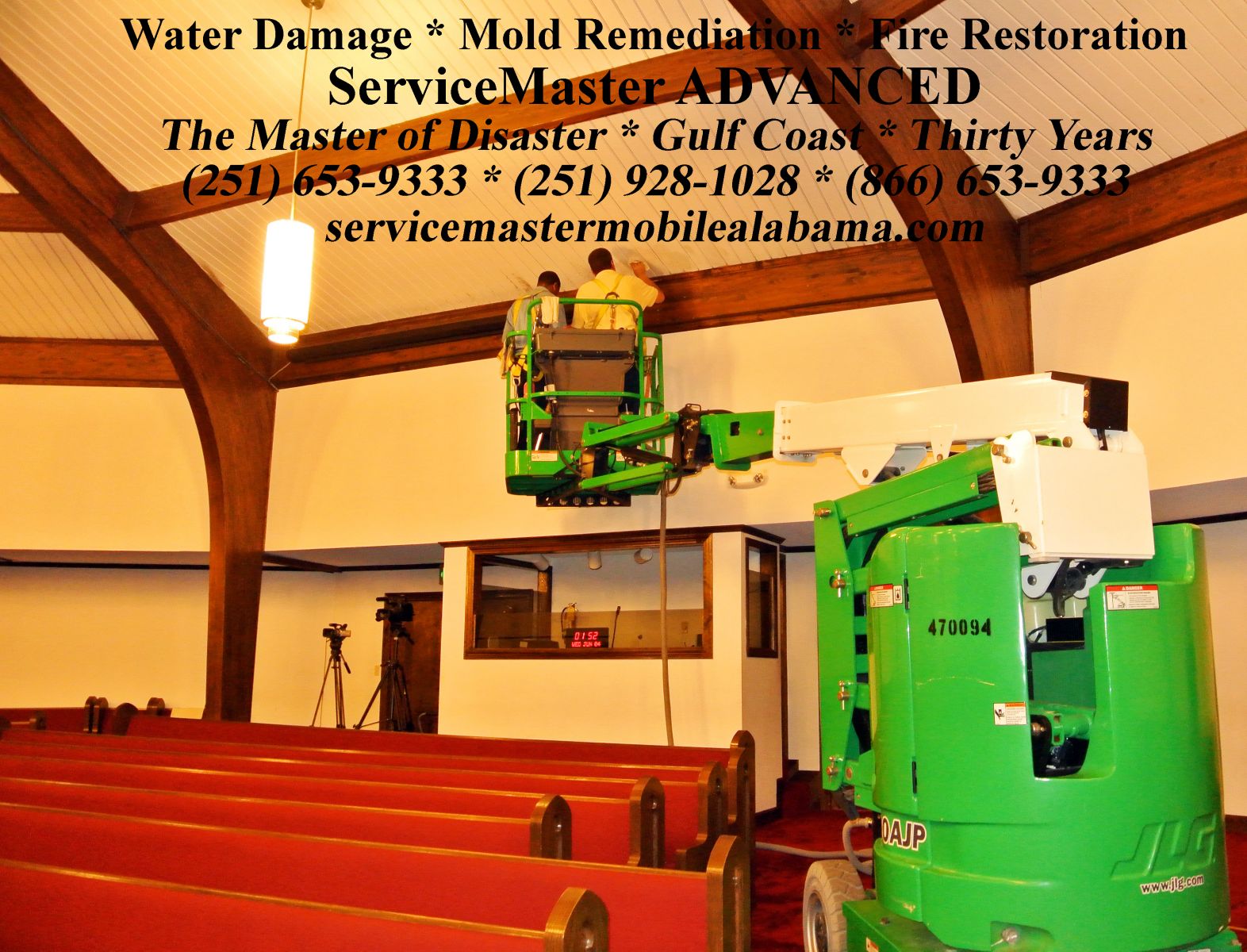 The above picture was done at a church in Eight Mile, AL where we were performing mold remediation.
You've Got Mold
If you already have extensive mold because, for example, you've had water damage while you've been away for two weeks, or there was a long delay between the water damage and our arrival, then we will have to discuss the following points:
1 — Drying the damaged area
2 — Removing the mold safely
To protect our staff and you and your family from exposure to mold, ServiceMaster Advanced Cleaning & Restoration follows certain procedures. Here are some things we do:
The affected area will be sealed off from the rest of your house.
The workers will be wearing protective gear.
There will need to be an exhaust fan removing air from the affected area to the outdoors.
No chemical disinfectants, such as bleach, should be used during clean-up, only fragrance-free detergent.
If transported through your house, moldy materials will be sealed in plastic.
3 — Inspecting for mold
We will inspect:
All areas adjacent to the mold growth
Behind wallpaper
In areas where water may have seeped, such as wall cavities, basement subfloors, crawl spaces, etc.
Under wall-to-wall carpeting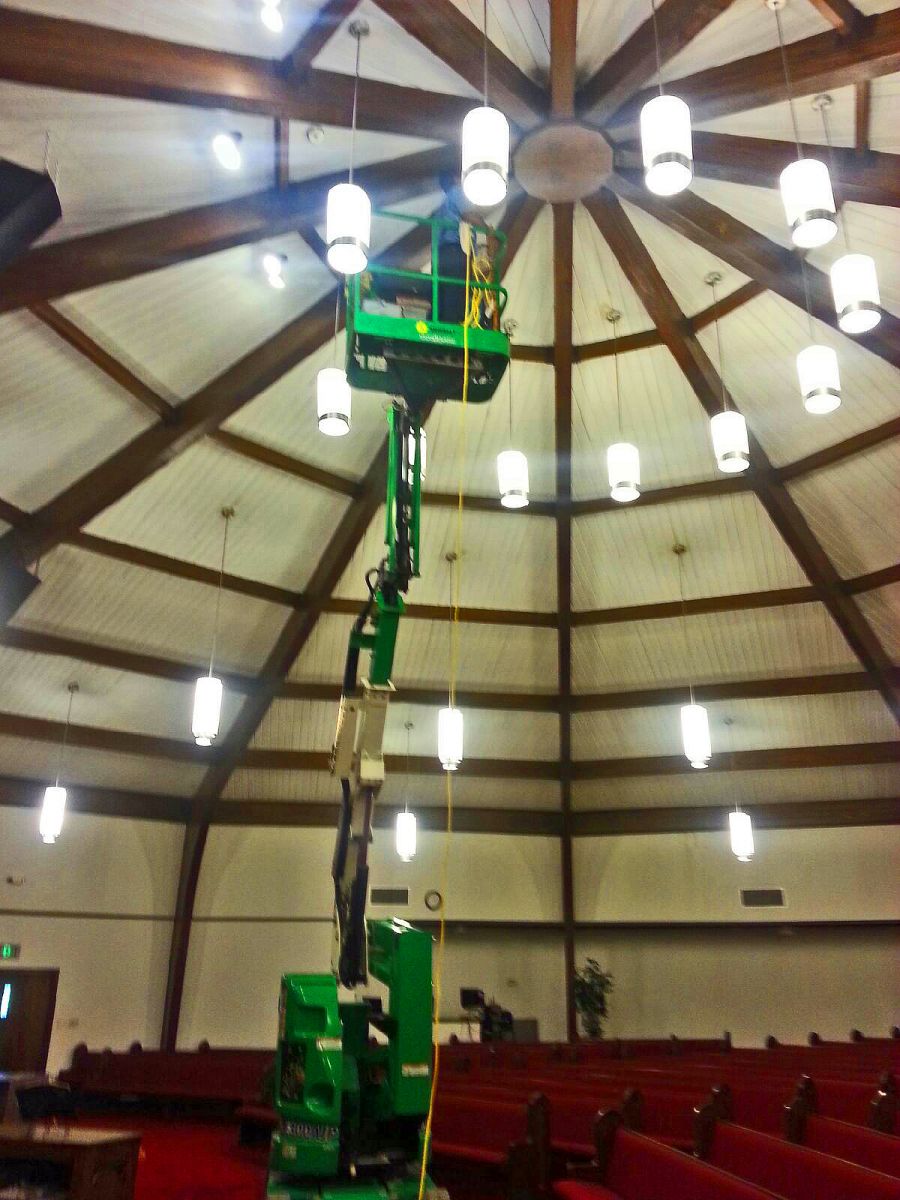 Here is another article from one of the ServiceMaster tri-fold brochures:
WHAT IS MOLD?
We have probably all encountered mold at one time or another. It might have been in the shower, or on a stale piece of bread or cheese/ There are many different species of mold, but all molds share some common characteristics.
Molds thrive in moist and humid environments.

Molds require an organic food source. One common food source is cellulose, which is found in building materials such as wood and drywall.

Molds are spread by microscopic airborne particles called "spores."
Molds and spores are naturally present in the outdoor environment all around us. However, indoor mold growth can become a tenacious problem. Mold spreads rapidly and produces an unpleasant musty odor. If allowed to grow unchecked, mold can impact indoor air quality and can be difficult and costly to remove. Mold contamination is a growing concern for homeowners, property managers, insurance providers and restoration companies. Below is a picture of air sampling actually being performed in one of our offices here in Mobile, Alabama. To learn, we made certain that our own environment was mold free!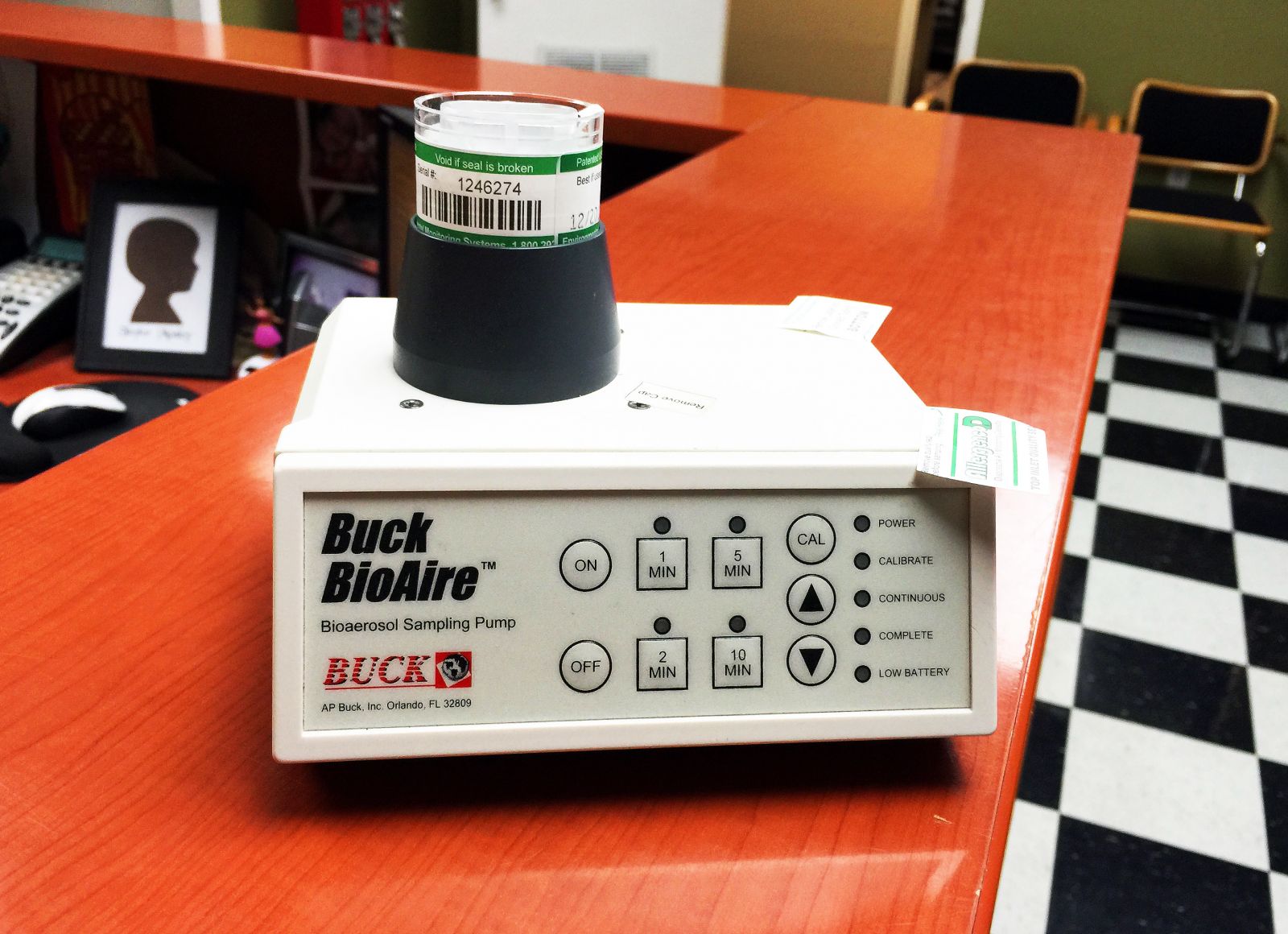 MOLD TESTING
When a customer has a significant mold issue, we will typically recommend the services of an Industrial Hygienist. This person should be hired by the customer to pre-test for mold spore levels, write a remediation plan, and conduct post-testing spore counts. In the actual printouts from lab reports from an actual job that ServiceMaster Advanced performed, one can see the before and after results below. Note the "after" spore counts which are actually significantly lower than outside air quality!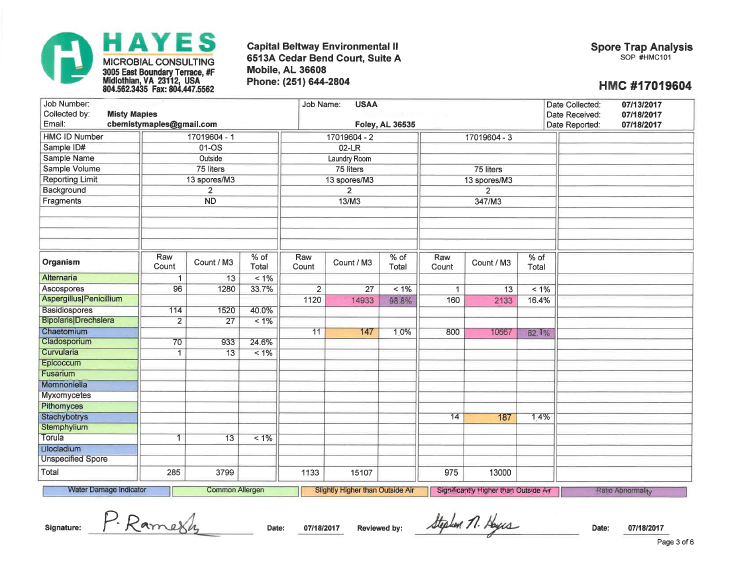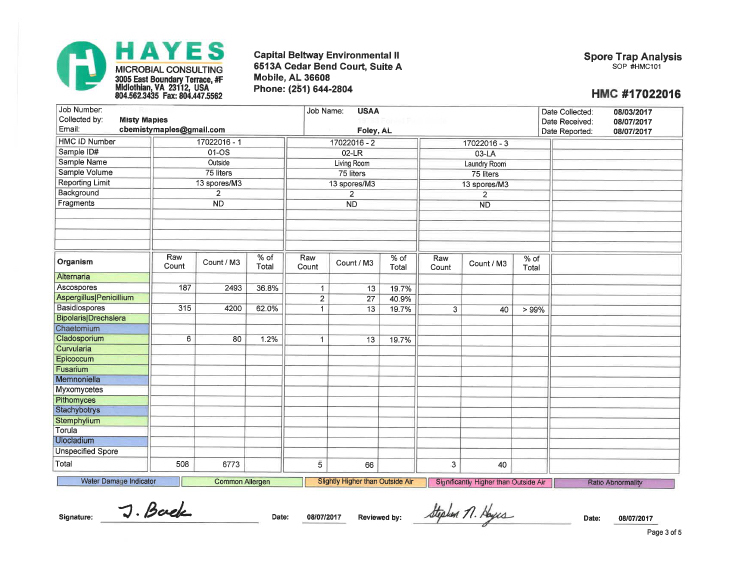 WHAT IS THE BEST DEFENSE?
Mold can start to grow in as little as 48 hours. To prevent the spread of mold, it is important to react quickly in the event of a water loss. By identifying and eliminating the source of the water and implementing rapid drying processes, mold growth can be curtailed. The most effective drying techniques involve the use of sensitive tools to measure and record the temperature, humidity and moisture content of both the structure and contents of the home or building. Professional water damage restoration can mean the difference between a small water problem and a structure covered with mold. ServiceMaster Clean professionally trained technicians use the latest water restoration and drying techniques to deliver quality results.
For 24 hour emergency service, call (251) 653-9333. For more information about ServiceMaster Mobile, AL and ServiceMaster Advanced Cleaning & Restoration, disaster restoration services, visit www.servicemastermobilealabama.com.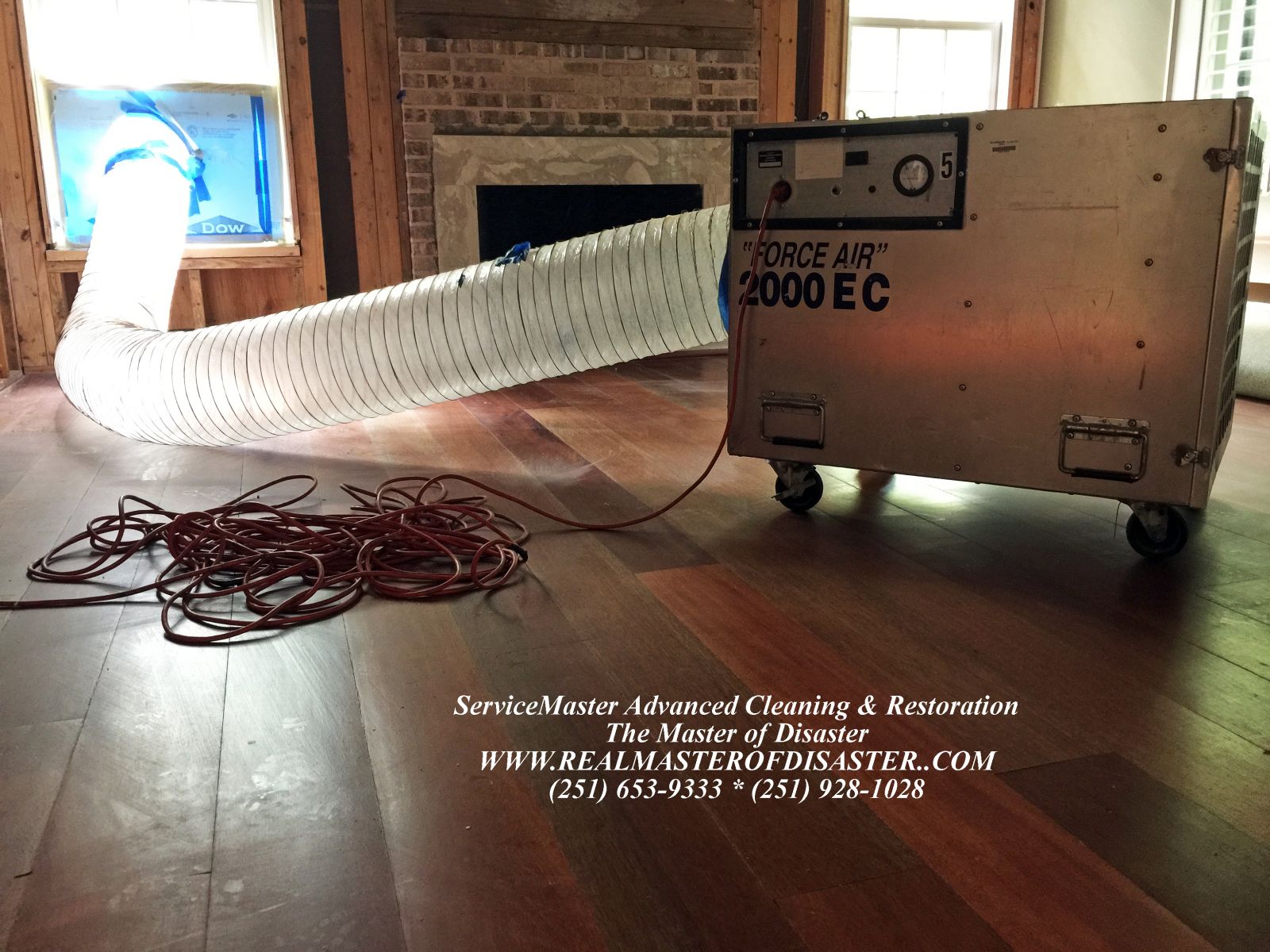 This article refers specifically and only to ServiceMaster ADVANCED Cleaning & Restoration. Make certain that you call this specific company as there are vast differences in capabilities between companies. We can be reached at (251) 653-9333, ServiceMaster ADVANCED, enterprise number 7027.
APPROPRIATE ACTION KEY
If we observe mold, we will respond appropriately, immediately reporting our observations to the insurance company, or the property owner. When the extent of mold contamination is isolated and/or less than 10 square feet, expensive testing and protocols are generally not required. ServiceMaster Advanced can proceed with the claim and perform emergency water mitigation services, including remediation of the 10 square feet or less of mold. We will isolate the contaminated area and remove the mold, while protecting the surrounding areas from the possible spread of mold spores.
When we encounter an affected area of more than 10 square feet, we will contain the contaminated area, stop normal water mitigation procedures and immediately notify the insurance company, and notify the customer. In these cases, we strongly recommend the use of an environmental testing service to establish baseline levels of mold, identify the types of mold present and develop a written remediation plan. Our goal is to work with the owner or the insurance company to establish the proper procedures to handle the mold situation.
ServiceMaster Advanced, The Master of Disaster (251) 653-9333. http://www.servicemastermobilealabama.com.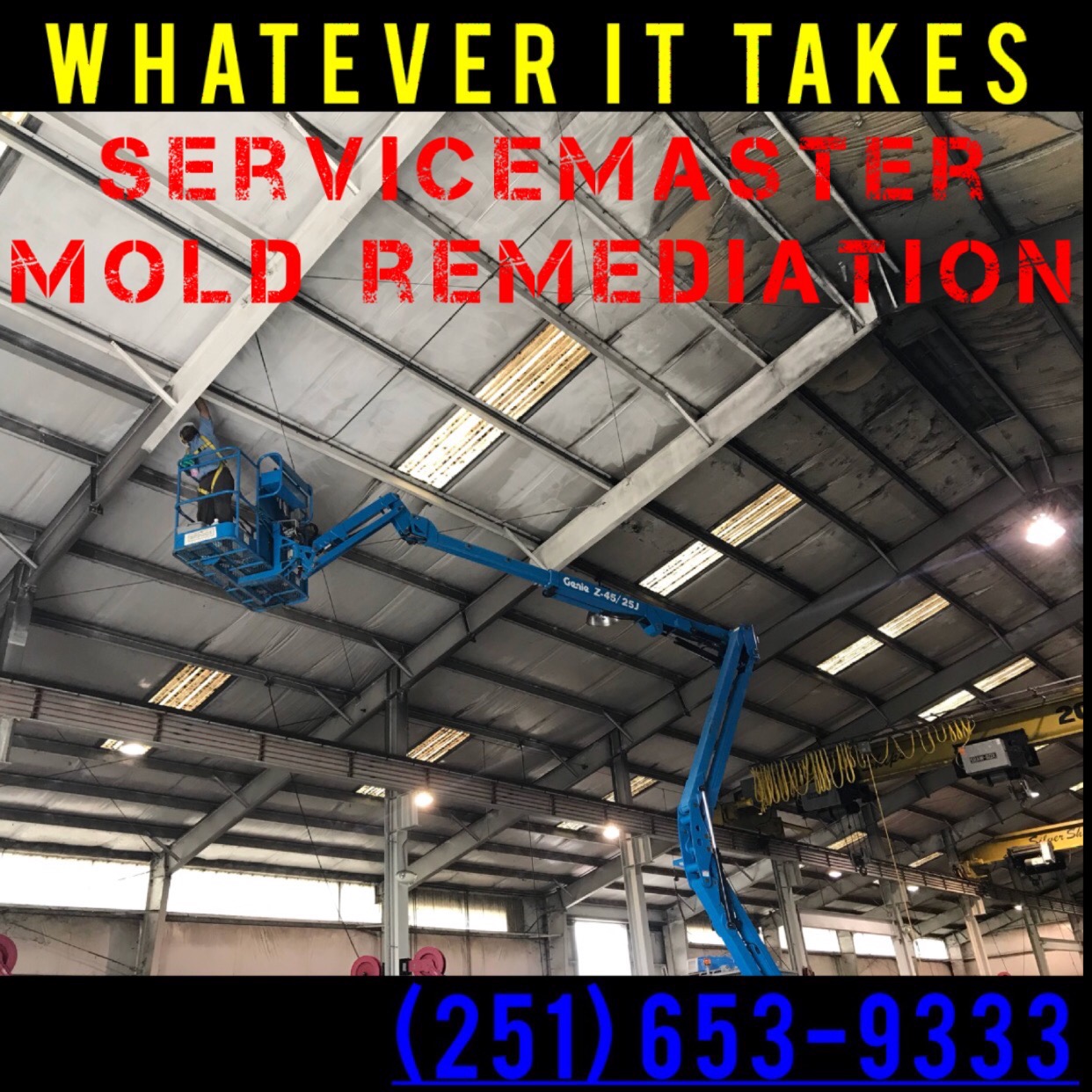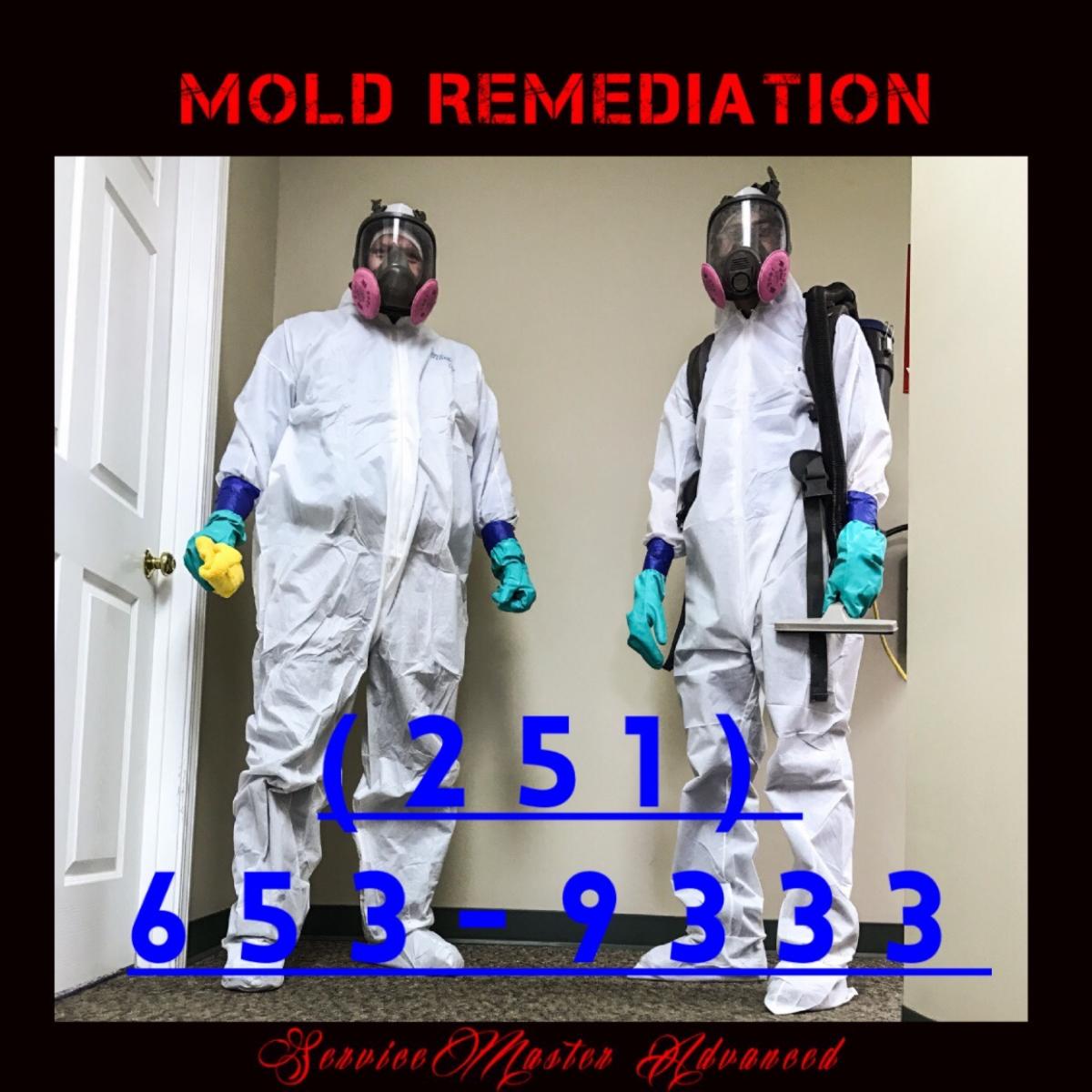 Remember that YOU AND YOU ALONE, decide who works in your home or business. YOU decide who handles your most precious of possessions! Tell your insurance provider that you want SERVICEMASTER ADVANCED or call us directly. Make sure that there is no confusion. There are other mitigation companies, and even others with similar sounding names. We are ServiceMaster Advanced, The Master of Disaster. "WE WOULD BE HONORED TO SERVE YOU." (251) 653-9333 or (251) 928-1028.
Printable mold remediation guide. Below.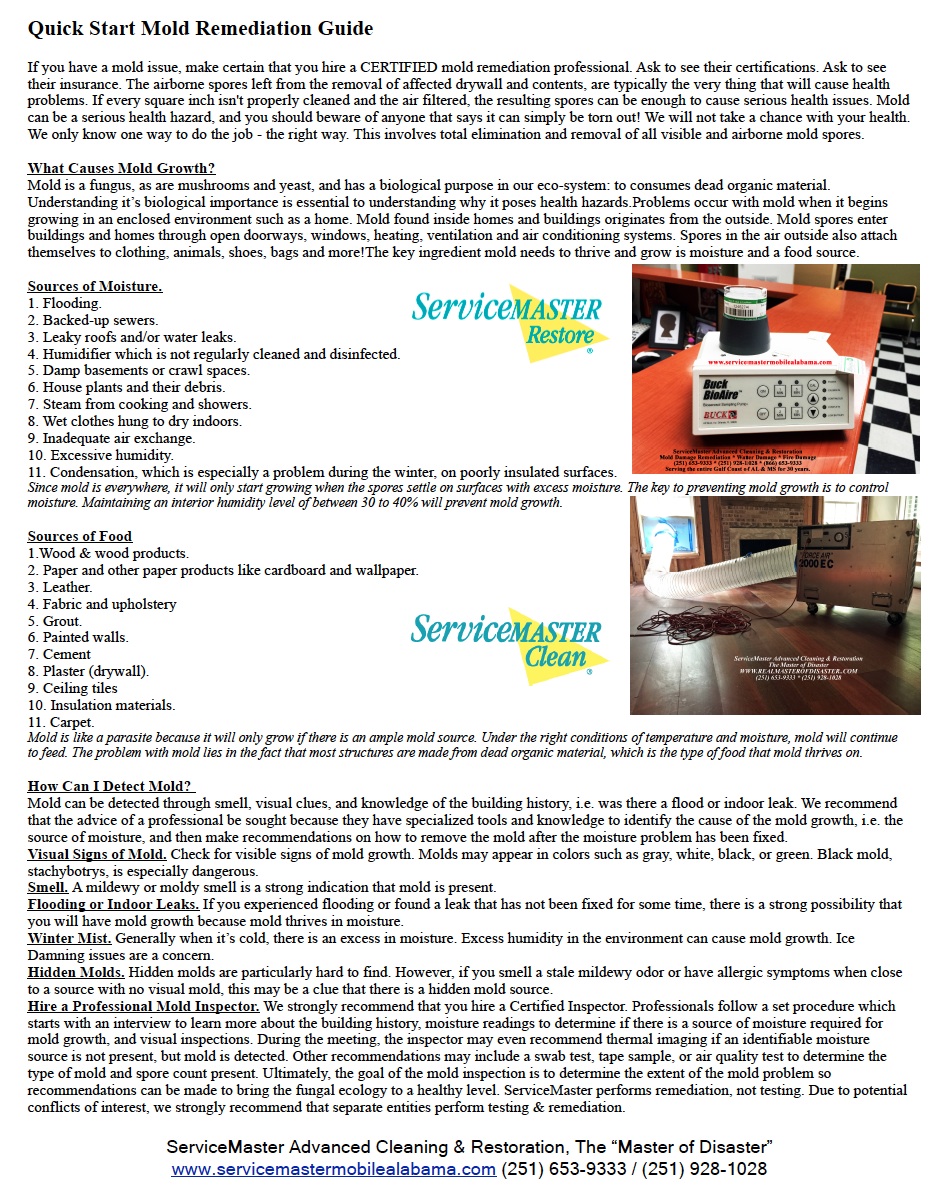 ServiceMaster Restore Uncovers #TheTruthAboutMold
10 Things Smart Homeowners Should Know and Do When It Comes to Mold Dangers
MEMPHIS, TN--(Marketwired - April 21, 2016) - Just the thought of living in a home with mold is enough to strike fear in the minds of most homeowners. Given the health risks and property damage that mold can cause, the experts at ServiceMaster Restore say it is important for homeowners to know how to identify mold on their property, learn where it thrives and understand the best ways to eliminate it from their homes.
Today, the company is unveiling the results of its 2016 ServiceMaster Restore Franchisee Mold Remediation Survey, in which more than 250 trained and experienced franchise owners shared their expertise about this dangerous and costly issue that affects homes and businesses across the country. ServiceMaster Restore is one of the largest disaster restoration companies in the United States and a ServiceMaster (NYSE: SERV) company.
"Mold isn't something most people think about until they experience it in their own home," says Peter Duncanson, director of system development at ServiceMaster Restore and chairman of the board of directors for The Institute of Inspection, Cleaning and Restoration Certification (IICRC). "It's important to beat mold at its own game -- this means taking steps to prevent mold from growing or calling in an expert right away to stop mold in its tracks once it begins to grow in your home."
According to the survey, many people believe they can kill mold on their own using powerful over-the-counter cleaners such as bleach; however, Duncanson says this is not true.
"Many retail products will change how mold looks, and you might think it's gone because you don't see it," Duncanson says. "But, the only way to get rid of mold completely and safely -- and to be sure you're protecting your property and health from additional risk -- is to have trained professionals physically remove it from the affected area."
According to the EPA1, potential health effects associated with mold include allergic reactions, asthma and other respiratory complaints, as well as irritation to the eyes, skin, nose, throat and lungs. By living with mold, homeowners are exposed to these potential health risks.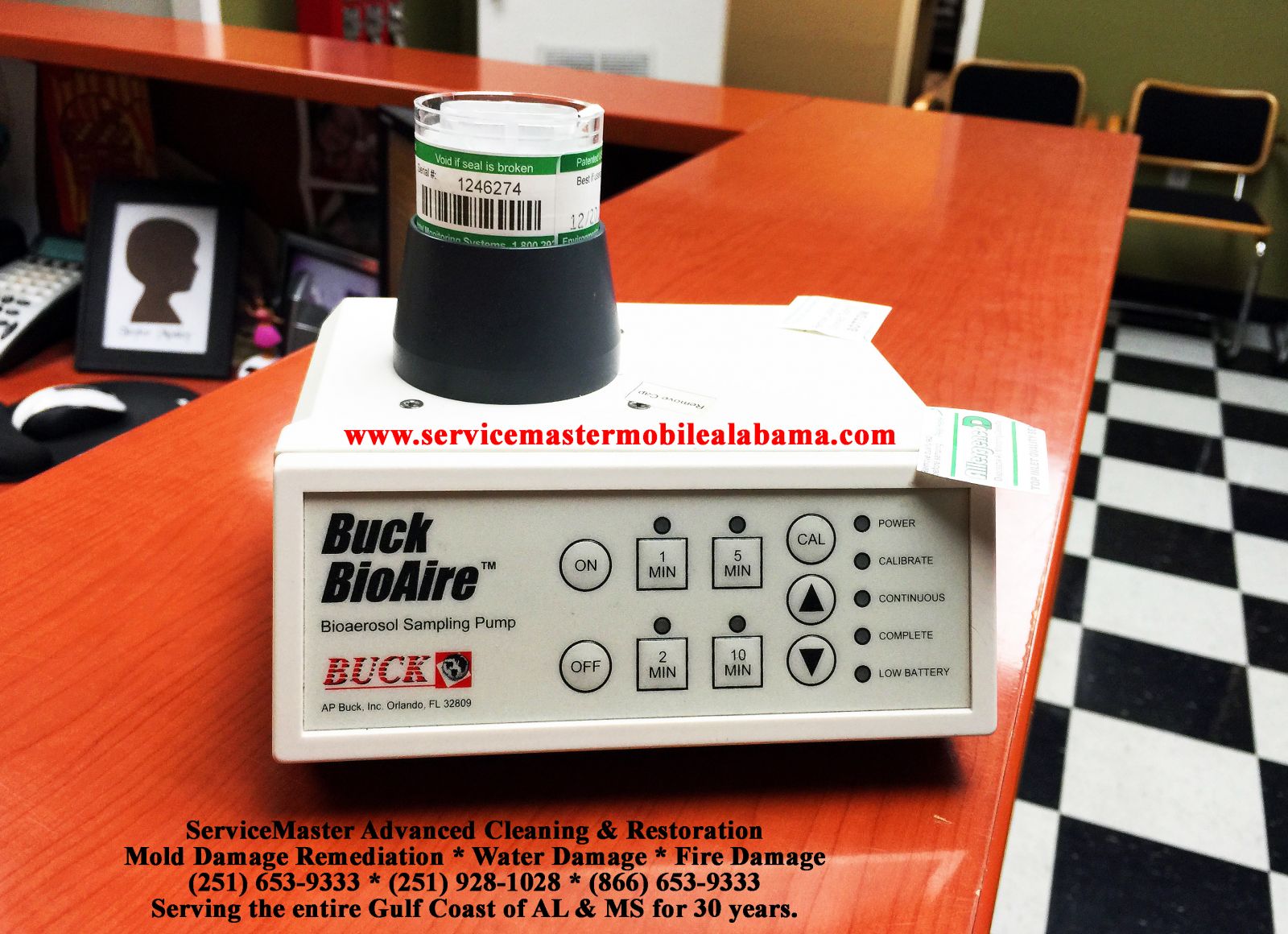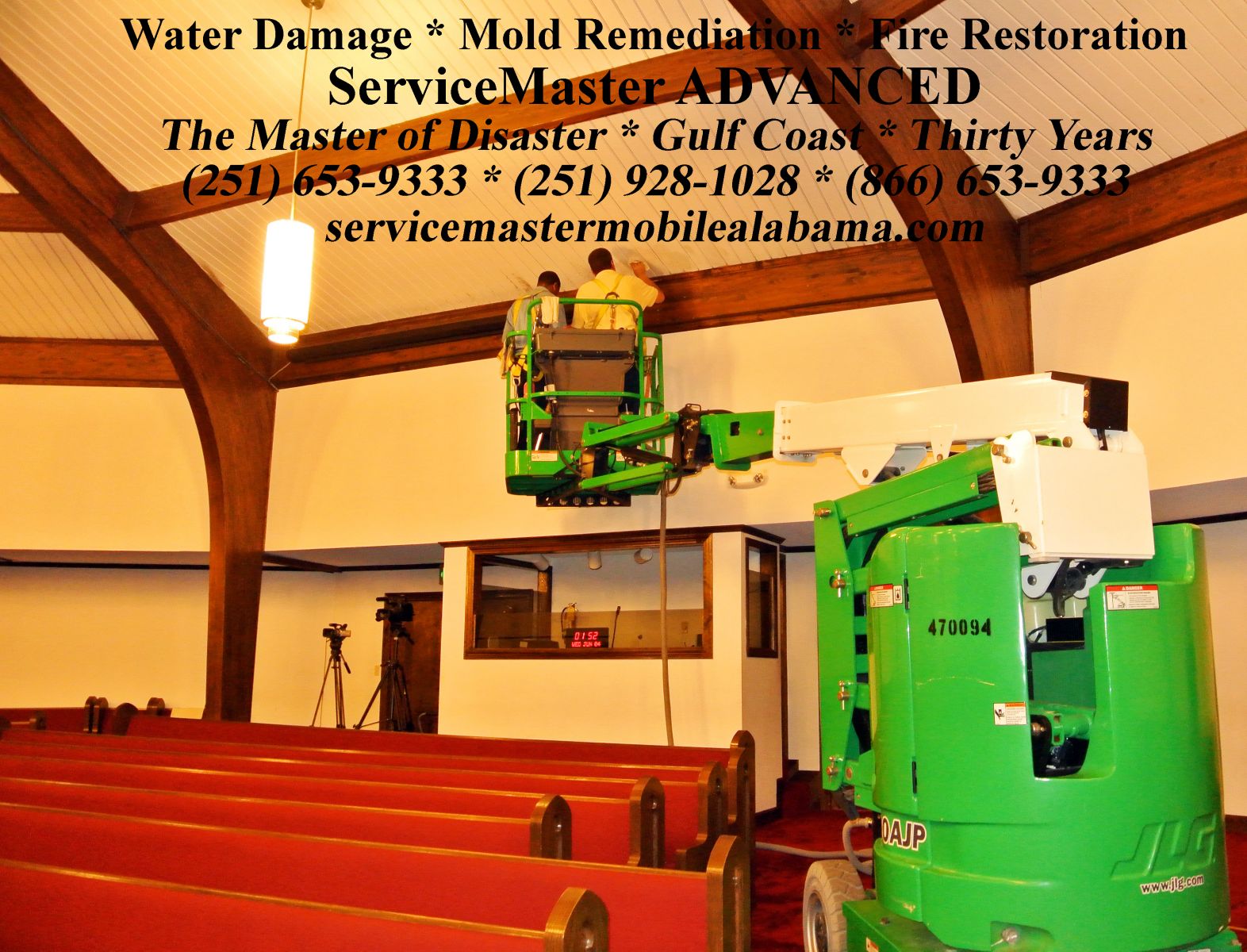 Looking for mold in all the right places
More than half of ServiceMaster Restore survey respondents said that basements (64 percent) and bathrooms (58 percent) are the rooms where mold is most likely to be present.
Common locations vary by region, say respondents, who also noted that in the Midwest and Northeast, mold is found most often in basements, whereas in the South and West, it is found most commonly in bathrooms.
Nearly two-fifths (39 percent) say running the exhaust fan during showers is the most effective way to prevent mold in the bathroom.
Nearly three-quarters (73 percent) say properly maintaining ventilation throughout the home is paramount in preventing mold growth.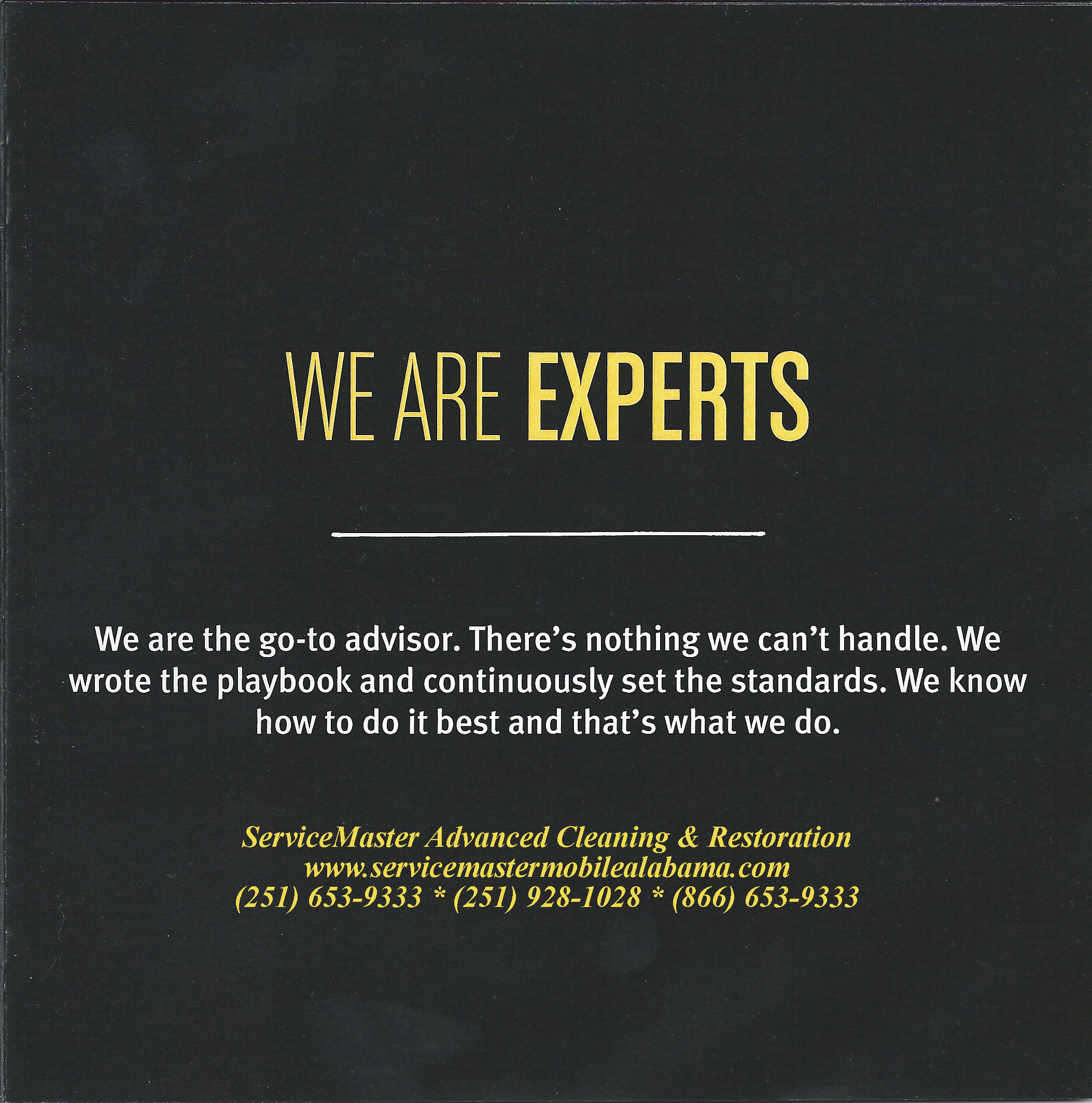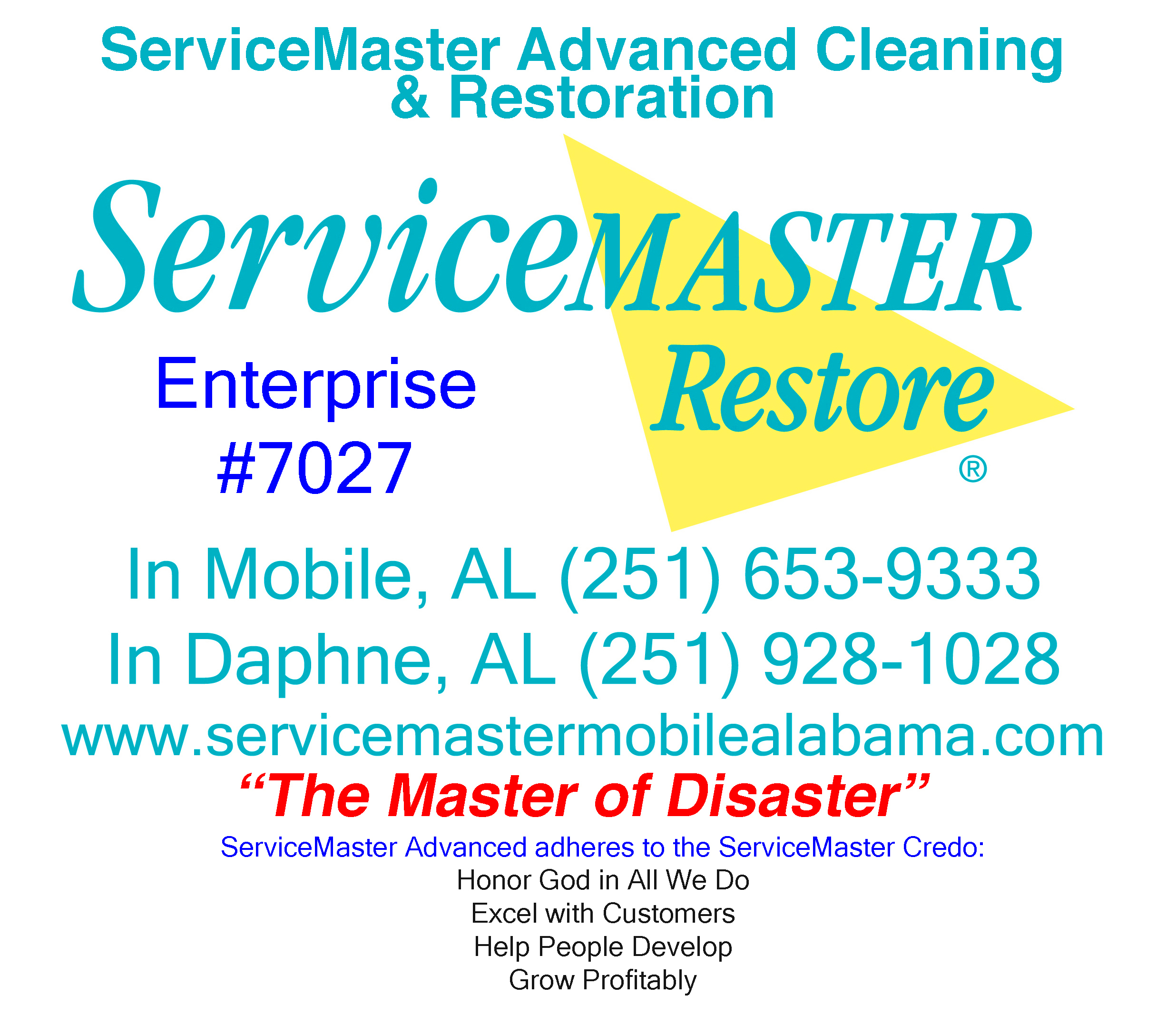 Top 10 Must-Know Mold Tips
To help homeowners who are facing mold damage or are eager to avoid it, Duncanson and the team of experts at ServiceMaster Restore have shared the top 10 things homeowners should do (or not do) in the fight against mold:
The best defenses against mold are to take away its food source, ensure adequate airflow and reduce moisture in the air.
Don't rely on retail products, such as bleaches that promise to kill mold, especially on porous surfaces.
Vacuum vents every month to remove dust, a primary food source for mold. If you have central heating and air, remember to clean the baseboards, floorboards and bathroom vents, as well.
If mold is visible, don't use a consumer vacuum to remove it. This includes wet/dry vacuums, which can actually make a mold issue even worse.
If you see mold in an area, do not use a fan to dry things out. Call a professional, as you will likely spread mold spores and create the potential for even more damage.
To reduce moisture and control ventilation in the bathroom, run an exhaust fan during a shower or open the door and windows in the bathroom after using it.
Consider investing in small household de-humidifiers to reduce moisture. If you have a large home or business, you may need more than one.
If you have terrariums and plants, be aware that these can be food sources for mold.
Don't ignore the problem. Signs of mold could indicate the presence of larger issues that may cause health risks.
If you suspect mold, call a trained professional, like those from ServiceMaster Restore, with the expertise and resources to restore your home to normal and prevent costlier damage.
For more expert tips and information about mold prevention and remediation, visit WWW.SERVICEMASTERMOBILEALABAMA.COM For immediate assistance and clean up, call a live ServiceMaster Restore operator 24/7 at (866) 653-9333, or (251) 653-9333.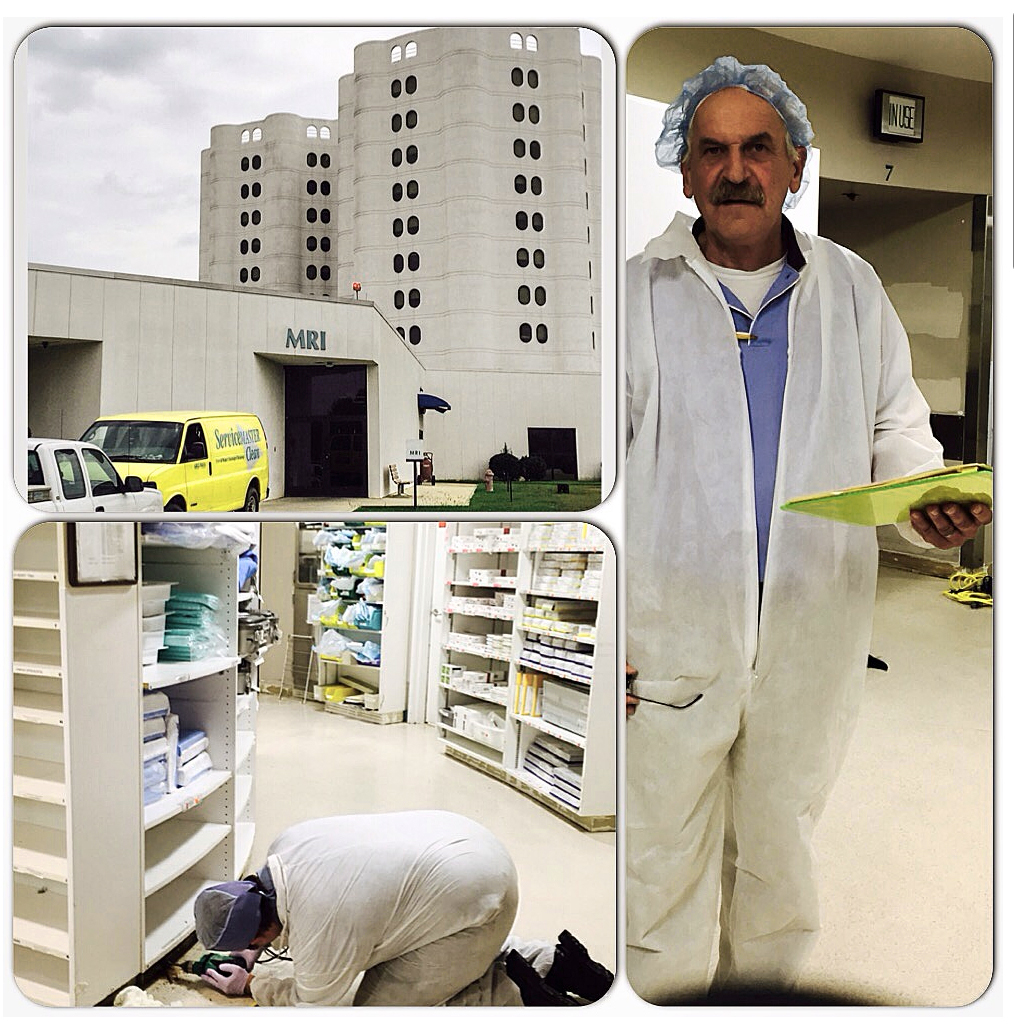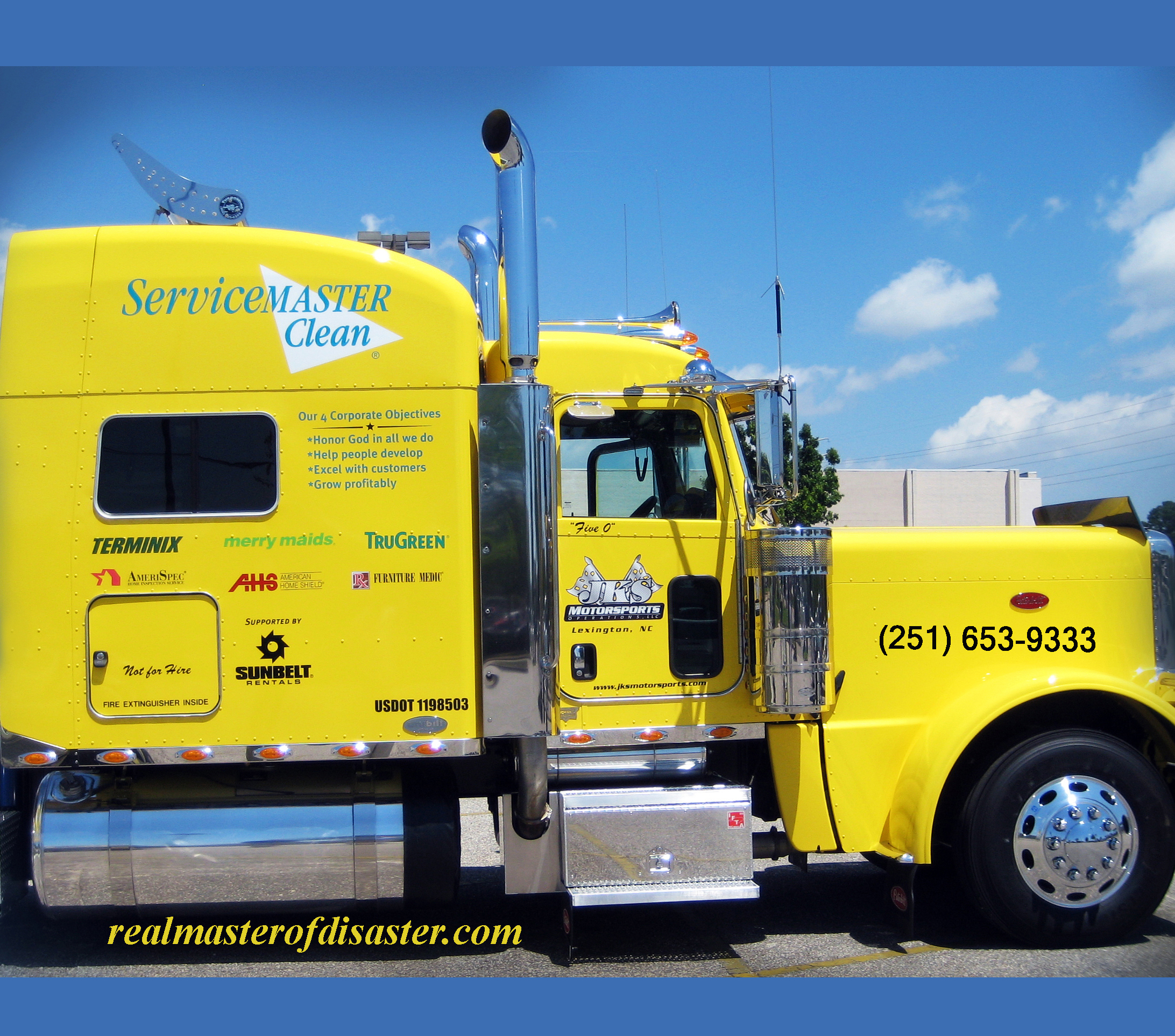 About ServiceMaster Advanced Cleaning & Restoration
We are the original ServiceMaster Clean (janitorial) & ServiceMaster Restore (disaster restoration) company operating in Mobile and Baldwin County in South Alabama, serving the area for over 30 years. We have handled some of the largest janitorial, fire damage, water damage and mold remediation cleanup jobs ever performed on the Gulf Coast and we would be honored to serve you. (251) 344-5105, (251) 653-9333, (251) 928-1028 and (866) 653-9333.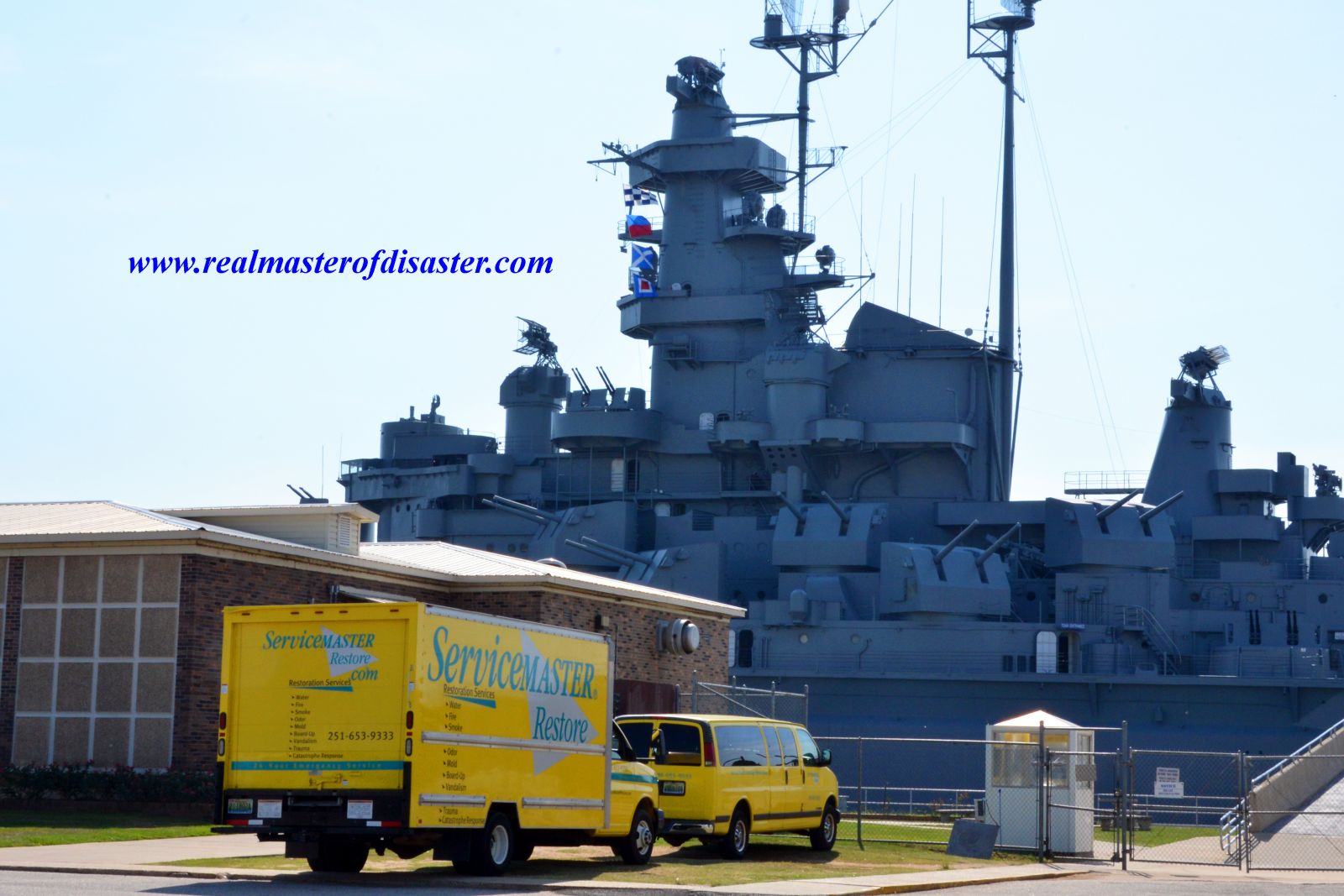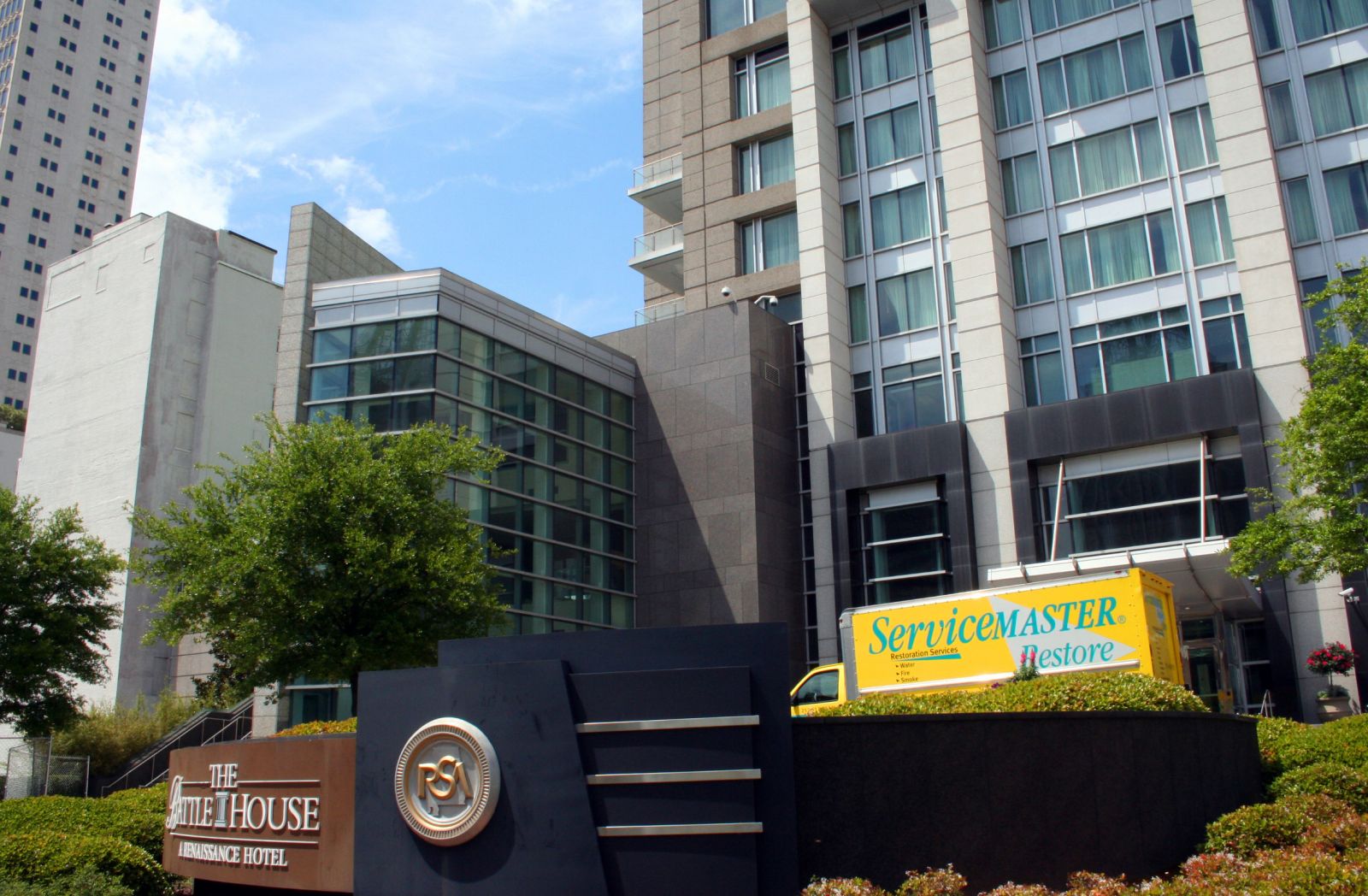 Over thirty years plus, we have handled some of the largest cleanup jobs, for some of Mobile's most well known residents and commercial entities. From tornado cleanup jobs during the tornadoes of Christmas 2012 in Mobile, and in Hattiesburg, MS in 2013; to hurricane cleanup jobs in Hurricanes Ivan, Katrina, and every Spring rain and flood event to happen in the area in the last quarter century, ServiceMaster Advanced has been there. ServiceMaster Advanced Cleaning has performed mitigation jobs for the Alabama State Docks, The Mobile Convention Center, the RSA Tower, The Battleship USS Alabama, The Mobile Infirmary, the AmSouth Tower, the Regions Bank Building, the University of South Alabama, The City of Mobile, The County of Mobile, Springhill College, Springhill Memorial, ST Mobile Aerospace, Airbus, The Mobile County School System, The Corps of Engineers, The State of Alabama and many many more commercial buildings and thousands of homeowners.
We are on virtually every insurance program offered in the Mobile and Baldwin County area. Insurance programs are pre-designated, pre-approved contractor affiliations which means that often times the insurance company will send us out directly to help their clients in the event of a loss. Some of these affiliations include Farmers, State Farm, USAA, Allstate, Nationwide, GeoVera and a number of commercial insurance programs.
The insurance companies trust us and we hope you will too. At one time or another, over nearly 30 years, we have worked with virtually every insurance company that has ever written a policy here. In fact, many of them recommend us because we have been pre-qualified to work for them, meaning we are on their mitigation "program". This means that we have met their standards with regard to insurance, training, procedures etc. and that they are comfortable dispatching a claim to us, if the homeowner agrees. This is the important stipulation. The homeowner must agree and contract directly with us. ServiceMaster Advanced is one of a small handful of companies locally that are approved as such. We appreciate the business that the insurance programs send to us; however out of the few that are approved as such, we want to stand alone as the best. We want to earn your business and be deserving of your trust, not only because the insurance company recommended us, but because our reputation and policies are such that you would have hired us anyway.
​ServiceMaster Advanced likely does more mold cleanup project work than anyone in the area. We are certified, and we offer some of the most competitive pricing available. We will be pleased to advise you, if nothing else. Call us if you need answers.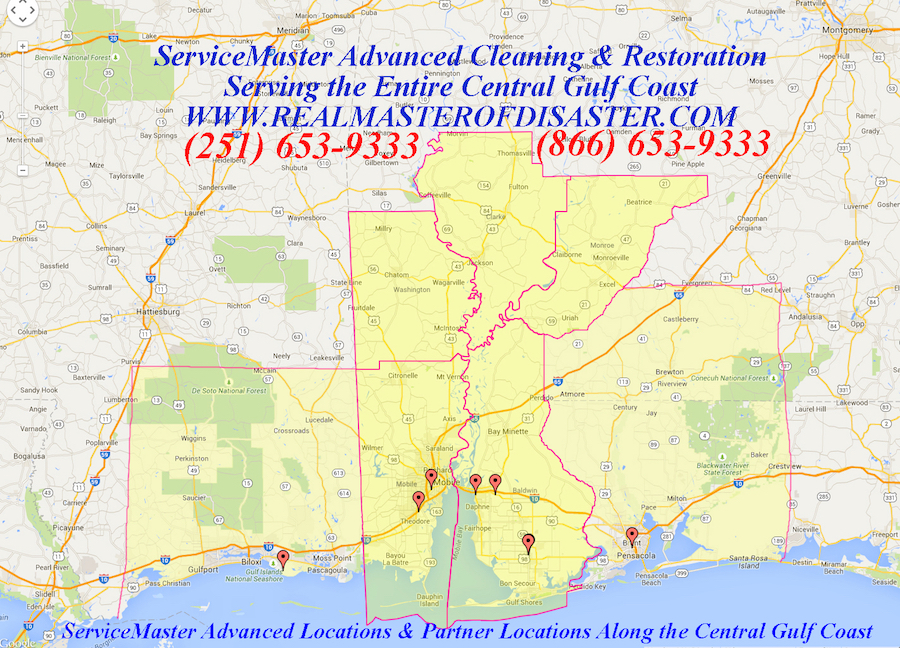 About ServiceMaster Restore
With approximately 1,800 franchised and licensed locations around the world, ServiceMaster Restore and ServiceMaster Recovery Management (SRM) serve customers through a global network of franchises available 24/7/365 to provide residential and commercial restoration services resulting from damage caused by water, fire or smoke. SRM is the large scale commercial catastrophic disaster restoration unit of ServiceMaster Restore. ServiceMaster Restore and SRM have operations and consulting experience on countless disasters, including clean-up after Hurricane Katrina and the Pentagon after September 11, 2001. ServiceMaster Restore is a business unit of the Memphis-based ServiceMaster Global Holdings, Inc. (NYSE: SERV), a leading provider of essential residential and commercial services. More information can be found at www.servicemasterrestore.com and www.servicemasterrecoverymanagement.com.
About ServiceMaster
ServiceMaster (NYSE: SERV) solves the homeowner's dilemma. Every day, we visit more than 75,000 homes and businesses through our extensive service network of expert professionals. Technology powers our trusted experts to engage with customers so they can order, buy and receive services when, where and how they want them. Our well-recognized brands includes American Home Shield (home warranties), AmeriSpec (home inspections), Furniture Medic (furniture repair), Merry Maids (residential cleaning), ServiceMaster Clean (janitorial and residential floor cleaning), ServiceMaster Restore (disaster restoration) and Terminix (termite and pest control). Like, follow or visit us at facebook.com/ServiceMaster, linkedin.com/ServiceMaster, twitter.com/ServiceMaster, or servicemaster.com.
About the Survey
The 2016 ServiceMaster Franchisee Mold Remediation Survey presents the findings of an online survey conducted by ServiceMaster from March 11-25, 2016 among a sample of 252 ServiceMaster franchise owners across the country offering mold remediation services for homes or businesses.
1 https://www.epa.gov/mold/mold-and-health
Remember that YOU AND YOU ALONE, decide who works in your home or business. YOU decide who handles your most precious of possessions! Tell your insurance provider WHEN YOU FILE YOUR CLAIM that you want SERVICEMASTER ADVANCED, Enterprise number 7027, or call us directly. Make sure that there is no confusion. There are other mitigation companies, and even others with similar sounding names. We are ServiceMaster Advanced, The Master of Disaster. "WE WOULD BE HONORED TO SERVE YOU." (251) 653-9333 or (251) 928-1028. http://www.servicemastermobilealabama.com