Family Heirlooms Can Be Saved! Your home can be put back together professionally and without any pain!
There are a multitude of contractors who can perform rebuild in the case of a fire. However, there are very few contractors who can effectively perform restoration and mitigation on both your home and personal family contents in the manner that we can at ServiceMaster Advanced Cleaning & Restoration. In addition, being a full service company, means that we can handle the repairs through our extensive network of the most experienced and detailed rebuilders. One call to (251) 653-9333, or (251) 928-1028 and you can rest assured that your loss is handled, expertly and professionally.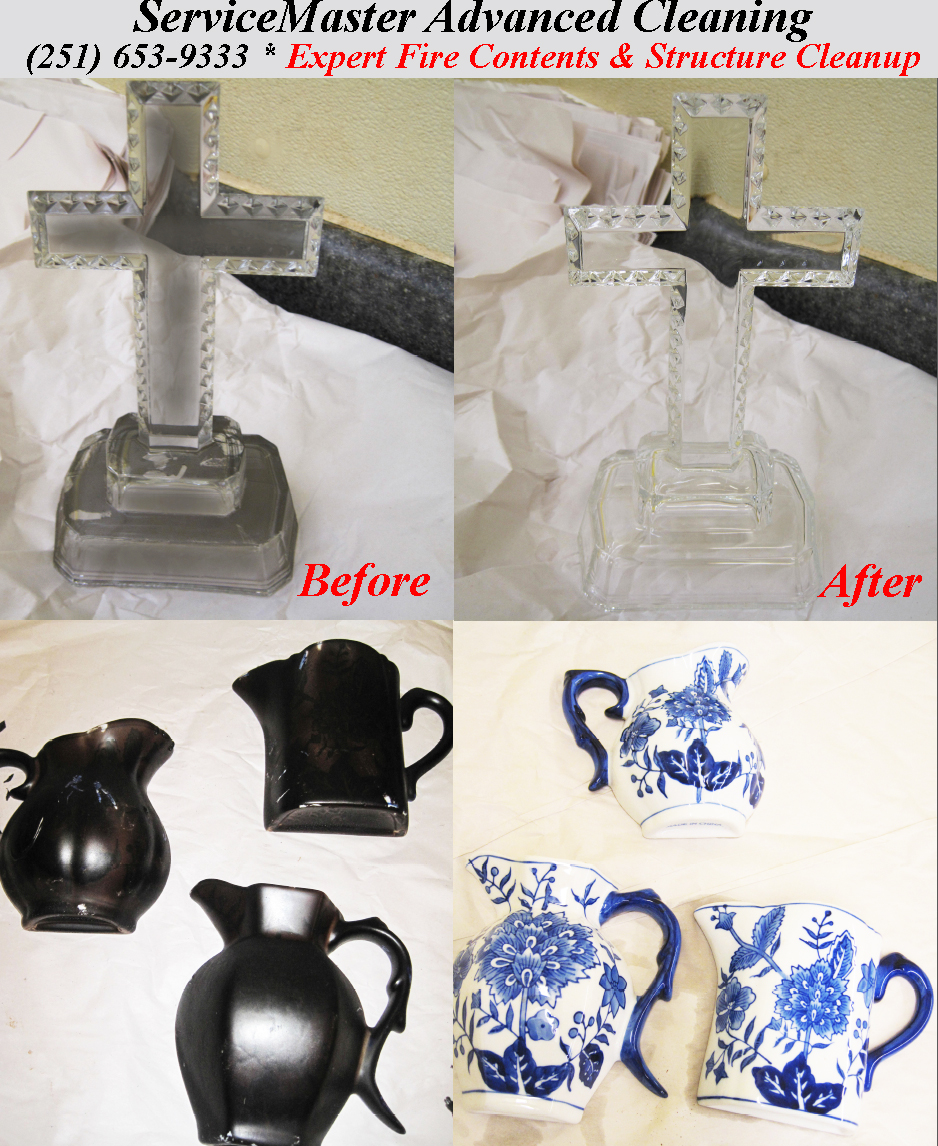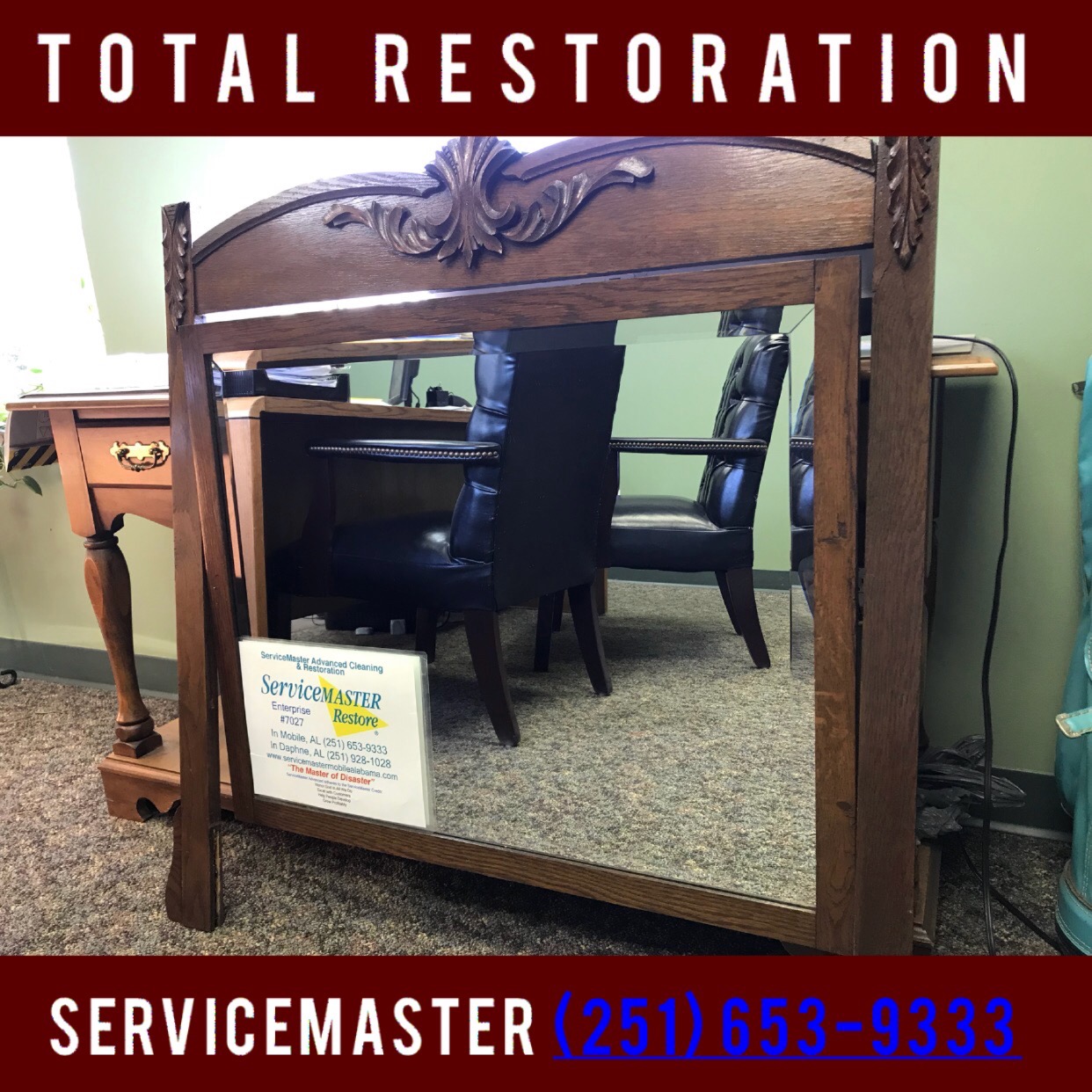 In the event of a fire loss whereby family heirlooms, furnishings, and clothing are simply smoke damaged; many of these items can be saved. It takes years of expertise to carefully pack these items out, move them, and carefully clean and repack them until rebuilding and restoration services are performed. ServiceMaster Advanced has a dedicated team of experts who can expertly handle and restore you most precious of possessions. In addition, unlike some untrained contractors, we can fully eliminate smoke damage in you home and vents; not simply paint over them! The differences are astounding. Finally, ServiceMaster Advanced is a FULL SERVICE restoration company, meaning that we can handle the entire loss. One call. We will arrange pack out, cleaning, rebuilding, move back, and unpacking.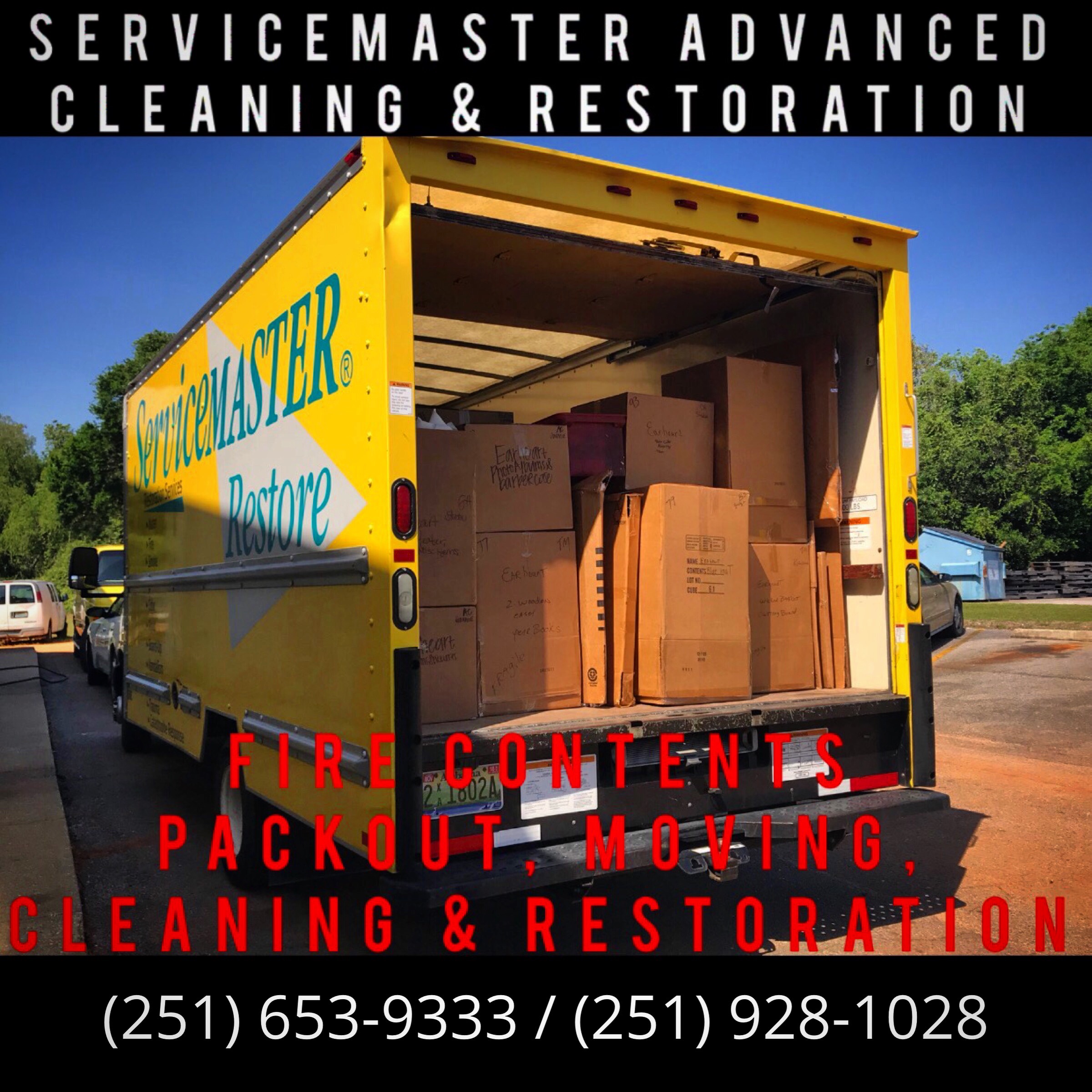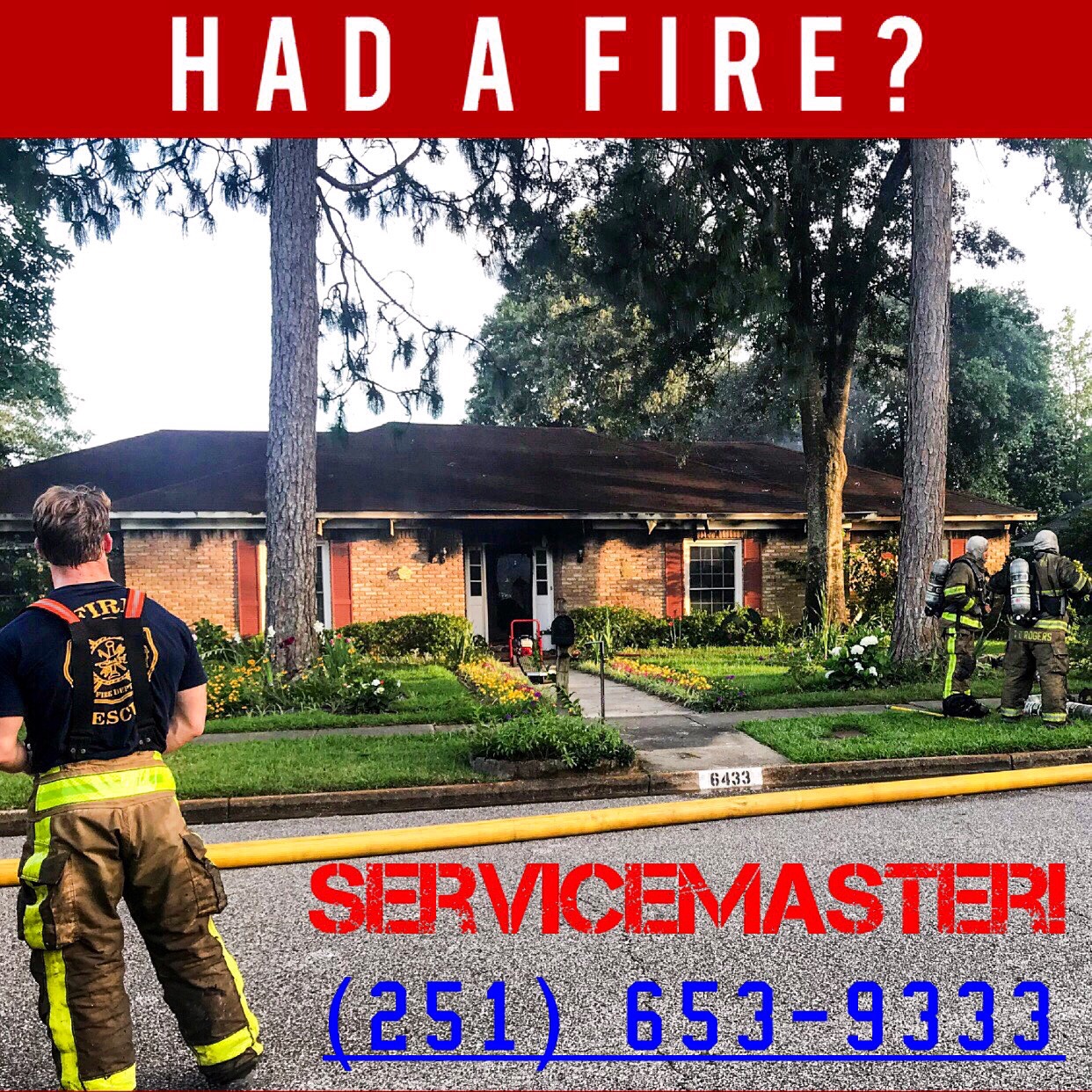 Unlike many reportedly full service companies, ServiceMaster Advance will arrange complete rebuilding of your home or business. We will NOT shove our preferred builder into the mix, but will arrange for you to interview several of the expert rebuilders in our area who do this work regularly. You will speak directly with the contractors who regularly work with insurance companies DAILY. It is important to let the experienced insurance contractors speak with you directly, as contractors who do not regularly perform insurance work, often do not know the limits therein, or how the insurance companies work. The absolute last thing that a fire victim needs, is to hire an unscrupulous contractor who assures you that the insurance company will pay for certain improvements that are not covered. In this scenario, you could be responsible for a huge rebuild bill, over and above your insurance proceeds. With ServiceMaster Advanced, this absolutely will not happen. Our contracting network KNOWS this industry. You will not be sold repairs that are not covered. This is one of the many advantages of calling us first. We will not lead you to expensive non-covered repairs, and your personal effects will receive the utmost in care and attention.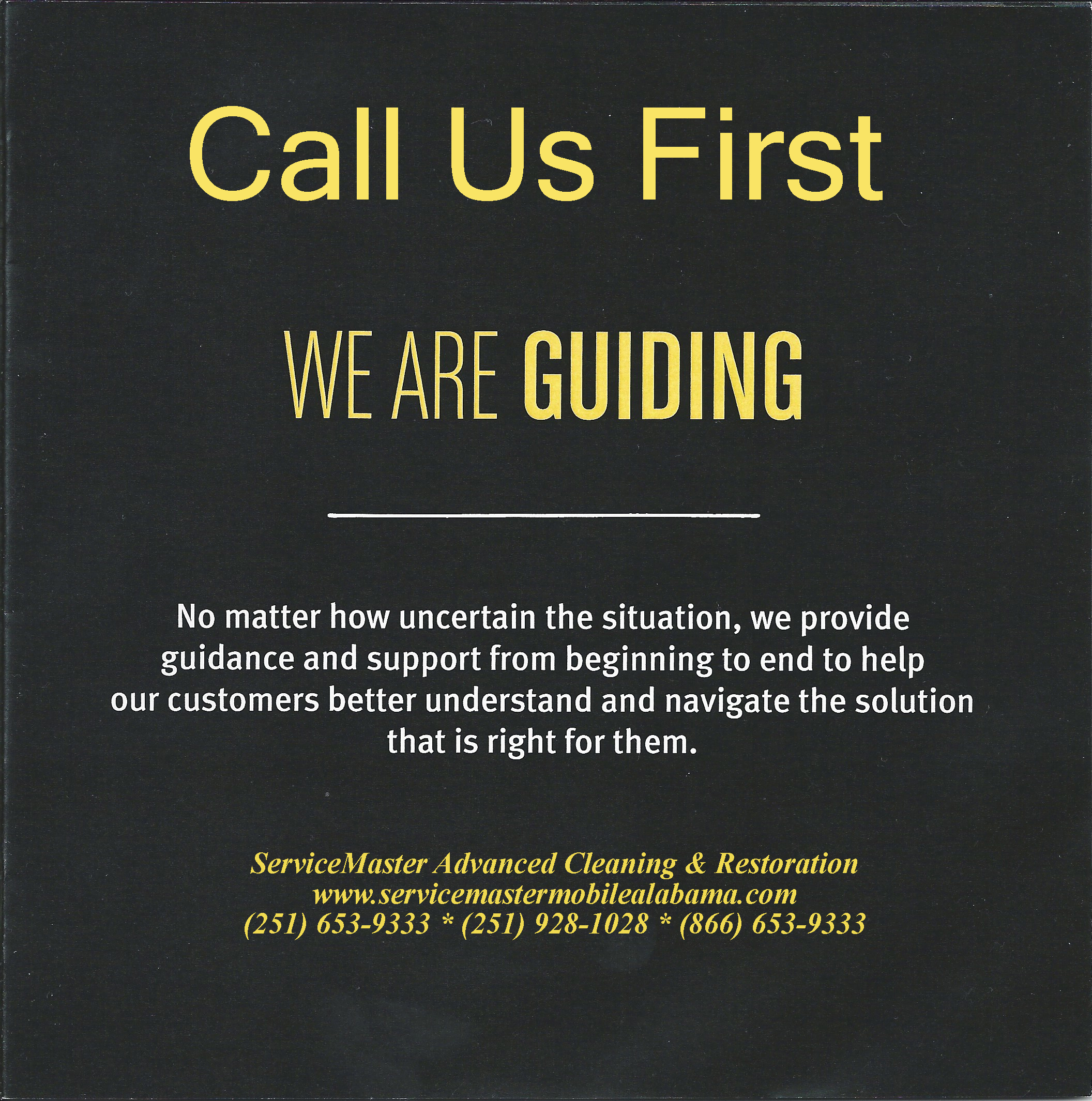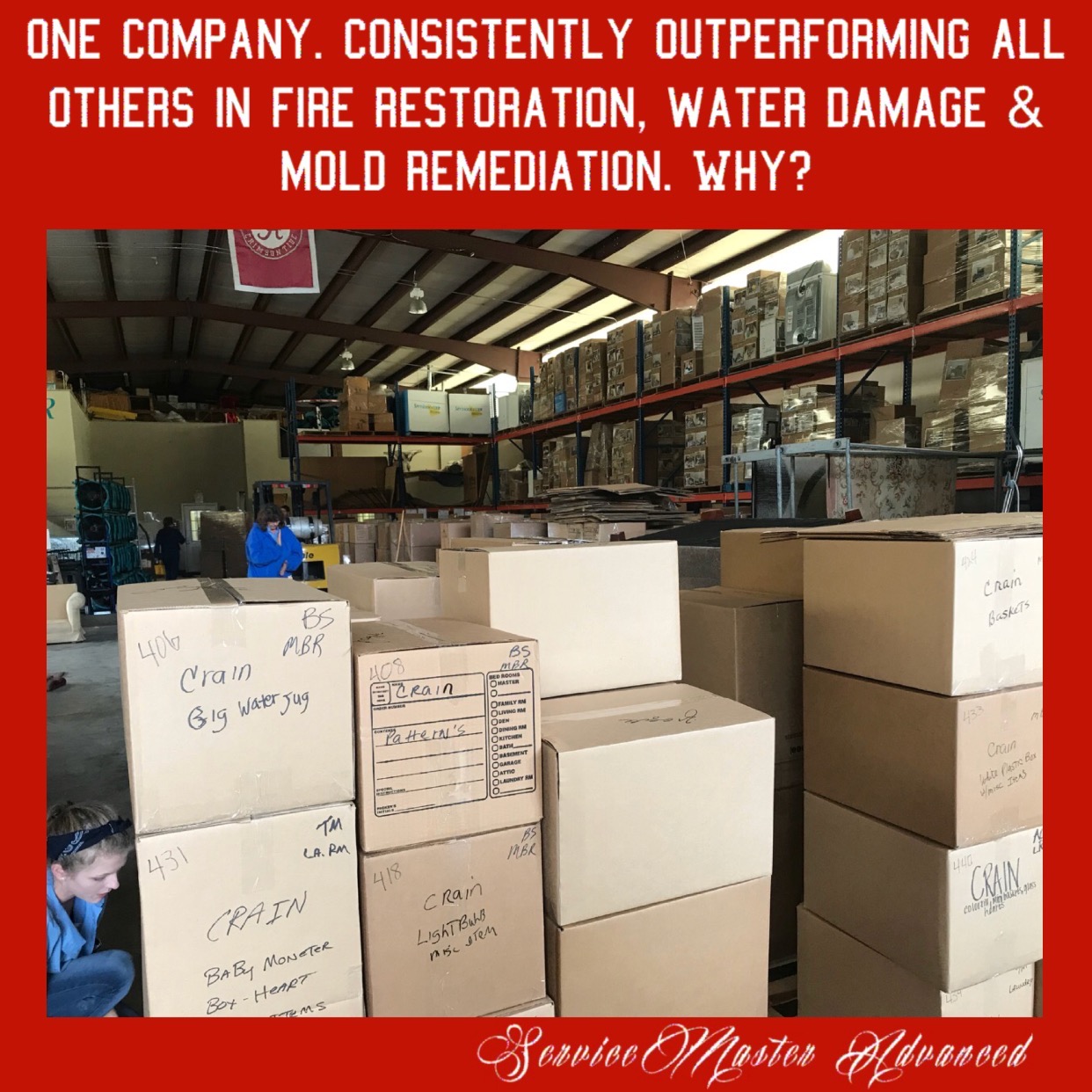 The little known secret in the insurance industry is that you have a choice in contractors should you experience damage to your home. It is not your insurance agent's choice. It is not your insurance adjuster's choice. It is not your insurance company's choice. It is YOUR choice who enters your home and performs repairs for you. ServiceMaster Advanced Cleaning and Restoration is an approved vendor for virtually all of the insurance companies that operate in our regional area. At one time or another, over more than 30 years, we have worked with virtually every insurance company that has ever written a policy here. In fact, many of them recommend us because we have been pre-qualified to work for them, meaning we are on their mitigation "program". This means that we have met their standards with regard to insurance, training, procedures etc. and that they are comfortable dispatching a claim to us, if the homeowner agrees. This is the important stipulation. The homeowner must agree and contract directly with us. ServiceMaster Advanced is one of a small handful of companies locally that are approved as such. We appreciate the business that the insurance programs send to us; however out of the few that are approved as such, we want to stand alone as the best. We want to earn your business be deserving of your trust, not only, because the insurance company recommended us, but because our reputation and policies are such that you would have hired us anyway. We want to stand alone out of all of the recommended companies, that you will tell your insurance agent, company or adjuster that you want ServiceMaster Advanced Cleaning, Enterprise number 7027, (251) 653-9333, (251) 928-1028, (251) 943-2230 to service your home or business. "We would be honored to serve you." www.servicemastermobilealabama.com & www.servicemasterbaldwincounty.com