If you have a mold issue, make certain that you hire a CERTIFIED mold remediation professional. Ask to see their certifications. Ask to see their insurance. Mold can be a serious health hazard, and you shouldn't take a chance with anyone that says it can simply be torn out! The airborne spores left from the removal of affected drywall and contents, are typically the very thing that will cause health problems. If every square inch isn't properly cleaned and the air filtered, the resulting spores can be enough to cause serious health issues. We will not take a chance with your health. We only know one way to do the job - the right way. This involves total elimination and removal of all visible and airborne mold spores. - ServiceMaster Advanced - The Master of Disaster (251) 653-9333, (251) 928-1028.
Mold Overview - Types of Mold Explained - ServiceMaster ADVANCED - Mobile, AL
We are the original ServiceMaster Restore disaster restoration company operating in Mobile and Baldwin County in South Alabama, serving the area for over 30 years. We have handled some of the largest fire damage, water damage and mold remediation cleanup jobs ever performed on the Gulf Coast and we would be honored to serve you. (251) 653-9333, (251) 928-1028 and (866) 653-9333.
On the subject of mold remediation, and mold information in general, it is ServiceMaster Advance's quest to educate our customers and the public as much as possible. There is a lot of information published about mold. We believe the consumer should educate themselves, and obtain information from a variety of sources. We believe that after the consumer has done their homework, they will clearly understand why our approach is one of extreme caution, with the health of the individual as our first and foremost concern.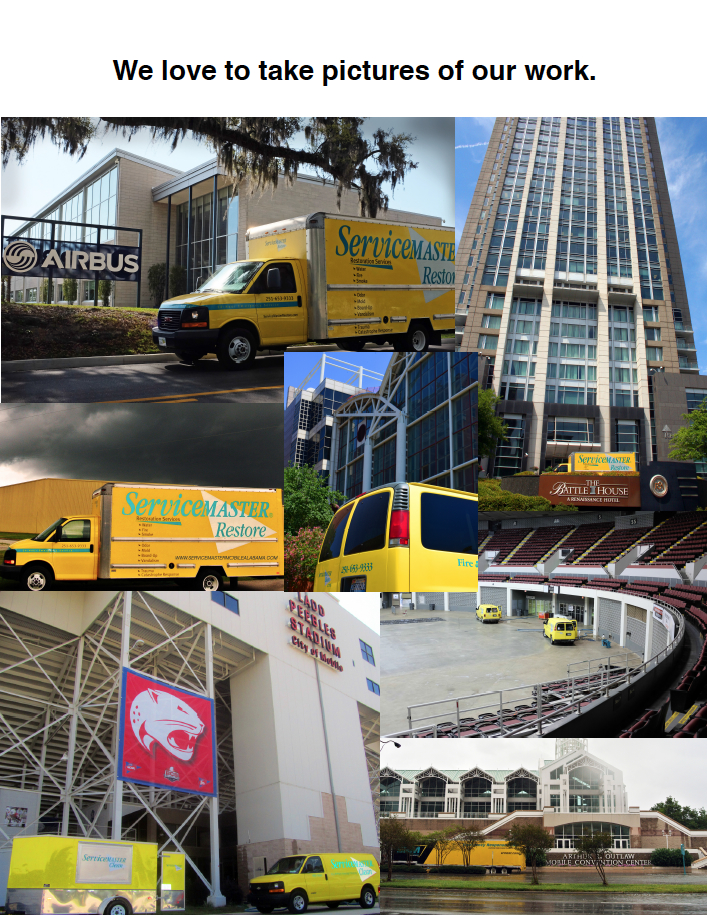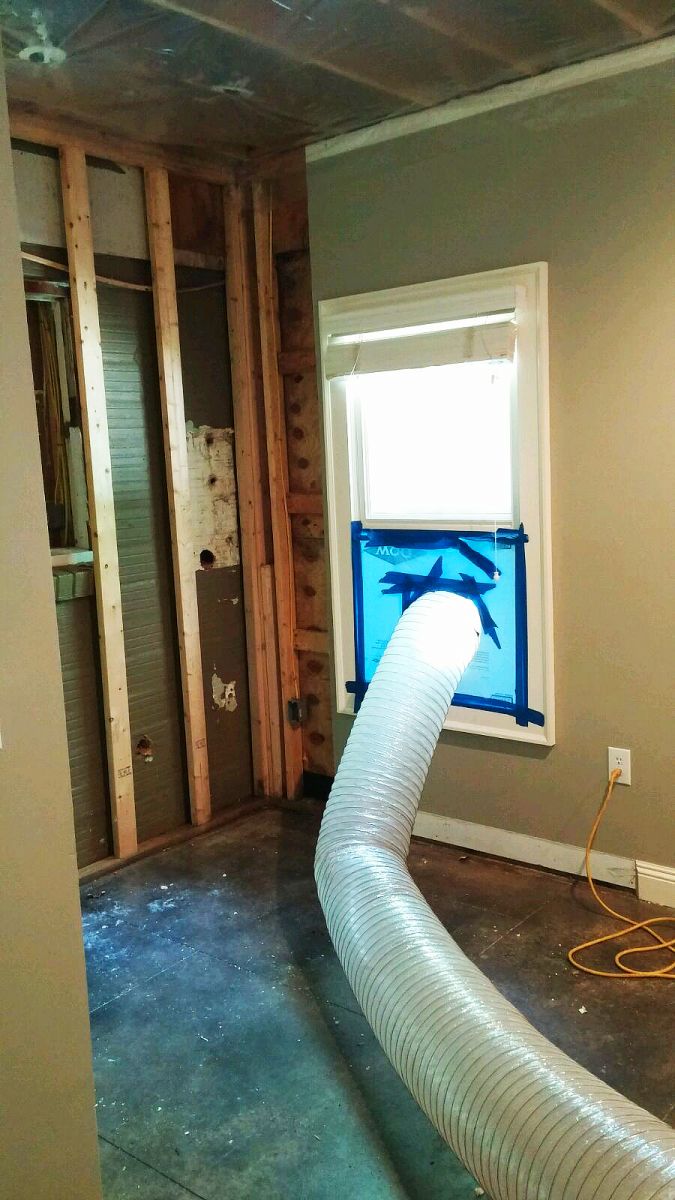 Below is an article posted on LinkedIn by Mr. Sanjay Gupta. it is an overview and gives the reader some basic information. Another great site is http://www.epa.gov/mold/. There is a link to his site included below.
BEGIN ARTICLE
Mold Facts and Information
Originally published on June 5, 2015. by Sanjay Gupta
The purpose of this article is to answer the following questions about mold:
1. What causes mold growth?
2. What are the most common types and species of mold?
3. Why should I be concerned about mold?
4. How can I detect mold?
What Causes Mold Growth?
Mold is a fungus, as are mushrooms and yeast, and has a biological purpose in our eco-system: to consumes dead organic material. Understanding it's biological importance is essential to understanding why it poses health hazards.
Problems occur with mold when it begins growing in an enclosed environment such as a home. Mold found inside homes and buildings originates from the outside. Mold spores enter buildings and homes through open doorways, windows, heating, ventilation and air conditioning systems. Spores in the air outside also attach themselves to clothing, animals, shoes, bags and more!
The key ingredient mold needs to thrive and grow is moisture and a food source.
Sources of Moisture
Since mold is everywhere, it will only start growing when the spores settle on surfaces with excess moisture. The key to preventing mold growth is to control moisture. Maintaining an interior humidity level of between 30 to 40% will prevent mold growth.
Listed below are the most common sources of moisture. If you suspect mold growth, before the mold can be cleaned and removed, the sources of the moisture issues must be addressed first.
1. Flooding.
2. Backed-up sewers.
3. Leaky roofs and/or water leaks.
4. Humidifier which is not regularly cleaned and disinfected.
5. Damp basements or crawl spaces.
6. House plants and their debris.
7. Steam from cooking and showers.
8. Wet clothes hung to dry indoors.
9. Inadequate air exchange.
10. Excessive humidity.
11. Condensation, which is especially a problem during the winter, on poorly insulated surfaces.
Sources of Food
Mold is like a parasite because it will only grow if there is an ample mold source. Under the right conditions of temperature and moisture, mold will continue to feed. The problem with mold lies in the fact that most homes and buildings are made from dead organic material, which is the type of food that mold thrives on. Food sources for mold include the following:
1. Wood & wood products.
2. Paper and other paper products like cardboard and wallpaper
3. Leather.
4. Fabric and upholstery
5. Grout.
6. Painted walls.
7. Cement
8. Plaster (drywall).
9. Ceiling tiles
10. Insulation materials.
11. Carpet.
What Are The Most Common Types and Species of Mold?
Not all molds are the same; consequently, it is important to understand that identifying the types and species of mold is important because it helps you and the mold remediation professionals assess the potential health hazards that the growth poses.
Types of Mold
Of the 100,000 types of mold that have been identified, the three most common types have been identified as:
1. Allergenic Molds.
2. Pathogenic Molds.
3. Toxigenic Molds.
Allergenic Molds
Allergenic molds are not usually life-threatening but do cause health concerns for individuals with allergies or asthma. Children and the elderly are most likely to experience health issues if there are allergenic molds present in the property.
Pathogenic Molds
Pathogenic molds are of particular concern if your immune system is weak or compromised because these can cause infections. This type of mold can cause hypersensitivity pneumonitis, an acute response resembling bacterial pneumonia. An example is Aspergillus fumigatus, which can grow in the lungs of immune-compromised individuals.
Toxigenic Molds (aka "toxic molds")
Toxigenic molds are the worse types of molds because they produce mycotoxins that will make anyone exposed to them sick. Mycotoxins are chemical toxins present within or on the surface of the mold spore, which can be inhaled, ingested, or touched. An example of this is an aflatoxin, one of the most potent carcinogens known to mankind. Aflatoxins grow on peanuts and grains, and on some other foods.
Species of Mold
Mold inspectors and indoor air quality professionals use various methods to identify the mold species.
Testing could be done with a tape or swab sample on visible mold.
Air quality samples may also be recommended because air borne mold spores are not visible to the eye. Air quality samples are advantageous because they can identify the concentration of indoor spores.
Once samples are taken, they should be sent to accredited laboratories to analyze them to determine the exact species of mold.
The five most prevalent species of mold are:
1. Alternaria.
2. Aspergillus.
3. Cladosporium.
4. Penicillium.
5. Stachybotrys.
Alternaria Mold
Alternaria mold is commonly found in your nose, mouth and upper respiratory tract and can cause allergic responses.
Aspergillus Mold
Aspergillus mold is usually found in warm, extremely damp climates, and a common occupant of house dust. This mold produces mycotoxins which is a poisonous chemical compound. This mold variety can cause lung infections including aspergillosis.
Cladosporium Mold
Cladosporium mold is a very common outdoor fungus that can find its way indoors and grow on textiles, wood and other damp, porous materials. This mold triggers hay fever and asthma symptoms.
Penicillium Mold
Penicillium mold is a very common species found on wallpaper, decaying fabrics, carpet, and fiberglass duct insulation. It is known for causing allergies and asthma. Some species produce mycotoxins, one being the common antibiotic penicillin.
Stachybotrys Mold
Stachybotrys mold is extremely toxic "black mold" that produces mycotoxins that can cause serious breathing difficulties and bleeding of the lungs. This mold can be found on wood or paper.
Why Should I Be Concerned About Mold?
There are two key reasons you should be concerned about mold:
1. Health.
2. Structural Integrity of Property.
Health Reasons
When mold is disturbed, spores become airborne increasing the likelihood of breathing spores in. While some people are not affected by mold spores, others sharing the same environment infested with mold can have severe reactions. Mold spore exposure can also cause adverse health effects in immune compromised individuals. Individuals sensitive to mold exposure can suffer from nasal stuffiness, eye irritation, wheezing and more. In addition, people with chronic illnesses, such as asthma or obstructive lung disease, may develop mold infections in their lungs. Allergic reactions, similar to common pollen or animal allergies, are the most common health effects in individuals sensitive to mold. Flu-like symptoms and skin rashes can also occur.
Structural Integrity
In addition to the health concerns, it is also important to realize that like a parasite mold will continue to feed on its host, causing significant structural concerns.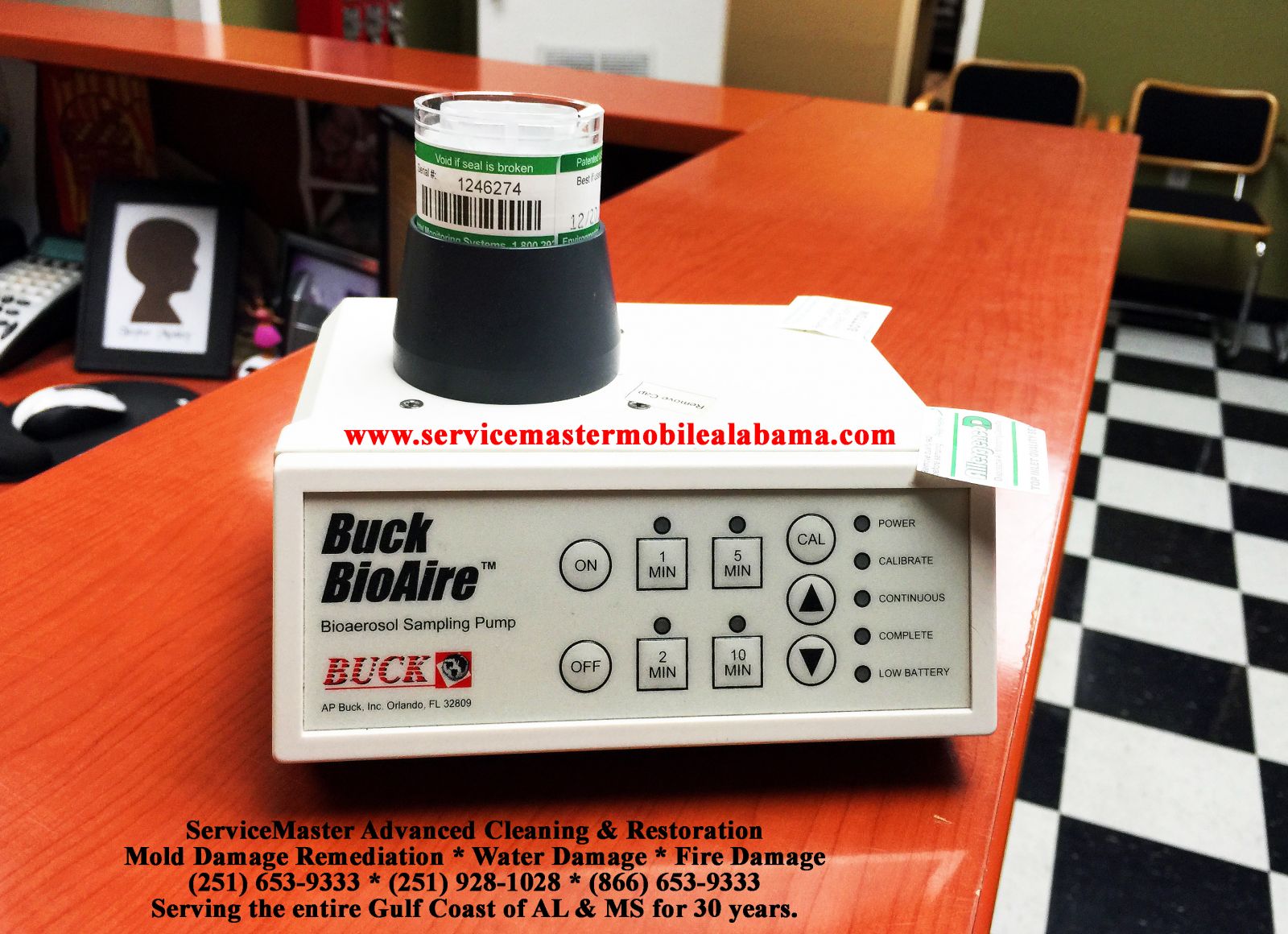 How Can I Detect Mold?
Mold can be detected through smell, visual clues, and knowledge of the building history, ie. was there a flood or indoor leak. We recommend that the advice of a professional be sought because they have specialized tools and knowledge to identify the cause of the mold growth, ie. the source of moisture, and then make recommendations on how to remove the mold after the moisture problem has been fixed.
Visual Signs of Mold
Check for visible signs of mold growth. Molds may appear in colors such as gray, white, black, or green. Black mold, stachybotris, is especially dangerous.
Smell
A mildewy or moldy smell is a strong indication that mold is present.
Flooding or Indoor Leaks
If you experienced flooding or found a leak that has not been fixed for some time, there is a strong possibility that you will have mold growth because mold thrives in moisture.
Winter Mist
Generally when it's cold, there is an excess in moisture. Excess humidity in the environment can cause mold growth. Ice Damning issues are a concern.
Hidden Molds
Hidden molds are particularly hard to find. However, if you smell a stale mildewy odor or have allergic symptoms when close to a source with no visual mold, this may be a clue that there is a hidden mold source.
Hire a Professional Mold Inspector
We strongly recommend that you hire a Certified Inspector to determine if you have a mold issue. Professionals follow a set procedure which starts with an interview to learn more about the building history, moisture readings to determine if there is a source of moisture required for mold growth, and visual inspections. During the meeting, the inspector may even recommend thermal imaging if an identifiable moisture source is not present, but mold is detected. Other recommendations may include a swab test, tape sample, or air quality test to determine the type of mold and spore count present. Ultimately, the goal of the mold inspection is to determine the extent of the mold problem so recommendations can be made to bring the fungal ecology to a healthy level.
Mold Facts and Information Summary
What Causes Mold Growth?
Mold needs two key ingredients to grow: moisture and mold. To prevent mold growth, the first line of defense is to prevent excess moisture and dampness.
What Are The Most Common Types and Species of Mold?
The most common types of mold include: allergenic molds; pathogenic molds; and toxigenic molds. The most common mold species include: alternaria mold; aspergillus mold; cladosporium mold; penicillium mold; and stachybotrys mold.
Why Should I Be Concerned About Mold?
Two key reasons. First, health because mold causes sickness. Second, structural because mold will continue to feed on its host causing structural integrity concerns and reduce property value.
How Can I Detect Mold?
Mold can be detected through smell, visual clues, and knowledge of the building history, ie. was there a flood or indoor leak. If you suspect you have mold, then it is worth calling a professional because they have specialized knowledge and mold detection tools.
Written by
Sanjay Gupta (LION 1000+)
END OF ARTICLE
Another great source of information is: http://www.epa.gov/mold/.
About ServiceMaster ADVANCED Cleaning & Restoration, The Master of Disaster.
The owner of ServiceMaster Advanced is certified in mold remediation. It is absolutely imperative that you hire someone who is certified and understands both how to remediate mold, and the health consequences of mold. We have done many many residential and commercial mold remediation jobs and we always get a certified industrial hygienist to provide clearance testing.
Based out of Mobile AL and Foley, AL, we serve the entire local area including Mobile, Citronelle, Saraland, Satsuma, Chickasaw, Prichard, Eight Mile, Semmes, Theodore, Grand Bay, Irvington, Bayou La Batre, Dauphin Island, Bay Minette, Loxley, Stapleton, Spanish Fort, Daphne, Lillian, Fairhope, Silver Hill, Foley, Elberta, Seminole, Magnolia Springs, Orange Beach, Perdido Key, Gulf Shores and every community in Mobile and Baldwin Counties in South Alabama; and Pascagoula, Gulfport, Biloxi and every community in Jackson and Harrison Counties in Mississippi.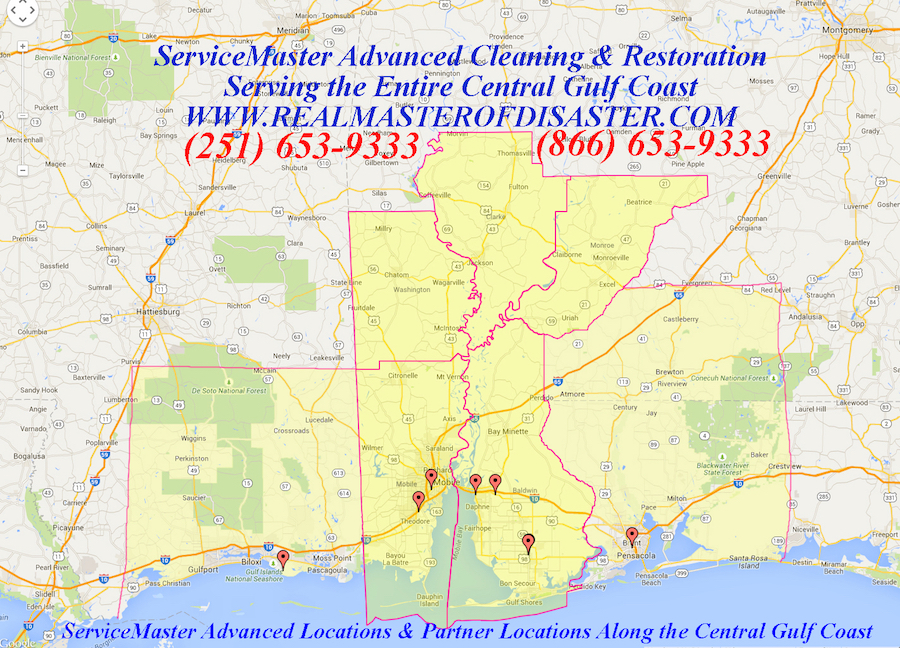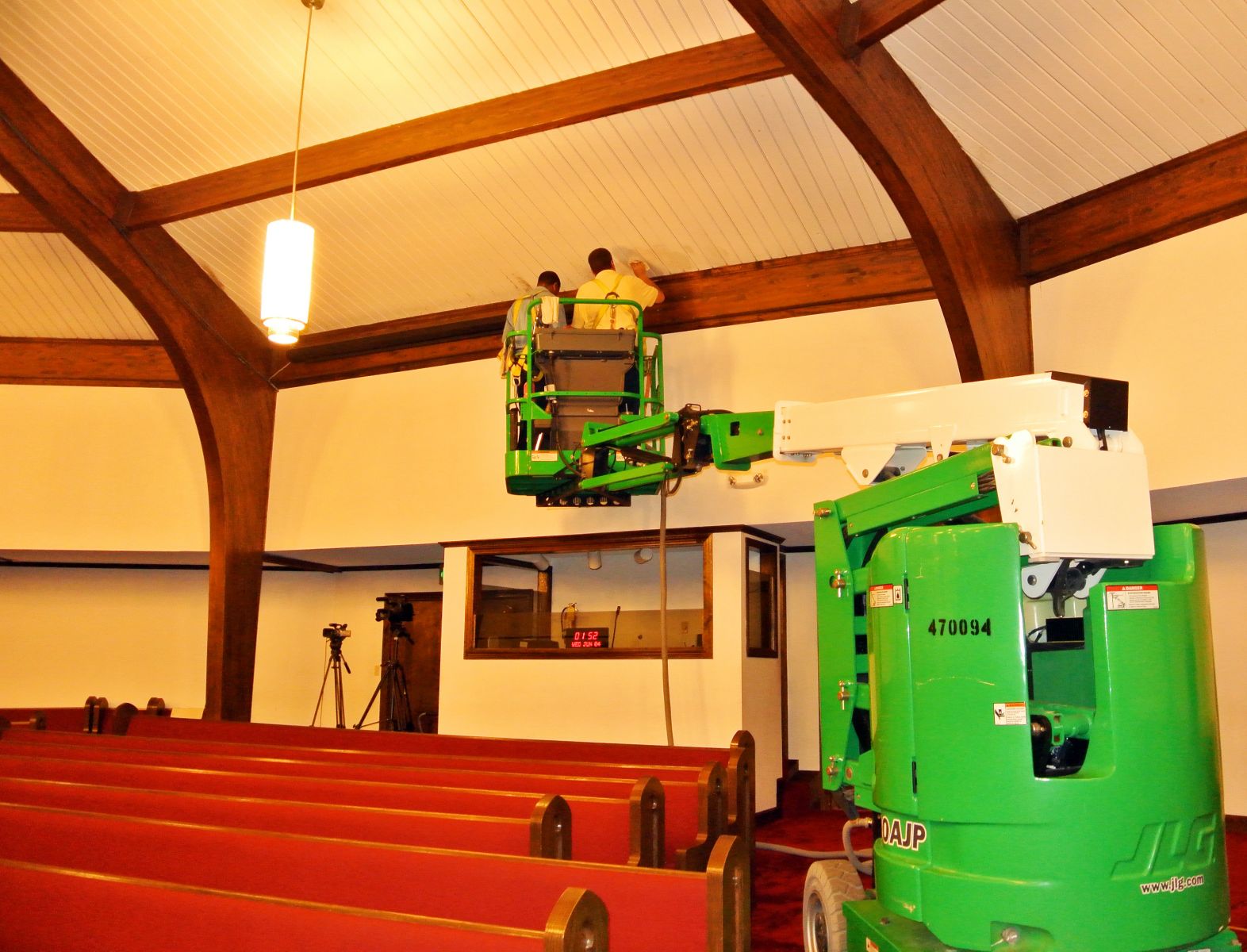 We are the original and largest ServiceMaster enterprise operating in the Mobile area. We have been here for over 25 years and have handled some of the largest cleanup jobs ever completed in the Mobile area. From tornado cleanup jobs during the tornadoes of Christmas 2012 in Mobile, and in Hattiesburg, MS in 2013; to hurricane cleanup jobs in Hurricanes Ivan, Katrina, and every Spring rain and flood event to happen in the area in the last quarter century, ServiceMaster Advanced has been there. We didn't just begin our mitigation company last year, we have been here all along and have steadily grown with the community and helped the parent company innovate and improve the brand. ServiceMaster Advanced Cleaning has performed mitigation jobs for thousands of homeowners and many of Mobile's most well known commercial structures over the years. http://www.realmasterofdisaster.com
Remember that YOU AND YOU ALONE, decide who works in your home or business. YOU decide who handles your most precious of possessions! Tell your insurance provider that you want SERVICEMASTER ADVANCED, number 7027, or call us directly. Make sure that there is no confusion. There are other mitigation companies, and even others with similar sounding names. We are ServiceMaster Advanced, The Master of Disaster. "WE WOULD BE HONORED TO SERVE YOU." (251) 653-9333 or (251) 928-1028. http://www.servicemastermobilealabama.com