Don't just take our word for it, read what our customers are saying! This link is full of their testimonials: http://www.servicemastermobilealabama.com/Testimonials.html.
If you find yourself in need of mitigation services for your home or business, trust the true professionals, the company that the commercial industry turns to time and again, the Master of Disaster, ServiceMaster Advanced Cleaning & Restoration, enterprise number 7027, and make sure you call these specific numbers: (251) 653-9333, (251) 928-1028, or (866) 653-9333. http://www.servicemastermobilealabama.com.
We are on virtually every insurance program offered in the Mobile and Baldwin County area. Insurance programs are pre-designated, pre-approved contractor affiliations which means that often times the insurance company will send us out directly to help their clients in the event of a loss. Some of these affiliations include Farmers, State Farm, USAA, Allstate, Nationwide, GeoVera and a number of commercial insurance programs.
The insurance companies trust us and we hope you will too. At one time or another, over nearly 30 years, we have worked with virtually every insurance company that has ever written a policy here. In fact, many of them recommend us because we have been pre-qualified to work for them, meaning we are on their mitigation "program". This means that we have met their standards with regard to insurance, training, procedures etc. and that they are comfortable dispatching a claim to us, if the homeowner agrees. This is the important stipulation. The homeowner must agree and contract directly with us. ServiceMaster Advanced is one of a small handful of companies locally that are approved as such. We appreciate the business that the insurance programs send to us; however out of the few that are approved as such, we want to stand alone as the best. We want to earn your business and be deserving of your trust, not only because the insurance company recommended us, but because our reputation and policies are such that you would have hired us anyway.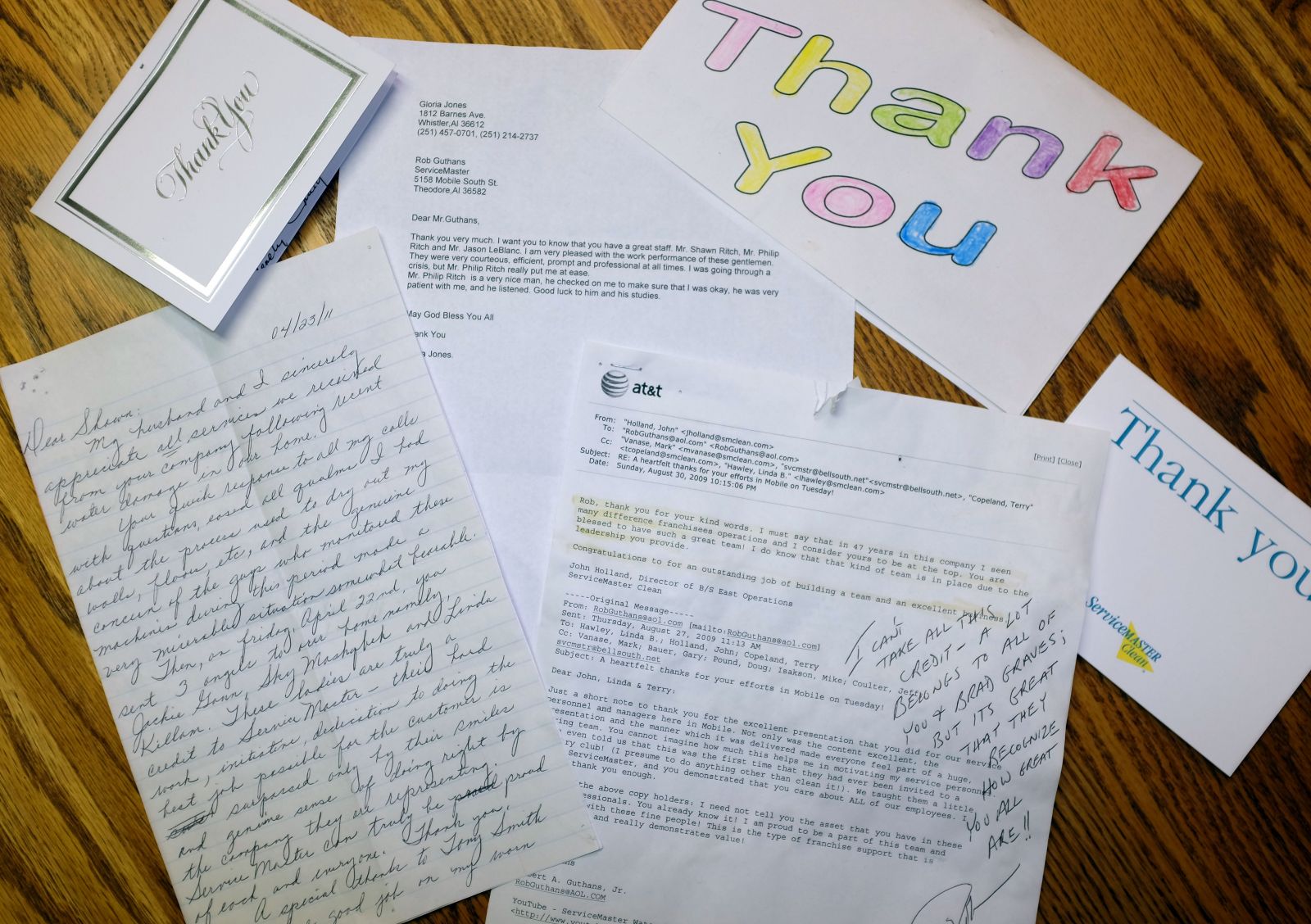 We are the original ServiceMaster Restore disaster restoration company operating in Mobile and Baldwin County in South Alabama, serving the area for over 30 years. We have handled some of the largest fire damage, water damage and mold remediation cleanup jobs ever performed on the Gulf Coast and we would be honored to serve you.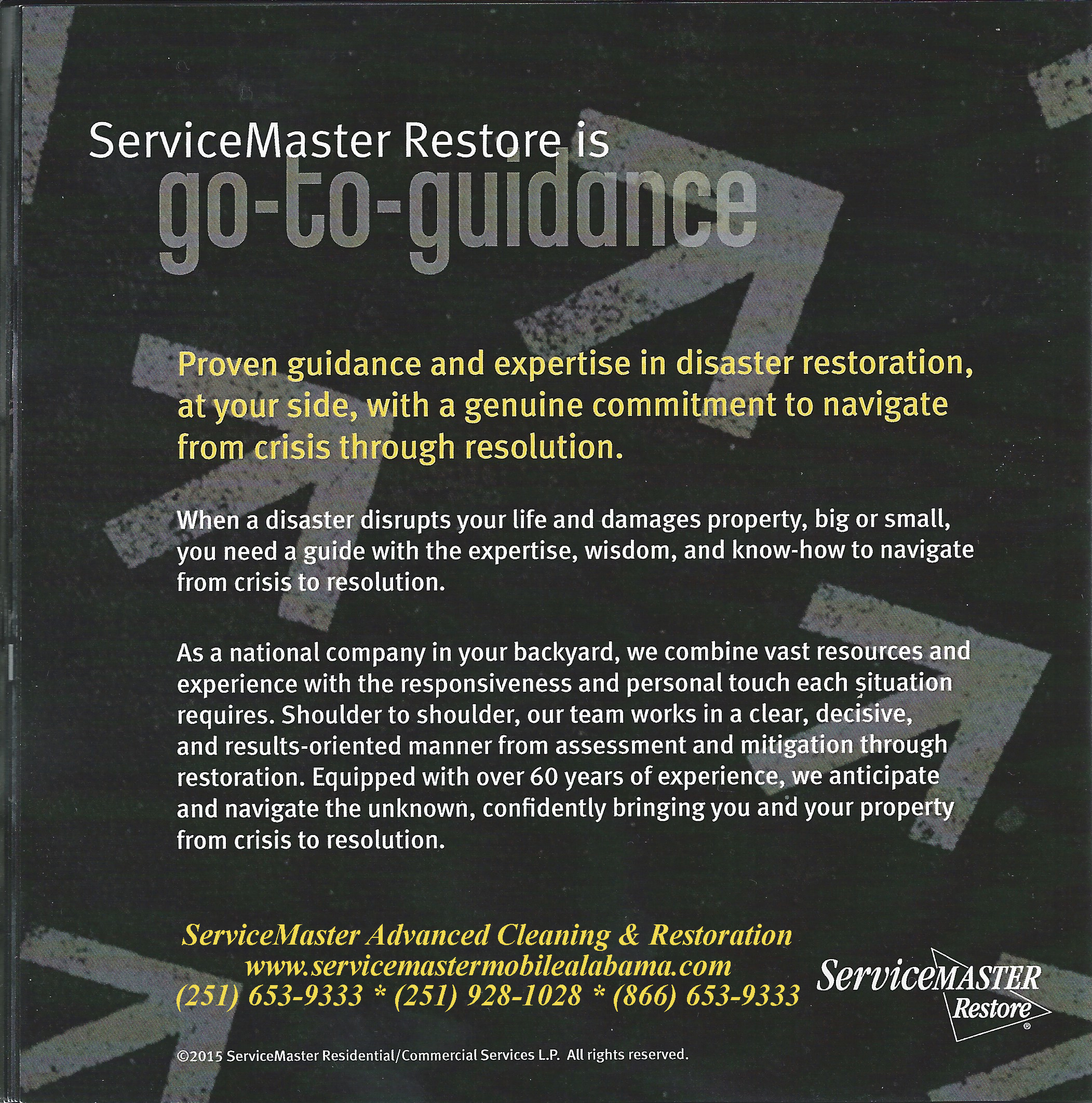 We serve the entire Gulf Coast and have been helping people for over thirty years!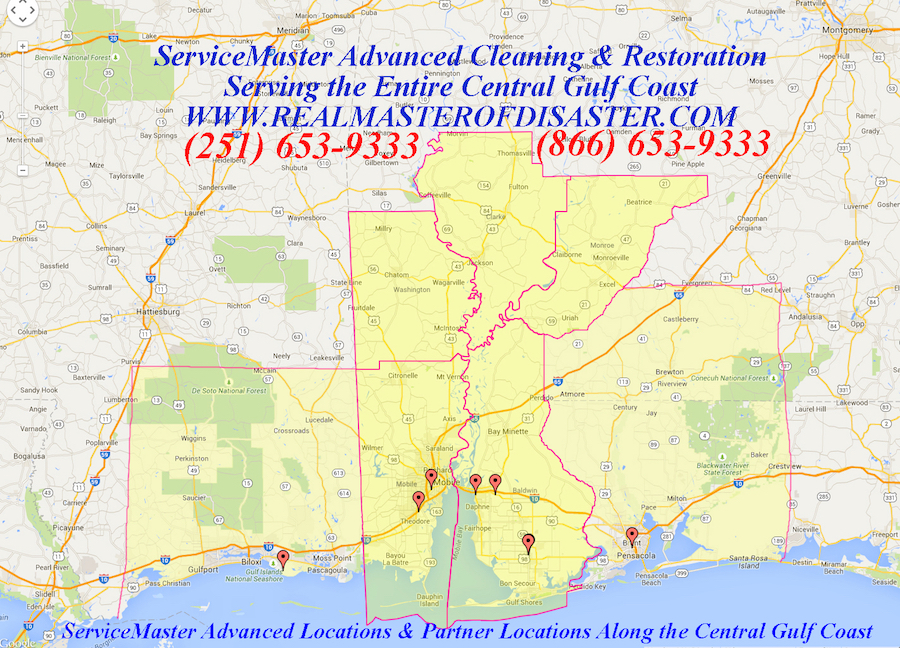 Remember that YOU AND YOU ALONE, decide who works in your home or business. YOU decide who handles your most precious of possessions! Tell your insurance provider that you want SERVICEMASTER ADVANCED or call us directly. Make sure that there is no confusion. There are other mitigation companies, and even others with similar sounding names. We are ServiceMaster Advanced, The Master of Disaster. "WE WOULD BE HONORED TO SERVE YOU." (251) 653-9333, (251) 928-1028 or (866) 653-9333. http://www.realmasterofdisaster.com