Office & Industrial Mold Remediation, Water Damage & Fire Cleanup - Mobile, AL & the Gulf Coast
When it comes to handling the truly large commercial insurance losses, few restoration companies can handle the job promptly, efficiently and timely. In most cases, performance has less to do with capabilities than with proper supervision. Experience is the key. When your business has been affected by a significant water intrusion or a fire, even if you have business interruption insurance, you want to be BACK in business as soon as possible. You want a company that has enough supervisors to get the job done, not only properly, but in a timely manner. Often times, this means working crews 24 hours a day.
ServiceMaster Advanced Cleaning & Restoration has handled some of the largest and most significant losses on the Gulf Coast. Combined with the SRM (ServiceMaster Recovery Management) teams, we have even worked crews in shifts, 24 hours a day, to get businesses back to normal. We have the supervision, the know-how, and the work ethic to get you back into your facility as fast as humanly possible.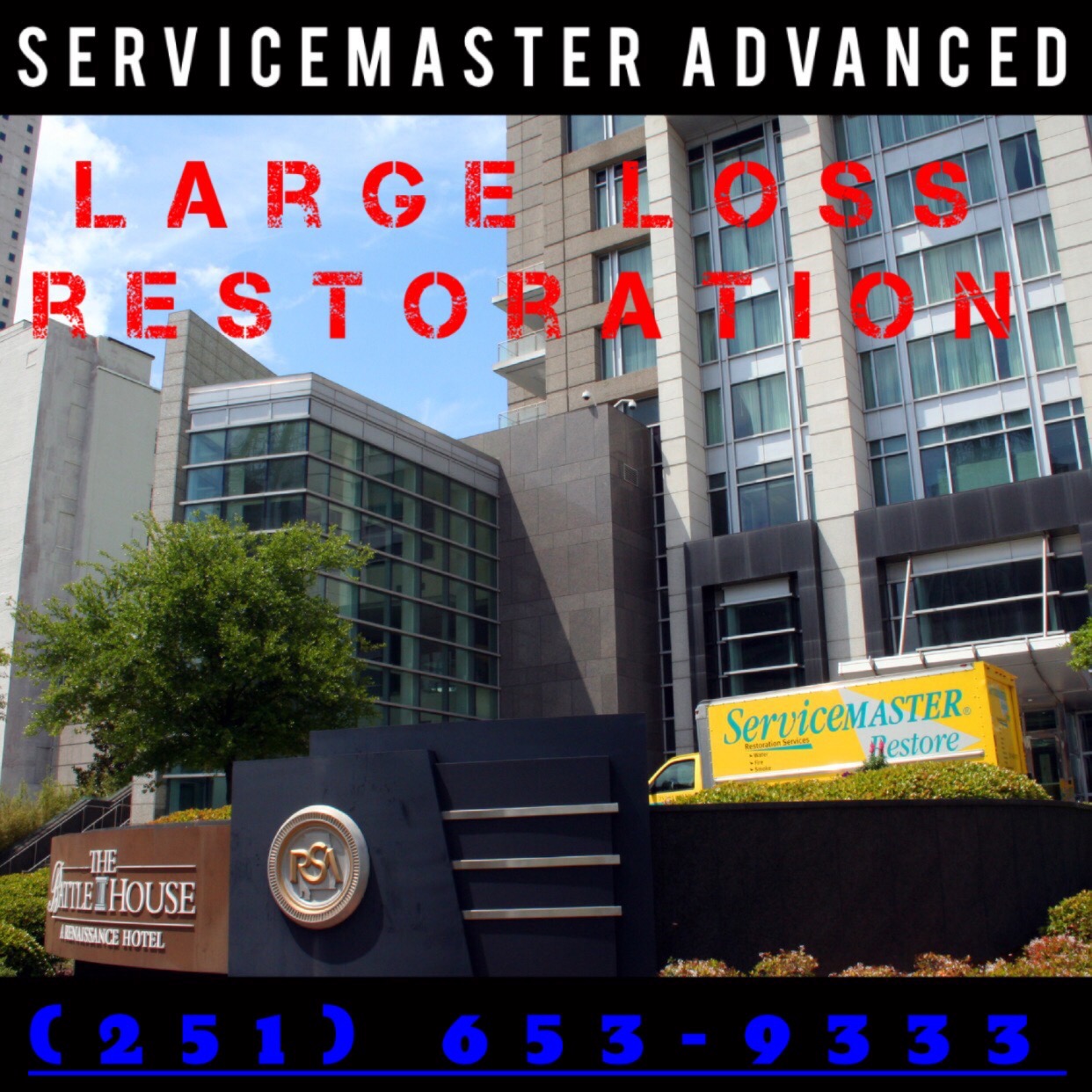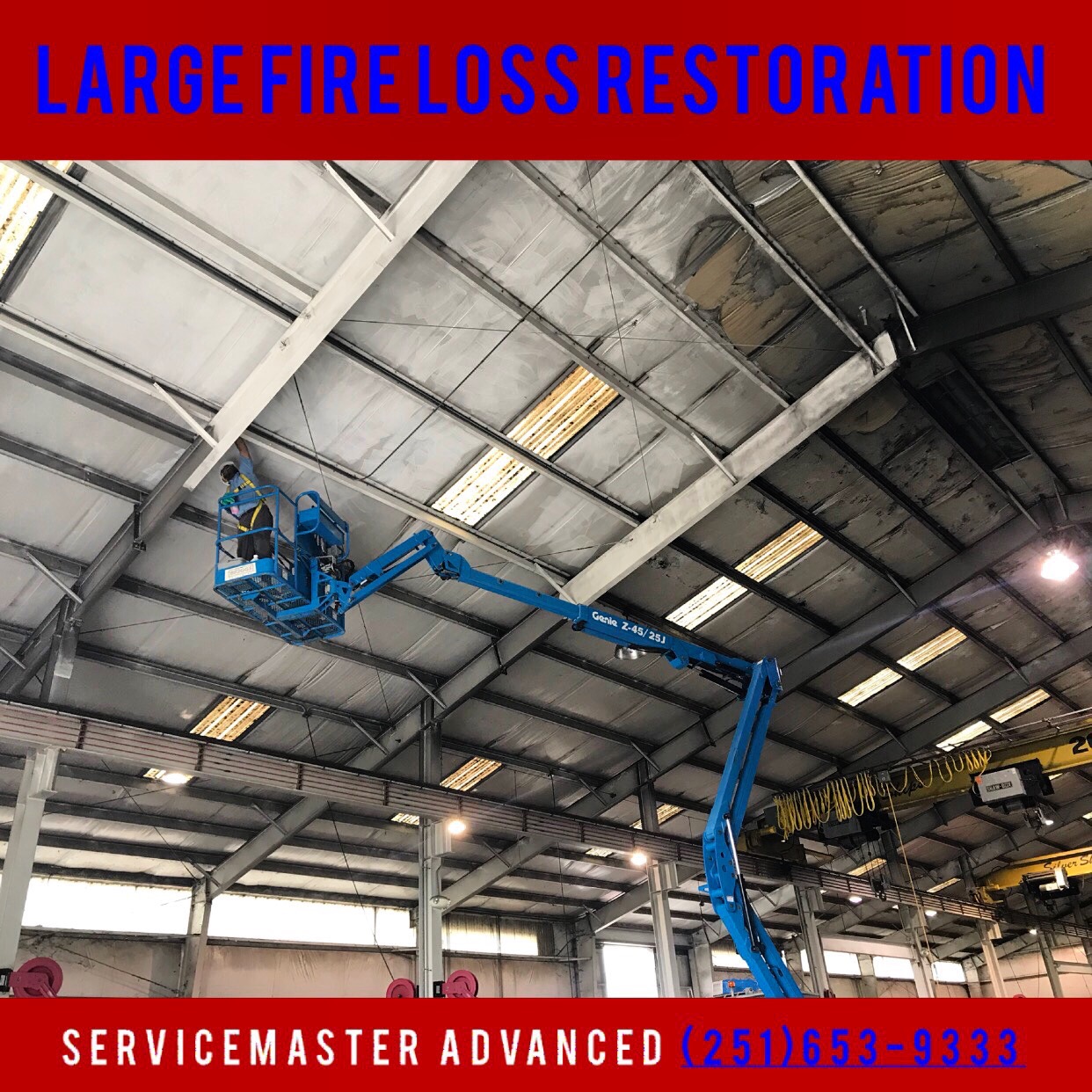 When the loss involves hundreds of workers, dozens of trucks, desiccant dehumidification, man lifts, or intensive fire cleanup in inaccessible areas; ServiceMaster Advanced is up to the task.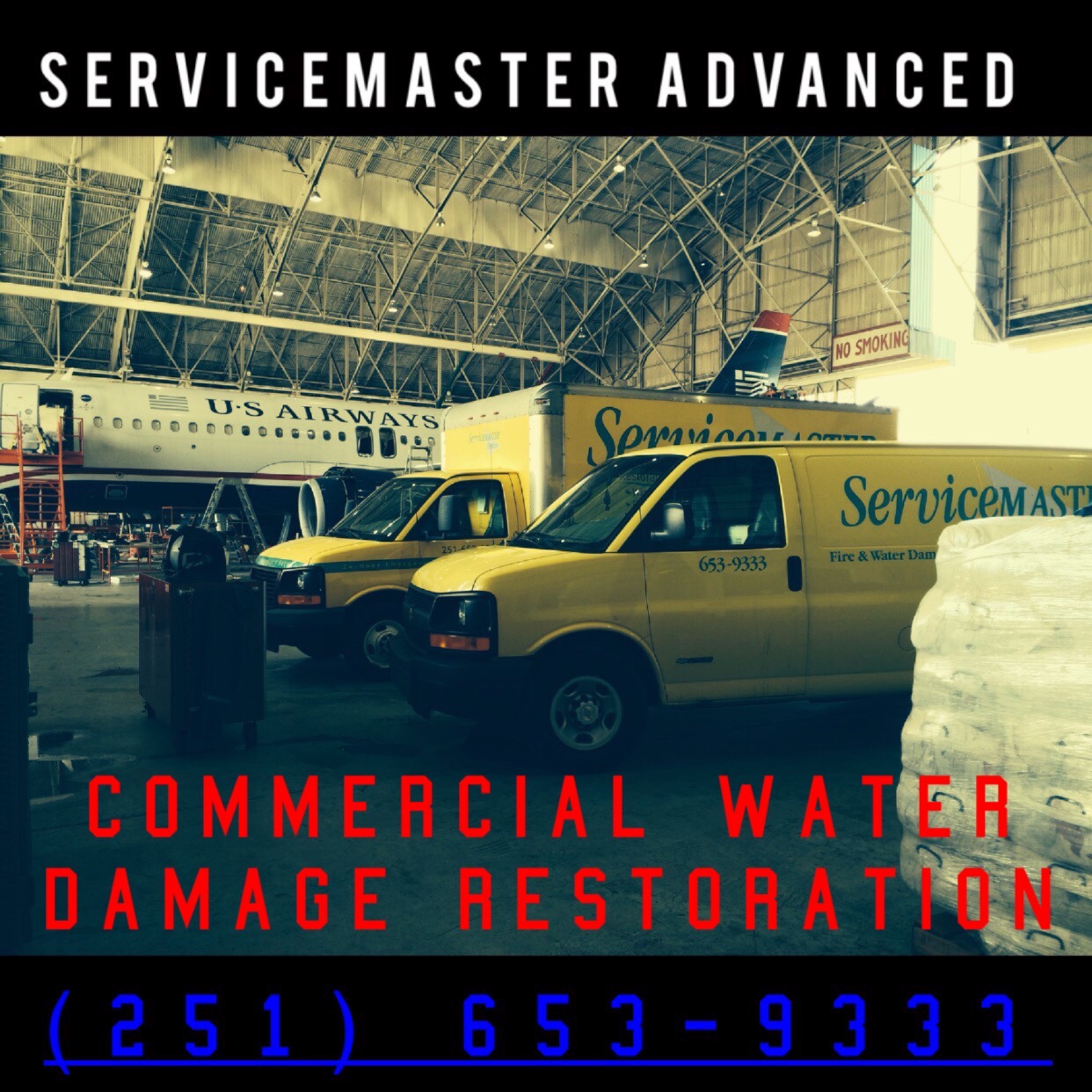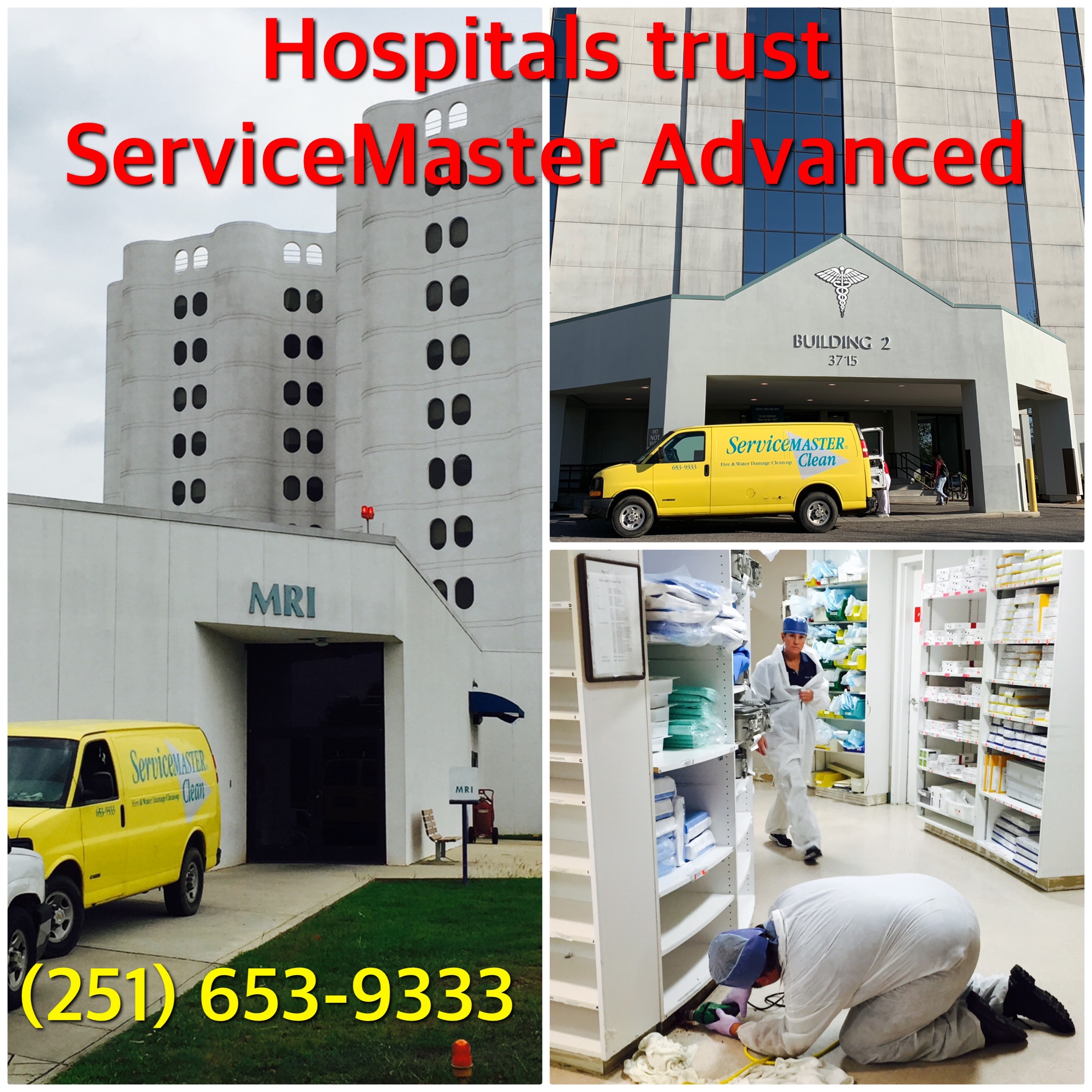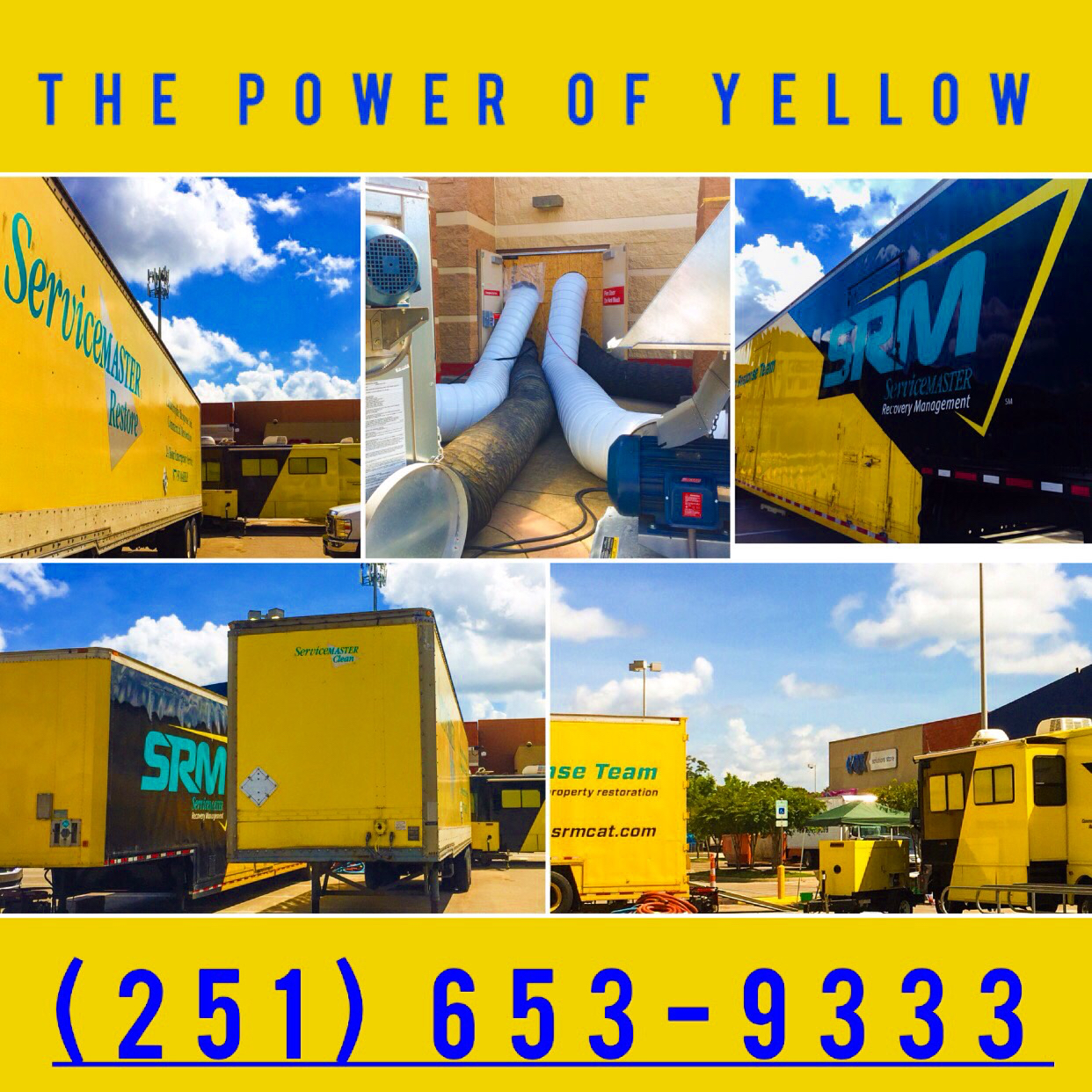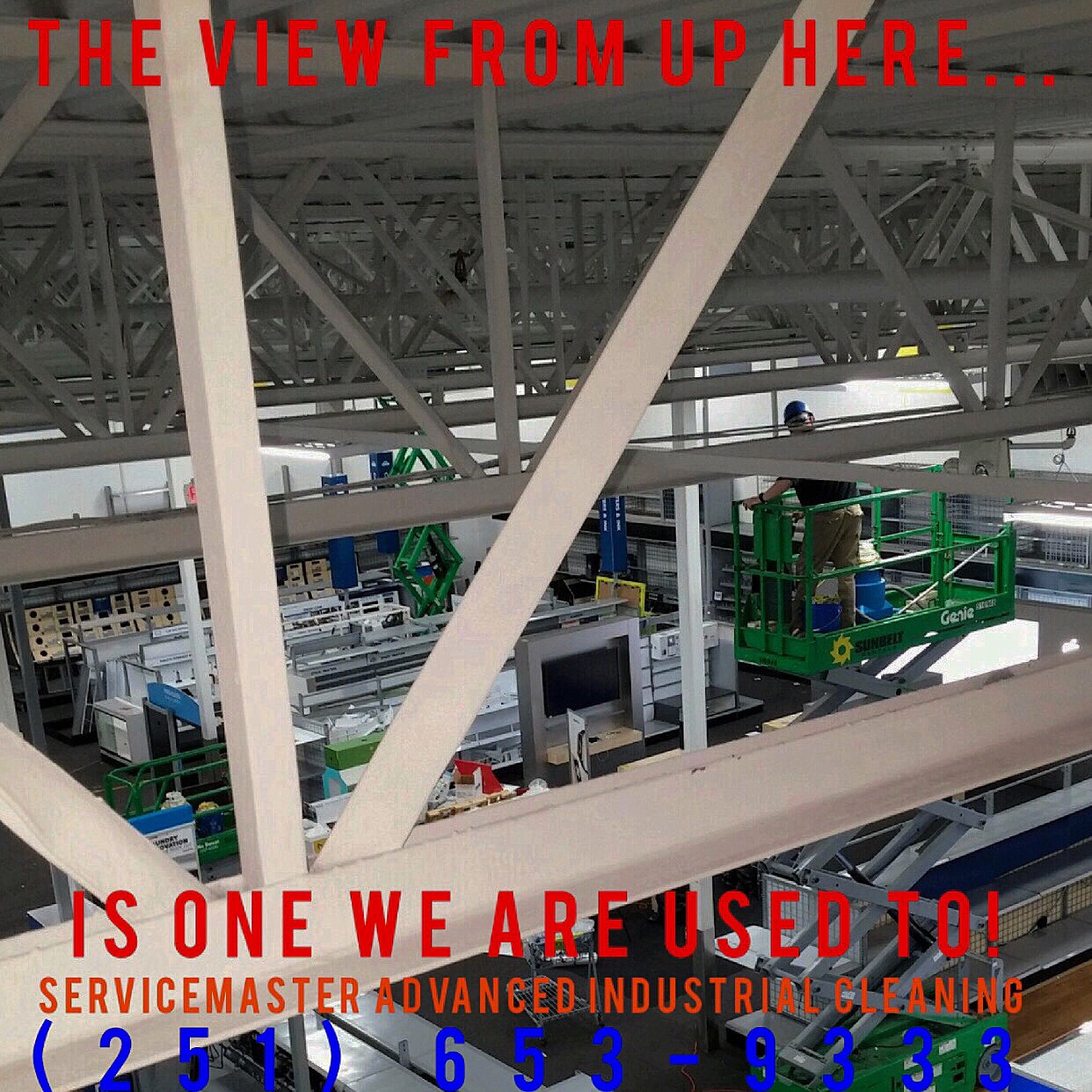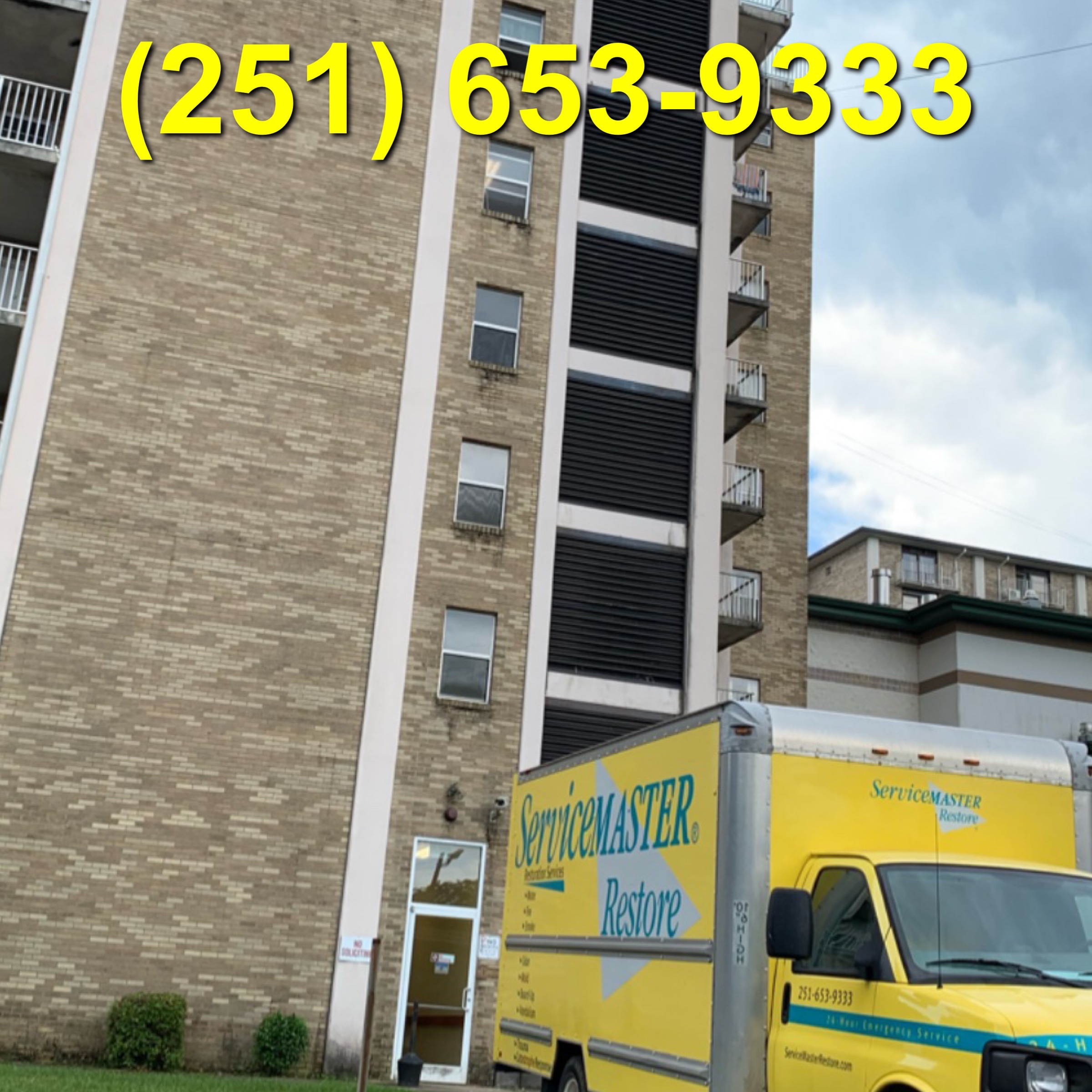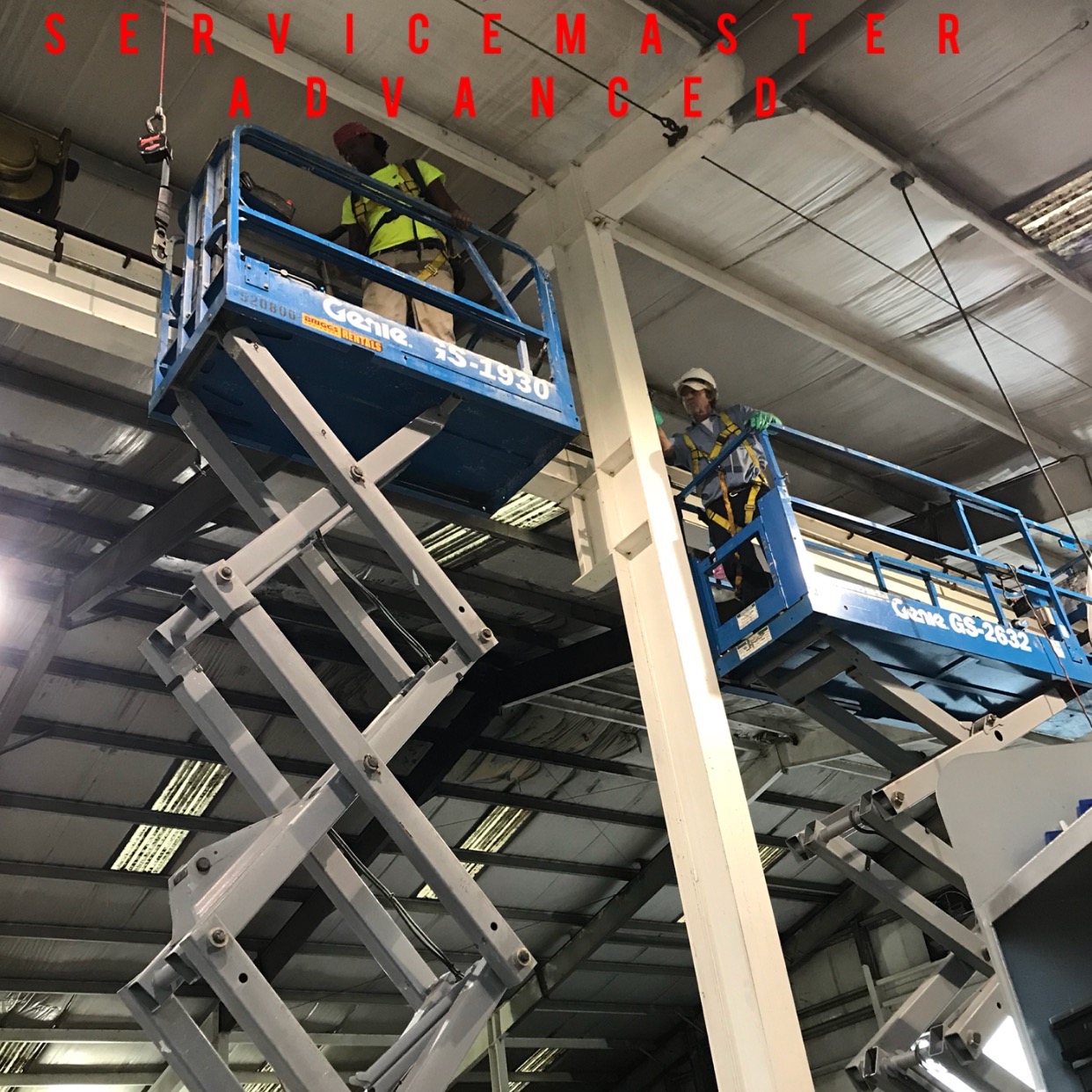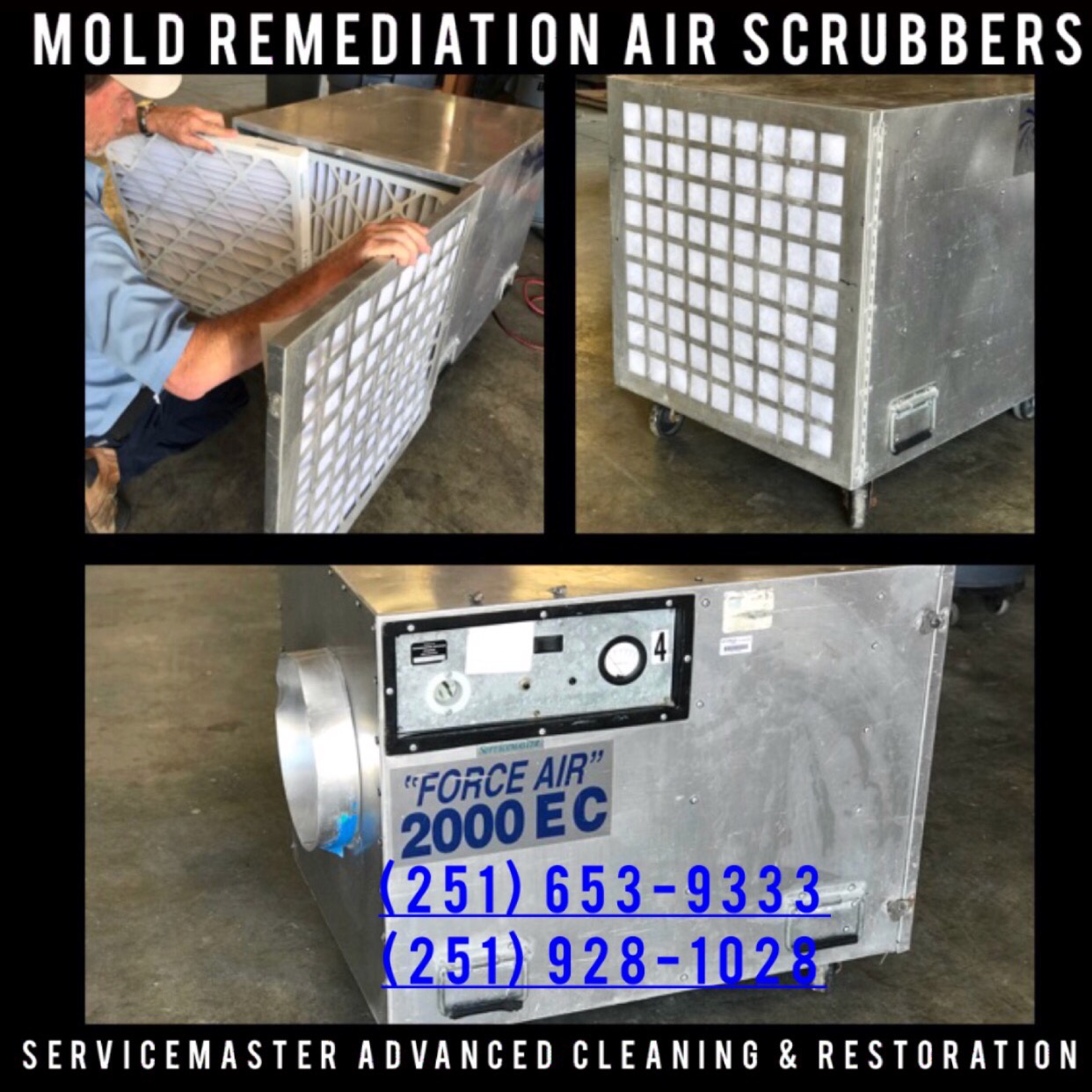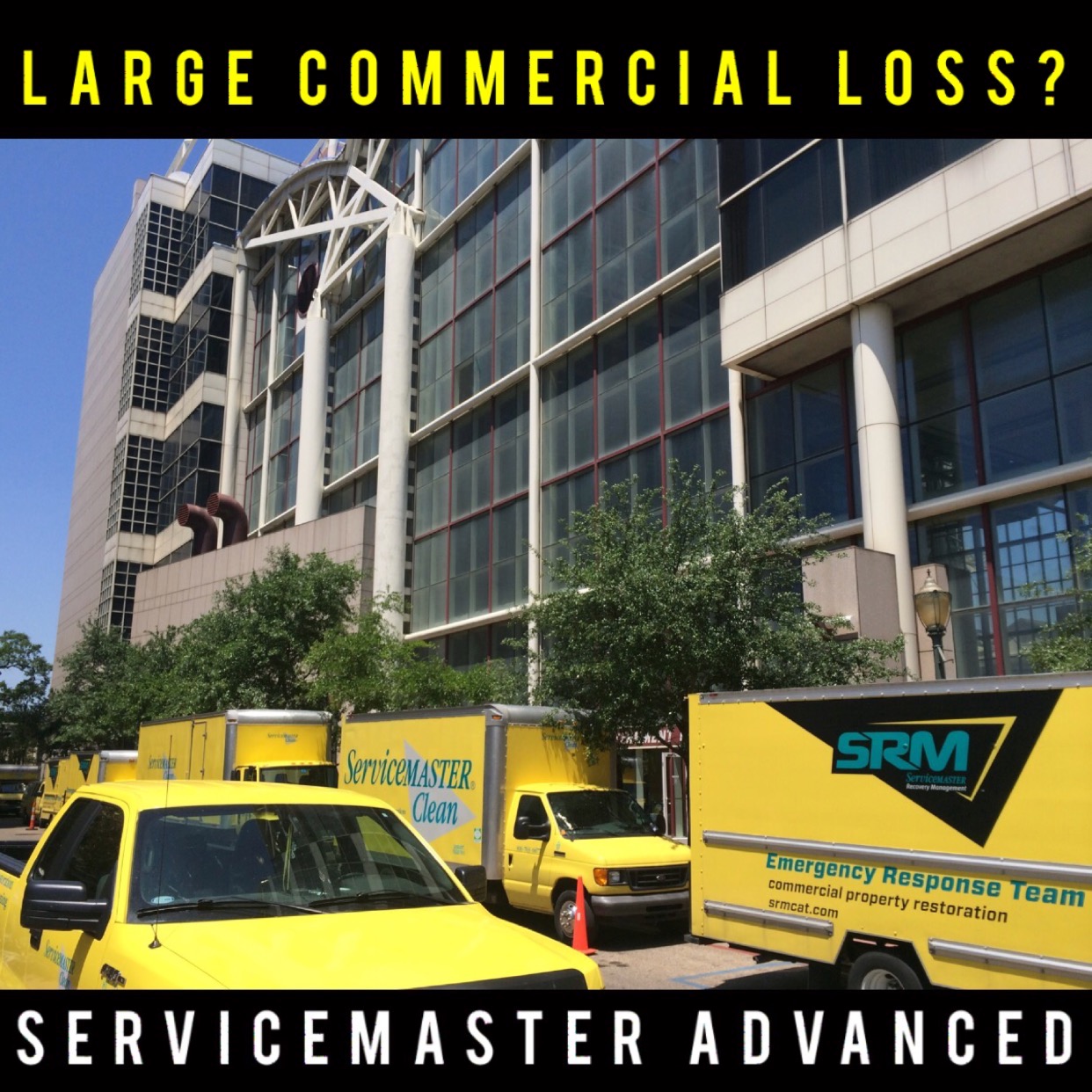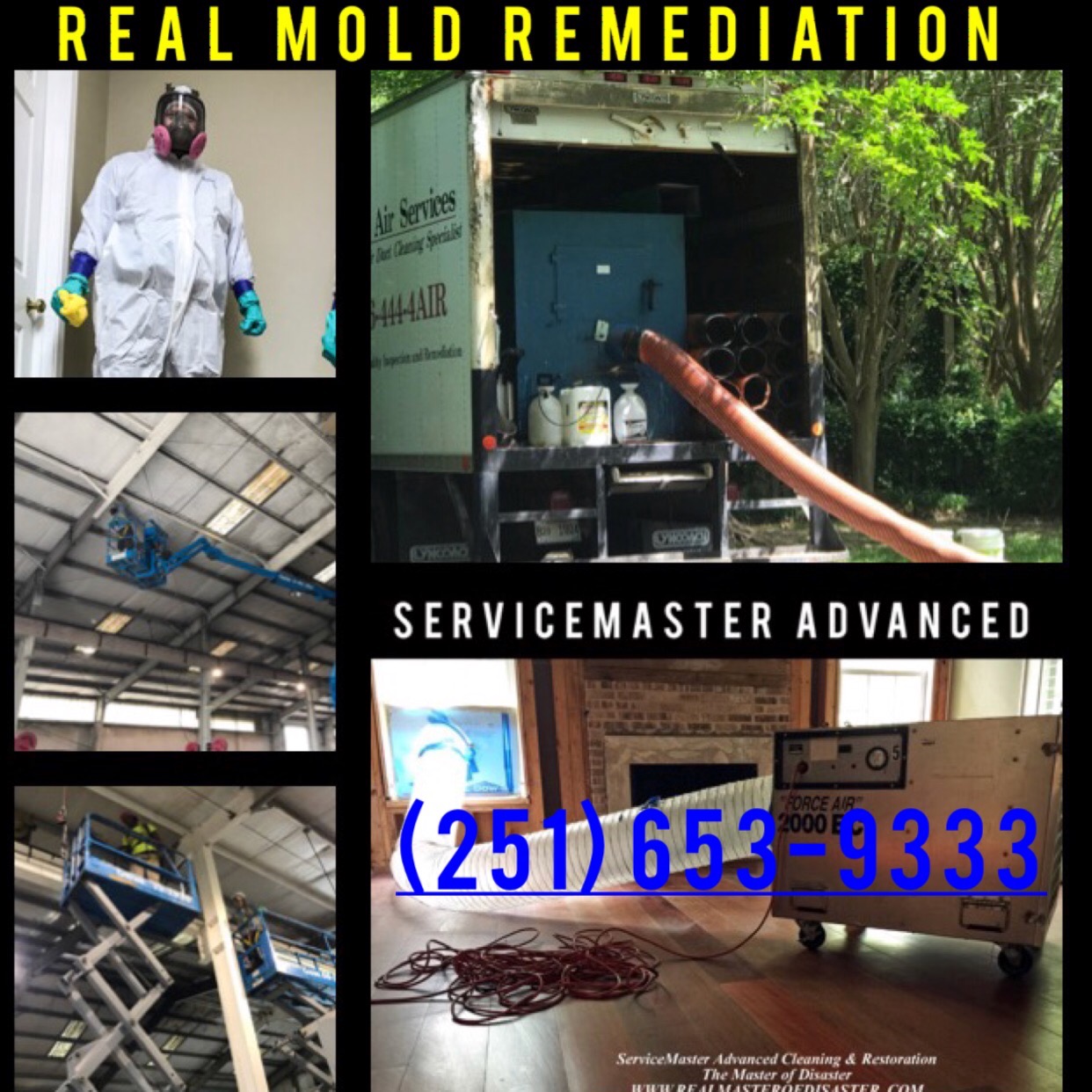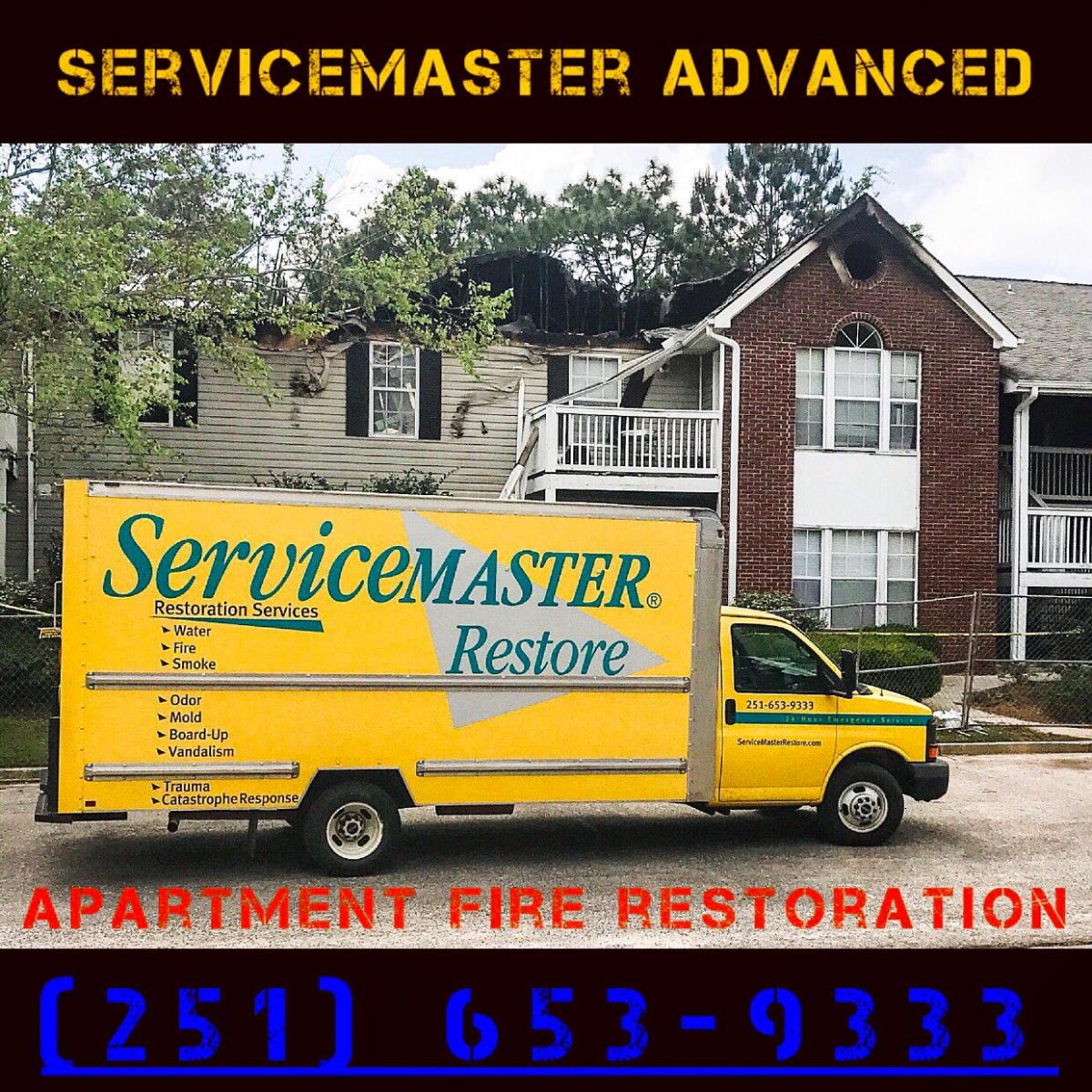 Over thirty years plus, we have handled some of the largest cleanup jobs, for some of area's most well known residents and commercial entities. From tornado cleanup jobs during the tornadoes of Christmas 2012 in Mobile, and in Hattiesburg, MS in 2013; to hurricane cleanup jobs in Hurricanes Ivan, Katrina, and every Spring rain and flood event to happen in the area in the last quarter century, ServiceMaster Advanced has been there. ServiceMaster Advanced Cleaning has performed mitigation jobs for the Alabama State Docks, The Mobile Convention Center, the RSA Tower, The Battleship USS Alabama, The Mobile Infirmary, the AmSouth Tower, the Regions Bank Building, the University of South Alabama, The City of Mobile, The County of Mobile, Springhill College, Springhill Memorial, ST Mobile Aerospace, Airbus, The Mobile County School System, The Corps of Engineers, The State of Alabama and many many more commercial buildings and thousands of homeowners.
We are on virtually every insurance program offered on the Gulf Coast and in the Mobile and Baldwin County area. Insurance programs are pre-designated, pre-approved contractor affiliations which means that often times the insurance company will send us out directly to help their clients in the event of a loss. Some of these affiliations include Farmers, State Farm, USAA, Allstate, Nationwide, GeoVera and a number of commercial insurance programs.
The insurance companies trust us and we hope you will too. At one time or another, over nearly 30 years, we have worked with virtually every commercial and residential insurance company that has ever written a policy in this area. In fact, many of them recommend us because we have been pre-qualified to work for them, meaning we are on their mitigation "program". This means that we have met their standards with regard to insurance, training, procedures etc. and that they are comfortable dispatching claims to us, if the business owner agrees. This is the important stipulation. The management must agree and contract directly with us - even though we will offer direct insurance billing. ServiceMaster Advanced is one of a small handful of companies locally that are approved as such. We appreciate the business that the insurance programs send to us; however out of the few that are approved as such, we want to stand alone as the best. We want to earn your business and be deserving of your trust, not only because the insurance company recommended us, but because our reputation and policies are such that you would have hired us anyway.
We are the original ServiceMaster Restore disaster restoration company operating Mobile and Baldwin County in South Alabama, and the Gulf Coast, serving the area for over 30 years. We have handled some of the largest fire damage, water damage and mold remediation cleanup jobs ever performed on the Gulf Coast and we would be honored to serve you. (251) 653-9333, (251) 928-1028, (251) 943-2230, and (866) 653-9333.