ServiceMaster DOES "go to church". We work in churches, businesses and homes and have been doing so in Mobile and Baldwin Counties for over thirty years. And our people are among the finest in the industry, adhering to the principles put forth by the founder of ServiceMaster, Marion E. Wade, over fifty years ago:
Honor God in All We Do. Excel with Customers. Help People Develop. Grow Profitably.
With more than 50 years of growth and service, ServiceMaster, the parent company of ServiceMaster Clean & SeerviceMaster Restore, has come a long way since its start as a moth-proofing company founded in 1929 by Marion E. Wade, a former minor league baseball player. When it was incorporated in 1947, ServiceMaster employed only half a dozen employees and earned a yearly revenue of $125,000. Today, that fledgling corporation is the leader of the service industry, employing more than 50,000 people, managing over 190,000 others, earning over $7.8 billion annually, and licensing over 5,400 independently owned and operated service providers.
In Mobile, Daphne, Foley, Orange Beach and Gulf Shores, ServiceMaster Advanced Cleaning, The Master of Disaster, has grown right alongside the franchisor. We have served this community honorably and continue to do so today.
ServiceMaster Advanced Cleaning & Restoration - more than a mititgation company.
ServiceMaster Services - more than a janitorial company.
Our two companies are market leaders in both mitigation and janitorial. The combined forces of these two entities bring more cleaning solutions, mitigation capabilities, and building problem solving to the table, than any single entity in the Mobile, Baldwin County or Coastal Mississippi area. Period.
First and foremost, we have three ideally located offices to serve the entire area from Perdido Key & Orange Beach, to Gulfport and Pascagoula, Mississippi. We can be anywhere in the area within 45 minutes tops.
Our two companies have been serving Mobile and Baldwin Counties for over 30 years, and between these two companies we offer:
1. Water Damage Restoration, FIre Damage Restoration
2. Mold Remediation, Mold Assessment & Testing
3. Commercial & Industrial Janitorial Services - proven abiltiy to hande janitorial accounts in excess of 500,000 square feet
4. Forensic Cleanup Services
5. Carpet Cleaning (Few, if any, janitorial services can offer truck-mounted carpet cleaning)
6. Hard Surface Floor Stripping, Waxing & Maintenance
7. Grout Cleaning - with a truck mounted steam attachment that ensures excellent results
8. Window Cleaning
9. Post-Construction Cleaning - both commercial & residential
10. Temporary Labor Staffing - yes we provide temps to our many commercial & industrial cleints on a regular basis
11. Pressure Washing
12. Smoke & Odor Cleanup - we eliminate the really tough residential & commercial problems
13. Building Leak & Water Instrusion Detection
14. Paper Product & Expendible Sourcing - from paper towels & toilet paper to can liners & cleaning supplies
15. Specialty Cleaning - from vent hoods in restaurants, to ships, jets, luxury yachts and RVs
16. Duct Cleaing - in conjunction with mold remediation, fire restoration or as a stand alone service.
17. Large Scale Drying - Proven abiltity to handle large loss water damage restoration such as hotels, large office buildings & medical complexes.
18. Medical Office Building & Clean Room Cleaning - extensive training & knowledge of the specific cleaning requirements of medical environments
19. Upholstery & Rug Cleaning
20. Detail Fire Contents Cleaning, Pack Out & Storage - in conjunction with a fire or water restoration project or as a stand alone service
21. Debris Removal - if it is under a roof, we can find a way to remove it
22. Interior Demolotion Services - usually in conjunction with a water or fire restroation project
23. Turn-key Shopping Center & Office Space Turnaround - we remove the debris and trash left by the former tenant, and we clean the space to be ready for lease
24 Large Hard Surface Floor Preparation - we have the large automated equipment to prepare large hard surface floor areas for occupancy after construction
25. Construction Rebuild - after a fire or water loss, there are a number of ways we can assist, here is an overview: http://www.servicemastermobilealabama.com/ServiceMaster-Construction-Mobile-AL-1.html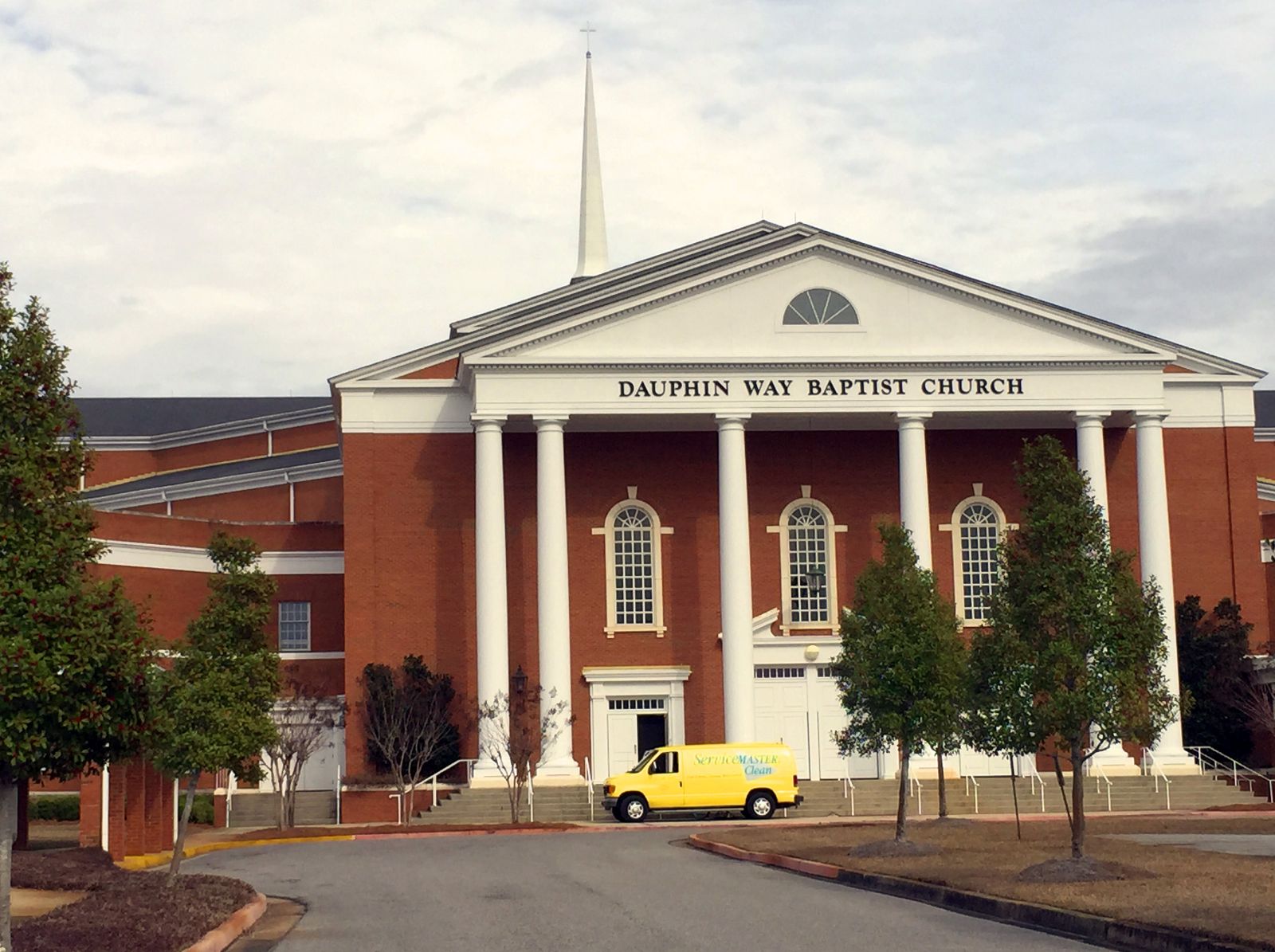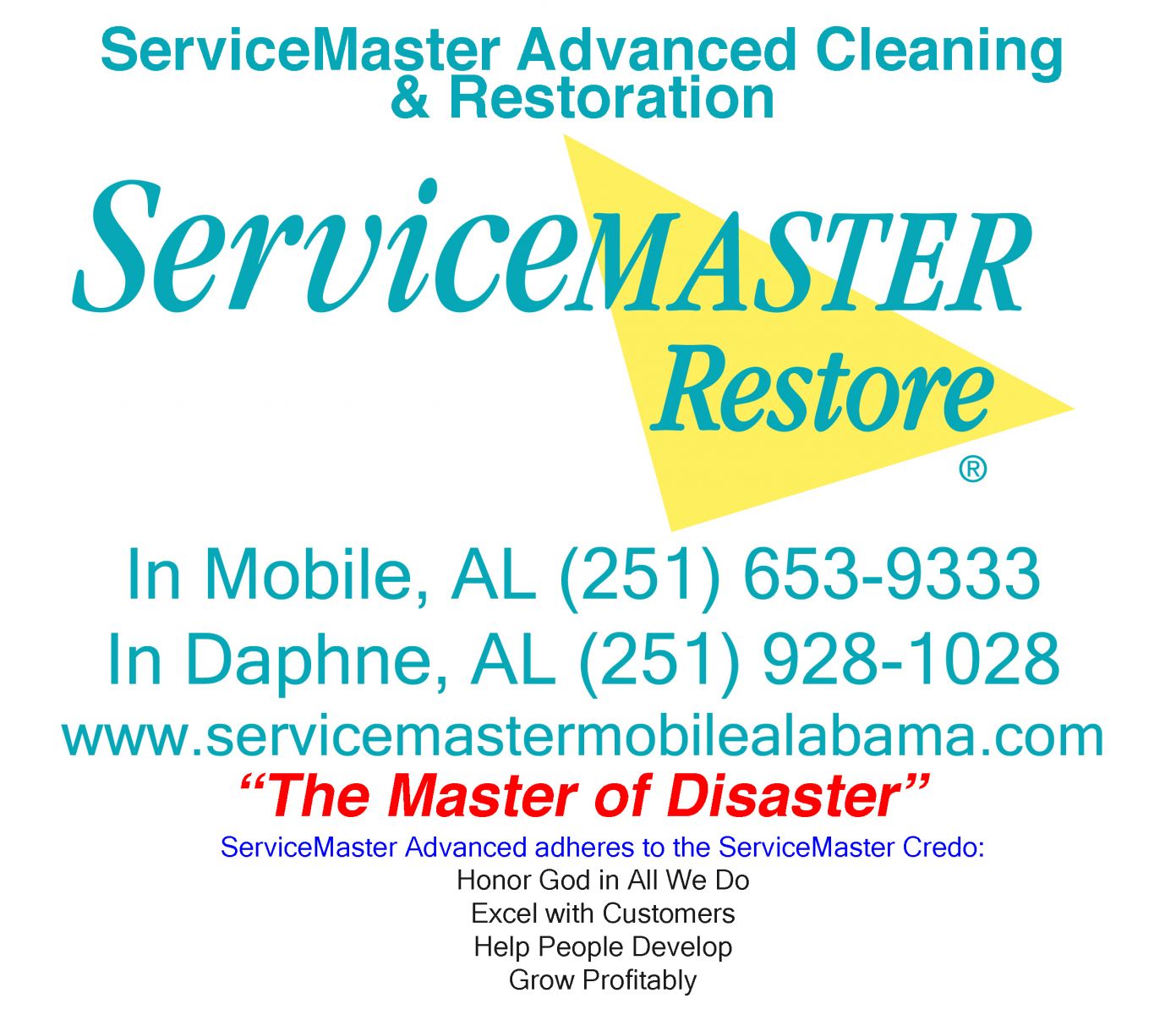 ServiceMaster Advanced Cleaning and Restoration is an approved vendor for virtually all of the insurance companies that operate in our regional area. At one time or another, over nearly 30 years, we have worked with virtually every insurance company that has ever written a policy here. In fact, many of them recommend us because we have been pre-qualified to work for them, meaning we are on their mitigation "program". This means that we have met their standards with regard to insurance, training, procedures etc. and that they are comfortable dispatching a claim to us, if the homeowner agrees. This is the important stipulation. The homeowner must agree and contract directly with us.
ServiceMaster Advanced, The Master of Disaster, is one of a small handful of companies locally that are approved as such. We appreciate the business that the insurance programs send to us; however out of the few that are approved as such, we want to stand alone as the best. We want to earn your business be deserving of your trust, not only, because the insurance company recommended us, but because our reputation and policies are such that you would have hired us anyway. We want to stand alone out of all of the recommended companies, that you will tell your insurance agent, company or adjuster that you want ServiceMaster Advanced Cleaning, Enterprise number 7027, (251) 928-1028 or (251) 653-9333, to service your home or business. "We would be honored to serve you."