What does the name "ServiceMaster" mean to you?
Many people don't realize it, but the very name "ServiceMaster", means 'Service to the Master', the 'Master' being our Lord God. The company was founded in 1947 by Marion E. Wade, a former minor league baseball player who, in a freak accident, was nearly blinded. After this accident, he embarked upon a new career. He began a company that provided moth proofing for customer's home curtains. Being a devout Christian, as the story goes, he began searching for other services that he could provide in order to stay in a customer's home a little longer and share the word of the Lord! From these humble beginnings, sprang a Fortune 500 sized, corporate and franchised-based company, that is world renowned. Today the ServiceMaster name is synonymous with quality, caring, and doing the right thing. Today this world wide home service company directly and indirectly employs over 40,000 people and serves over 75,000 homes and businesses every day.
| | |
| --- | --- |
| | |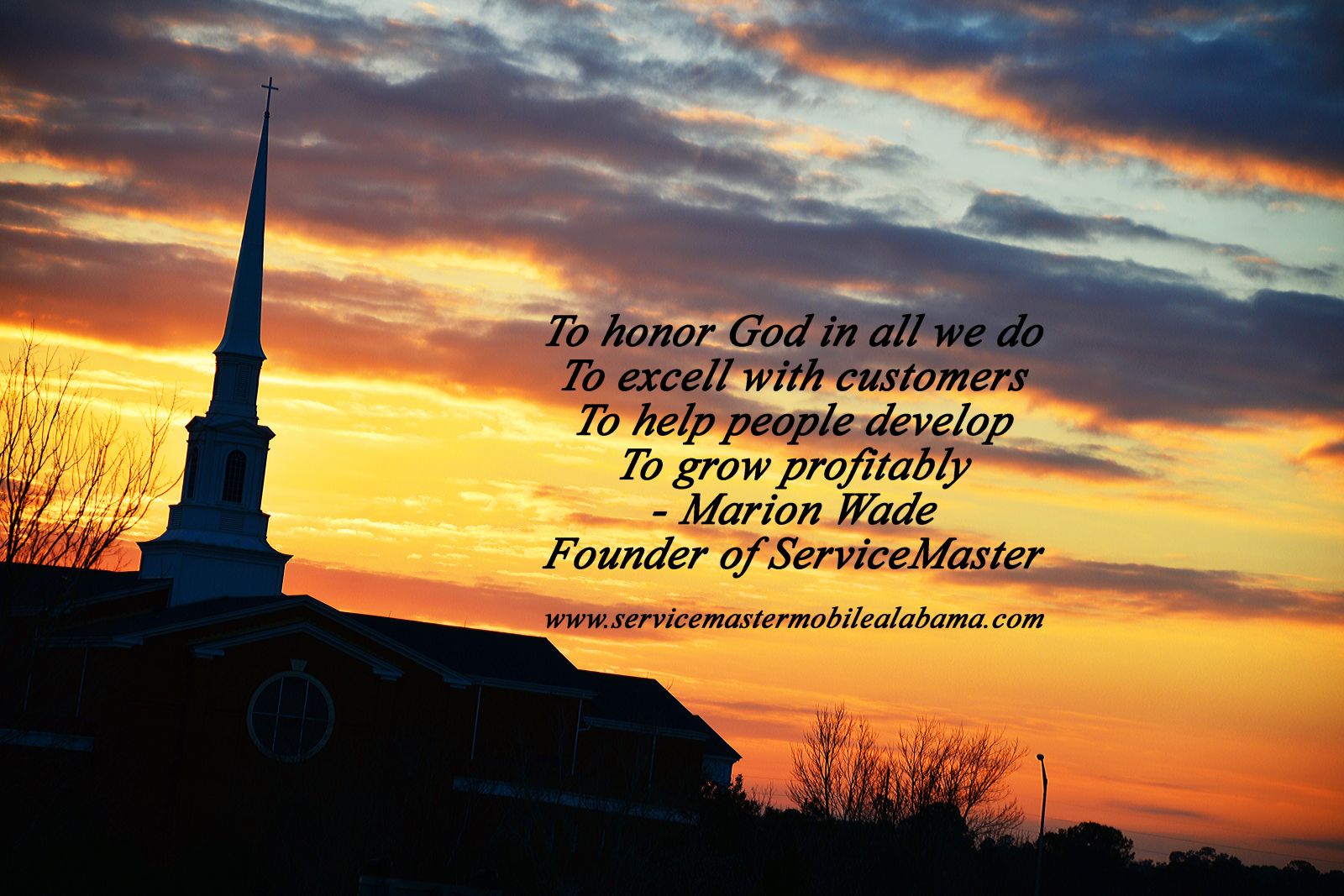 ServiceMaster is routinely recognized as a Fortune World's Most Admired Company.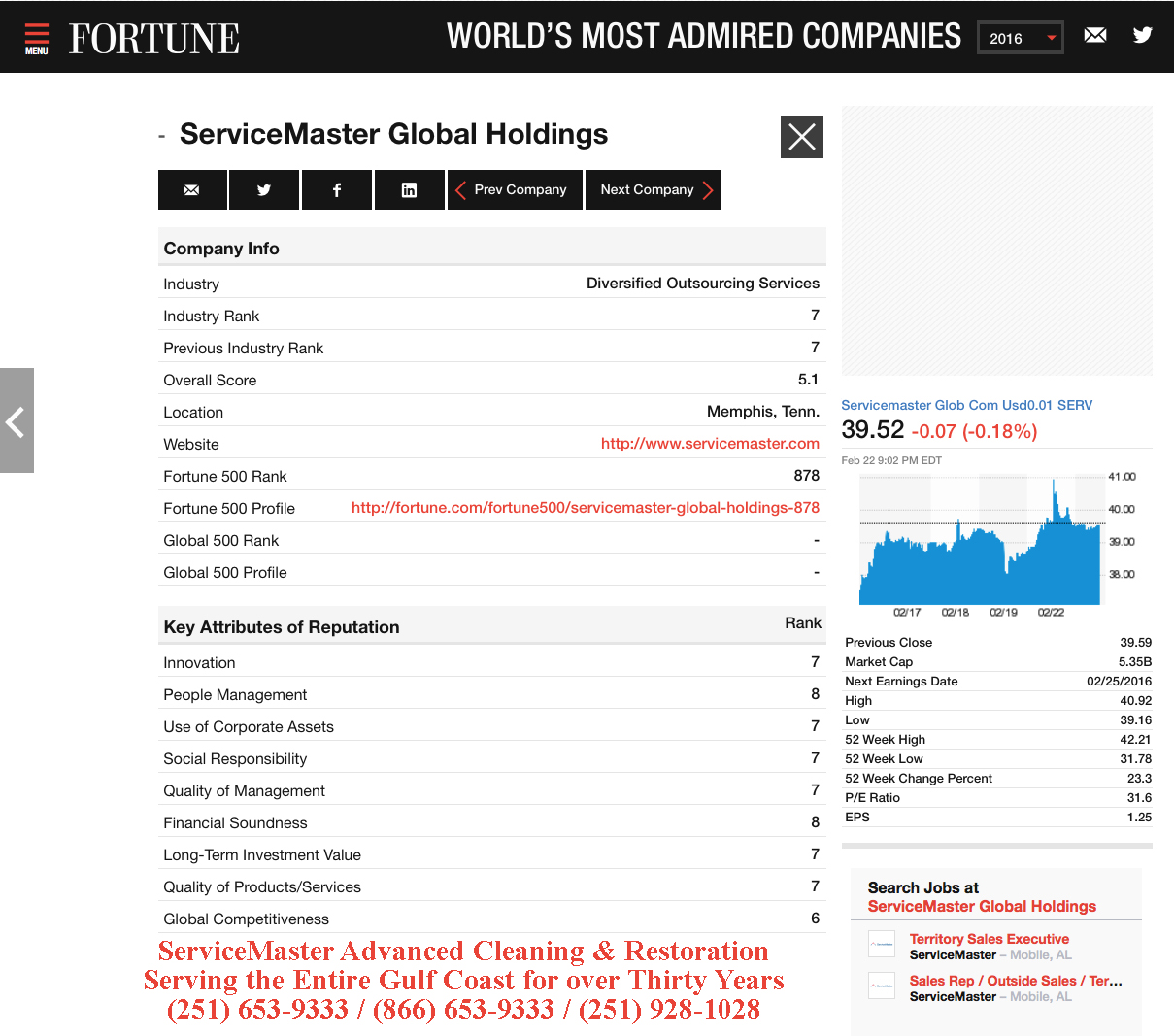 When you walk into the lobby of our ServiceMaster headquarters in Memphis, Tennessee, you see the four statements that constitute the objectives of our ServiceMaster:
To honor God in all we do
To help people develop
To pursue excellence
To grow profitably
These are the Objectives that were set forth by the founder of ServiceMaster Marion E. Wade. Simple objectives that appeal to mankind's highest calling. With God in it's proper place, and profit in it's proper rank, the ServiceMaster Corporate Objectives provide a framework from which honest Spiritually-led companies can operate from. Marion Wade wrote many books; and many are at the Marion E. Wade Center of Wheaton College, IL. He wrote extensively on how a corporate entity could be within God's Laws and be profitable. To simplify, if the corporate entity had things in their proper order, as with the ServiceMaster Objectives, then he believed that they were in keeping with biblical principles.
At ServiceMaster ADVANCED Cleaning & Restoration in Mobile, Theodore & Daphne, we try to live up to those objectives. Our people are involved in the Mobile and Baldwin County, AL communities and we care about our employees. We believe in giving back to the communities that have been so good to us, and we try to adhere to the Objectives that Marion Wade outlined so many years ago, and which we believe are more important than ever, today.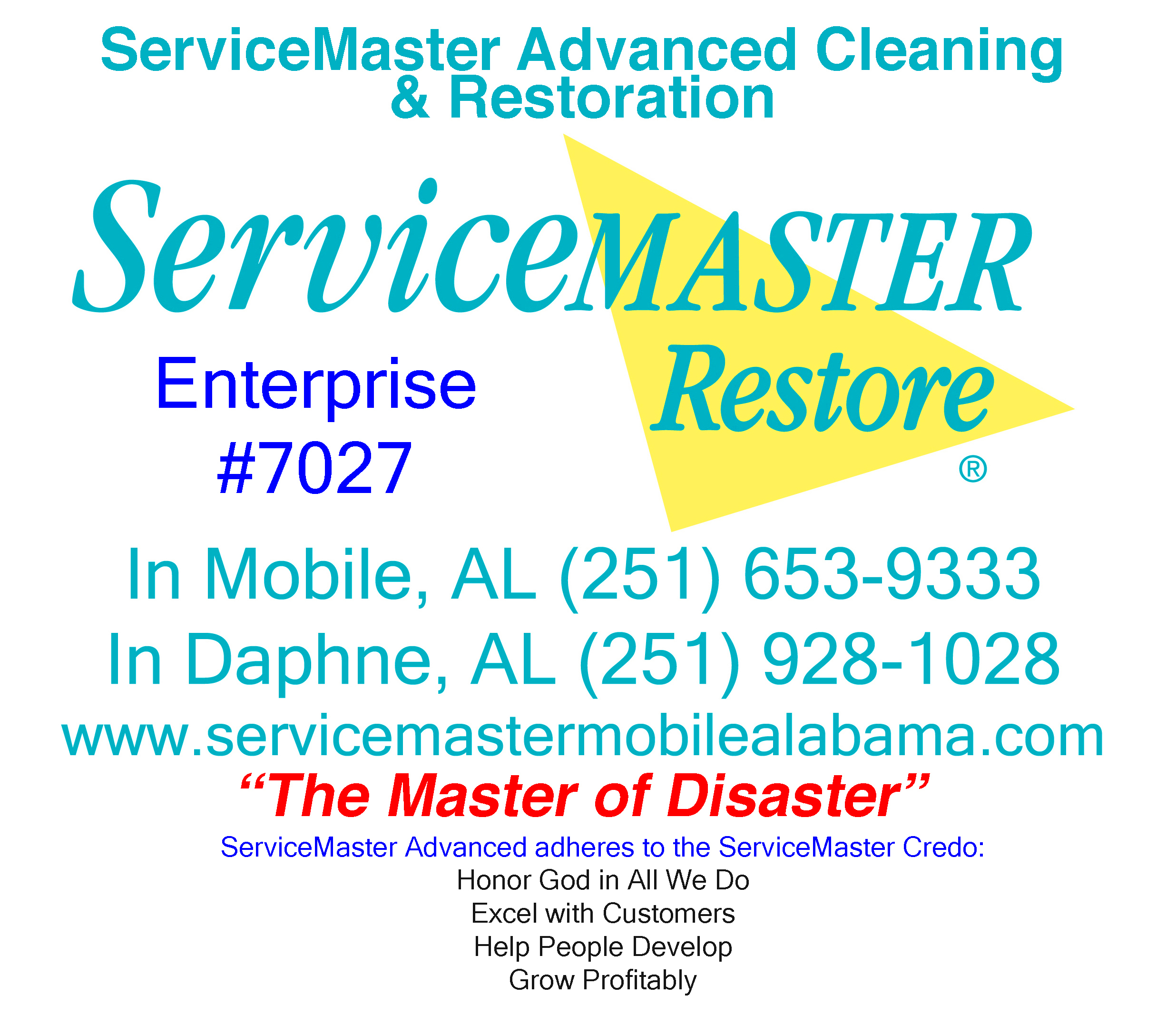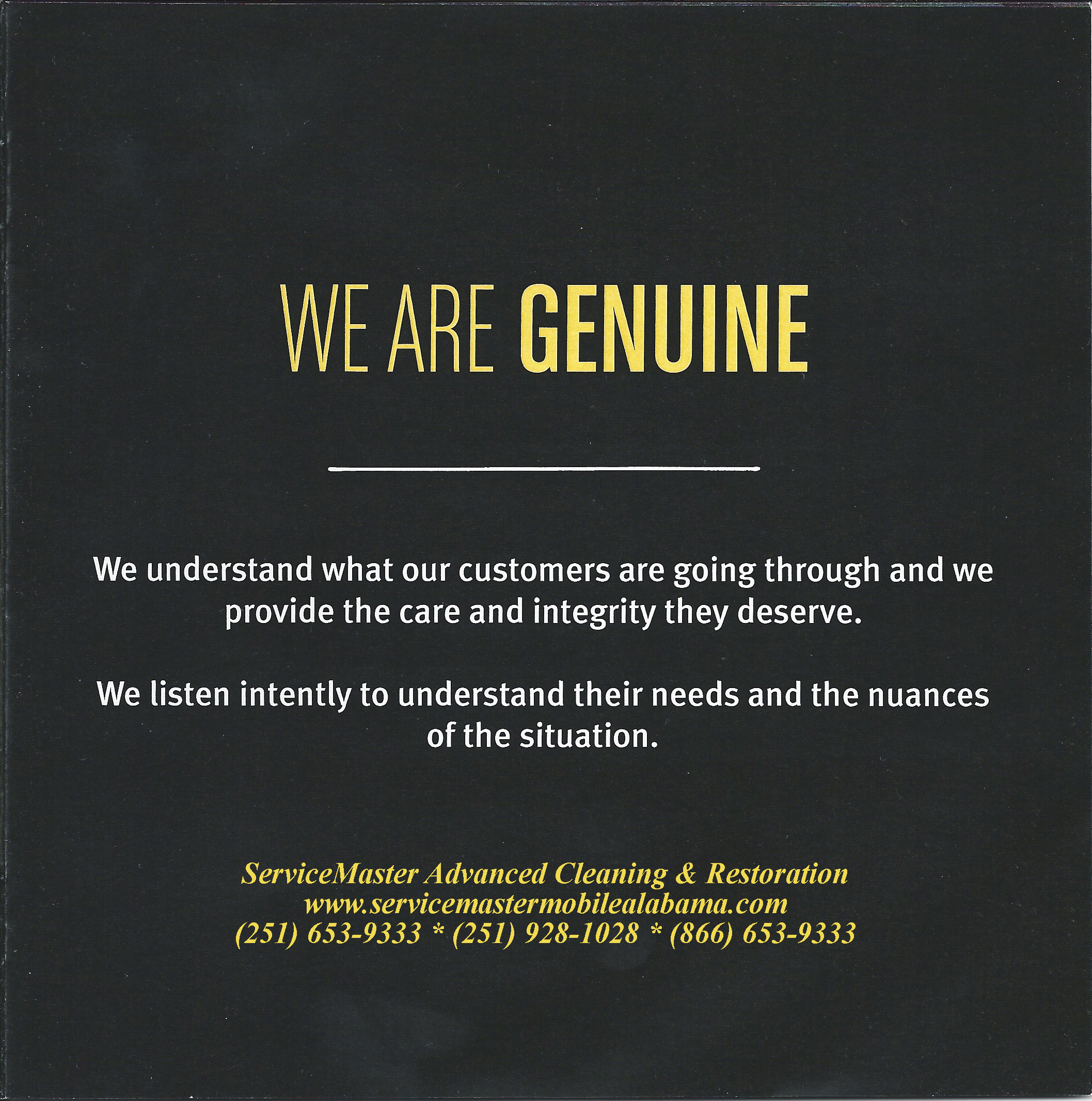 ServiceMaster Advanced Cleaning is part of the largest ServiceMaster group of companies specifically performing water damage and mitigation services in the Mobile and Baldwin County area. ServiceMaster Advanced Cleaning, The Master of Disaster, has been in operation in the Mobile area for over 30 years and has handled some of largest water damage and fire damage cleanup jobs in the Mobile area. From tornado cleanup jobs during the tornadoes of Christmas 2012 in Mobile, and in Hattiesburg, MS in 2013; to hurricane cleanup jobs in Hurricanes Ivan, Katrina, and every Spring rain and flood event to happen in the area in the last quarter century, ServiceMaster Advanced has been there. We didn't just begin our mitigation company last year, we have been here all along and have steadily grown with the community and helped the parent company innovate and improve the brand. If you find yourself in need of mitigation services for your home or business, trust the true professionals, the company that the commercial industry turns to time and again, The Master of Disaster, ServiceMaster Advanced Cleaning & Restoration (251) 653-9333 / (251) 928-1028.
We are on virtually every insurance program offered in the Mobile and Baldwin County area. Insurance programs are pre-designated, pre-approved contractor affiliations which means that often times the insurance company will send us out directly to help their clients in the event of a loss. Some of these affiliations include Farmers, State Farm, USAA, Allstate, Nationwide, GeoVera and a number of commercial insurance programs.
The insurance companies trust us and we hope you will too. At one time or another, over nearly 30 years, we have worked with virtually every insurance company that has ever written a policy here. In fact, many of them recommend us because we have been pre-qualified to work for them, meaning we are on their mitigation "program". This means that we have met their standards with regard to insurance, training, procedures etc. and that they are comfortable dispatching a claim to us, if the homeowner agrees. This is the important stipulation. The homeowner or business owner must agree and contract directly with us. ServiceMaster Advanced is one of a small handful of companies locally that are approved as such. We appreciate the business that the insurance programs send to us; however out of the few that are approved as such, we want to stand alone as the best. We want to earn your business and be deserving of your trust, not only because the insurance company recommended us, but because our reputation and policies are such that you would have hired us anyway.
ServiceMaster ADVANCED Cleaning & Restoration (251) 653-9333 / (251) 928-1028 / (866) 653-9333
http://www.servicemastermobilealabama.com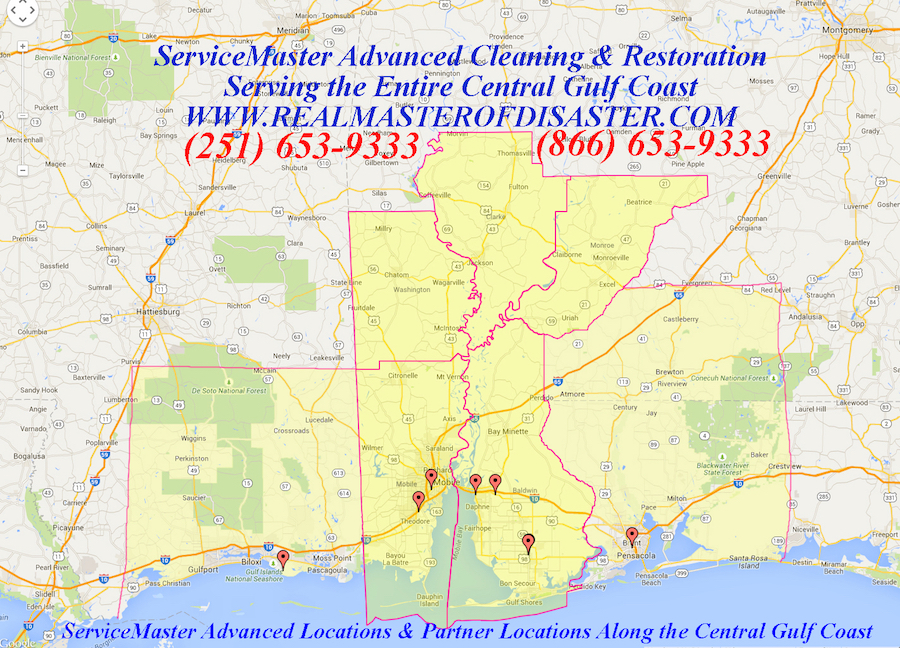 Remember that YOU AND YOU ALONE, decide who works in your home or business. YOU decide who handles your most precious of possessions! Tell your insurance provider that you want SERVICEMASTER ADVANCED or call us directly. Make sure that there is no confusion. There are other mitigation companies, and even others with similar sounding names. We are ServiceMaster Advanced, The Master of Disaster. "WE WOULD BE HONORED TO SERVE YOU." (251) 653-9333, (251) 928-1028 or (251) 943-2230.