Solutions for Water Damage Restoration, Janitorial, Fire Mitigation, Mold Remediation & Odor Problems & Much More.
ServiceMaster Advanced Cleaning & Restoration - more than a mititgation company.
ServiceMaster Services - more than a janitorial company.
Our two companies are market leaders in both mitigation and janitorial. The combined forces of these two entities bring more cleaning solutions, mitigation capabilities, and building problem solving to the table, than any single entity in the Mobile, Baldwin County or Coastal Mississippi area. Period.
First and foremost, we have three ideally located offices to serve the entire area from Perdido Key & Orange Beach, to Gulfport and Pascagoula, Mississippi. We can be anywhere in the area within 45 minutes tops.
Our two companies have been serving Mobile and Baldwin Counties for over 30 years, and between these two companies we offer:
1. Water Damage Restoration, FIre Damage Restoration
2. Mold Remediation, Mold Assessment & Testing
3. Commercial & Industrial Janitorial Services - proven abiltiy to hande janitorial accounts in excess of 500,000 square feet
4. Forensic Cleanup Services
5. Carpet Cleaning (Few, if any, janitorial services can offer truck-mounted carpet cleaning)
6. Hard Surface Floor Stripping, Waxing & Maintenance
7. Grout Cleaning - with a truck mounted steam attachment that ensures excellent results
8. Window Cleaning
9. Post-Construction Cleaning - both commercial & residential
10. Temporary Labor Staffing - yes we provide temps to our many commercial & industrial cleints on a regular basis
11. Pressure Washing
12. Smoke & Odor Cleanup - we eliminate the really tough residential & commercial problems
13. Building Leak & Water Instrusion Detection
14. Paper Product & Expendible Sourcing - from paper towels & toilet paper to can liners & cleaning supplies
15. Specialty Cleaning - from vent hoods in restaurants, to ships, jets, luxury yachts and RVs
16. Duct Cleaing - in conjunction with mold remediation, fire restoration or as a stand alone service.
17. Large Scale Drying - Proven abiltity to handle large loss water damage restoration such as hotels, large office buildings & medical complexes.
18. Medical Office Building & Clean Room Cleaning - extensive training & knowledge of the specific cleaning requirements of medical environments
19. Upholstery & Rug Cleaning
20. Detail Fire Contents Cleaning, Pack Out & Storage - in conjunction with a fire or water restoration project or as a stand alone service
21. Debris Removal - if it is under a roof, we can find a way to remove it
22. Interior Demolotion Services - usually in conjunction with a water or fire restroation project
23. Turn-key Shopping Center & Office Space Turnaround - we remove the debris and trash left by the former tenant, and we clean the space to be ready for lease
24 Large Hard Surface Floor Preparation - we have the large automated equipment to prepare large hard surface floor areas for occupancy after construction
25. Construction Rebuild - after a fire or water loss, there are a number of ways we can assist, here is an overview: http://www.servicemastermobilealabama.com/ServiceMaster-Construction-Mobile-AL-1.html
Are all water damage restoration and fire restoration companies the same?
At ServiceMaster Restore Mobile, AL & Daphne, AL, ServiceMaster Advanced Cleaning & Restoration - we believe that there are provable and measurable differences…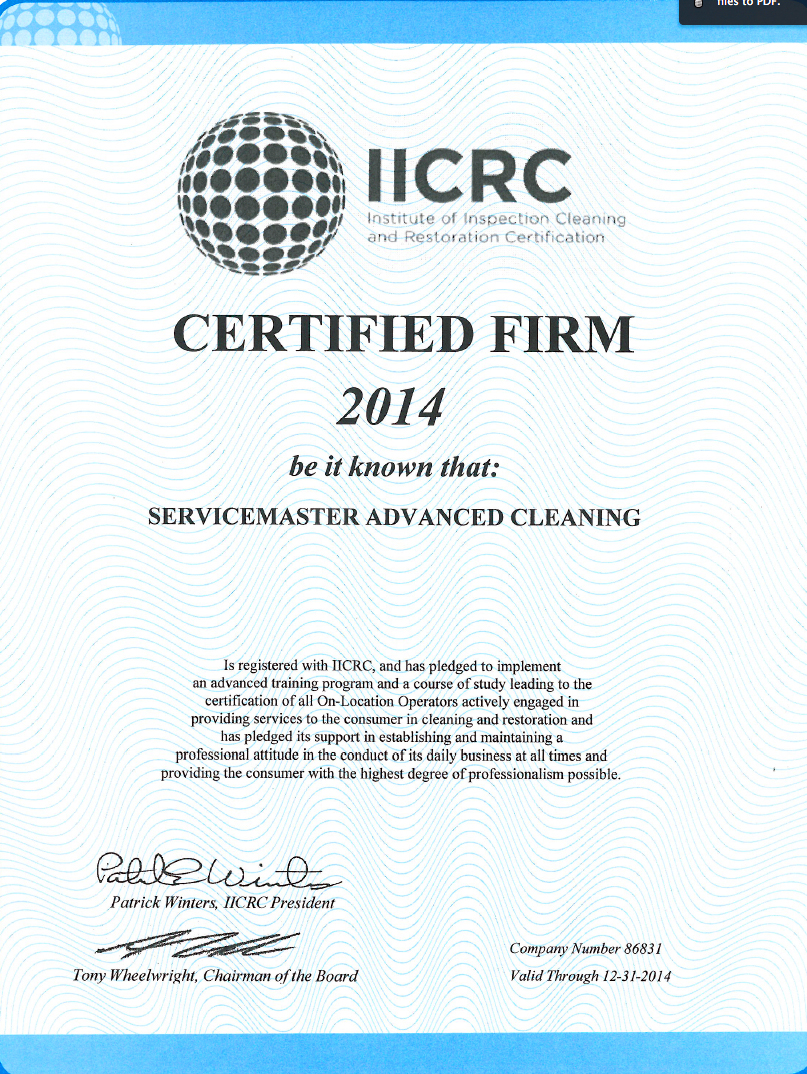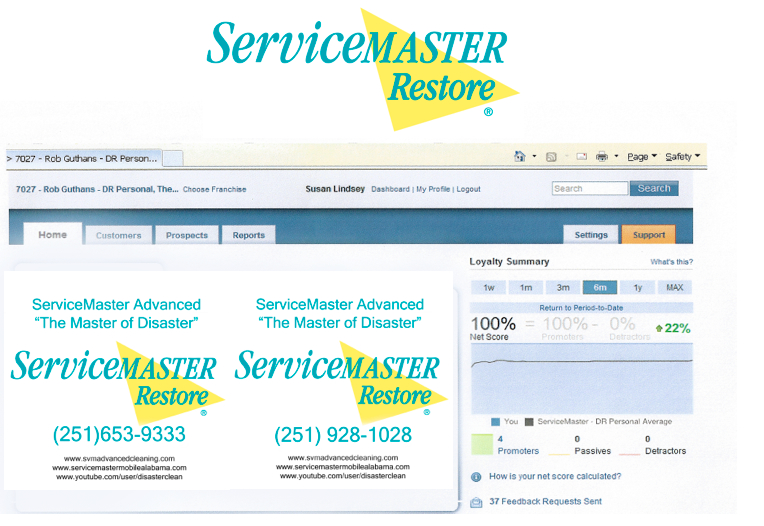 Everything that we do springs from deeply held beliefs that doing things the right way still means something in Mobile & Baldwin Counties in South Alabama.
Training – No company spends more time and trains their people more. Being the largest water damage restoration & fire mitigation company in the nation, we spend more time in the classroom, and in actual field training, than any other provider. Perhaps this is why we are consistently the first in innovation, and the first to establish national programs with many of the leading insurers in the nation. We are an IICRC Certified FIRM, meaning that our people and our company have met the highest standards in the mitigation and remediation business.
Quality of personnel – Can we actually measure this? We believe we can. In addition to education and training, we never send people out on jobs who are not neat and professional in appearance. If someone is not well groomed and in a clean professional uniform; in other words if they do not care about their own appearance, will they care about your home or business? No one will work for ServiceMaster who is not professional looking, professional acting and knowledgeable in the industry. Period!
Leading Edge Technology – In Mobile, ServiceMaster utilizes an infrared camera that we do not charge our clients for. This is one more tool to make certain that structures are completely dry, and we are also able to show our clients potential problem areas. We utilize internet-based remote monitoring of our drying equipment which means that we will always be aware of the status of our jobs, even if we are not there in person!
Quantity and quality of equipment – Are all mitigation companies fanatics over the cleanliness and appearance of their trucks and equipment? We are. We will not put dirty, old equipment arriving in dirty, old vans in our customer's dwellings. This is not only for appearance sake; it is for the safety of the customer as well. We understand the importance of breaking down and cleaning ALL equipment after each job to prevent any contamination or cross-contamination of mold spores. At ServiceMaster, doing business with integrity and doing the right thing, is paramount. Not only do we have one of the areas largest active fleets of equipment, we maintain a new-in-the box reserve fleet that doubles our capacity.
Ability to handle large loss and large scale disaster remediation – With more franchisees than any other provider, and being one of the largest ServiceMaster Clean franchises nationally, ServiceMaster Advanced Cleaning & Restoration in Mobile has the unique capacity, ability and national presence to either locally handle or marshal a group of franchises, to respond to any local emergency or large loss. In fact, we have handled some of the largest jobs ever performed on the Gulf Coast.
Integrity and community presence – This franchise is comprised of people who hold themselves to the highest personal and professional standards. Not only do they handle themselves in this manner in their work; they actively give of their time and efforts to a variety of community and charitable causes with a deeply held belief that it is everyone's duty to give back to the community that has been good to them.
Based out of Mobile AL, we serve the entire local area including Mobile, Citronelle, Saraland, Satsuma, Chickasaw, Prichard, Eight Mile, Semmes, Theodore, Grand Bay, Irvington, Bayou La Batre, Dauphin Island, Bay Minette, Loxley, Stapleton, Spanish Fort, Daphne, Lillian, Fairhope, Silver Hill, Foley, Elberta, Seminole, Magnolia Springs, Orange Beach, Perdido Key, Gulf Shores and every community in Mobile and Baldwin Counties in South Alabama; and Pascagoula, Gulfport, Biloxi and every community in Jackson and Harrison Counties in Mississippi.
We are the original and largest ServiceMaster enterprise operating in the Mobile area. We have been here for over 25 years (nearly 30) and have handled some of the largest cleanup jobs ever completed in the Mobile area. From tornado cleanup jobs during the tornadoes of Christmas 2012 in Mobile, and in Hattiesburg, MS in 2013; to hurricane cleanup jobs in Hurricanes Ivan, Katrina, and every Spring rain and flood event to happen in the area in the last quarter century, ServiceMaster Advanced & ServiceMaster Services has been there. We didn't just begin our janitorial or mitigation company last year, we have been here all along and have steadily grown with the community and helped the parent company innovate and improve the brand. ServiceMaster Advanced Cleaning has performed mitigation jobs for the Alabama State Docks, The Mobile Convention Center, the RSA Tower, The Mobile Infirmary, the AmSouth Tower, the Regions Bank Building, the University of South Alabama, The City of Mobile, The County of Mobile, Springhill College, Springhill Memorial, ST Mobile Aerospace, Airbus, The Mobile County School System, The Corps of Engineers, The State of Alabama and many many more commercial buildings and thousands of homeowners. If you find yourself in need of mitigation services for your home or business, or janitorial, trust the true professionals, the company that the commercial industry turns to time and again, the Master of Disaster, ServiceMaster Advanced Cleaning & Restoration, enterprise number 7027, and make sure you call this specific number: (251) 653-9333. http://www.servicemastermobilealabama.com. "We would be honored to serve you." - Rob Guthans, President, SerivceMaster Advanced Cleaning & Restoration, The Master of Disaster.