Serious, Intensive Home Cleaning - Serving the Alabama & Mississippi Gulf Coast
For detailed intensive home cleaning, call (866) 653-9333 for service anywhere along the Alabama & Mississippi Coast. We have over thirty years of experience serving the entire area and can provide references.
(866) 653-9333 is the number to call for the Master of Disaster anywhere along the Gulf Coast.
Below is an article that we have written for real estate agents and commercial building owners. The focus was that we provide really detailed, intensive deep cleaning for commercial entities such as real estate agents and building owners. The fact is that we offer deep cleaning for homeowners as well. Many homeowners need an overall deep cleaning as a result of an accident, damage, or years of neglect. They also need these services in preparation for a party or family event. Whatever your need, there are home cleaning issues that a maid service team simply can't handle. This is serious cleaning. Call us and we will tell you more. (866) 653-9333, (251) 653-9333 or (251) 928-1028. http://www.servicemastermobilealabama.com.
(866) 653-9333 or (251) 653-9333 are the numbers for realtors to call for deep cleaning in preparation for selling a home or commercial building. ServiceMaster Advanced Cleaning and Restoration, The Master of Disaster, has a little-known service that we have provided for real estate agents, contractors and building owners. Due to our expertise in providing detailed fire restoration service, smoke and odor removal, and detailed post-construction cleaning; many real estate agents have asked us to provide expert cleaning services in anticipation of selling a home.
Sometimes the agent has a home that has been lived-in for years and needs a deep cleaning. Other times, they are staging furniture in the home for an open house. And other times, they have used our service in lieu of repainting the home, as the new homeowner will likely want to do that themselves. THIS IS NOT A RUSH THROUGH MAID SERVICE DESIGNED TO HIT THE HOT SPOTS. This is a detailed cleaning of every corner and crevice from the ceiling down, including windows, wall, baseboards, ceiling fans, light fixtures, bathrooms, vents, kitchens, ovens, refrigerators, and virtually every surface area in the home. It can also include carpet, upholstery, wood floor and grout cleaning. It typically involves a team of four or more, detail-oriented fire-restoration-trained cleaning personnel, for two or more days. When they are done, depending upon the home, you can often times literally see the interior brighten up and sparkle!
While we wouldn't describe this level of cleaning as inexpensive, we would tell agents and homeowners that this service should be compared to the prospect of interior painting, (which it is certainly cheaper than, and may eliminate the necessity of), and the cost of having a home remain on the market for an extended period of time. Clearly, this is a service that should be evaluated in terms of how it will improve the chances of the home selling sooner, rather than later.
Don't take our word for any of this. We urge you to contact Lee Donald of Organizing Associates at (251) 343-3999. In her words: "I have worked with ServiceMaster with multiple clients and they have always gone above and beyond." In fact, you can book our services through her, and she can also help you with organizing, staging, closet design, and generally making the home feel more spacious. Please view her website: http://www.organizingassociates.com.
We are a fire and water restoration cleaning company. We bring that extreme detailed expertise to the market as an offering to real estate agents and commercial entities only. We are not in the maid or home cleaning business, and specifically do not offer those services. We provide one-time deep cleaning for commercial entities such as contractors, remodelers, home builders, real estate agents and pest-control companies; in homes, condos, apartments and commercial buildings. While we are not offering detail cleaning to the public OUTSIDE OF our fire, water and mold cleanup and remediation service, we do work with contractors and agents in your home. So, please tell your real estate agent or contractor that you want ServiceMaster ADVANCED, enterprise number 7027, to clean your home up after construction or before going on the market. You will be glad you did. Give them our number: (251) 653-9333 or (251) 928-1028.
ServiceMaster Advanced Cleaning of Mobile AL specializes in Water Damage Restoration Services, Fire Damage Restoration & Mold Remediation including Carpet Cleaning & Drying, Wall Drying, Hardwood Floor Drying and Cabinet Drying for both Commercial and Residential Clients. We provide a number of deep cleaning services including post-construction cleaning, detail cleaing, hard surface floor refinishing in addition to janitorial at our sister company, ServiceMaster Services, (251) 344-5105. This company provides janitorial to some of the most well-know entities in the Mobile area. http://www.servicemastermobilealabama.com/Janitorial.html
Based out of Mobile AL, we serve the entire local area including Mobile, Citronelle, Saraland, Satsuma, Chickasaw, Prichard, Eight Mile, Semmes, Theodore, Grand Bay, Irvington, Bayou La Batre, Dauphin Island, Bay Minette, Loxley, Stapleton, Spanish Fort, Daphne, Lillian, Fairhope, Silver Hill, Foley, Elberta, Seminole, Magnolia Springs, Orange Beach, Perdido Key, Gulf Shores and every community in Mobile and Baldwin Counties in South Alabama; and Pascagoula, Gulfport, Biloxi and every community in Jackson and Harrison Counties in Mississippi.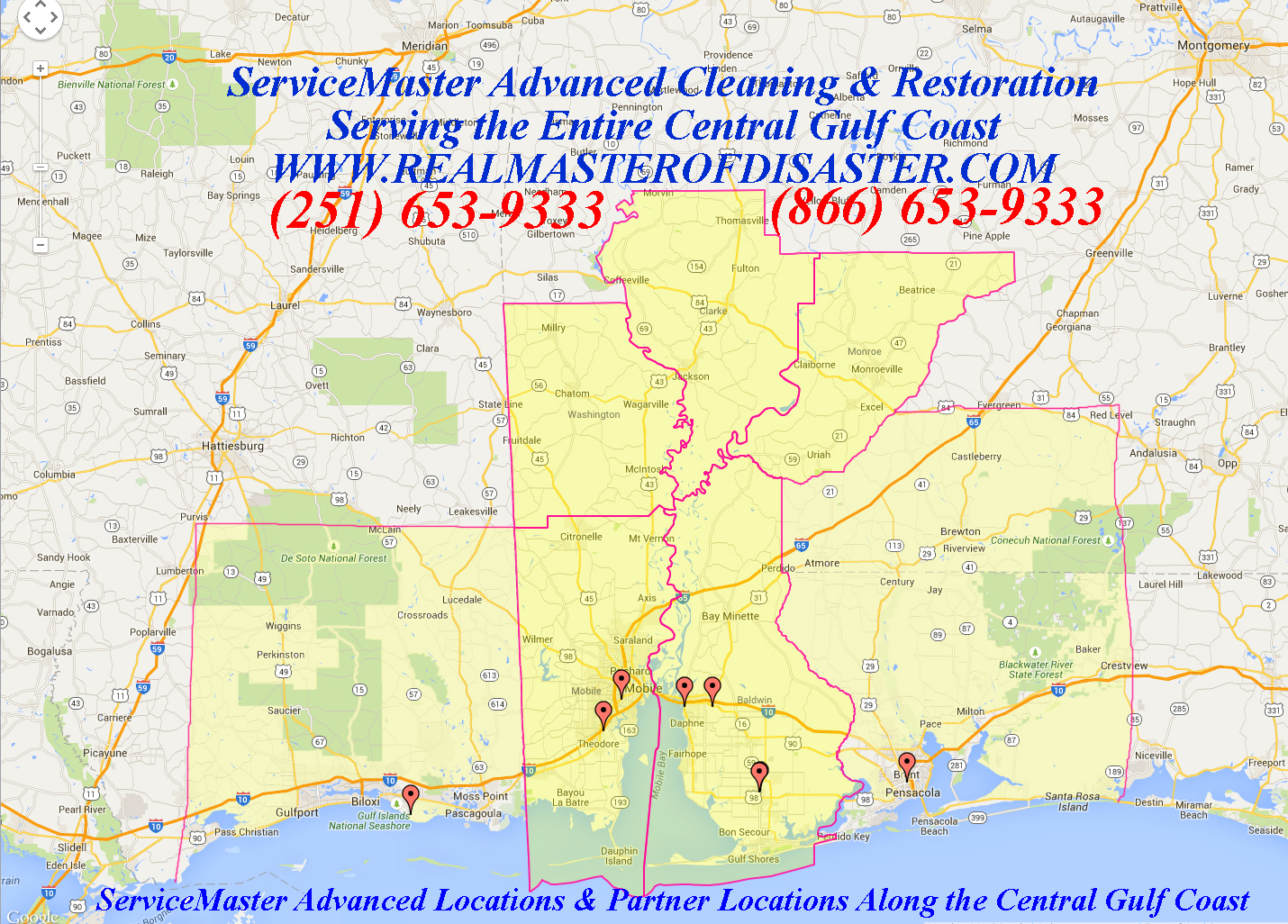 We are the original and largest ServiceMaster enterprise operating in the Mobile area. We have been here for over 30 years and have handled some of the largest cleanup jobs ever completed in the Mobile area. From tornado cleanup jobs during the tornadoes of Christmas 2012 in Mobile, and in Hattiesburg, MS in 2013; to hurricane cleanup jobs in Hurricanes Ivan, Katrina, and every Spring rain and flood event to happen in the area in the last quarter century, ServiceMaster Advanced has been there. We didn't just begin our mitigation company last year, we have been here all along and have steadily grown with the community and helped the parent company innovate and improve the brand. ServiceMaster Advanced Cleaning has performed mitigation jobs for the Alabama State Docks, The Mobile Convention Center, the RSA Tower, The Mobile Infirmary, the AmSouth Tower, the Regions Bank Building, the University of South Alabama, The City of Mobile, The County of Mobile, Springhill College, Springhill Memorial, ST Mobile Aerospace, Airbus, The Mobile County School System, The Corps of Engineers, The State of Alabama and many many more commercial buildings and thousands of homeowners. If you find yourself in need of mitigation services for your home or business, trust the true professionals, the company that the commercial industry turns to time and again, the Master of Disaster, ServiceMaster Advanced Cleaning & Restoration, enterprise number 7027, and make sure you call these specific numbers (866) 653-9333, (251) 653-9333 or (251) 928-1028. http://servicemastermobilealabama.com