Many Gulf Coast homeowners were surprised to learn of the lack of insurance coverage that they actually had during the recent hurricanes Sally & Zeta. Most homeowners policies have a 2-5 percent "named storm" deductible. Meaning that in most situations, the preponderance of the damage expense will be the responsibility of the homeowner. In flood situations, the National Flood Insurance program is administered by FEMA. Often times, the FEMA adjusters are extremely frugal in what they will, and will not, allow. In both cases, there is no coverage for mold remediation.
Many homeowners were not able to get tarps on their roofs, or restore power to their homes in a timely fashion during these recent events, and much of the wet structure and contents turned into a breeding ground for mold. Since this was not covered, many homeowners were simply in a state of shock and decided to wait to do anything until they could "sort it all out".
If there is any one piece of advice that you can get from this article, it is this. Do not wait. Mold will not stop growing and your situation will only worsen, and the expense will only get higher.
True cleanup professionals want to help you with your situation; not profiteer off of your misfortune. ServiceMaster Advanced is here to help you solve your issue. If that means that we work for you, so be it. If it means that we only advise you, then that is good also. Along the Gulf Coast there is plenty of this work to go around, and we do not need to steer someone in the wrong direction to get work. Our reputation is important to us, as is doing the right thing. We believe that performing work with integrity and helping people still means something along the Gulf Coast.

At ServiceMaster Advanced, we have years of SUCCESSFUL mold remediation projects. We have references and pictures of our work and professionalism. We have the depth of management, expertise and national guidance to solve even the most confounding mold issues. We have the sheer size to continue to work and solve issues, even if it means we have to honor our own underestimated quote. How many companies will stick by their binding quotation when they find that there is unexpectedly more than the anticipated work to be done. At ServiceMaster Advanced, our quote is our bond.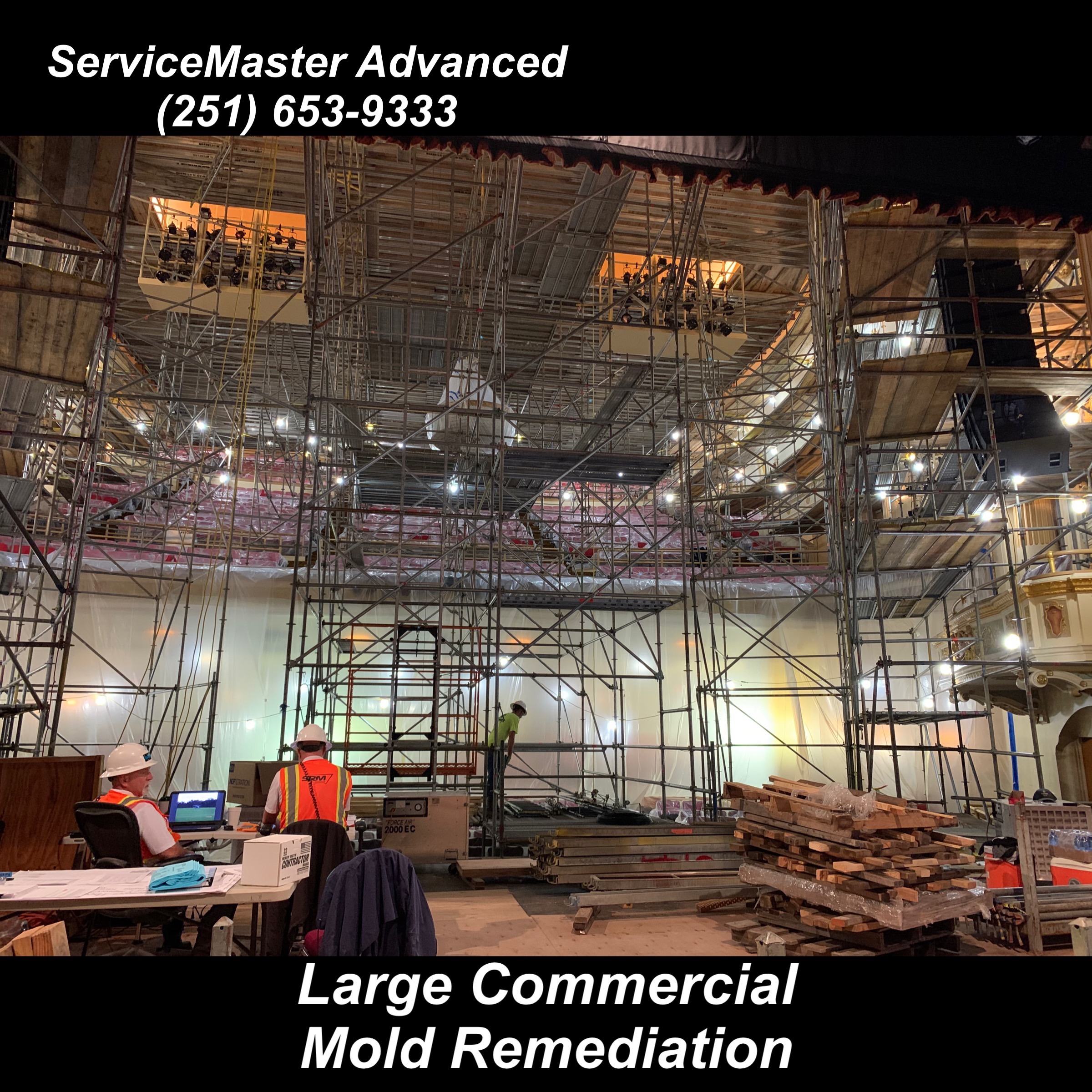 Our aim is to help. Let's find out what is going on in your home or business. We don't want to do ANY remediation or cleanup until we find out what caused your issue. We do not want to remediate anything until you are assured that the problem is solved, and that the mold will not return. Again, we are here to help.

The question of when to call a professional for mold identification and testing is a tricky one. Many remediation companies such as ours, are reluctant to publish anything that says that you should go it alone; and that your particular problem doesn't require a professional. For liability reasons, if you suspect that you have a mold issue, we want to start with this blanket statement:
"Call a registered industrial hygienist to test."

Your health should not be compromised by breathing mold spores.
We realize that you might want to call around for mold advice. We encourage it. Just make sure you call us as well. ServiceMaster Advanced Cleaning & Restoration (251) 653-9333, (251) 928-1028, or (251) 943-2230.
This is one place that will give you honest answers. We guarantee it.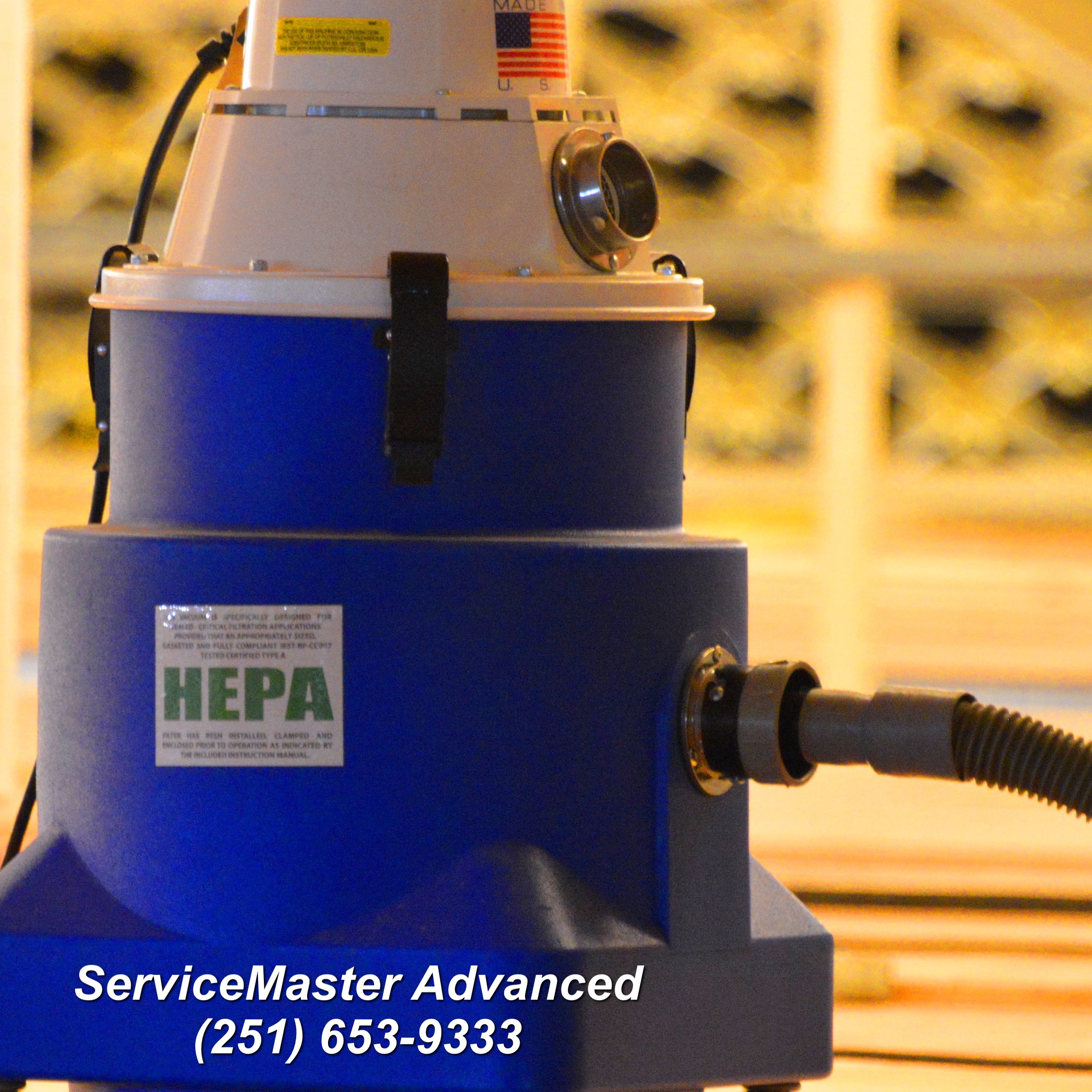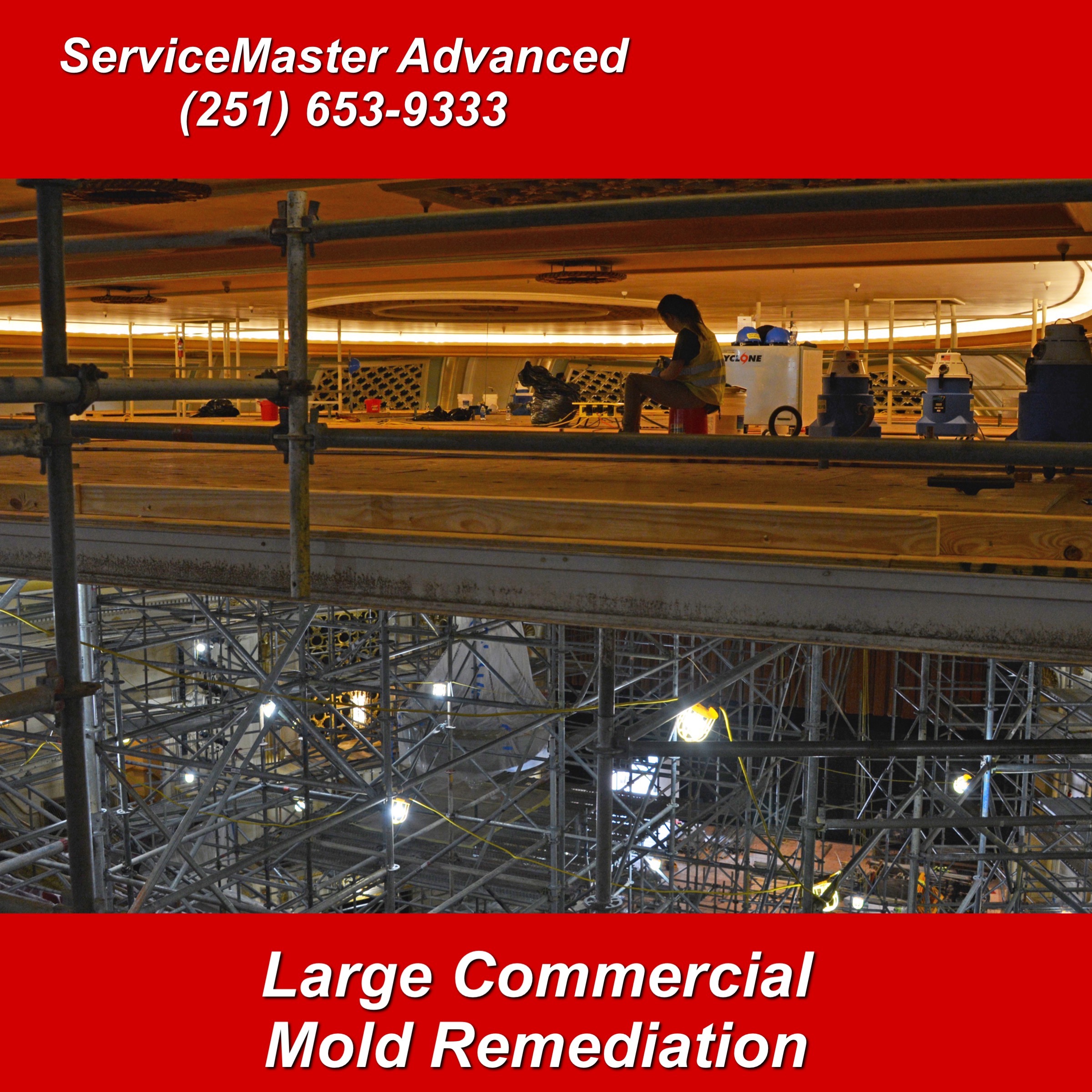 We are not trying to ''sell" you anything. NO one can tell you how severe your problem is without SEEING IT, and testing the AIR QUALITY. No one can take short cuts by simply removing affected drywall - the spores that remain in the air, can be potentially harmful. Finally, no one can tell you how the different types of mold will affect
your

health

- (everyone is different - don't let anyone try to scare you); we can only give you advice. If we have your attention, read on. We are here to help and get you the best possible advice.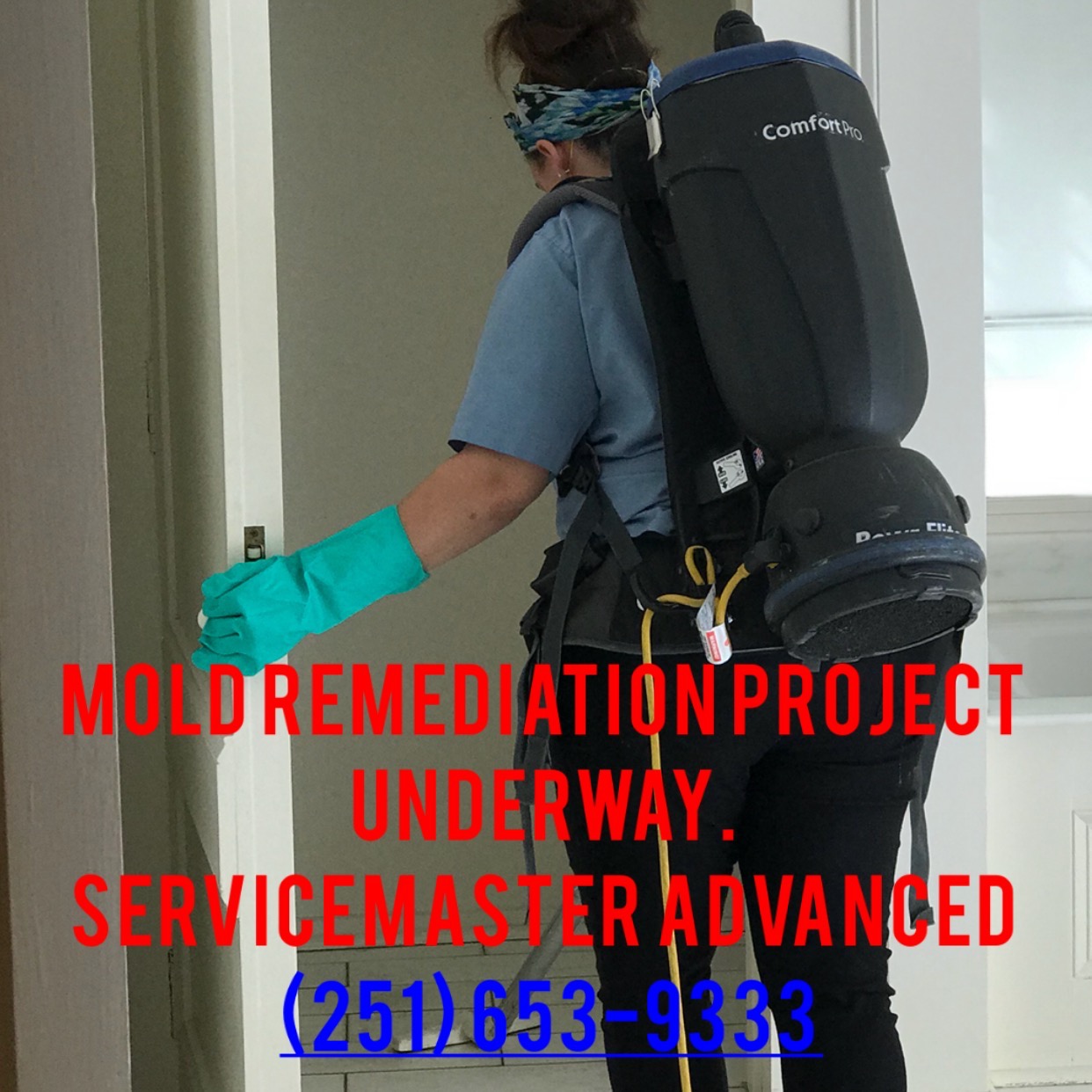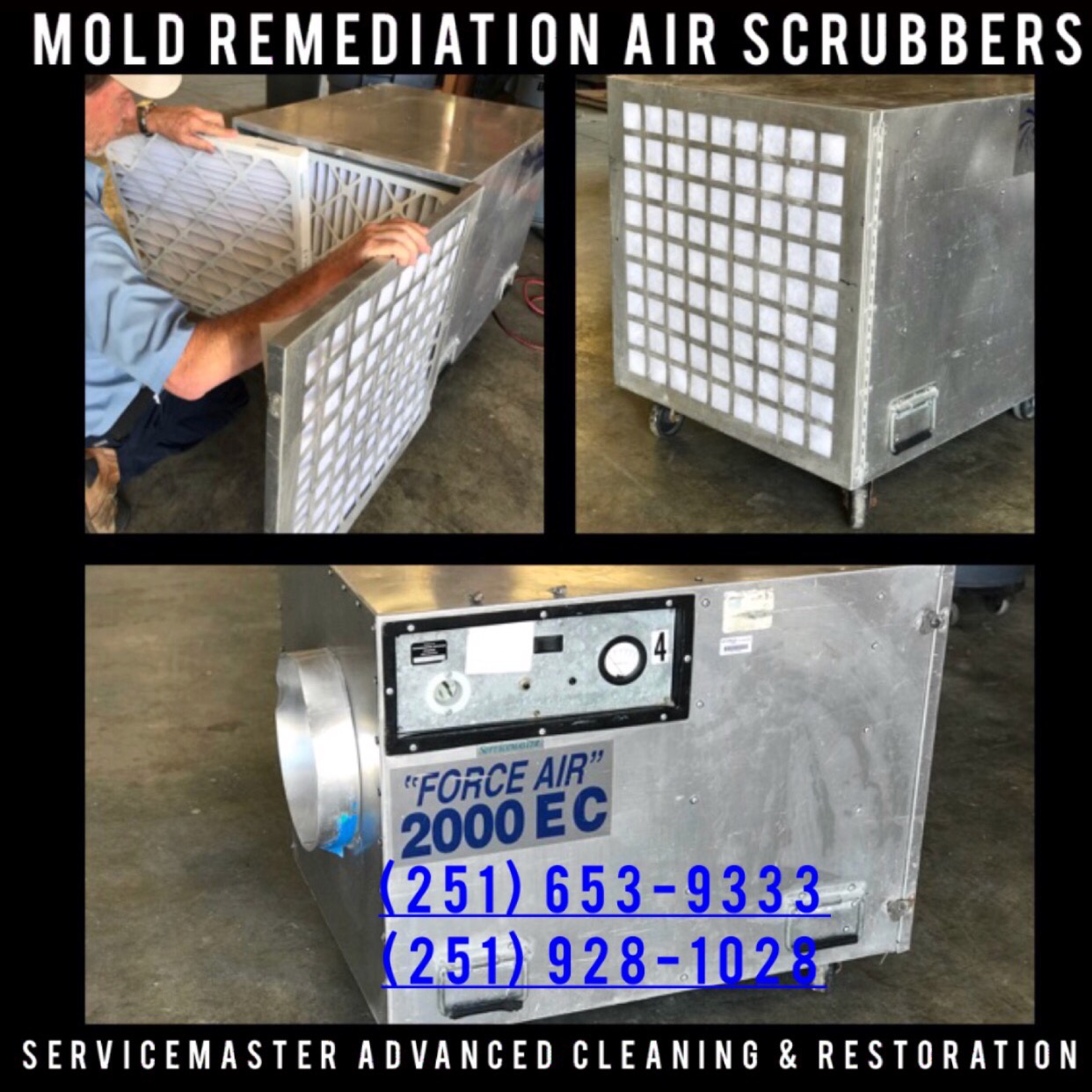 On the subject of mold remediation, and mold information in general, it is the duty and quest of ServiceMaster Advanced Cleaning & Restoration, to educate our customers and the public as much as possible. There is a lot of information published about mold. We believe the consumer should educate themselves, and obtain information from a variety of sources. We believe that after the consumer has done their homework, they will clearly understand why our approach is one of extreme caution, with the health of the individual as our first and foremost concern. We do as much or more commercial and residential mold remediation than anyone. As such, we have no interest in performing a job that isn't needed. Our reputation is too

important to us. Again, if you have questions, simply pick up the phone and call us. We will be pleased to help. (251) 653-9333 Here is a very lengthy article for further reading: Mold Remediation - What You Need to Know We hope you will find it helpful.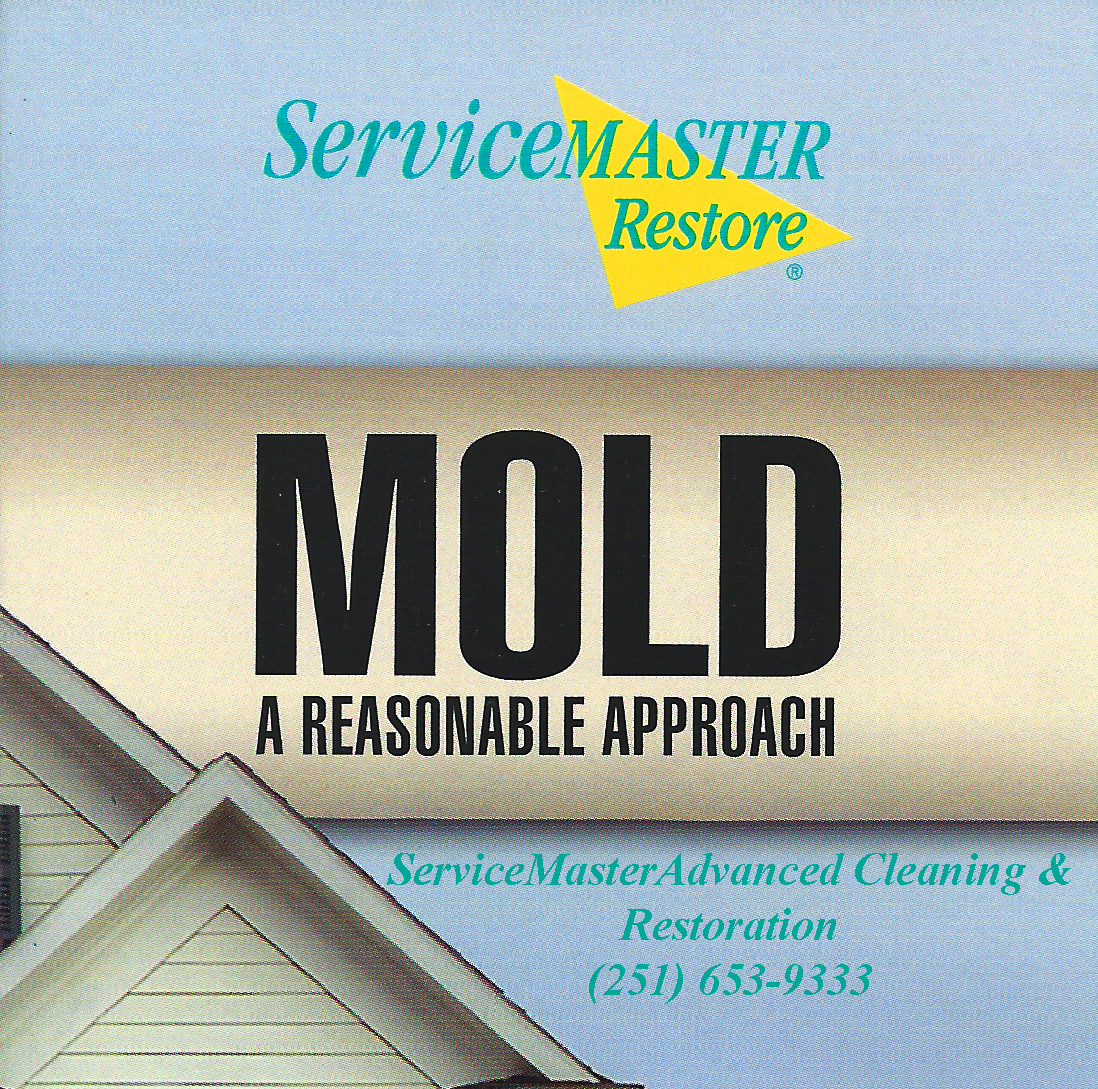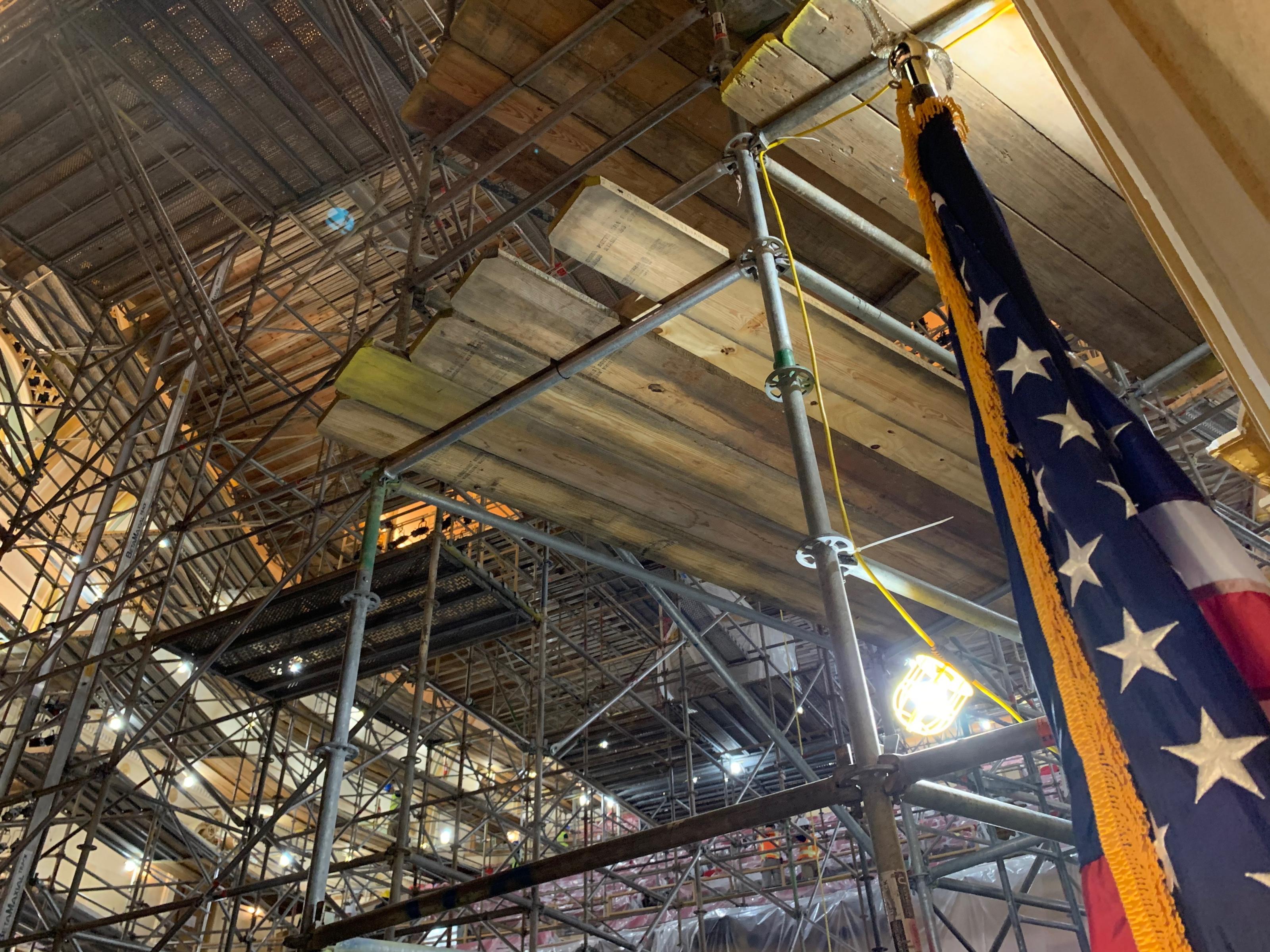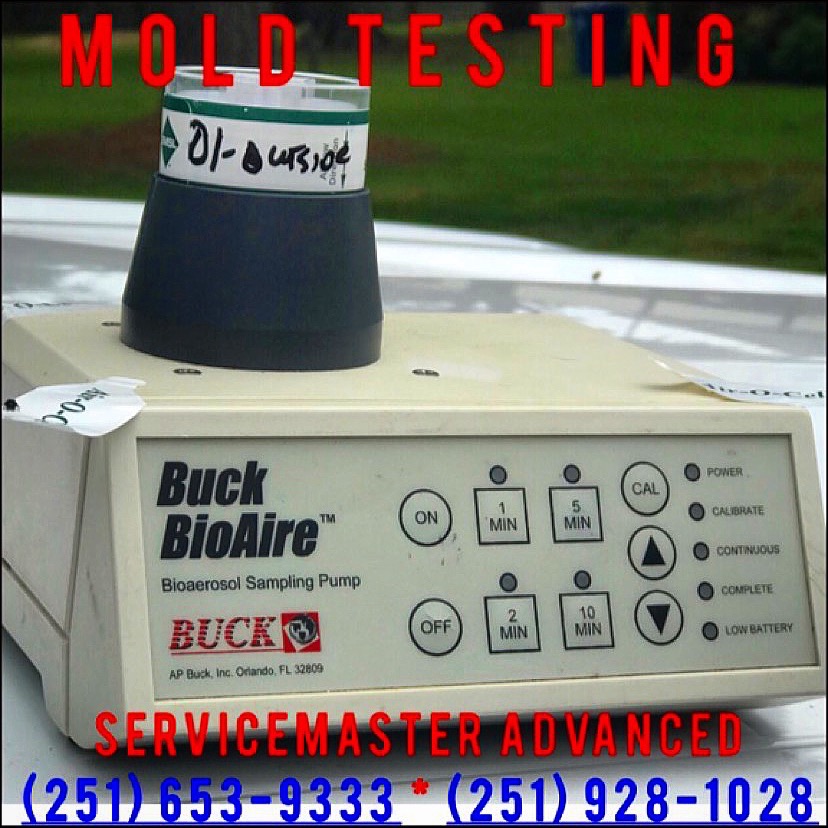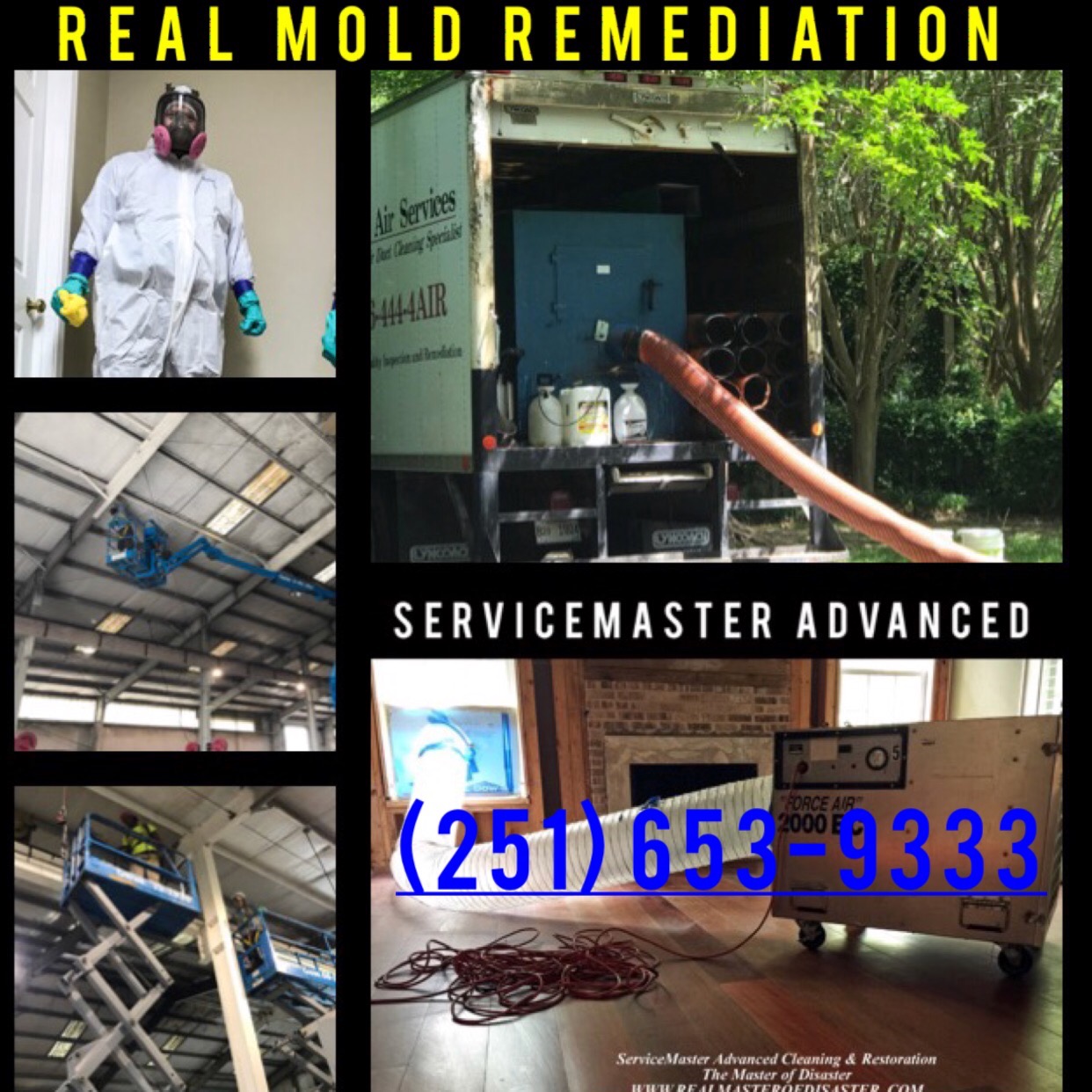 Before You Hire A Mold Remediation Company, read this.
CERTIFIED Mold Remediation Requires Training & Knowledge
If you have a mold issue, make certain that you hire a CERTIFIED mold remediation professional. Ask to see their certifications. Ask to see their insurance. Mold can be a serious health hazard, and you shouldn't take a chance with anyone that says it can simply be torn out! The airborne spores left from the removal of affected drywall and contents, are typically the very thing that will cause health problems. If every square inch isn't properly cleaned and the air filtered, the resulting spores can be enough to cause serious health issues. We will not take a chance with your health. We only know one way to do the job - the right way. This involves total elimination and removal of all visible and airborne mold spores. - ServiceMaster Advanced Cleaning & Restoration - The Master of Disaster (251) 653-9333, (251) 928-1028, (251) 943-2230.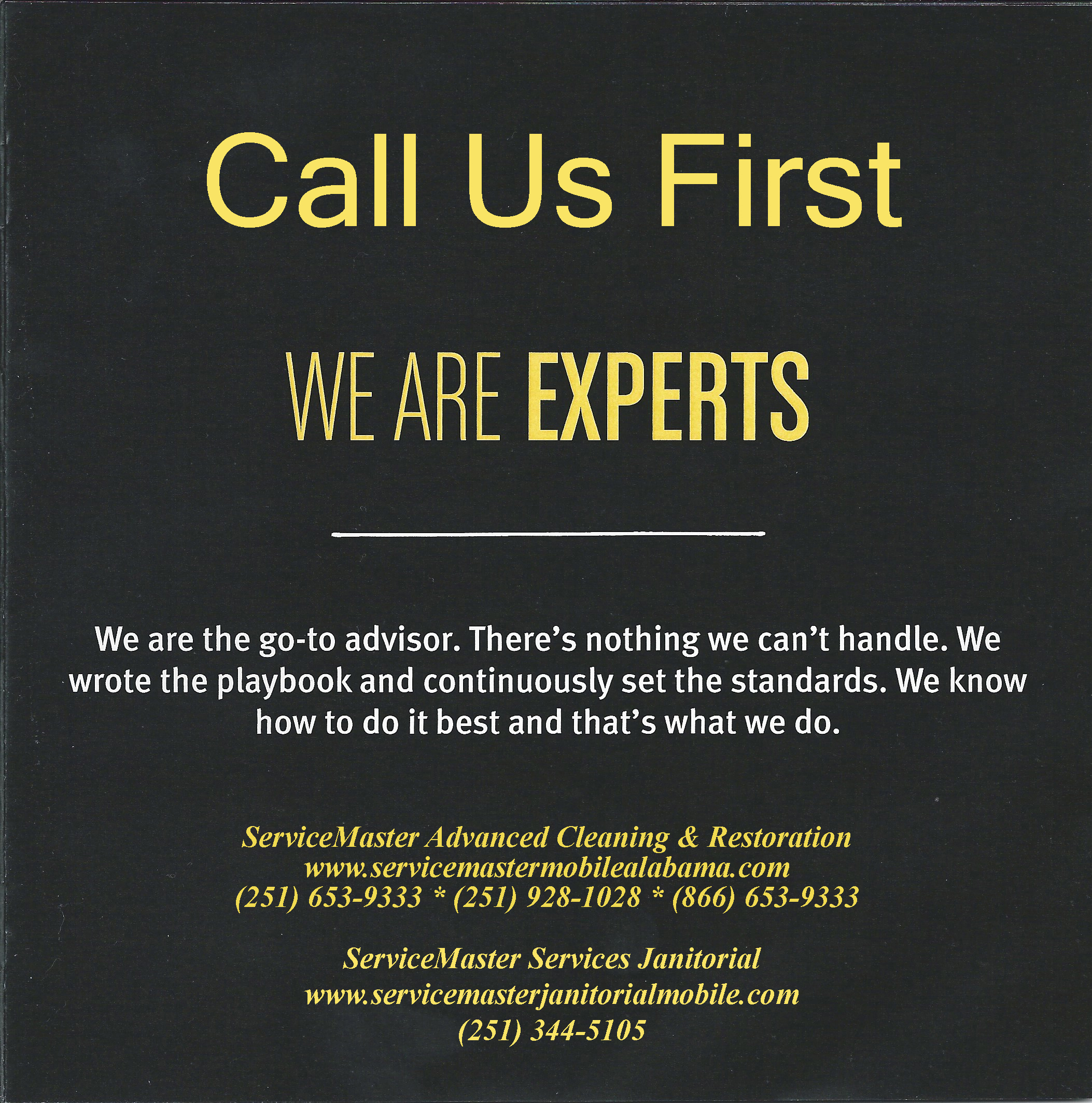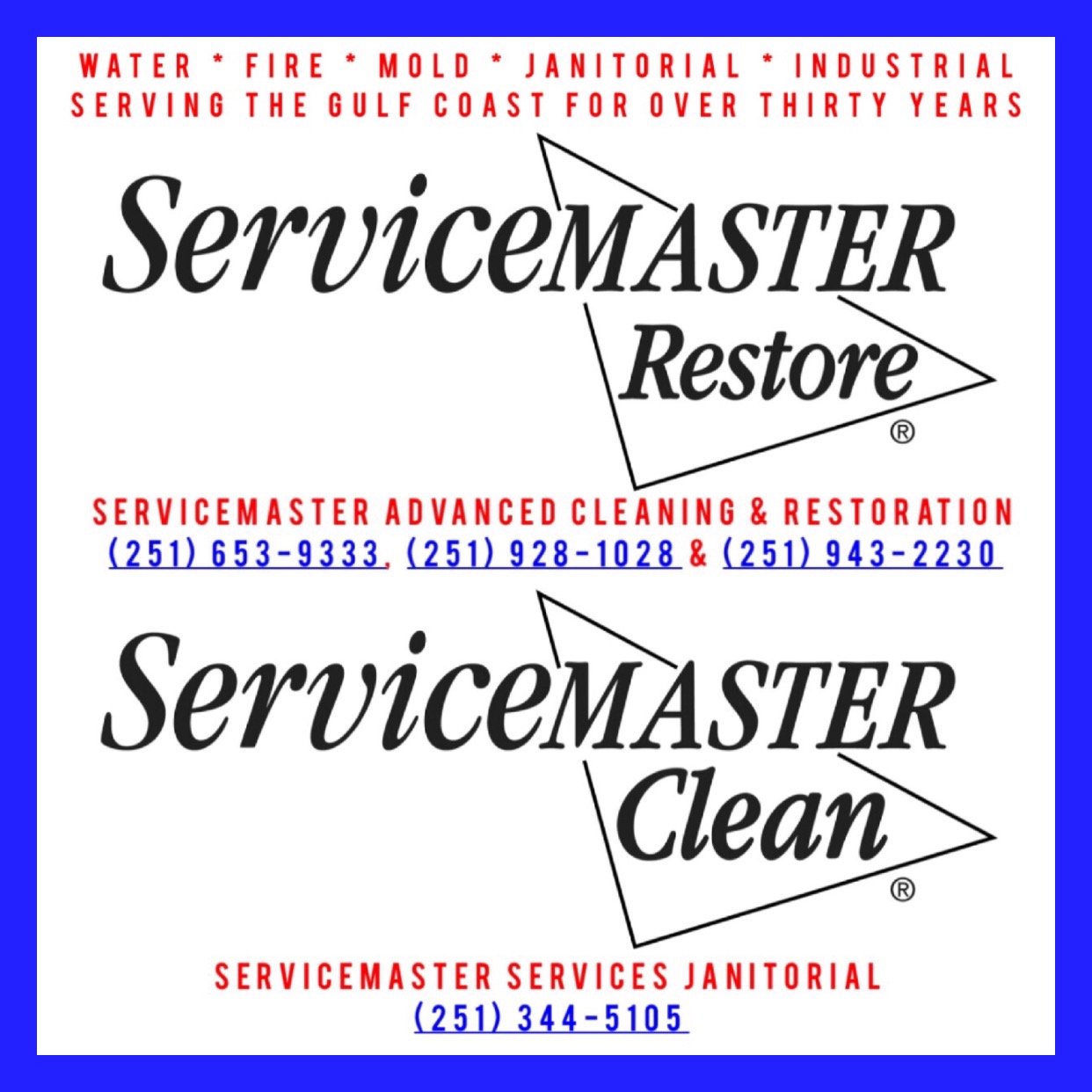 ServiceMaster believes in doing mold remediation the right way. This means calling in an independent Industrial Hygienist and having the customer hire them to do "before and after" air sampling, and write a proper mold remediation protocol. Typically, collection of air and or tape samples will be done. Here is an initial report prior to remediation: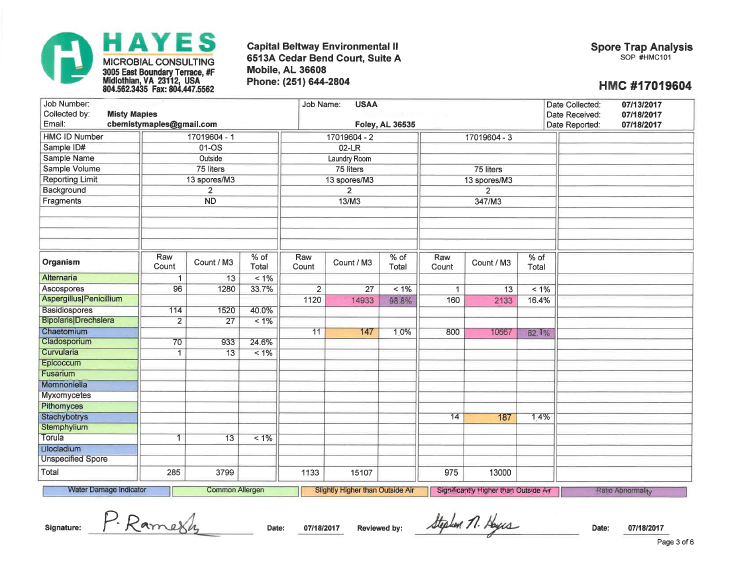 At this point, a proper mold remediation protocol will be written. This is an extensive, SPECIFIC document, detailing exactly what will be done. Specifically, which walls need to be removed, which areas can be cleaned, the duct work to be cleaned and where containment should be set up. Since these documents are quite lengthy (often several pages), we have elected not to include a sample document in this article. We will gladly provide one for a prospective customer.
After the protocol has been followed to the letter, and the remediation has been completed, then the structure is retested. Here is an example of the same structure as above, after mold remediation is completed: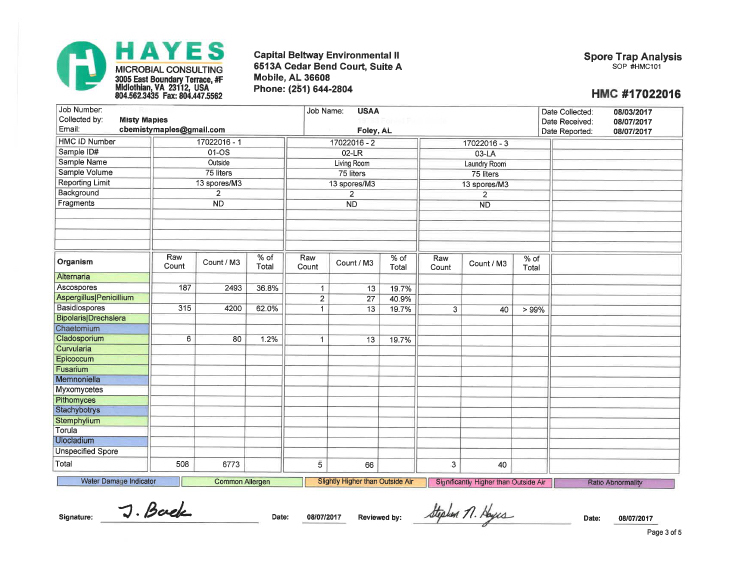 Close examination of the air samples collected and the report issued, are indicative of nearly complete removal of all mold spores. in fact, the air inside is now cleaner than the outside air!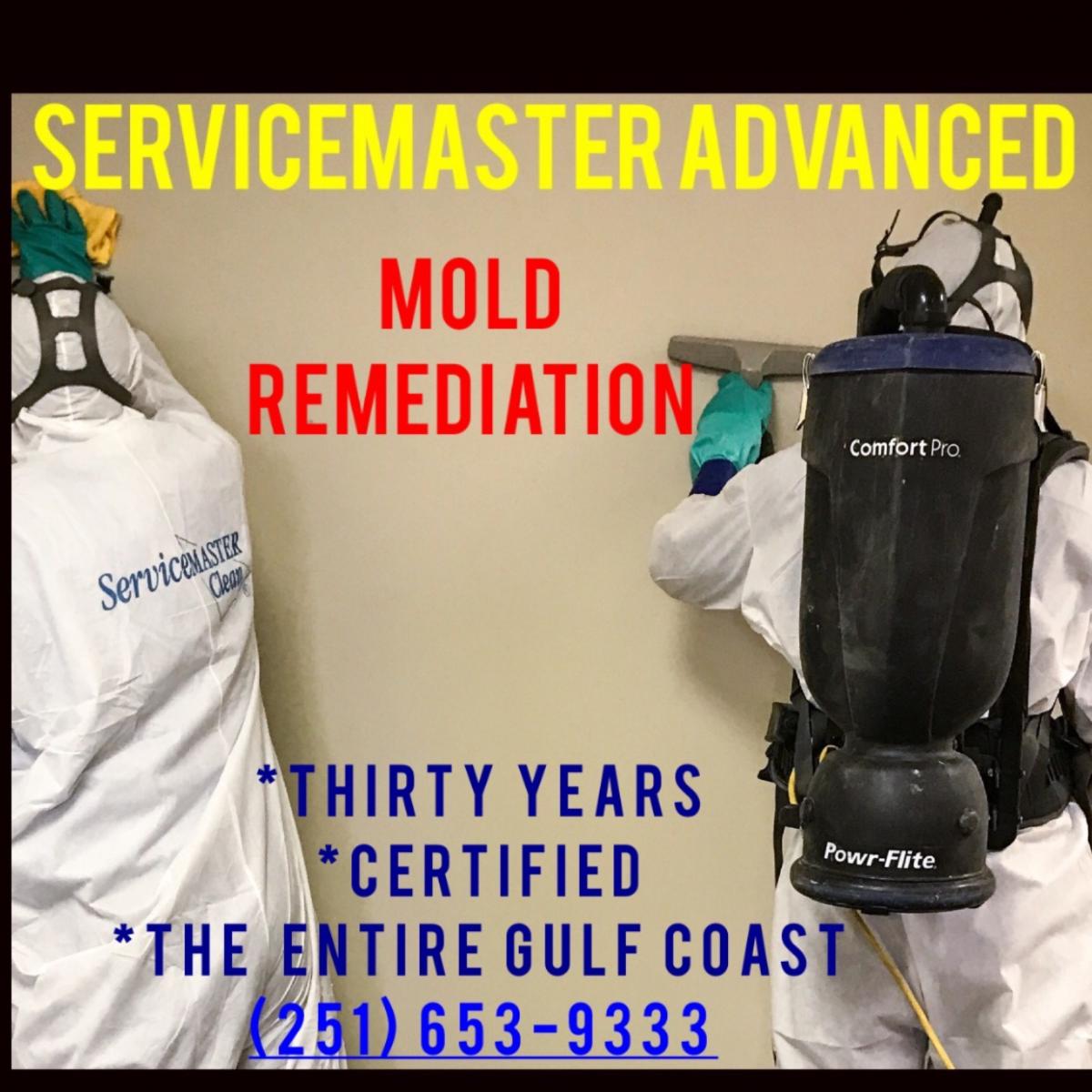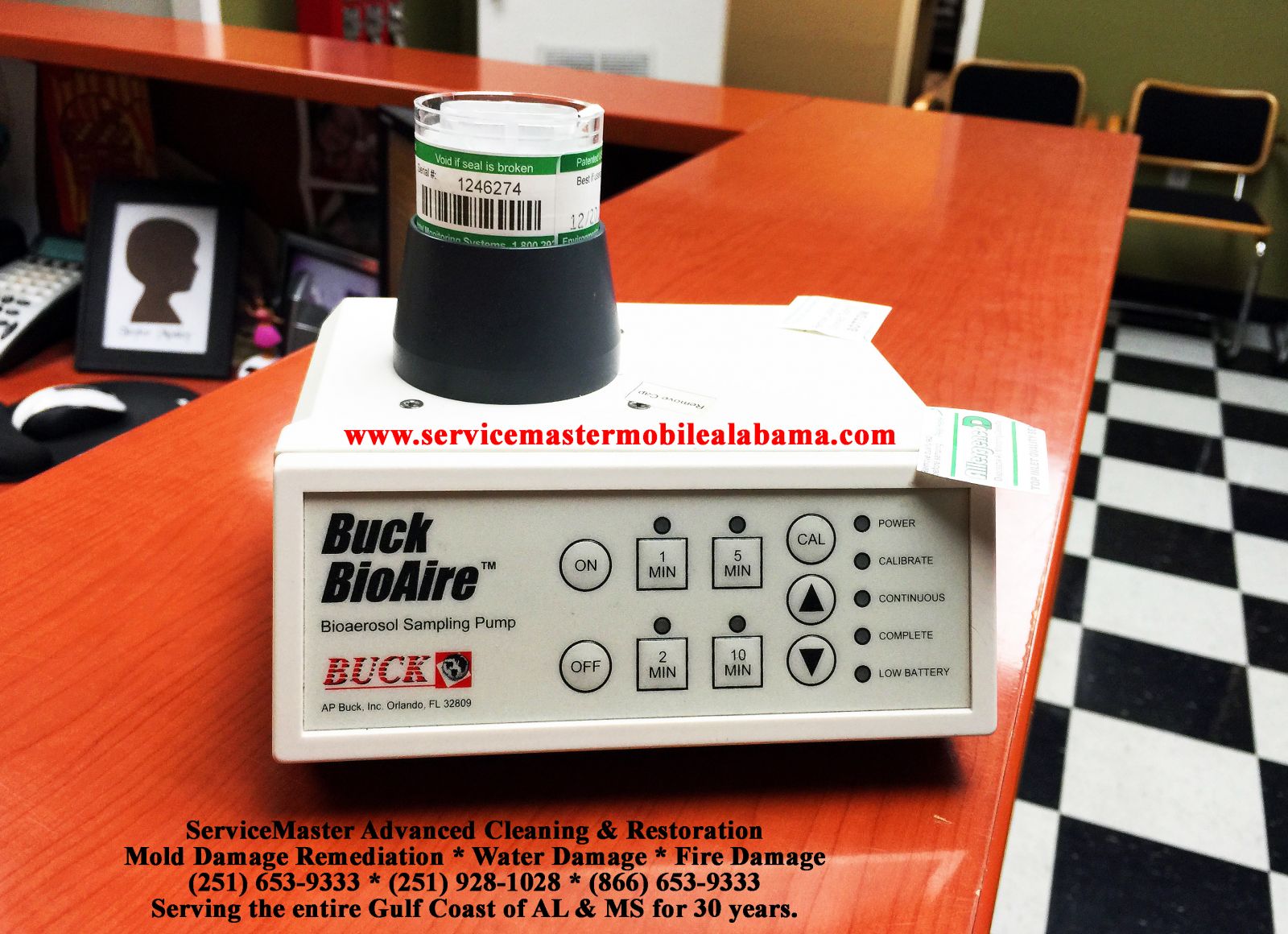 Mold air sampling machine.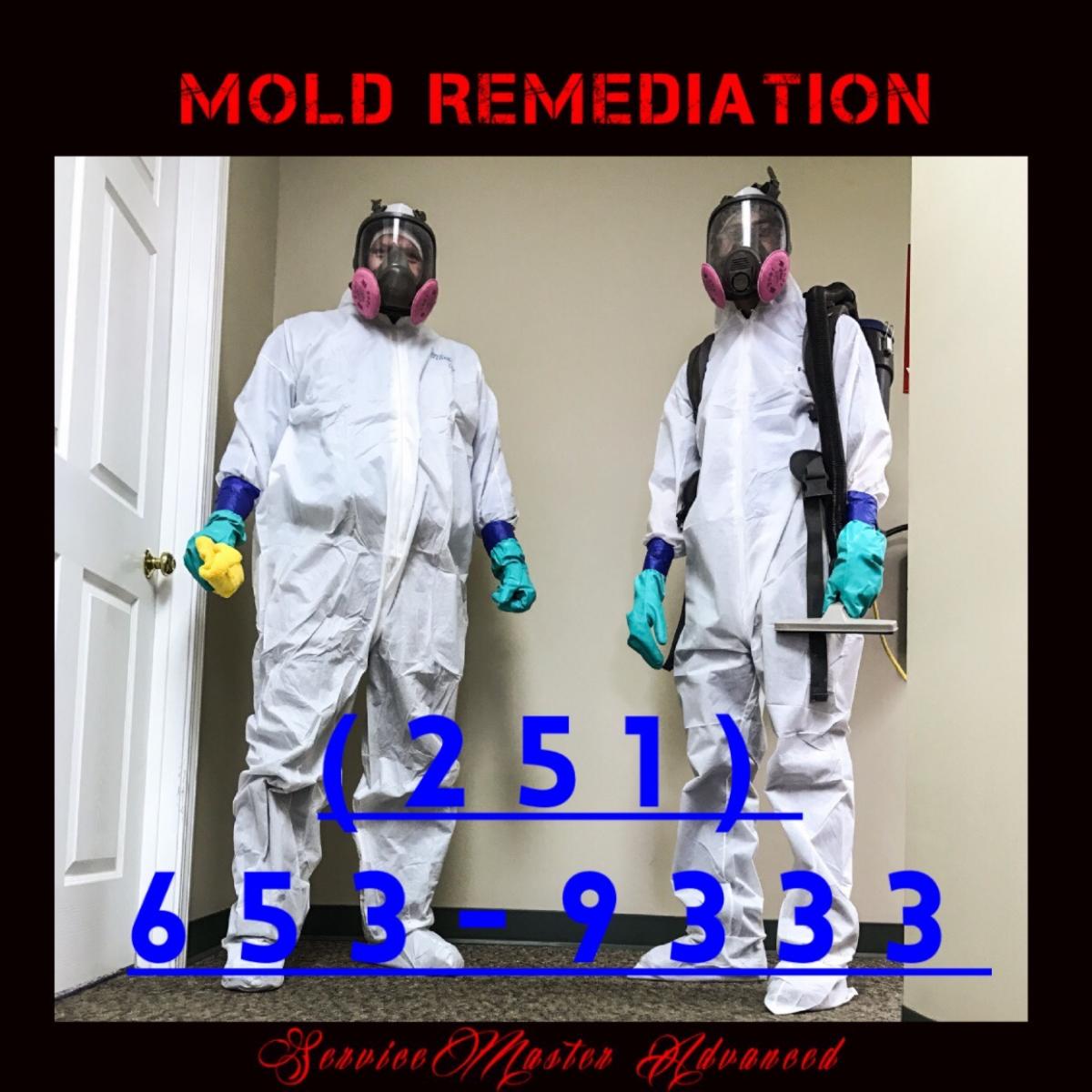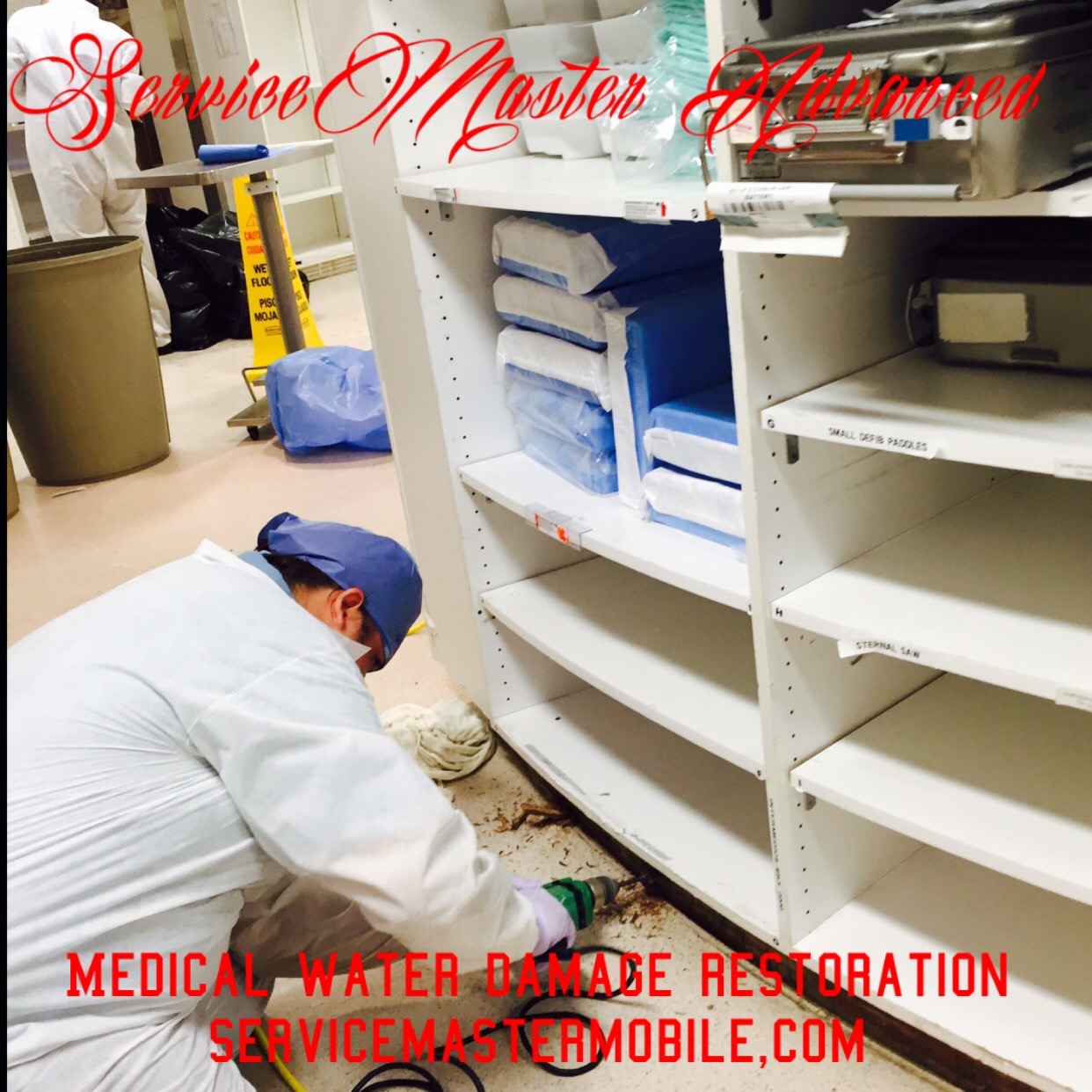 BEGIN ARTICLE
Mold Facts and Information
Originally published on June 5, 2015. by Sanjay Gupta
The purpose of this article is to answer the following questions about mold:
1. What causes mold growth?
2. What are the most common types and species of mold?
3. Why should I be concerned about mold?
4. How can I detect mold?
What Causes Mold Growth?
Mold is a fungus, as are mushrooms and yeast, and has a biological purpose in our eco-system: to consumes dead organic material. Understanding it's biological importance is essential to understanding why it poses health hazards.
Problems occur with mold when it begins growing in an enclosed environment such as a home. Mold found inside homes and buildings originates from the outside. Mold spores enter buildings and homes through open doorways, windows, heating, ventilation and air conditioning systems. Spores in the air outside also attach themselves to clothing, animals, shoes, bags and more!
The key ingredient mold needs to thrive and grow is moisture and a food source.
Sources of Moisture
Since mold is everywhere, it will only start growing when the spores settle on surfaces with excess moisture. The key to preventing mold growth is to control moisture. Maintaining an interior humidity level of between 30 to 40% will prevent mold growth.
Listed below are the most common sources of moisture. If you suspect mold growth, before the mold can be cleaned and removed, the sources of the moisture issues must be addressed first.
1. Flooding.
2. Backed-up sewers.
3. Leaky roofs and/or water leaks.
4. Humidifier which is not regularly cleaned and disinfected.
5. Damp basements or crawl spaces.
6. House plants and their debris.
7. Steam from cooking and showers.
8. Wet clothes hung to dry indoors.
9. Inadequate air exchange.
10. Excessive humidity.
11. Condensation, which is especially a problem during the winter, on poorly insulated surfaces.
Sources of Food
Mold is like a parasite because it will only grow if there is an ample mold source. Under the right conditions of temperature and moisture, mold will continue to feed. The problem with mold lies in the fact that most homes and buildings are made from dead organic material, which is the type of food that mold thrives on. Food sources for mold include the following:
1. Wood & wood products.
2. Paper and other paper products like cardboard and wallpaper
3. Leather.
4. Fabric and upholstery
5. Grout.
6. Painted walls.
7. Cement
8. Plaster (drywall).
9. Ceiling tiles
10. Insulation materials.
11. Carpet.
What Are The Most Common Types and Species of Mold?
Not all molds are the same; consequently, it is important to understand that identifying the types and species of mold is important because it helps you and the mold remediation professionals assess the potential health hazards that the growth poses.
Types of Mold
Of the 100,000 types of mold that have been identified, the three most common types have been identified as:
1. Allergenic Molds.
2. Pathogenic Molds.
3. Toxigenic Molds.
Allergenic Molds
Allergenic molds are not usually life-threatening but do cause health concerns for individuals with allergies or asthma. Children and the elderly are most likely to experience health issues if there are allergenic molds present in the property.
Pathogenic Molds
Pathogenic molds are of particular concern if your immune system is weak or compromised because these can cause infections. This type of mold can cause hypersensitivity pneumonitis, an acute response resembling bacterial pneumonia. An example is Aspergillus fumigatus, which can grow in the lungs of immune-compromised individuals.
Toxigenic Molds (aka "toxic molds")
Toxigenic molds are the worse types of molds because they produce mycotoxins that will make anyone exposed to them sick. Mycotoxins are chemical toxins present within or on the surface of the mold spore, which can be inhaled, ingested, or touched. An example of this is an aflatoxin, one of the most potent carcinogens known to mankind. Aflatoxins grow on peanuts and grains, and on some other foods.
Species of Mold
Mold inspectors and indoor air quality professionals use various methods to identify the mold species.
Testing could be done with a tape or swab sample on visible mold.
Air quality samples may also be recommended because air borne mold spores are not visible to the eye. Air quality samples are advantageous because they can identify the concentration of indoor spores.
Once samples are taken, they should be sent to accredited laboratories to analyze them to determine the exact species of mold.
The five most prevalent species of mold are:
1. Alternaria.
2. Aspergillus.
3. Cladosporium.
4. Penicillium.
5. Stachybotrys.
Alternaria Mold
Alternaria mold is commonly found in your nose, mouth and upper respiratory tract and can cause allergic responses.
Aspergillus Mold
Aspergillus mold is usually found in warm, extremely damp climates, and a common occupant of house dust. This mold produces mycotoxins which is a poisonous chemical compound. This mold variety can cause lung infections including aspergillosis.
Cladosporium Mold
Cladosporium mold is a very common outdoor fungus that can find its way indoors and grow on textiles, wood and other damp, porous materials. This mold triggers hay fever and asthma symptoms.
Penicillium Mold
Penicillium mold is a very common species found on wallpaper, decaying fabrics, carpet, and fiberglass duct insulation. It is known for causing allergies and asthma. Some species produce mycotoxins, one being the common antibiotic penicillin.
Stachybotrys Mold
Stachybotrys mold is extremely toxic "black mold" that produces mycotoxins that can cause serious breathing difficulties and bleeding of the lungs. This mold can be found on wood or paper.
END OF ARTICLE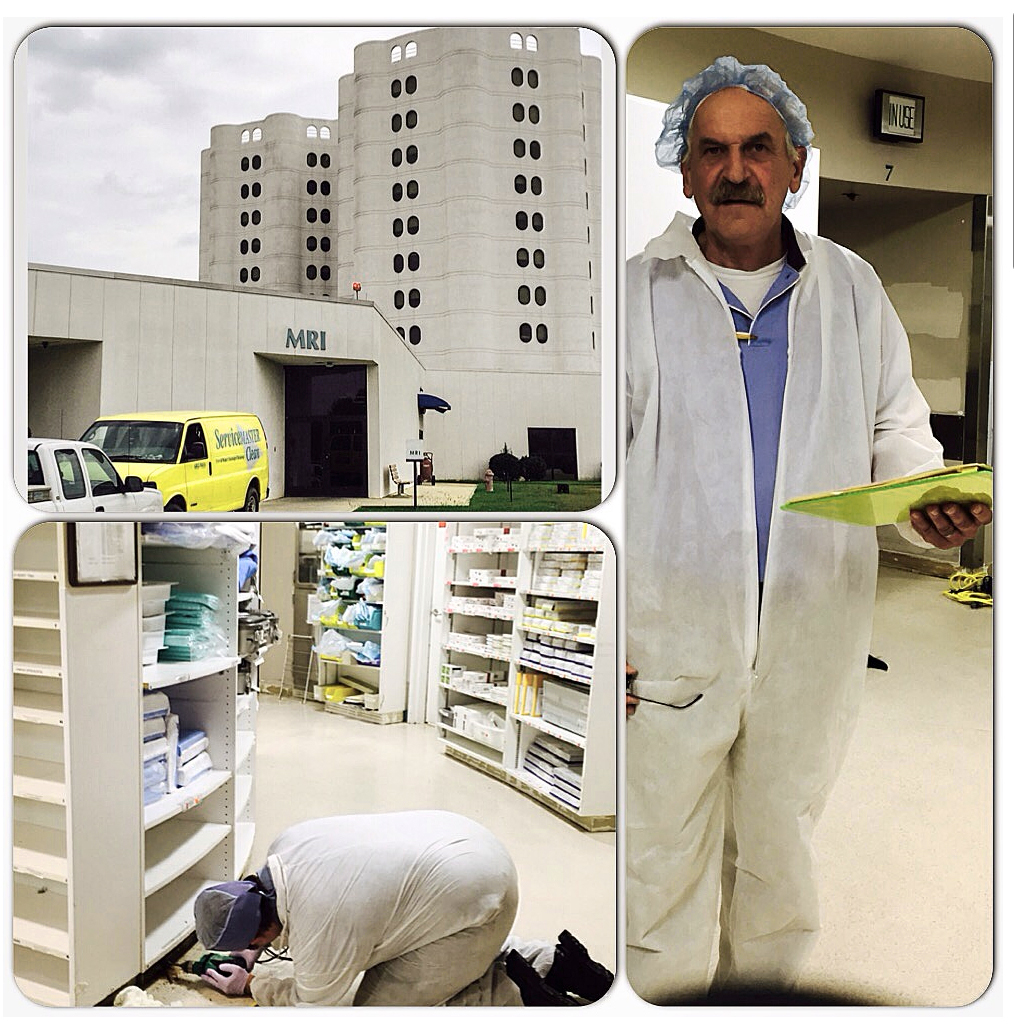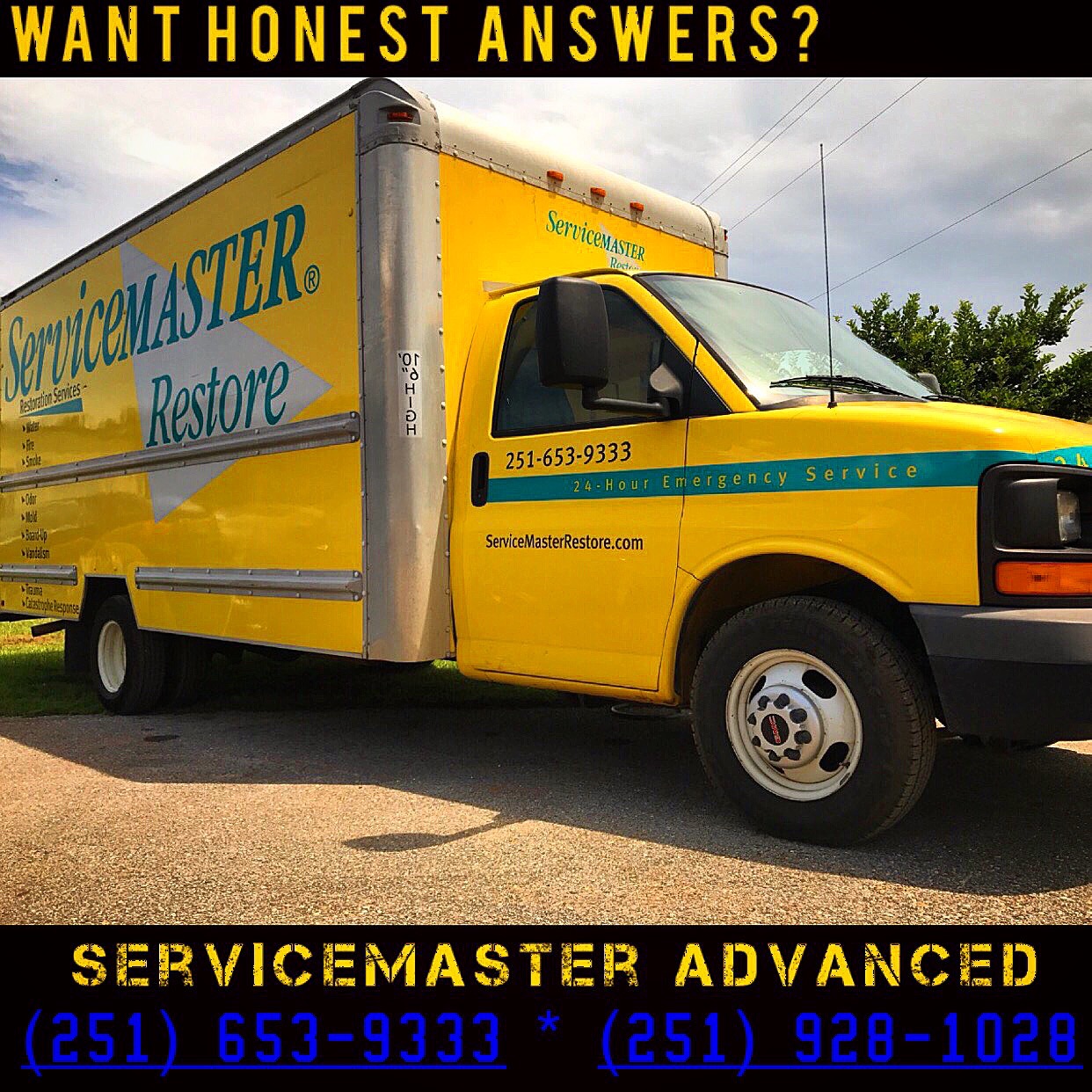 We are the original ServiceMaster Clean (janitorial) & ServiceMaster Restore (disaster restoration) company operating in Mobile and Baldwin County in South Alabama, serving the area for over 30 years. We have handled some of the largest janitorial, fire damage, water damage and mold remediation cleanup jobs ever performed on the Gulf Coast and we would be honored to serve you. (251) 344-5105, (251) 653-9333, (251) 928-1028 and (866) 653-9333.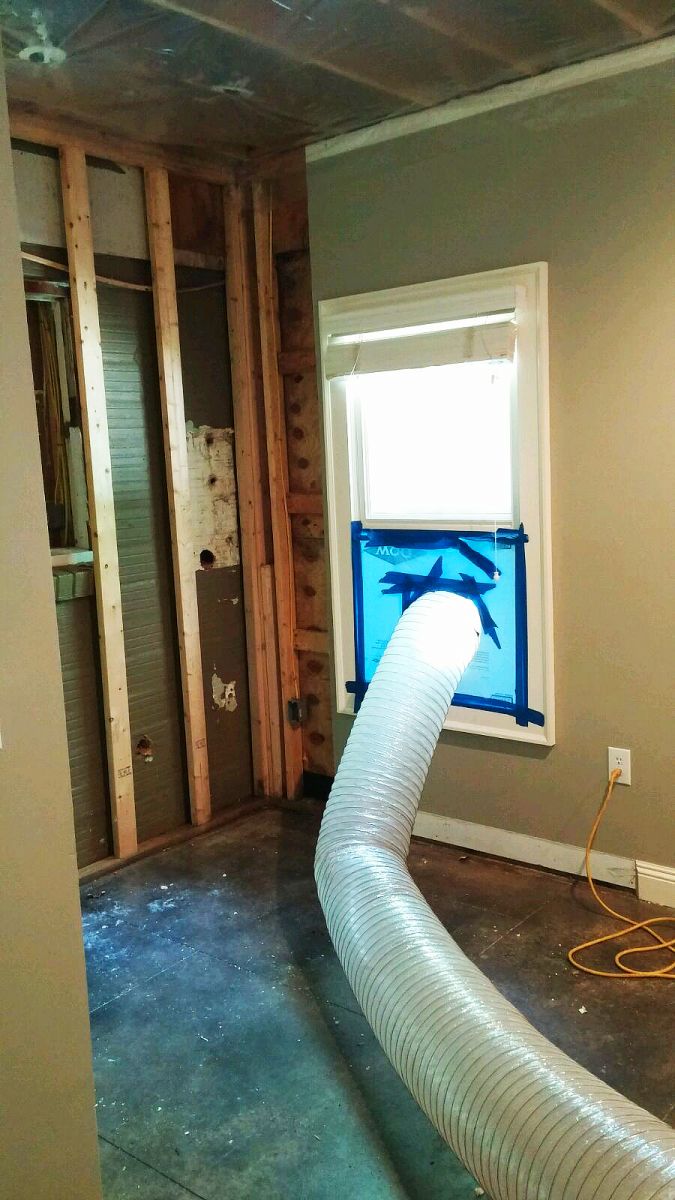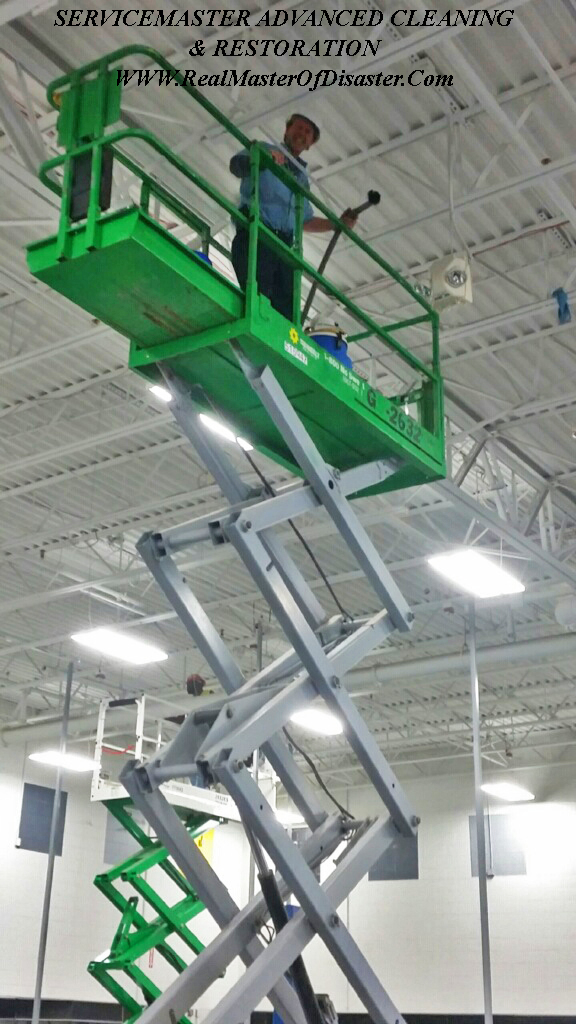 END OF ARTICLE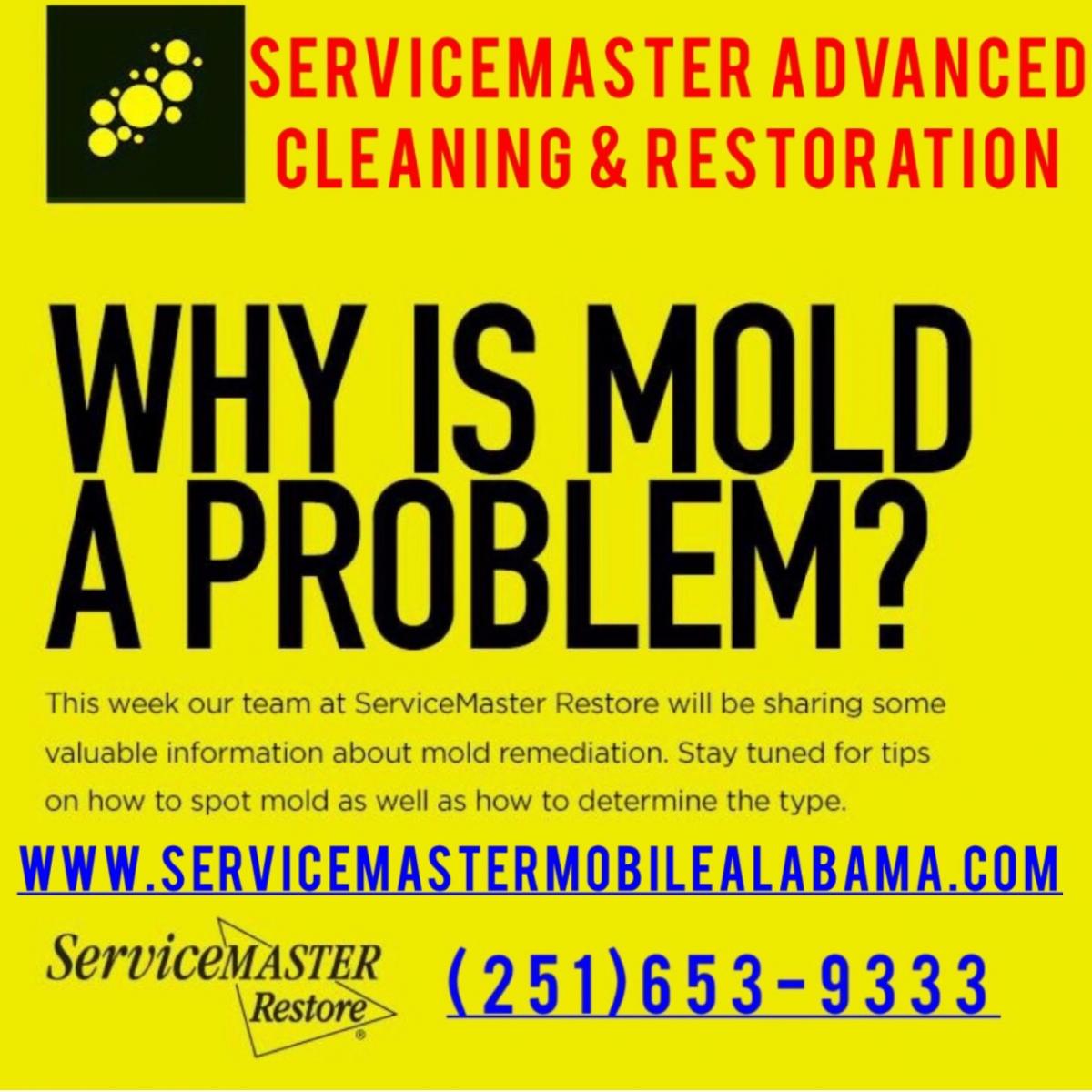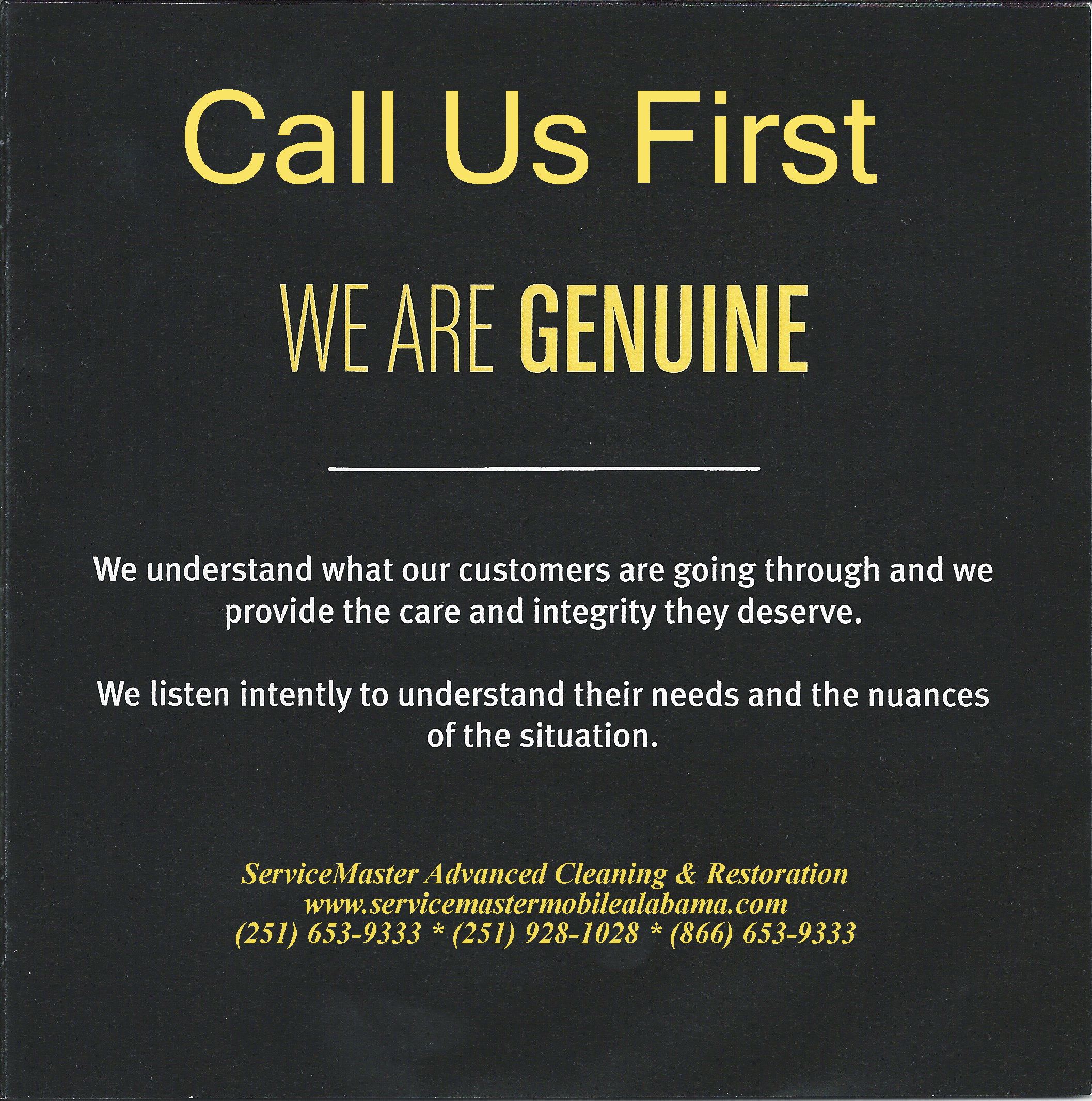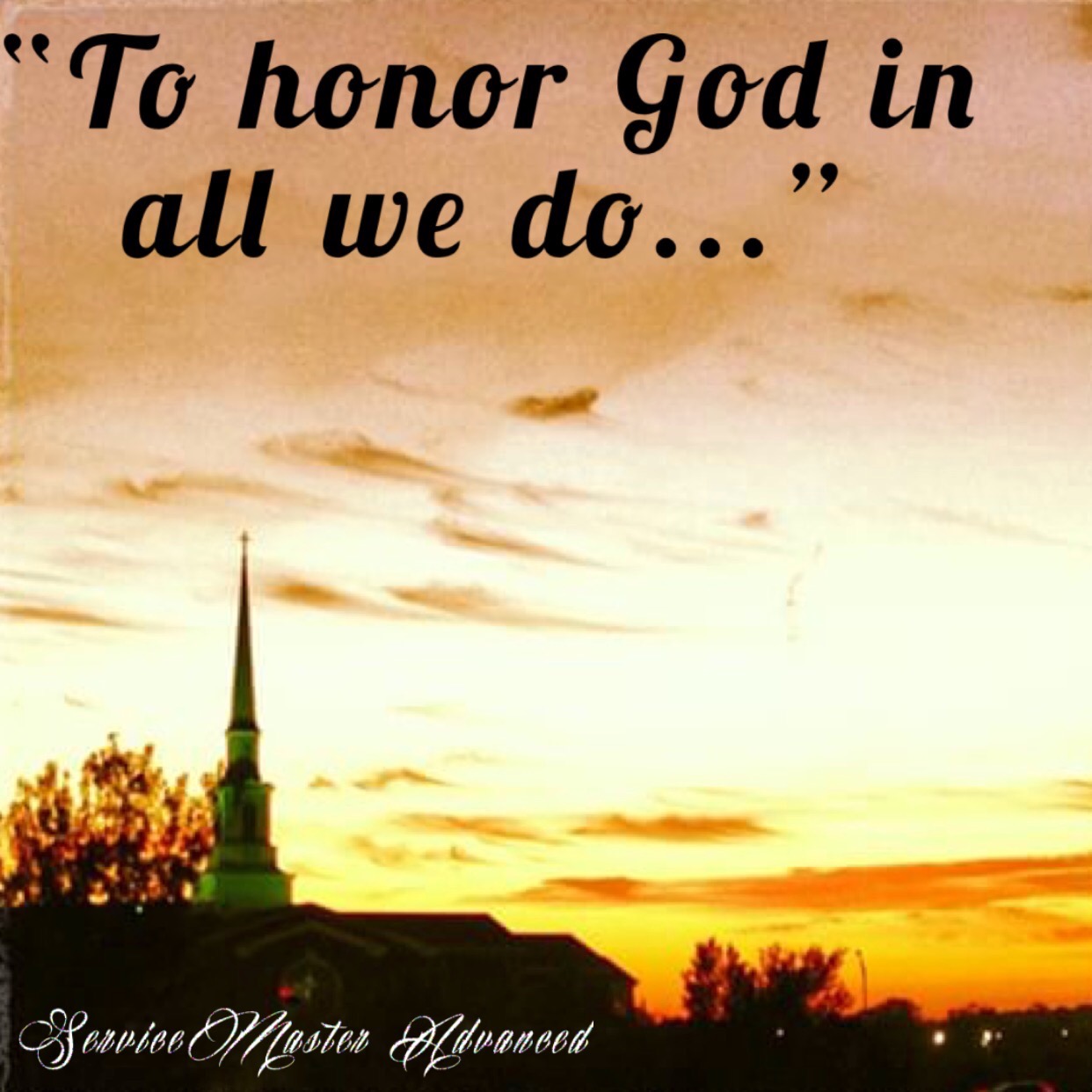 About ServiceMaster ADVANCED Cleaning & Restoration, The Master of Disaster.
The owner of ServiceMaster Advanced is certified in mold remediation. It is absolutely imperative that you hire someone who is certified and understands both how to remediate mold, and the health consequences of mold. We have done many many residential and commercial mold remediation jobs and we always get a certified industrial hygienist to provide clearance testing.
Based out of Mobile AL and Foley, AL, we serve the entire local area including Mobile, Citronelle, Saraland, Satsuma, Chickasaw, Prichard, Eight Mile, Semmes, Theodore, Grand Bay, Irvington, Bayou La Batre, Dauphin Island, Bay Minette, Loxley, Stapleton, Spanish Fort, Daphne, Lillian, Fairhope, Silver Hill, Foley, Elberta, Seminole, Magnolia Springs, Orange Beach, Perdido Key, Gulf Shores and every community in Mobile and Baldwin Counties in South Alabama; and Pascagoula, Gulfport, Biloxi and every community in Jackson and Harrison Counties in Mississippi.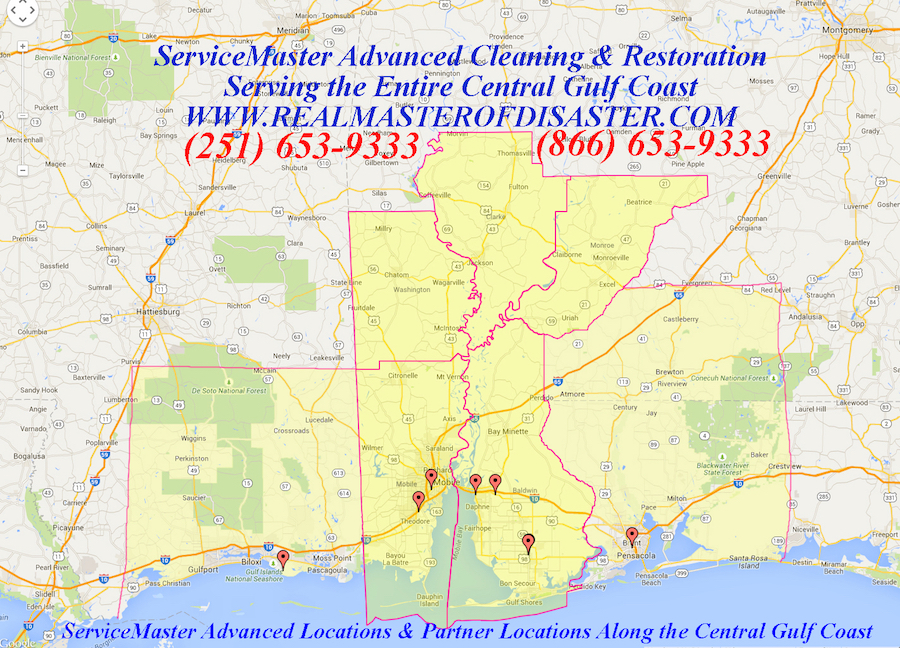 Our web site is loaded with informative articles and videos on mold remediation. Please view our site at: http://www.servicemastermobilealabama.com. It will give you a good idea of our standards. Also, please check the EPA guide on mold: http://www.epa.gov/mold/moldguide.htm. You will find that we absolutely adhere to the guidelines in this publication.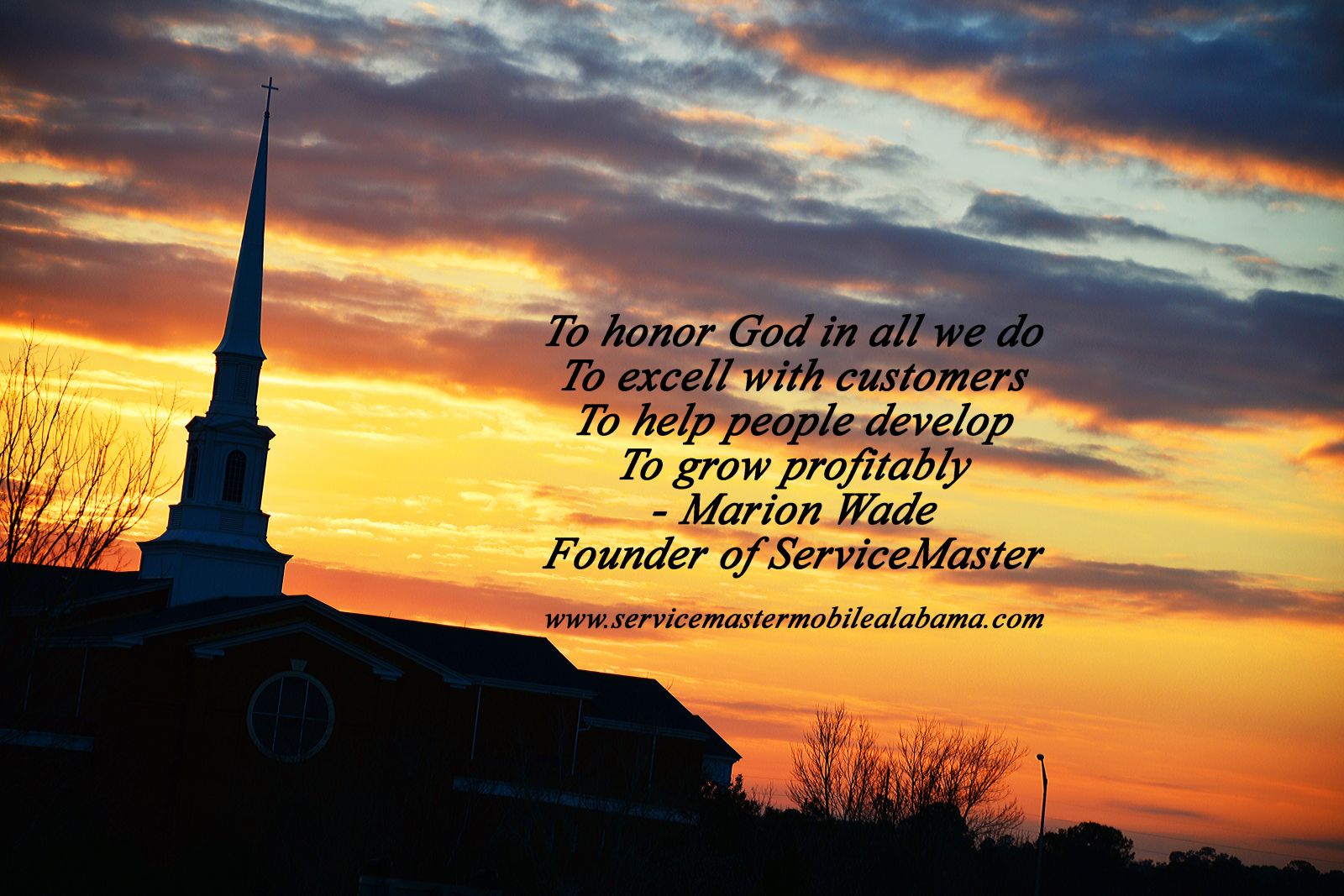 When you call us, we will assess your issue, direct you to an independent testing company if necessary, and immediately contain the affected area if necessary. We only know one way to do the job - the right way.
Remember that YOU AND YOU ALONE, decide who works in your home or business. YOU decide who can most effectively handle your cleanup, of your home or business. Tell your insurance provider WHEN YOU FILE YOUR CLAIM that you want SERVICEMASTER ADVANCED, Enterprise number 7027, or call us directly. Make sure that there is no confusion. There are other mitigation companies, and even others with similar sounding names. We are ServiceMaster Advanced, The Master of Disaster. "WE WOULD BE HONORED TO SERVE YOU." (251) 653-9333, (251) 928-1028, or (251) 943-2230. www.servicemastermobilealabama.com, www.servicemasterbaldwincounty.com