In late 2019, ServiceMaster Advanced Cleaning & Restoration in Mobile, AL was selected to perform a total mold remediation project for the historic Saenger Theater in Mobile, AL. This was a major undertaking due to the size of the project, the scaffolding required, and the high level of care required. Below is some information on that project. We have published a video from another viewpoint: ServiceMaster YouTube of Saenger Theater and another article ServiceMaster Performs Mold Remediation at the Sanger Theater. Also, here are other local news media accounts of this job: Sanger Mold Undertaking & Sanger Mold Cleanup on Schedule
As information, per their website: The Mobile Saenger Theater opened on January 19, 1927 and was deemed "Alabama's Greatest Showplace," and "the most beautiful playhouse in all of Dixie. The Mobile Saenger Theatre took a year to construct at a cost of about 500,000 dollars. Designed by renowned architect, Emile Weil, the Mobile Saenger Theatre featured the following: three-color auditorium lighting, a two-manuel, ten-rank Robert Morton theatre organ, full stage facilities to accommodate large road shows including stage and wardrobe traps, four floors of dressing rooms, musicians' and chorus rooms and 2,615 seats. Around 1950, the seats on the floor were replaced and re-spaced, reducing the seating capacity to about 2,200. Seating capacity today is 1,921.
Additionally, the Saenger Theatre's decoration was described as, "the motif of a French palace of the Renaissance." It was inspired by classical Greek mythology and Mobile's coastal location. Poseidon is cast above the front entrance and the interior plaster ornamentation includes: Dionysus above the proscenium, Maenads encircling the chandelier in the lounge, Pan beneath the organ grilles and various stylized seahorses, shells and fish throughout the theatre. The color scheme of the interior was primarily sea-green with maroon and gold trim. The ceilings featured a variety of trompe l'oeil decoration. The building was designed in a continental style, intended to resemble European opera houses.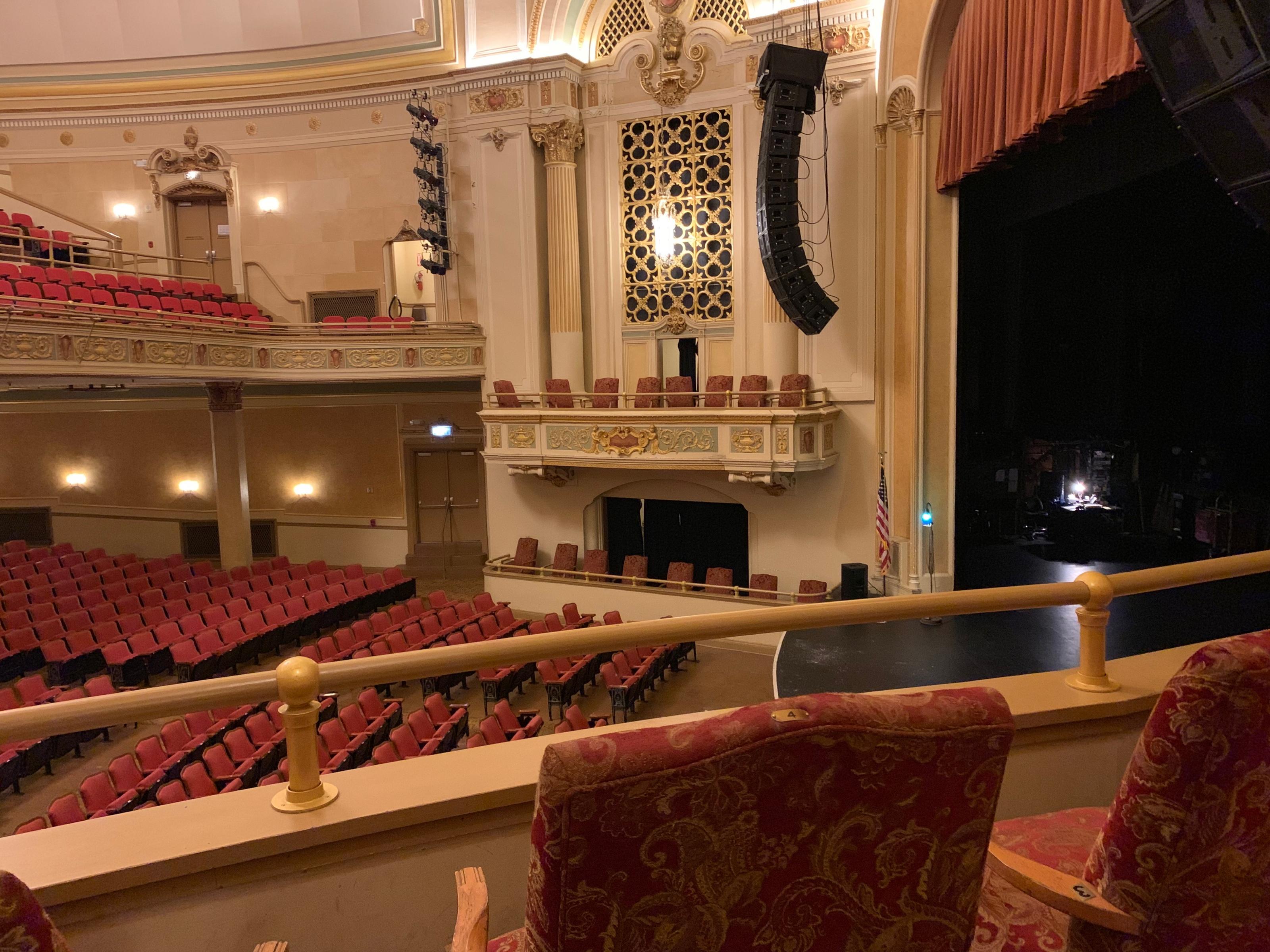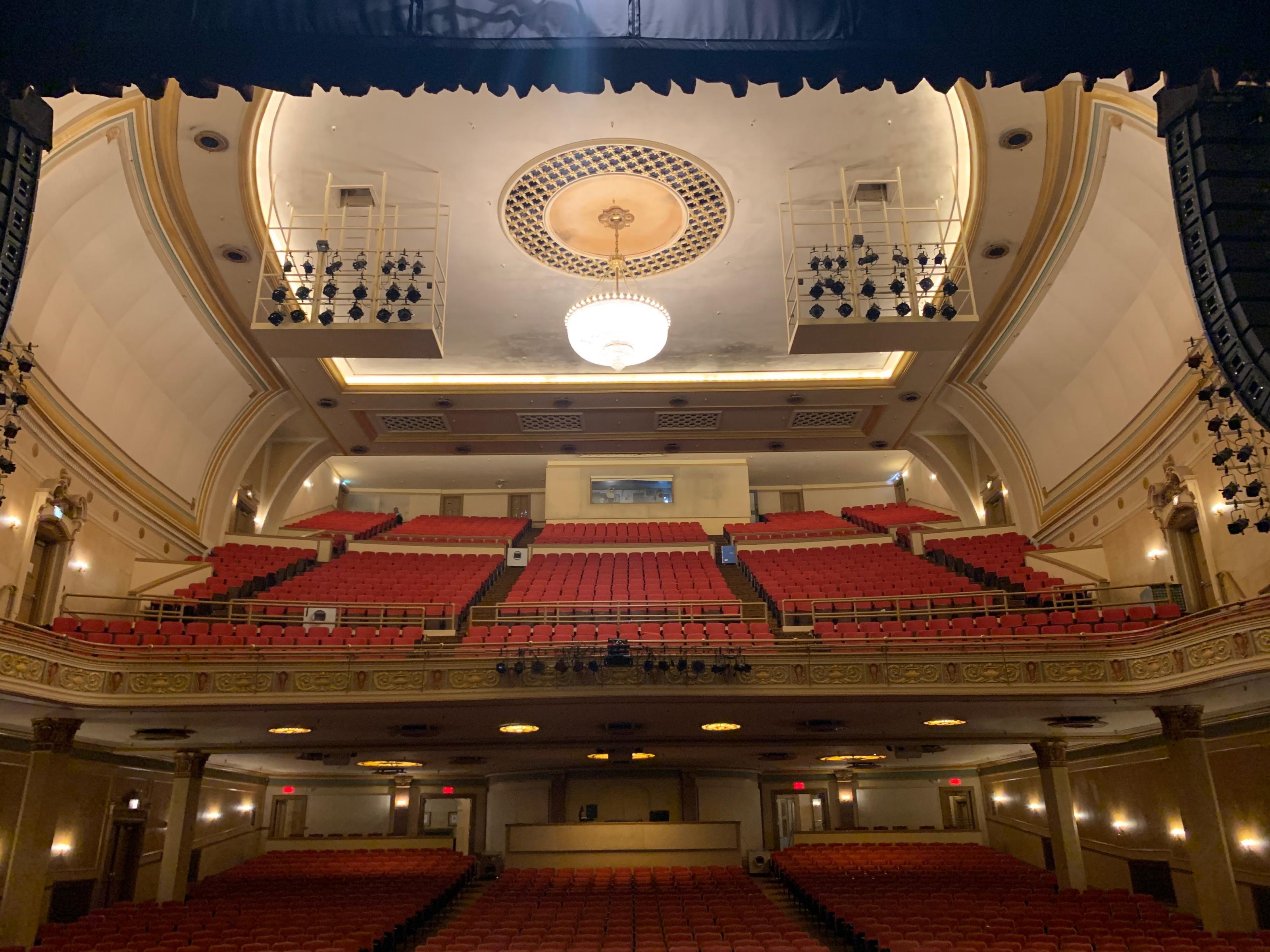 When the mold problem was initially discovered, the City consulted their own engineers and ServiceMaster Advanced as how to handle the remediation. A plan was formulated with ServiceMaster Advanced Cleaning & Restoration, combined with the talent of ServiceMaster Recovery Management, to remediate the entire theater. Extensive planning was necessary in order that the remediation technicians could reach the ceiling of the theater, and do so without damaging any of the historic ornate woodwork and plaster present throughout the building. Before the process began, a full three dimensional picture was taken of the complete interior of the building using a Matterport 3D camera. Humidity and temperature readings were constantly monitored and recorded via remote sensors.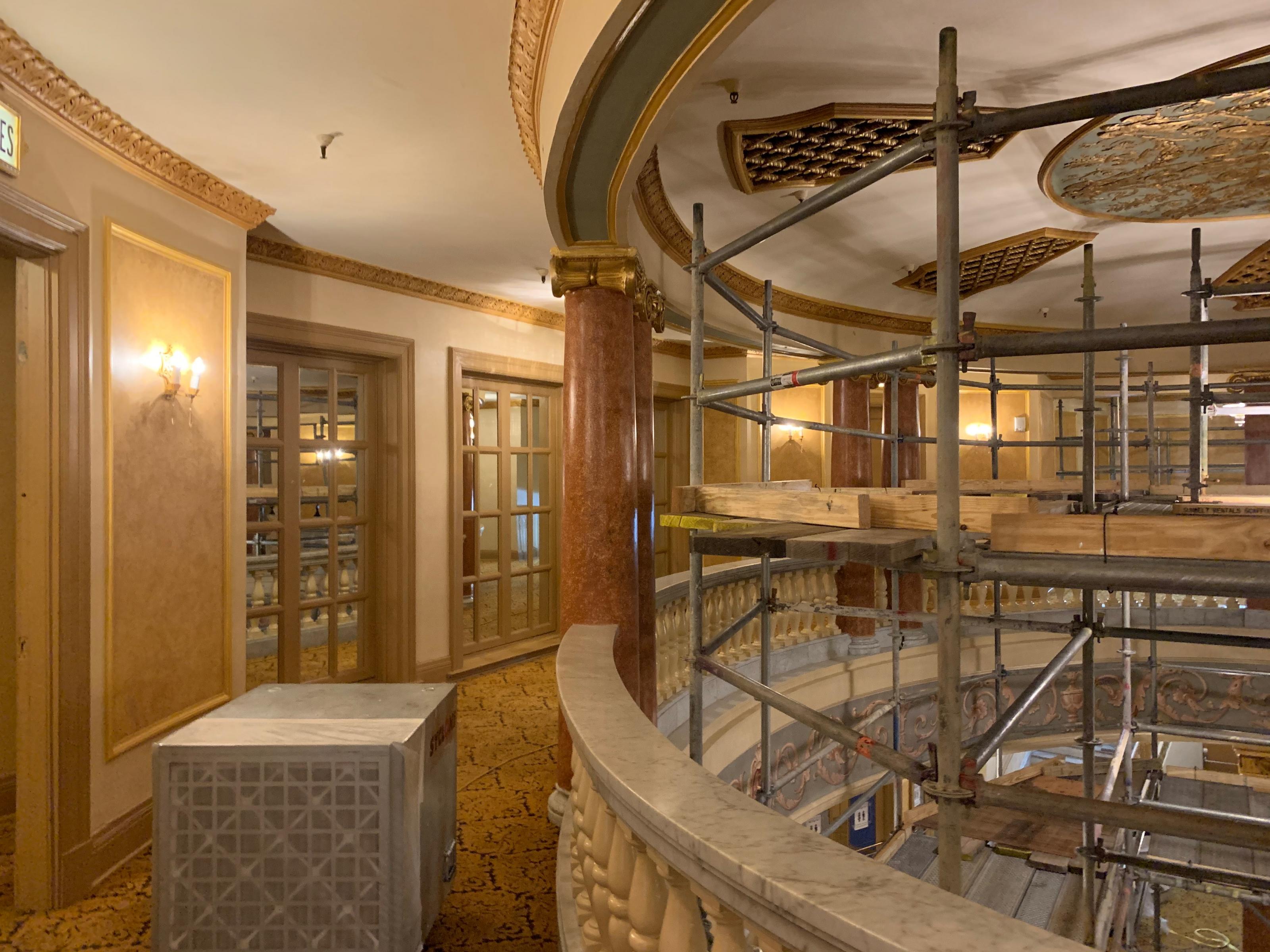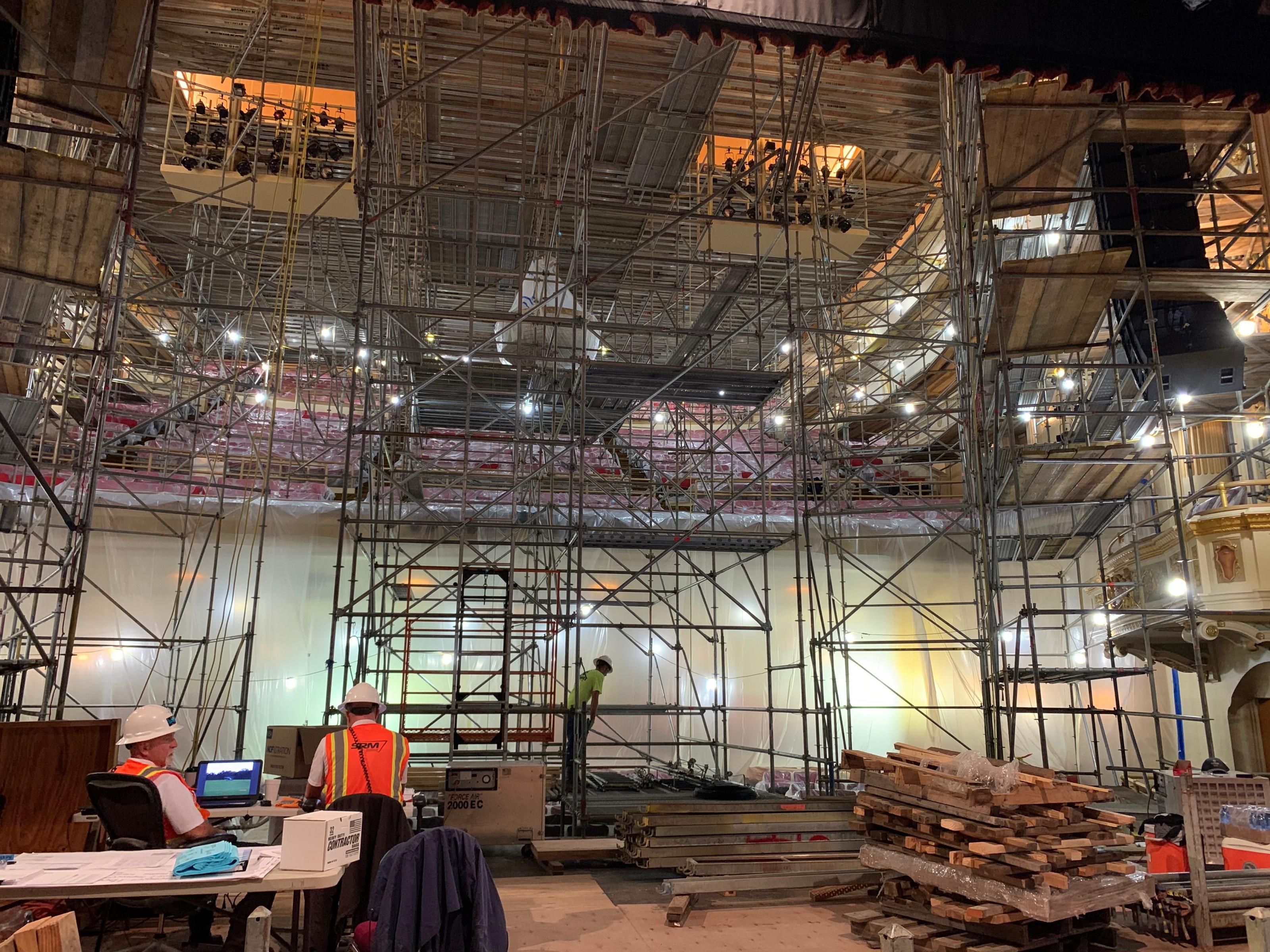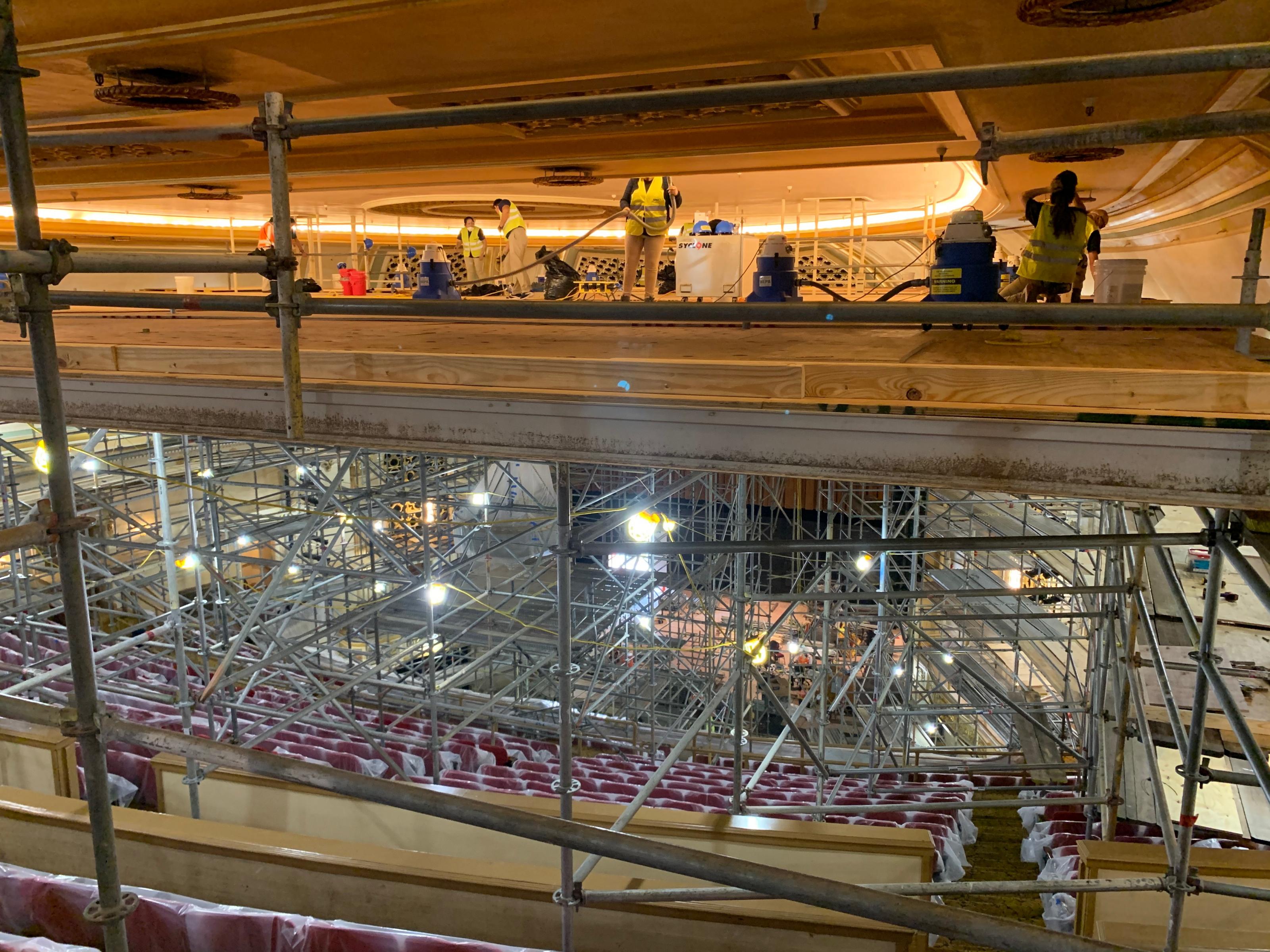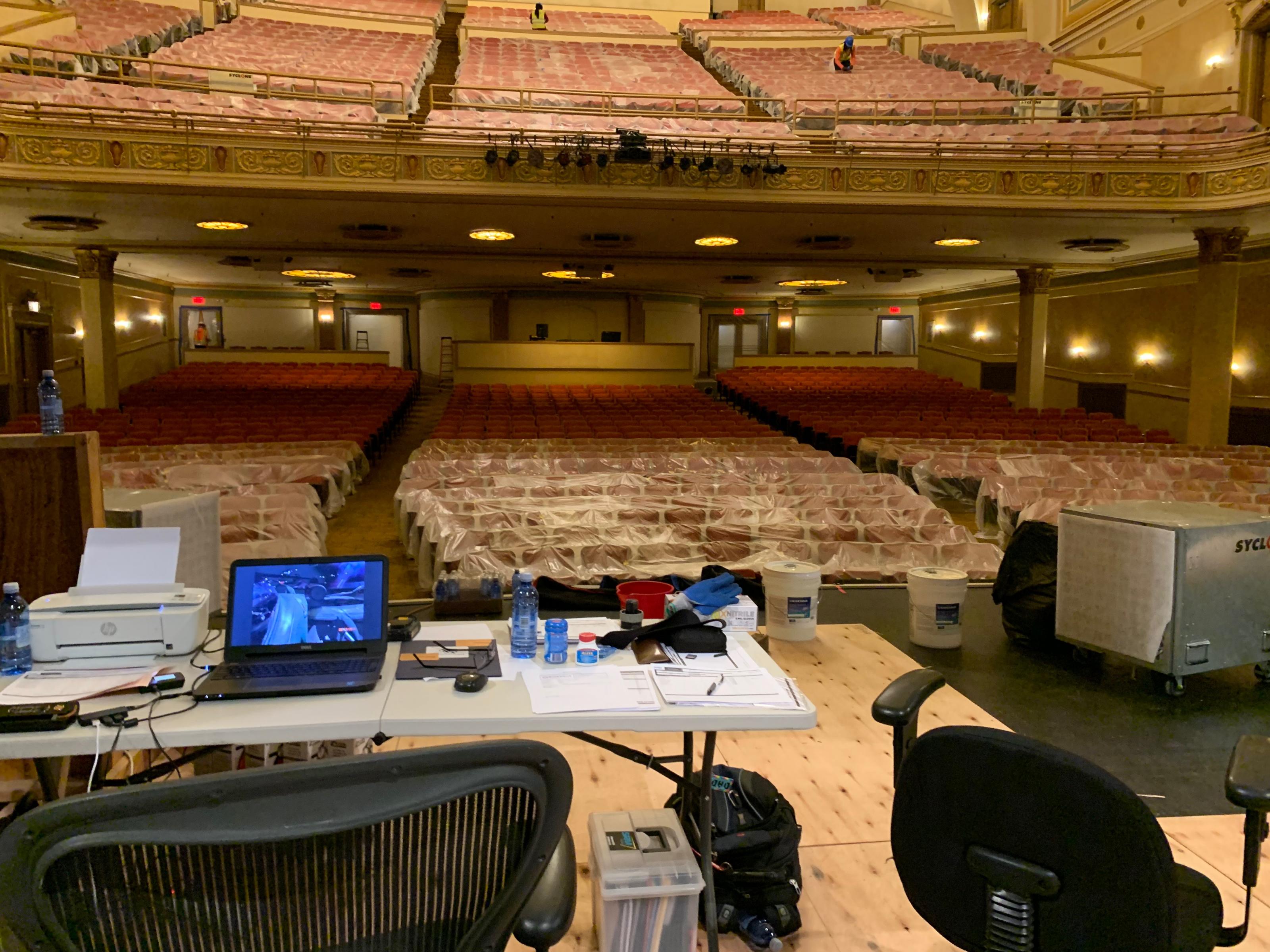 The plan was to deck the stage, cover all seats, and build scaffolding up some 52 feet high with a platform for working. Commonly referred to as a dance floor, it extended vertically some 52 feet from the floor immediately in front of the stage, and extended horizontally about midway through the upper balcony. From that point, workers could access the platform via a six foot stairway to both provide remediation and detail touchup painting. In the lobbies, similar scaffolding was built to access those ceilings taking great care not to damage any of the historic ornamentation. In the North stairwell, the blue green ceiling was carefully cleaned and touched up via detail painting, to render as close to the original as possible.
ServiceMaster was extremely proud to have been entrusted with this project. At the completion of the job, the air quality was tested, and there were other samples collected via an independent testing company. The building passed all tests and was deemed safe to use. The project was completed on time, within budget, and without any damage to this beautiful historic structure.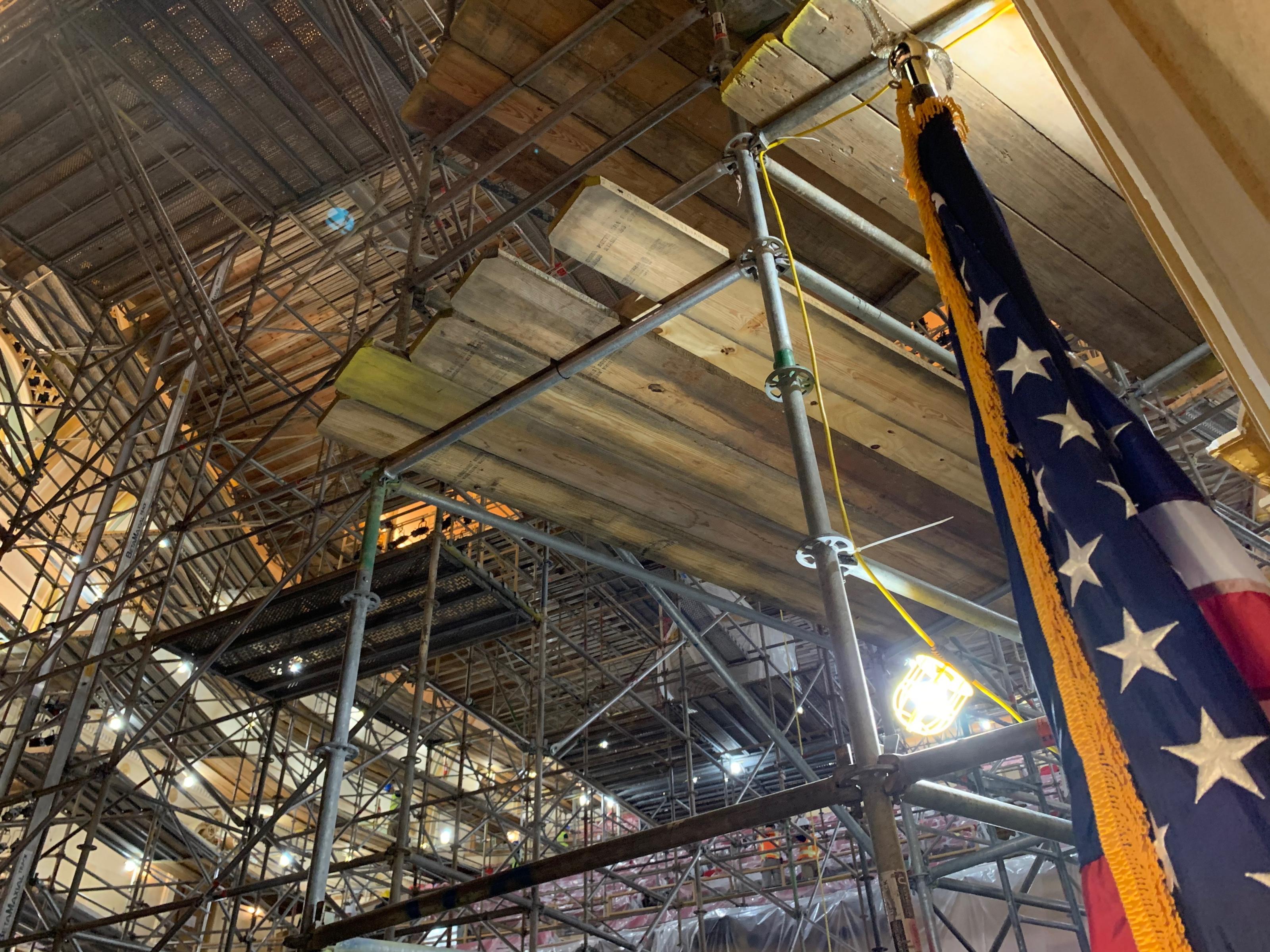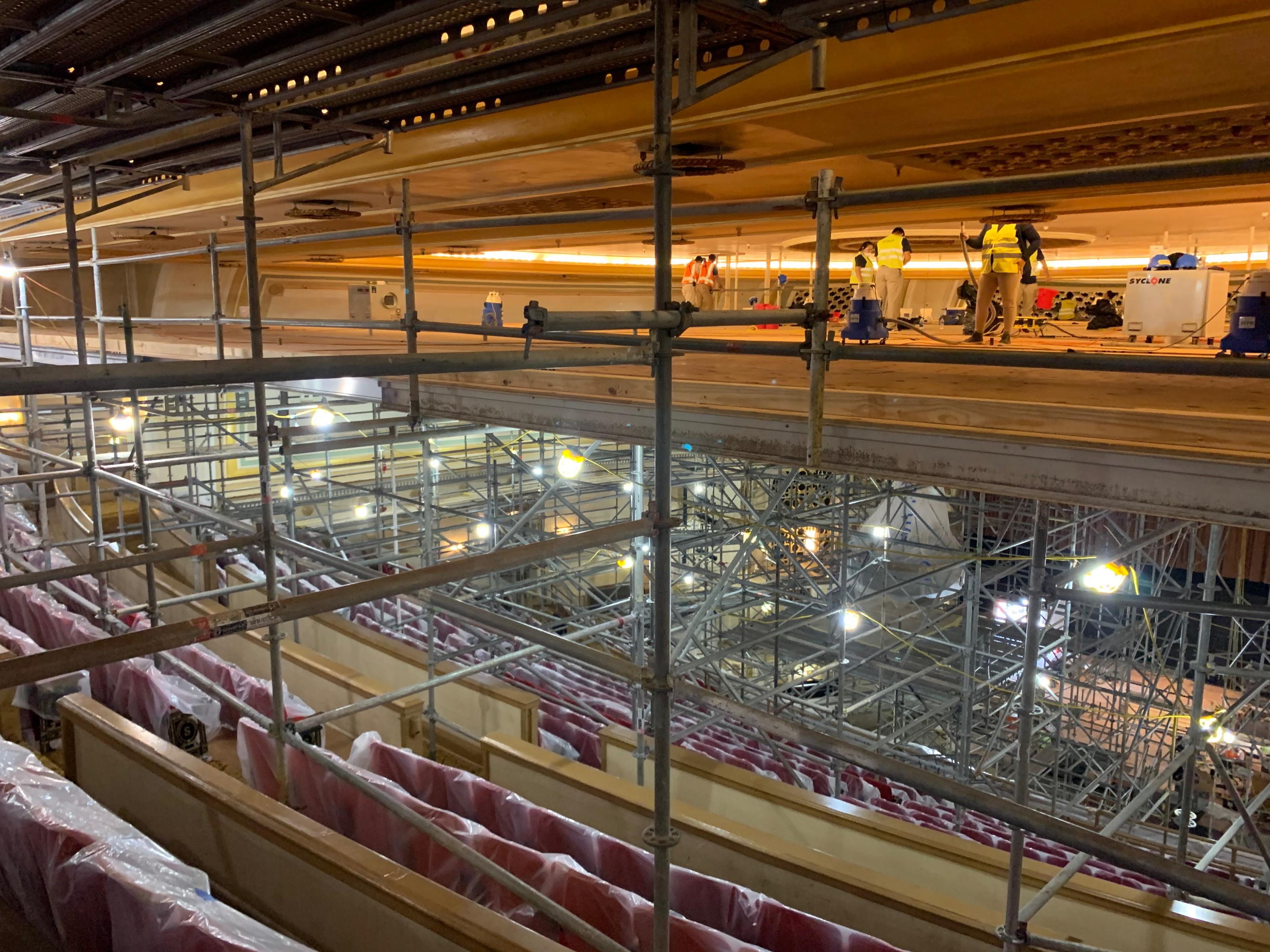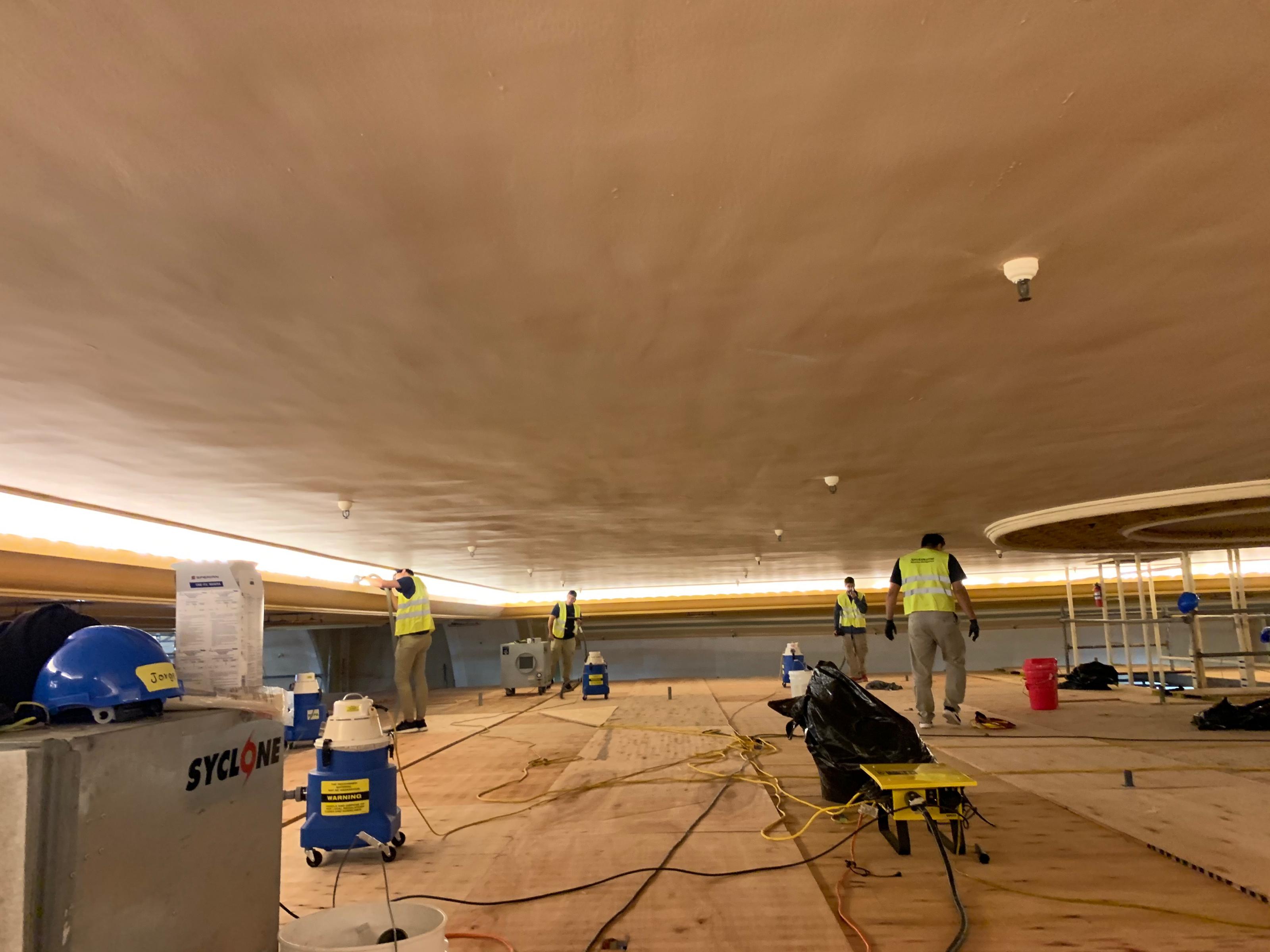 ServiceMaster Advanced Cleaning & Restoration, and ServiceMaster Services Janitorial are the original Restore (disaster restoration) & Clean (janitorial), ServiceMaster companies respectively, operating in Mobile and Baldwin County in South Alabama. Serving the area for over 30 years, we have handled some of the largest janitorial, fire damage, water damage and mold remediation cleanup jobs ever performed on the Gulf Coast.We have published a number of articles on mold remediation which are very informative and helpful to homeowners. He is one that is fairly extensive: When is Mold Remediation Necessary? Our website is loaded with articles and videos on this subject and a variety of property damage articles. You can find them at: www.servicemastermobilealabama.com (251) 653-9333, (251) 928-1028, (251) 943-2230, and our commercial and industrial janitorial company, ServiceMaster Services, can be reached at (251) 344-5105. www.servicemasterjanitorialmobile.com.
ServiceMaster Restoration Services is one of 12 locations throughout the United States that specializes in recovery management. ServiceMaster Recovery Management (SRM) is the commercial large loss division of ServiceMaster Clean. SRM has been specifically designed to meet large loss needs anywhere in the world. The mission of ServiceMaster Recovery Management is to return businesses back to a pre-loss condition. With the ability to mobilize and manage large loss resources anywhere, ServiceMaster Restoration Services is ready. With proven abilities to customize a recovery plan to ensure that a planned, structured restoration project is completed both cost effectively; and on-time to minimize business interruption, SRM is ready equipped. No job is too big, and no detail too small. www.svmrs.net (888) 569-1560.